#WhoDat: Become Trend on twitter at (2018-01-16 07:19)

People talking about #WhoDat: - HarryConnickJR - camjordan94 - T_Armstead72 - Alwayshorny1468 - larise84 - johndrossjr - HultgrenCathy - ALICIAH23 - qbreezy1 - Za_Lou_Tomlin[...]

- SickeningSum86 - Bdogg26 - waynewatsonjr - martykearns1 - My_Super_Picks - wardeerent - ooziondawg - Jamma951 - ThomasH97729181 - ObnoxiousWhodat - Iam_jmcii - chardge1999 - silentkry - Rickaroni19 - blackandgold - _ernie_guerrero - Nick_Tolson - gabgab1 - Brandonalleman5 - vaaimat - CalebClayton23 - BamaStephen - lamorvant30 - JennyFear666 - dialerD - AaronRook91 - GottiTheGOAT - ricky_cm94 - dramslc - baditudeeee - labreeeeee - Joeforb4_ - carlasingleton1 - gray_daron - miltipello - GOMnerd - chungyin93429 - SouthernJessWWE - cmelancon12 - lrn2bfreee - RocketsCowboys - lawlessnomore - elleeeaye - Pepe_LeGlizzy - juliekellyroge1 - scavotto955 - tptcrafts - shamrock_330 - DellShotMe - MightyBoog_ - theBrianHart - poboysammitch - kirus16 - OoohLala_XO - j_dark76 - hello_ceee - 409_brad - Editilla - fatnut666 - renzo_corleone - SaintsNationBlg - Mickel_Holman - Kontra420 - rellimnorash - killua504 - Bearssource - NikkiFSikk - WGutta - mmadeleinnee - Sproggy23 - LabelMEaKiller - ruth6625 - STREETSONSWOLL1 - camloy31 - connor_gruntz - TheGatorViking - RileyWilson_21 - PhotosByBeanz - dashboyplu2o - epreynolds - NiaraAniaja - VicFromTX - jonteandrea - jethro517 - HemperleyHayden - JsmallSAINTS - jethro517 - Rdboudreaux - ScottyG_94 - Antoniotonk2423


This Tag appearing in: United States: ( New Orleans - ).
Popular tweets tagged with #WhoDat:

10 de fevereiro de 2017
madeleine @mmadeleinnee
🔁
When the saints lose in the last second of the game #whodat
---
loading...
Jess Marze💙 @SouthernJessWWE
🔁
RT KeepPoundinGang: Good Morning!!! ☕️☀️😃 #KeepPounding #WhoDat #BlewDat
---
#KeepPounding 💙♥️🏈 @lrn2bfreee
🔁
Good Morning!!! ☕️☀️😃 #KeepPounding #WhoDat #BlewDat
---
Jackson Dark🌴 @j_dark76
🔁
Got my #whodat kit together, bundling up & heading to the airport.
---
10 de fevereiro de 2017
Daron_93forlife @gray_daron
🔁
Day 1 of Season 7! #TheComeBack #WhoDat #54 #StupLyfe @saints
---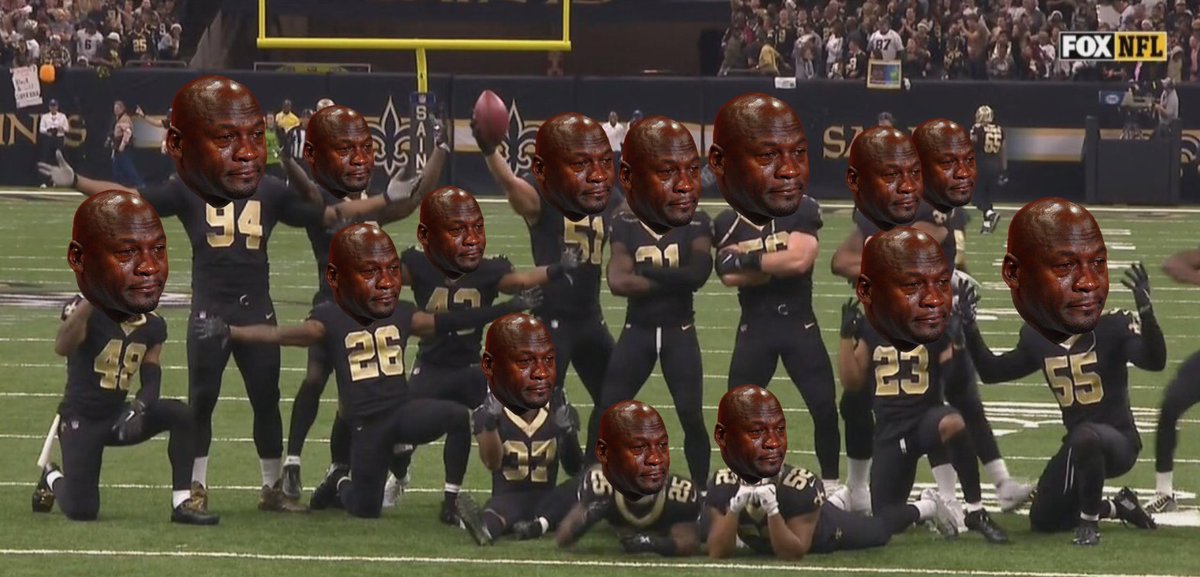 MySuperPicks @My_Super_Picks
🔁
I've been saving this image for 3 weeks... #MinvsNO #WhoDat #Saints #Vikings
---
Harry Connick Jr @HarryConnickJR
🔁
woke up this morning so proud of my - incredible season. thanks to a team that gives us so much more than football -
twitter.com
we love you!
---
cameron jordan @camjordan94
🔁
Long night ahead but go the Whodats that were ready greeting us right when we got off the plane... Thank you for ridi
twitter.com
ng wit us heavy thank you for the LOVE
---
Terron Armstead @T_Armstead72
🔁
Helluva of a season WhoDats! Very unfortunate end, but just know this team is built to last! Love every last one of m
twitter.com
y brothers and all our great fans! ⚜️
---
kj @larise84
🔁
This is the second greatest thing I've ever seen!!! #whodat!! @NickSwardson
twitter.com
---
John D Ross Jr @johndrossjr
🔁
#whodat family
twitter.com
---
Cathy Hultgren @HultgrenCathy
🔁
@KennyLopez_TV @wc86la @Babymagik32 @drewbrees @Saints @WGNOtv That is just plain spectacular.
#whodat
---
QB @qbreezy1
🔁
Good Monday Morning. Hope you all are enjoying this day off. Bundle up cause it's still cold out there. #WhoDat
---
lovi love @Za_Lou_Tomlin
🔁
Still love you @Saints I'm just a little more humbled in my tweets now #WhoDat
---
Tristin McKinstry @SickeningSum86
🔁
New this morning for : An open letter, and hopefully from words of encouragement, from myself to safety Marcus
twitter.com
Williams. Hopefully this reaches him.
---
Bryan Bush @Bdogg26
🔁
The season is over what's done is done. Only thing I want is a guarantee that Black N Gold is in the Superbowl in Atl
twitter.com
anta next year. That's the only thing that will erase this pain. Enough talkin and tweeting just get it done.
---
Wayne @waynewatsonjr
🔁
This is what happens when your team lets you down with SECONDS left in the game...... my poor daddy. ?? 🤷🏾‍♀️🤷🏾‍♀️🤷🏾‍♀️
---
Marty Kearns @martykearns1
🔁
@Babymagik32 A solid rookie season for you Marcus. No doubt that you will come back stronger than ever next season.
#GeauxSaints #WhoDat
---
War Deer Ent. @wardeerent
🔁
I've been a for almost 40 years. You're a great kid with amazing talent. Those haters will STFU when y'all get your
twitter.com
rings next year. Thanks for a great season...and many more to come.
---
luther vandross @ooziondawg
🔁
The Saints gonna be a problem next year 😝 we coming back with a vengeance #GoSaints #WhoDat
---
Jamma @Jamma951
🔁
Just a tidbit for you eagles fans before the game. Xavier Rhodes is overrated as fuck. He will lose 90% of comeback a
twitter.com
nd deep diagnol routes. Make sure to let vikings fans know the Rhodes were wide fucking open against Michael Thomas
---
ObnoxiousWhodat @ObnoxiousWhodat
🔁
not sure if you read tweets from random people but.....One moment in life does not define a person. If it did we wou
twitter.com
ld all be failures. It is how we react to mistakes that create our stories. Head up, bro.
---
Joseph Cooper II @Iam_jmcii
🔁
Amen! we are built for the toughest of battles and we will be back better then ever. The team is proud of you and ev
twitter.com
erybody else keep ya heads held high.
---
Carmen Castro @silentkry
🔁
In true Spirit...after all, we still have 💜💚🧡 🎭
---
Nick Tolson @Nick_Tolson
🔁
@Babymagik32 Can't wait to see what you do next season Marcus! #WhoDat
---
bigeasybeezy @Brandonalleman5
🔁
@SwaffordII @AllSaintsBlog Bradford is soft very injury prone not goid for the team we are going to groom @T_Hill4 #WhoDat
---
((ProperGanderNews)) @BamaStephen
🔁
I LOVE THIS TEAM. MY HEART ACHES FOR EVERYONE. I AM SO GRATEFUL FOR THE BOND THIS TEAM SHARES.
#WHODAT
---
Aaron Rook 🎮 @AaronRook91
🔁
Want to see a sobbing @Saints fan?
You're welcome👇
#DailyVlog #Vlog #Vlogger #YouTube #WhoDat #GoSaints
youtu.be

---
Gotti Pippen 🌀 @GottiTheGOAT
🔁
What a great season man I'm proud to be apart of this team preciate all the support!! #WhoDat
---
Ricardo @ricky_cm94
🔁
Hey, – Retweet (RT) if you have Marcus Williams's () back! Let's show him some LOVE! 🖤💛⚜️
FOREVER Black & Gold! 🙏🏼
---
Joey @Joeforb4_
🔁
@Babymagik32 will be the best safety in the league next year #WhoDat
---
swtseptember @carlasingleton1
🔁
@drewbrees @Saints Thank you for an AMAZING YEAR! Next year we Win The #SuperBowl #WhoDat
---
Joshua Milton @miltipello
🔁
Maybe he just sneezed at a really bad time? #Vikings #Skol #WhoDat
twitter.com
---
Dru 🇨🇺 @GOMnerd
🔁
As a Saints fan I completely agree. I was pissed he missed the tackle but that young man has played extremely well th
twitter.com
roughout his rookie season and his career won't be defined by that play. Big ups to how he's ha sled himself. Can't wait to see him show out next year.
---
Cade Melancon @cmelancon12
🔁
This is me officially passing the juice to @cmelancon12 #whodat #saintsmafia 👌🏼💯😂
---
Craig Randolph @lawlessnomore
🔁
It's not that we lose. That's a part of life. Failure breeds success. It's the fact that we always do it in some sort
twitter.com
of devastating disastrous fashion. Lol.
---
Jamie Scavotto @scavotto955
🔁
Dude, you had a hell of a rookie season, and you have a hell of a future ahead of you.
I'm reading far more love tha twitter.com n stupidity on this thread, and it shows what true fans truly are.
Win together. Lose together. Get 'em next year... together.
---
Brian Hart ⚜️ @theBrianHart
🔁
TJ Max bout to have all the Saints gear on sale now. Bout to rack up for next year. lol #WhoDat
---
Imari Rene Rouzan @poboysammitch
🔁
Proud of the man that you are. Facing the music shows your character. I pray only the best for you amd your family. k
twitter.com
eep on keeping on my brother.
---
Cynnie @hello_ceee
🔁
Son my People ain't have no crazy reactions. We all legit got up and left nobody said shit. Legit disbelief!!! Still #WhoDat
---
loading...
Brad 🃏 @409_brad
🔁
Best quote I've heard to describe this season "2017, the year the Saints stopped rebuilding and started resurging"
---
Editilla the Pun @Editilla
🔁
HAPPY BIRTHDAY TO YOU! AND A BIG TOO! HAPPY BIRTHDAY DEAR BREEEEESUS! HAPPY BIRTHDAY TOOOO YOOOOU! signed: the NA
twitter.com
TION!
---
Chicago Bears Talk @Bearssource
🔁
Marcus is being treated like a criminal, Saints fans calling for him to be cut & to kill himself.
Anyone who va twitter.com lues football more than human life..PLEASE GO see a psychologist!
Dont forget, it was his INT. That had the Saints in the game.
Love from the Bears
---
Nikki F Sikk @NikkiFSikk
🔁
Best quote I've heard to describe this season "2017, the year the Saints stopped rebuilding and started resurging"
twitter.com
---
Wilson @WGutta
🔁
we appreciate everything you did for our team this year and looking forward to GREAT things next year! #WHODAT
twitter.com
---
Websl @Sproggy23
🔁
thanks for the great season. And your INT in the 3. brought us Back to life. I Hope you come back stronger. It was a
twitter.com
mazing ride and a amazing Rookie season. I'm glad that you be a Saints. greetings from Germany.
---
#streetsonSWOLL @STREETSONSWOLL1
🔁
Keep your head up Bruh. I appreciate your efforts, growth, and impact to our Saints. Next year, I know you're going t
twitter.com
o KILL it! !
---
---