#resist: 40.635k tweets talking about this in the last 24 hours

People talking about #resist: - funder - funder - funder - djconn - smDeWittHall - WonderDogabides - horchatalady - Koons17112 - jansheetspigg - independentvtr[...]

- Tec_umseh - KatrinaHagen2 - ValAlmon - hamptonsliz - Lyly1313Lymari - JandJDad - churchofnix - UnionMatt - missvanessa101 - darielgarner - LaurenBersek - wsmb7 - SteveWondersWhy - penneyewart - curtislwalker - CrumbyVh - CarlosdelRio7 - cristianfergo - tLp3KhBxnXtbJpF - Shumankaman - 78acores - BeverleeHughes3 - frothybrownpool - elite99thc - KinraIce - ladydragyn - karkhanechi - franco_philemon - Jenni__Mari - CateyeMinty - Ben_Terug - sigski - ErinBur47178375 - ledivagwendyl - CSUAAUP - 12thDoctor2017 - curtislwalker - luvauntyruth - selliottbiology - SerenityHow - dGpAErCfgu0ASnQ - jimwelchiii - american_grrrl - Mosleygirl7 - EJLandwehr - Deemoney521 - LeahNMA - emicrystal - MMChol1 - Nasty_Woman1 - i06UcxDtvChGye9 - SangHeffa - breitbitnews - Eliza_Ham1780 - TurnVinyl - assuredshrink - hatetofakeit - CarlSpoerer2018 - RickyNaughton - sharonbuker - take1theirsmall - Morgwr - BonBizzaro - dfowg1 - jansart - mcelroyart - BeaHilton - PoliticalHeatWI - Megan_Sass - k9dancerPovey - Eliza_Ham1780 - pvand1 - DEALMEEIN2017 - dishgirl4 - PlaceKat - KinraIce - NobodyIncognito - urb3xx - DaxXenos2010 - Poormanumbrella - Eliza_Ham1780 - analineblue - MarkVonderheide - Beachbumjules - IdahoResistance - LoraGrigonis - Raineboughs - cooldogsandcats - daynasteele - PXtinxion


This Tag appearing in: United States: ( Pittsburgh - Portland - ).
Popular tweets tagged with #resist:

Permian Extinction @PXtinxion
🔁
I could not #Resist
---
i am @american_grrrl
🔁
Trump ain't grabbing this pussy! #Impeach #Resist #FightBack
---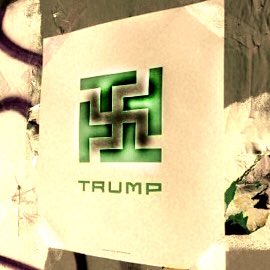 ♿️EJ Landwehr 🏳️‍🌈 @EJLandwehr
🔁
@maramcewin Not sure if you'll like this or not but the original wasn't explicit enough for this Jew. #resist
---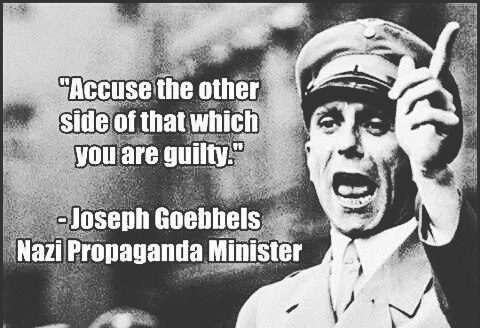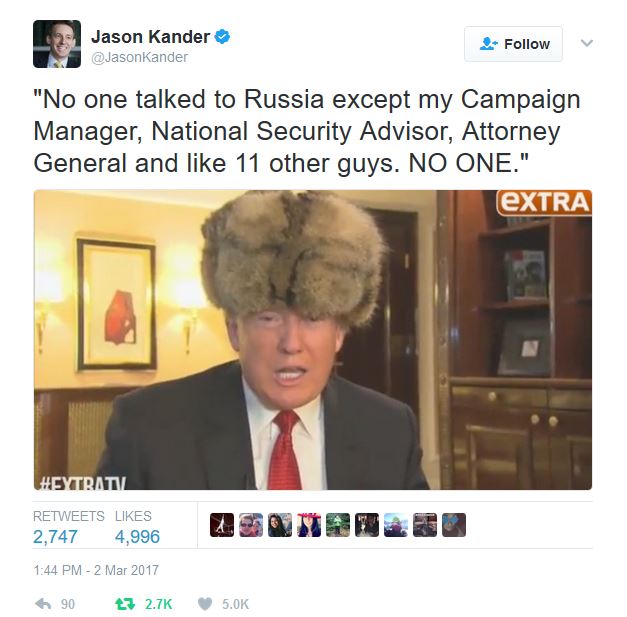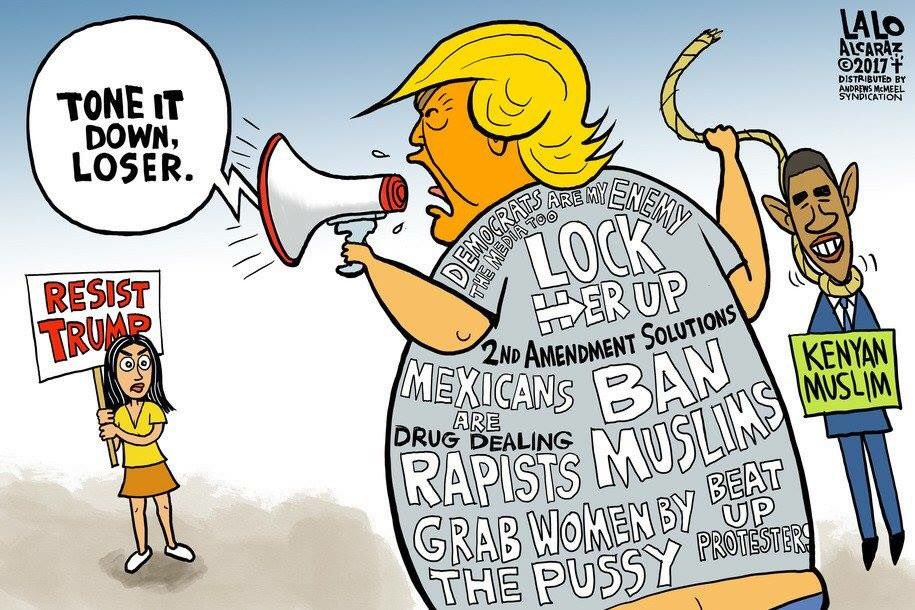 Raine 🐞 @Raineboughs
🔁
@realDonaldTrump Deflect, project, Lie
#Resist #TrumpRussia
---
Caroline Paterson @tLp3KhBxnXtbJpF
🔁
The Republican solution for health care reform.
#resist #persist #KillTheBill
---
Maya Hena @horchatalady
🔁
we all need to stand up with each other and for each other #TransPeopleAreNotABurden #resist
---
Scott Dworkin @funder
This is evidence Trump got money from Russia to build in America. NBD. But maybe everyone should
🔁
//twitter.com/i/web/status/890061743266910208" target="_blank">twitter.com s on fire. 🔥😎🇺🇸
---
Scott Dworkin @funder
🔁
We estimate Trump's done well over $1 billion in business with Russians in the United States alone—half in FL & NY. #TrumpRussia #Resist 🇺🇸
---
Scott Dworkin @funder
🔁
How Jared Kushner helped the Russians get inside access to the Trump campaign
#CrookedKushner #LockJaredUp #Resist
newyorker.com
---
djconn @djconn
🔁
Sec of Interior threatens a state at the request of a President. you are a sleaze
twitter.com
---
Suzanne DeWitt Hall @smDeWittHall
🔁
Tonight
blogtalkradio.com
---
Wonder Dog @WonderDogabides
🔁
@ASlavitt Keep the pressure up on senators. Don't cave now to fear of pointlessness. #resist #BCRA
---
loading...
Jan Sheets Pigg @jansheetspigg
🔁
@lisamurkowski. Please stand strong don't allow trump to bully you. #standup #Resist for all American's. We need hero's you can be one.
---
American Voter @independentvtr
🔁
🚨🚨This is a CTA🚨🚨 Please read & RT this thread! This is an ALL hands on deck situation.
---
Tecumseh @Tec_umseh
🔁
Your SELF Radical Christian Terrorists
twitter.com
---
Katrina Hagen @KatrinaHagen2
🔁
SpoilerAlert: YES #Resist #UniteBlue #25thAmendmentNow
twitter.com
---
Val Almon @ValAlmon
🔁
This is how I feel about Trump! Love You You're the best! 💜
---
Liz McB @hamptonsliz
🔁
@rtraister Yep. Quoting Joe Paterno this am who shielded the child molester Sandusky. #resist
---
Lymari @Lyly1313Lymari
🔁
Not hard to do. #dailydose #beyou #bekind #loveyourself #loveothers #respect #resist #riseup
instagram.com
---
Rob Watson @JandJDad
🔁
#Resist #ResistTrump
blogtalkradio.com
Tonight @BuzzFeedLGBT @BrodyLevesque @OutServeSLDN @WipeTransphobia @RatedLGBTRadio
---
loading...
Vanessa María Monti @missvanessa101
🔁
Call me corny but seeing 10s of 1000s defy normalcy, do good in 100 countries & have fun is a rad way to .
---
Lauren Bersek @LaurenBersek
🔁
#RESIST by putting your best "you" out there every day. Help others to do the same.
---
Laurie @wsmb7
🔁
A little perspective...
---
Steve @SteveWondersWhy
🔁
Dear Future,
We are so incredibly sorry about Trump.
Sincerely,
America
#resist #ThursdayThoughts#trumprussia
---
Curtis L Walker @curtislwalker
🔁
Justice Dept. Weighs In Against Protections for Gays in Workplace WILL THIS FINALLY GET FOLKS IN STREETS? #Resist
nytimes.com
---
ArmchairWarrior @CrumbyVh
🔁
I guess we can expect dt to tell Koreans to leave our country. He has a habit of double talk. No one trusts him he is
twitter.com
a huge failure
---
Carlos del Rio @CarlosdelRio7
🔁
we support you. You are in DC to defend citizens of your State, don't let them lose their insurance!
twitter.com
---
Cristian González C. @cristianfergo
🔁
Cowardly. What other class of people will come under explicit attack upon the next blow to Trumpcare? #Resist
twitter.com
---
Shuman @Shumankaman
🔁
Sorry, did she run against u too? Or is this just another woman that scares u?
twitter.com
---
greenseaglass7 @frothybrownpool
🔁
My karma tells me
You've been screwed again.
If you let them do it to you
You've got yourself to blame.
#RESIST
youtu.be
---
Gary Nelson @elite99thc
🔁
Yes, racist fascist is now becoming the "world view" of this country. Intolerant of all, but...wasps, now basically
twitter.com
white Christians
---
Annabelle Lee @KinraIce
🔁
Is real? The nation and these Twitter users are skeptical
---
Beth ❤️#Resistance @ladydragyn
🔁
That just shows how corrupt & immoral Trump administration is-those who have nothing to hide, hide NOTHING!
twitter.com
---
Jennifer Kirby @Jenni__Mari
🔁
I know. That was my point. He's been in bed with the Russians for decades.
100% Putins puppet and the mafia's front
twitter.com
man.
---
Ian Rice @CateyeMinty
🔁
If I were @lisamurkowski, I'd do a "Jim Jeffords."
#p2 #UniteBlue #mepolitics #resist
medium.com
---
Cpt. Iglo @Ben_Terug
🔁
A Mighty Wind is Blowing. And and you can hear its message: ", , ". Keep up the good work.
---
RunnerGirl @sigski
🔁
@Team_Trump45 @realDonaldTrump Gas. They are especially good at passing it. But nothing else. #Resist
---
ledivagwendyl @ledivagwendyl
🔁
We need to restructure the presidency to prevent future Trumps from happening.
#resist #ThursdayThoughts#trumprussia
---
Curtis L Walker @curtislwalker
🔁
California Today: Military Communities Respond to Trump's Transgender Ban via @NYTimes #resist #Military @bannerite
nytimes.com
---
Stephanie Elliott @selliottbiology
🔁
Will this nightmare ever end? The length the WH will go to to distract from the Russian investigation. Where's ther
twitter.com
e's smoke...
---
Serenity how? @SerenityHow
🔁
DOJ is turning policy all the way back to the 50s. This is what the GOP stands for now. It's up to us The People.
twitter.com
#2018
---
Karen Kelly @dGpAErCfgu0ASnQ
🔁
#25thAmendment #25thAmendmentNow Get this unfit man out of office #Resist #Resistance #25thAmendment #25thAmendmentNow
---
Mosleygirl7VA @Mosleygirl7
🔁
@KeithOlbermann @etc_politics @realDonaldTrump Blackmail now#resist @lisamurkowski #RESIST
---
leebee @LeahNMA
🔁
I am pretty sure my favorite part is @NicolleDWallace saying "This gang needs group counseling" #Resist
twitter.com
---
emily @emicrystal
🔁
What a gut wrenching thought! We must not let the ugly hate train continue to refuel and pick up steam!
twitter.com
---
Nyet Means Nyet @MMChol1
🔁
Trump Wrong About Campaign Donations
a.msn.com
---
Nasty-Feminist @Nasty_Woman1
🔁
It will leave twice as many People without Healthcare CBO estimated 42-44 Million Keep in mind the GOP & Insurance C
twitter.com
os Sabotaged ACA
---
Wendy Ince @i06UcxDtvChGye9
🔁
V for Vendetta: The Revolutionary Speech (HD)
youtu.be
#Resist #NotMyPresident
---
Sang Heffa @SangHeffa
🔁
We need a PEOPLE POWER coup d'etat Rosie. Surround the until that mother fucker leaves!
twitter.com
---
Breitbit News @breitbitnews
🔁
Now playing Child Scam on Morning Melancholy! Listen to Resistance Radio,
resistanceradio.airtime.pro
ALWAYS INSIST ON YOUR RIGHT TO #RESIST!
---
Music is My Teacher @TurnVinyl
🔁
@davidfrum @LuvPlaying What about all the 'advice' the #childpotus was going on about as he governed via social media? #Resist
---
Shadow Weaver @hatetofakeit
🔁
First they came for the Transgenders,
👏AND WE SAID FUCK YOU👏
---
Ricky Naughton @RickyNaughton
🔁
Our children deserve better than Trump. His words matter - and they scar. He is an assault on our values. #Resist
nytimes.com
---
patio party @take1theirsmall
🔁
Here's to hoping for a successful motion to dismiss hearing today!Much ❤️ to the defendants!
---
dfowg @dfowg1
🔁
Will @GOP really put an agent of a Russian bank, suspected of mob ties, in charge of DOJ criminal division like @POTUS nominated??#resist
---
Political Heat @PoliticalHeatWI
🔁
Shower Thoughts And Twitter Bans
political-heat.blogspot.com
#wiunion #wipolitics #resist #resistance #trump
---
Megan Sass @Megan_Sass
🔁
File under "The Least Shocking Thing I've Ever Seen" #resist
twitter.com
---
S. Povey @k9dancerPovey
🔁
-if REPUBLICAN law passes -state by state look at who loses healthcare. -
---
April Thompson @dishgirl4
🔁
After Centuries of Injustices Shouted ENOUGH ✊🏾 👊🏾 💦
---
Kat Rog @PlaceKat
🔁
WTF are you still in Highschool? You and Trump make a mockery out of our government. Get out now! Resign!!
twitter.com
---
Annabelle Lee @KinraIce
🔁
Politically, Trump is an aggressive cancer on the soul of American politics. The only cure is his removal.
---
unidentifiednobody @NobodyIncognito
🔁
All thanks to Gary Johnson voters voting for the wrong person thus enabling this guy into office.
twitter.com
---
Urb3xx @urb3xx
🔁
So #transgender people don't know how to fight... or do they? Simply another reason to #resist the lunacy of this paralyzing administration.
---
Poormansumbrella @Poormanumbrella
🔁
@StevenTDennis @rbdoeker All I want know is if the republicans had the most beautiful chocolate cake for their lunch? @TheDemocrats #resist
---
Mark Vonderheide @MarkVonderheide
🔁
This charade is beyond disgusting. The must hate the Americans who put them in office.
twitter.com
---
Idaho Resistance📎🖖 @IdahoResistance
🔁
Anthony Scaramucci getting to know his boss, Donald tRump
(by Jailing tRump)
---
Lora Grigonis @LoraGrigonis
🔁
Where is the evidence? Oh, wait. It's from Fox News? We know you don't require proof, you just tweet what they say.
twitter.com
---
cooldogsandcats.com @cooldogsandcats
🔁
tRump, REAL patriotic Americans are not fools!
(by Jailing tRump)
---
Dayna for Congress @daynasteele
🔁
Why do I get the feeling a Religious Freedom Ambassador will work to suppress all but one religion?
npr.org
#resist
---
---