#PuertoRico: 42.284k tweets talking about this in the last 24 hours

People talking about #PuertoRico: - dabeard - TheEllenShow - daniellecitron - lareina328 - mariaminerd1 - RebeccaBMackie - aetiology - PhoenixFridas - _crosscheck - RenwriterRenee[...]

- joy4lly2u - howgirlsdospace - hobsonschoice95 - PopeDarth - Norm_berry - POSHA94 - JeremyRandolph8 - onewiseburdman - DiaboliqueBall - PASSIONAL - BeautyGeekJc - raquelgriffiths - DeepInTheHills - Djmcafee4Dotti - sir_nils_ - missboxyfrown - jamesjimcie - diannehofstedt - josephreyesg - jessphoenix2018 - cocoanutcake - Muthawalker - DSmith9130 - msdwallace - TheRHenryLee - BadPonyAgain - Allmy3Children - gary_turco - saracatsic - SusanHenshaw50 - artbywar - NHousteau - Can_ada - KingAaronVII - mtcarkeys - Paolalopez1971 - idkadri - Tracy330507 - lovetrmpshate - zelietown - Merisea211 - EdMerk2 - TravelingLBRN - Gande_bike - CCtra2 - itstamaira - linmaur - misschavi - ABC5PuertoRico - tonic516 - legalCAT10 - lovetrmpshate - katemcclelland7 - kaitlinanne13 - joy4lly2u - wolfgang115729 - crys_amador - CarlosMaple1 - Finchystinchy65 - KamTechnolyog - suga_nana0131 - GeneHesser - DavGun10 - Mandolicious31 - linmaur - mjbrandonbowers - Nombe - IrieMonarch - redheadedwitch2 - nastywoman_88 - Sharonotes - Nanette4CA - foundin77 - kristika87 - JMKTV - justright09 - YvetteKopp - Kaahtic - NewsJunkie60 - thundermccrackn - thewrightkansan - ScienceMelz - HJBosch21 - Kitwyk - sbarkscoop - hopperpy - alisuzan - Boringscience - Cruzinmrs - Can_ada


This Tag appearing in: United States: ( San Diego - ).
Popular tweets tagged with #PuertoRico: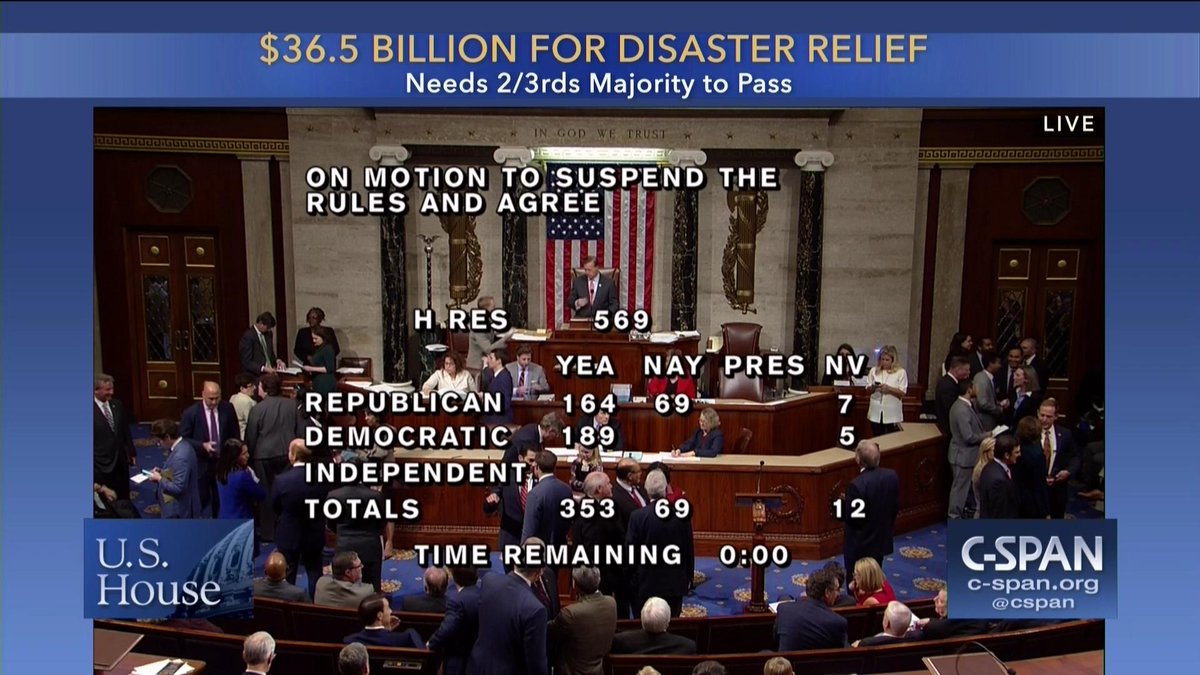 JulieMango @misschavi
🔁
69 Rs just voted against #PuertoRico aid
---
Danielle Citron @daniellecitron
🔁
Thank you Tulane for setting a glorious example for other universities to welcome college students for tuition free
twitter.com
semester
---
Ellen DeGeneres @TheEllenShow
🔁
My friend Frankel is doing amazing work for . You can help too.
ellen.tv
twitter.com/i/web/status/918954558298112000" target="_blank">twitter.com
---
David Beard @dabeard
🔁
Wow: Tulane offers tuition-free guest semester to students at colleges. "Our turn to pay it forward"
twitter.com
---
Rebecca Resists 👊💥 @RebeccaBMackie
🔁
No water-no food-no power-no diapers-no formula-no medicine-no help-no hope—thx to Trump & GOP.
---
Tara C. Smith @aetiology
🔁
We're offering a tuition-free guest semester to students at colleges. It's our turn to pay it forward.
---
maddie @_crosscheck
🔁
Wow: Tulane offers tuition-free guest semester to students at colleges. "Our turn to pay it forward"
---
Renee Garcia-Brown @RenwriterRenee
🔁
People are dying in and is golfing AGAIN today.
---
NASTYwomen for PR @joy4lly2u
🔁
THOUSANDS of deaths expected over coming weeks in if nothing is done.
THOUSANDS.
THOUSANDS.
---
Tyler Hobson @hobsonschoice95
🔁
Affordable housing, sustainable infrastructure, clean water, food, and healthcare are needed in & for long term recovery.
---
Pope Darth @PopeDarth
🔁
Building more sustainable infrastructure in and is about safety and resilience from extreme weather events in the future.
---
Alice @Norm_berry
🔁
Though says can't stay in forever, workers from Katrin in '05 are STILL in Louisiana 1230pET
---
loading...
RoxxyGirl @raquelgriffiths
🔁
so is still without water and electricity, and people are dying in california fires, what are you doing?
---
Zoe Washburne💥🖖❄🔥 @DeepInTheHills
🔁
Seriously f'd up‼️
Is this 45's idea of ⁉️
Kill them so they can't complain?
---
Dotti RedCat @Djmcafee4Dotti
🔁
For those who are following here is what is delivering (3 weeks late) to a family of 4.
---
James Jimmy Cieloha @jamesjimcie
🔁
. "can greatly help by acting on 's ideas, and by prioritizing community radio in this moment."
---
Dianne @diannehofstedt
🔁
Intentionally starving American citizens....call your reps....why are we NOT airdropping food & water into . This is genocide.
---
Joseph Reyes @josephreyesg
🔁
We salute for her leadership in and persistence in the face of sexist attacks. Join us:
---
The Haunted Pamsion @Muthawalker
🔁
Then, Mr. President, be inspired by Matthew 25:31-46 & support relief! And, as a Christian, anti-LGBTQ bigotry not in my values.
---
RHenryLeesghost @TheRHenryLee
🔁
Wouldn't it be great if everybody in #PuertoRico just came here???
Hahahahaha
---
loading...
Stephanie Curran @Allmy3Children
🔁
My friend Frankel is doing amazing work for . You can help too.
ellen.tv
---
Gary turco @gary_turco
🔁
BREAKING: @FBI Looking Into Public Corruption Allegations In #PuertoRico
gotnews.com
---
Wayne Ralston @artbywar
🔁
This is Jose. He's from . He survived Maria. He needs our help.
---
Not Given @Can_ada
🔁
🚨Officials are pumping contaminated water for distribution in

We are failing the island. 😭

---
Carol in Montana @mtcarkeys🔁 Republicans in Congress would let Trump kill Americans if he chose to.

Oh wait, they are. #PuertoRico #AMJoy
---
Edgar Mercado Sr🍳 @EdMerk2🔁Vieques off east coast of was hit hard. Big need for food & water here! We flew in hot meals- only a start!!
---
linda salcfas @linmaur🔁Glued to Zello right now. Social media is the best way to get information. The mountains in are inaccessible and out of touch.
---
ABC 5 Puerto Rico @ABC5PuertoRico🔁Resumen #PuertoRico post #HuracánMaría
En Record Elwood Cruz #ABC5 fb.me
---
Kate McClelland @katemcclelland7🔁The response to the crisis in from the US fed gov has been unacceptable for the wealthiest country in the world.
---
Kaitlin Sylvester @kaitlinanne13🔁Teachers in the U.S. are helping by adopting a school in & sending supplies!
---
Wolfgang VanDamn @wolfgang115729🔁Funny we have the technology to get fat ass to his golf course's every weekend but not get clean water to twitter.com
---
crystal amador @crys_amador🔁I live in #PuertoRico after #hurricaneMaria had to cancel my flight. @Fly_Norwegian still can't seem to understand the island's situation.
---
KamTechnology @KamTechnolyog🔁Thank you Ricky Martin for all you're doing for .
Puerto Rico estamos con ustedes!
Please go to...
---
linda salcfas @linmaur🔁 Zello,under channels,they have a specific channel for barranquitas and all cities with people in the city updating
---
Georgia D. @redheadedwitch2🔁 #LarryFlynt couldn't have put this money towards #PuertoRico? twitter.com
---
Nanette Barragán @Nanette4CA🔁U.S. citizens in #PuertoRico are desperate for water. This is a humanitarian crisis. Where's the national outrage? cnn.com
---
Kristen Peterson @kristika87🔁This is HORRRIBLE!!! The people of #PuertoRico need life-saving help, not waste water 😡😠 twitter.com 😡
---
Kate Wykoff @Kitwyk🔁Reporter gets access to internal emails detailing Pentagon's "Orwellian" spin on disaster
---
Peter YOUNG 🇪🇺🇮🇪 @hopperpy🔁People are so desperate in Puerto Rico they are drinking water pumped from a hazardous-waste site
---
Suzan Ali, EA @alisuzan🔁 Victims of #HurricaneMaria that hit #PuertoRico and #USVI may qualify for #IRS relief. irs.gov
---
---