Oprah: 161.886k tweets talking about this in the last 24 hours

People talking about Oprah: - realDonaldTrump - ShaunKing - ananavarro - donnas0818 - ukrainianevents - Lake4963 - alost_prince - deeppotter - TonyRsls - soshutupalready[...]

- Tvonthefritz - rennzella - elknight20 - KneelB4Todd2 - SofiaMa07413947 - NYSEDISBROKEN - celebspkrs4u - StaceyR0320 - chrisncorona - DurlaufR - SARR_J - Dr_S_Miller - babyblueblueyes - SteveBoyer5000 - laurine_forget - moody12381 - danemicpomona - pushandpulljlm - umair_ahamad - JoyChgo - sineadlarkin - ____Ace_McCloud - n920gl - GloriaHardie - JKMFilms - _ash19_ - TeaBoots - Rixx_2 - thewindyshrimp - Rmdp2017 - icebearlover - _TYPD_ - a__hammack - DeplorablAnnJoy - BaileyWhoa - shawn_schwiesow - RiverGreen206 - RaDSaM11 - celebsrumor5 - BonnieSharpless - CluelessCurl - earl_suber - patientgrshppr - judieyoung - _Truth_Guardian - nikkisolemsaas - TraceyBricco - seasidechic - pekelo98 - JORGE_C_NY - holakitty002 - ChrisKosowski1 - hoodfam6 - baddieju - AustinTheCarter - LaLaKristiansen - HarperiteBGone - Carlisias - lifewraven - suziduzy - GreenGregDennis - deebee52 - Momthra - HaughtybyNature - RogerSh39438229 - jennah_justen - Daylejl - DonRondel - Golfinggary5221 - jeffgoldesq - DeborahOchoa07 - ovie52009 - HabariCloud - TonyIsntHere - mitchiepoo46 - edinhissham - orgehell - JmosDocGal - tripoley1966 - danella38 - ruz_kev - rafaamorandini - KingPauly_ - MsVal23 - Mender8 - Lisa6264 - Donna_DHKBB - G64Joann - realdawnsummers - ThePostcardTrav


This Tag appearing in: Canada: ( Winnipeg - Ottawa - Quebec - Montreal - Toronto - Edmonton - Calgary - Vancouver - Canada - ).
United States: ( Atlanta - Austin - Baltimore - Denver - Indianapolis - Memphis - Phoenix - San Francisco - ).
Popular tweets tagged with Oprah:

ThePostcardTraveller @ThePostcardTrav
🔁
The essential question is not, "How busy are you?" but "What are you busy at?" - Oprah Winfrey
---
loading...
10 de fevereiro de 2017
'18 @lifewraven
🔁
When Trump comes for Oprah
---
10 de fevereiro de 2017
jennahanne @jennah_justen
🔁
#TrumpTweets
#Shitholepresident
Here's my message for
Trump on Presidents Day:
😂🖕🏼🖕? usatoday.com ?🖕🏼
---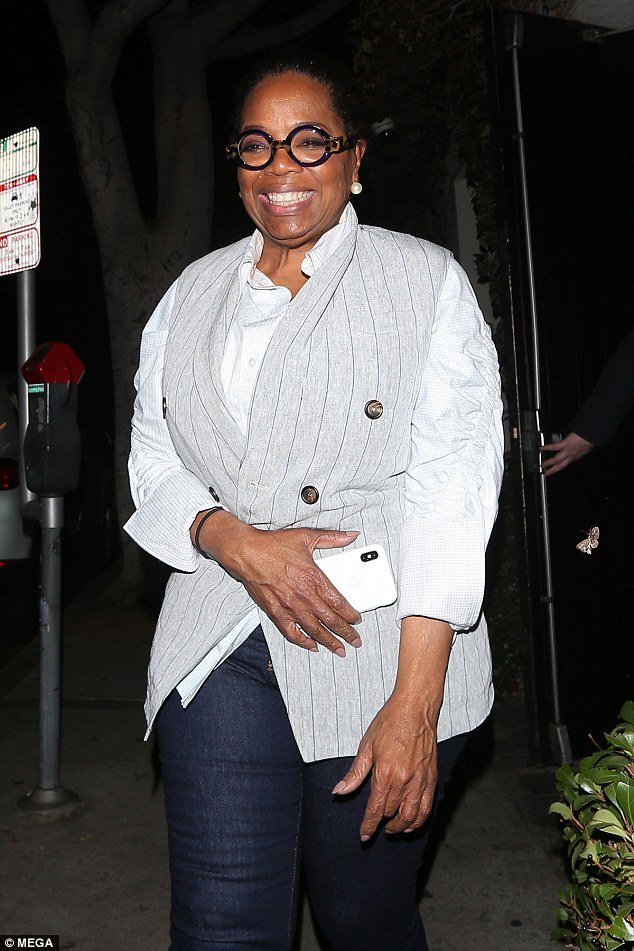 HabariCloud.com @HabariCloud
🔁
What is Oprah Winfrey's net worth? 
habaricloud.com
---
10 de fevereiro de 2017
Really a Russian bot @RiverGreen206
🔁
Insecure #Oprah
---
Donald J. Trump @realDonaldTrump
🔁
Just watched a very insecure Oprah Winfrey, who at one point I knew very well, interview a panel of people on 60 Minu
twitter.com
tes. The questions were biased and slanted, the facts incorrect. Hope Oprah runs so she can be exposed and defeated just like all of the others!
---
Shaun King @ShaunKing
🔁
Again, this man is just miles away from where 17 kids were shot to death and many more critically injured and he's t
twitter.com
weeting insults to Oprah Winfrey.
It's despicable.
SHAME ON EVERY PERSON WHO VOTED FOR THIS MAN.
SHAME ON YOU.
He projects his weaknesses onto others.
---
Ana Navarro @ananavarro
🔁
Read this tweet.
Oprah does not sound like the "very insecure" one.
twitter.com
---
Oh, Donna @donnas0818
🔁
After little tv stunt last night against our , Id like to remind her that she KNEW about the Harvey Weinstein incidents,said nothing & served up women to him on a platter. She also wants white people to die, but thinks she isn't racist. She makes me sick.
---
ukrainianevents @ukrainianevents
🔁
Donald Trump's day so far:
- Attacks Oprah
- Attacks 60 Minutes
- Attacks HR McMaster
- Attacks the FBI
- Attacks Adam Schiff
- Attacks CNN
- Attacks a 400 pound hacker
- Attacks Obama
- Attacks Hillary
- Doesn't attack Putin or the Russians
---
Anthony B. @alost_prince
🔁
Oprah Winfrey
Jemele Hill
Colin Kaepernick
Maxine Waters
Fredrica Wilson
Jay-Z
Marshawn Lynch
All people of African and Caribbean descent
Trump habitually attacks African Americans, especially those who use their voice to speak about against injustice. We will not be silenced.
---
∆33Pαक @deeppotter
🔁
"Very insecure Oprah Winfrey" says the man who complained about pictures of him taken where he thinks he looks fat.
---
Tony Rosales @TonyRsls
🔁
Since the Russia indictment, has criticized:
• The FBI
• President Obama
• Congress
• Democrats
• "Crooked" Hillary Clinton
• H.R. McMaster
• Oprah
Since the Russia indictment, has NOT criticized:
• Russia
---
so_shutup_already @soshutupalready
🔁
Oprah !!!!
Now there is a SELF MADE billionaire
She is much loved by millions
The only "exposing" you do is showing
twitter.com
your junk to hookers, porn stars and
for info only
---
Winter Breedlove @Tvonthefritz
🔁
I'm not one to agree with
NewsBusters.org
If Oprah Winfrey decides to run in 2020, she'll have to stop...
fb.me
---
ً @rennzella
🔁
NASCAR, "loser CNN" ratings and Oprah. These are just some of the things President Trump tweeted about this weekend, days after 17 high school students were killed in Florida.
---
Sofia Maria @SofiaMa07413947
🔁
Just watched a very insecure Oprah Winfrey, who at one point I knew very well, interview a panel of people on 60 Minutes. The questions were biased and slanted, the facts incorrect. Hope Oprah runs so she can be exposed and defeated just like all of the others!
---
Kathleen Chamberlain @NYSEDISBROKEN
🔁
.@realDonaldTrump Keep @Oprah's name out ya mouth. The Color Orange is no match for The Color Purple!
---
Bruce Merrin @celebspkrs4u
🔁
Celeb Quotes of the Day: Lionel Richie, Oprah Winfrey
people.com
via @people
---
Chris McKay @chrisncorona
🔁
What is this crap that is on? I turned to 60 minutes to get some good news and all I see is an anti Trump Oprah leading an anti Trump panel who is spewing false information and feeding off of it!!! Good God!!! Back to the Olympics! I will never Watch 60 minutes again!!! lol
---
Michael R Durlauf @DurlaufR
🔁
Remember when Obama used his President's Day weekend to attack one of the most respected women on the planet, Oprah Winfrey, or use a national tragedy where 17 children perished to try and persuade America that he didn't conspire w/ a hostile power?
Me Either
---
Always A Diva… @SARR_J
🔁
Him calling Oprah insecure made my blood boil.
twitter.com
---
Suzanne Miller @Dr_S_Miller
🔁
@alexburnsNYT Please stop with Oprah. The presidency isn't an entertainment vacancy. Can we learn. Can we think critically.
---
laurine @laurine_forget
🔁
Read this tweet.
Oprah does not sound like the "very insecure" one.
twitter.com
---
Umair Ahamad @umair_ahamad
🔁
Oprah Winfrey expresses gratitude to all the women who have endured years of abuse; watch her full speech here
indianexpress.com
---
sinead larkin @sineadlarkin
🔁
I remember when the President of the United States was too busy leading the free world to watch Oprah, let alone tweet about it at midnight.
---
Ace McCloud @____Ace_McCloud
🔁
Everyone Look Under Your Seats:
It's Photos of Enabler Oprah Winfrey With Sexual Predator Harvey Weinstein.
She Could Have Used Her Platform To Expose His Perversion and Could Have Stopped Countless Sexual Assaults...But Didn't.


Oprah 2020
---
Grey Matters @n920gl
🔁
Oprah? Insecure? There is this thing in psychology called projection...🤫
twitter.com
---
Jim @JKMFilms
🔁
Watching Donald Trump call Oprah "very insecure" is like hearing Oscar the Grouch complain that Big Bird smells like garbage
---
Rix @Rixx_2
🔁
Bitch oprah is more of a man than u ever were or will be! Watch your mouth homeboy. U dont talk to a queen that way
twitter.com
---
windy_shrimp @thewindyshrimp
🔁
Why are you so selfish, there are people in Florida who need your help ,but instead you want to talk about Oprah who is very successful and would make a great president in 2020
---
Lori Bradbury @icebearlover
🔁
Gather all the pros and cons about these people you are supporting before opening your mouths folks. You'd be amazed
twitter.com
what you will find out about Oprah and Hillary in their past and present lives. I know one thing is for sure, neither one will ever get my vote while I'm alive!
---
Tyson Dolan @_TYPD_
🔁
Yooo who the fuck goes after OPRAH?
twitter.com
---
Shawn Schwiesow @shawn_schwiesow
🔁
But what are YOU doing about it right now in 2018 besides tweeting about BS like Oprah being insecure, U are right, R
twitter.com
ussians are LTAO
---
RaDSaM @RaDSaM11
🔁
And yet Oprah is a real and respected billionaire who didn't receive millions of dollars from her daddy to start her business, didn't get sued by the federal government for racial discrimination, and didn't declare bankruptcy six times like you did.
---
Celebsrumor @celebsrumor5
🔁
Trump Lashes Out At Oprah Over "60 Minutes" Interview, "Hope Oprah Runs So She Can Be Defeated And Exposed!"
twitter.com
---
Bonnie Sharpless 🌊 @BonnieSharpless
🔁
@1SnoozyQ @Oprah Well, she meant she felt safer since Trump is getting rid of brown people, she just didn't want to say that on TV.
---
Judy Young @judieyoung
🔁
ECONOMIC BOYCOTT - DACA SUPPORT: Please ask your members and followers to POSTPONE MAJOR PURCHASES and AVOID BIG BOX STORES until DACA is resolved.
---
Goddess Veritas @_Truth_Guardian
🔁
I drive past his NYC golf course once a month. Place is always packed so he's making good $ with that & he was the hi
twitter.com
ghest paid person on TV with apprentice. I don't know how much maralago & trump tower makes but both are prized properties. He's like the Monopoly guy.
---
nikki solemsaas @nikkisolemsaas
🔁
Well you can't argue with him there if there's one thing we know about Oprah it's how insecure she is.
---
loading...
Grab em' by the Mid-Terms! @seasidechic
🔁
As my mom said, "the one person Trump better not pick a fight with is Oprah. Everyone likes Oprah. He will lose that fight badly."
---
PTA @pekelo98
🔁
Hmm. He has a problem with Oprah but not Putin…standard.
twitter.com
---
Chris Kosowski @ChrisKosowski1
🔁
Trumps supporters are clueless to what is really going on and Fox news along with Trump, Putin and the GOP terrorist
twitter.com
organization are responsible for ALL of this.
---
Jean Esterhuizen 🇿🇦 @baddieju
🔁
Donald Trump Disses Oprah Winfrey
bit.ly
---
Pure Brown Sugar @AustinTheCarter
🔁
You just called out Oprah to run, lol do we really have to wait until the 2020 Election?
twitter.com
---
abc123 @LaLaKristiansen
🔁
Hello Sunshine.. Fergie National Anthem, Panther Box Office Gold, and Trump messing With Oprah...
fb.me
---
Susan Decker @suziduzy
🔁
Does this asshat realize that on this Presidents' Day weekend parents are burying their babies down the street from his golf course. Going after Oprah is the most inspiration and compassion he can show this country. He has no soul.
---
Greg Dennis @GreenGregDennis
🔁
@ananavarro Only Donald Trump would think that Oprah is insecure.
---
Dee B @deebee52
🔁
Did hurt your 'liddle' feelings?
MAYBE YOU SHOULDN'T HAVE TREASONED!!
PATRIOTS are coming for u Trump, at the side
twitter.com
of & , & .
---
Momthra @Momthra
🔁
@realDonaldTrump Oprah is completely self-made and built an empire worth billions.
---
🧟‍♀️ Sennifer's Body🧟‍♀️ @HaughtybyNature
🔁
Donald Trump really lost his damn mind and fixed his ashy, KFC greased fingers to call Oprah insecure:
---
CanadianChick @Daylejl
🔁
Oprah has said over and over and over that she's not that person...not qualified and doesn't want to run for presiden
twitter.com
t. It's all the idiots talking around her thats causing the media to keep throwing it out there. Most ridiculous idea I ever heard.
---
DonRondel @DonRondel
🔁
Oprah is merely another racist like Obama Farrakhan Jackson Sharpton etc .... nothing new here
twitter.com
---
DSO🗽💜 @DeborahOchoa07
🔁
Watching the 60 minutes Focus Group with Oprah was eye-opening. Seeing same data but two sides hearing different things is key to problem. Our biases cloud facts.
---
🇺🇸Besties4Life🇬🇧 @mitchiepoo46
🔁
An amazing year. Happy Presidents Day to our 45th president of the
On behalf of the Media, Politicians, Pundits, Comedians and Celebrities who said he'd never win. This video is for you.
Share and trigger a Liberal 👇
---
edin @edinhissham
🔁
I liked a @YouTube video
youtu.be
Steve Harvey Gifted TVs to the Teachers Who Said He'd Never Be on TV | Oprah's
---
G. Mitchell @orgehell
🔁
Don't forget the Oprah.
I guess he kept watching after monitoring his State guy to insure he still "rides for the br twitter.com and".
Yippee yahyay!
---
NaomiJohnson💋 @JmosDocGal
🔁
Shouldn't you be focusing on how to solve the problem of innocent children to be massacred on a regular basis?
Maybe, if you need some help, you could ask Oprah what she would do.
---
Scott Ketcher @tripoley1966
🔁
My friends just died in a mass shooting at a school in the country you unfortunately run and you want to bash Oprah on twitter instead of speaking about and doing something that actually MATTERS??? We're tired of your crap, Dirty Donald.
---
danella angel @danella38
🔁
👊👉❤️POTUS Trump BLASTS 'Very Insecure Oprah'--Urges Her To Run So She Can Be 'Exposed'‼️🤣Will have so much fun watching another clown in the circus of the Dems defeated by our best President Trump!
---
KEVIN RUZINDA @ruz_kev
🔁
@realDonaldTrump Focus on your mistakes and make them right before you can see Oprah's. @SOFU_UG #GagamelDrive #BebecoolGagamelDrive
---
🚀 44-13 🚀 @KingPauly_
🔁
He makes habit of attacking prominent African Americans. His tweets are dripping with fragility, envy, insecurity and projection. PR suffers. Flint has no water. Children are dying. But he's tweeting about.... Oprah!
---
Mender 🦋 @Mender8
🔁
@realDonaldTrump Just another person you're scared of: Mueller, Meryl, Rosie, Comey on and on, and now Oprah.
---
Donna @Donna_DHKBB
🔁
Trump just tweeted that Oprah is "insecure" and that he hopes she runs so he can defeat her.
1. Oprah is not insecure.
2. If Trump somehow manages to make it to 2020, we the people are going to turn out in such record numbers that no amount of Russian interference can save him.
---
JoannG64 @G64Joann
🔁
All I can imagine is the laughing that was going on in Oprah's home at this insignificant, sub human calling her ins
twitter.com
ecure.
---
Dawn Summers @realdawnsummers
🔁
Don't know Oprah so can't speak to her level of insecurity but I'm thinking if she were president she wouldn't be trying to start shit with a celebrity on the morning of Presidents Day because her feelings got hurt.
---
---