Michigan State: 14.126k tweets talking about this in the last 24 hours

People talking about Michigan State: - PaulHembo - espn - BleacherReport - ackermanforever - CarltonBrewster - KimBurma - tylernejaime34 - kmackerman13 - AshBroHud - ProfStink[...]

- MorseAutumn - jhwoods - xtnetworks - xtnetworks - aaronalow_2 - elizagott - codyriley23 - ardisf - bchapsports - BlueBellmore - SimpleGirly - golf_cart_guy - Smith_Jake_ - pauloberst15 - Krissnyder - DavidPHIII - suishiiazuma - mitchstacy - stilldroc859 - SkibumNate - clinefsky - SpartyH - FalconFanatic84 - DebbieBrandt1 - jeauboux - KingChavez10 - JoeRazz15 - CoachRobBurton - valnajera95 - oliviaficklin - rj_hogie - Michiganworld - Uperpeninsula - Miller_Justin11 - Dianne2429 - MommaWilloughby - imactuallymic - JBSparty1609 - Spartansavages - M_DWalker - sxphx - missymitch3 - WNBACatWatch - gatormark1107 - Angelo_in_the_D - ebtSports - best_michaela - LongLiveB0 - MattArmstrong1 - JohnForbes11 - Scott_McCoy87 - MaxACohen - STLbobbytull - SeanLutz - alexandrajaid - TonyDick15 - Lancasterphoto - BillCobbsforMI - TJank72 - MikePrincipato - Tlack20 - FrederickDever1 - NorseReport - cade_lee4 - TheGreatLawee - paytonfor3 - sooze555 - StephaniePNews - dmvphe - Spartansavages - Arivnna - cmulvania18 - TMcGathy4 - MitchCox3 - Peggyshi0801 - MaeganRong - Graham_Couch - CristoMeSalvo7 - susavestheworld - JoePallas54 - logan_culver - Matthew_S_Brown - rorygiggzc4 - nick_stockdog - jtsikorski - MSUSpartanFan78 - jchas22 - msuhockey22 - myles_andmyles2 - KylieTharp


This Tag appearing in: Canada: ( Winnipeg - Ottawa - Quebec - Montreal - Toronto - Edmonton - Vancouver - Canada - ).
United States: ( Charlotte - ).
Popular tweets tagged with Michigan State:

10 de fevereiro de 2017
Tyler Nejaime @tylernejaime34
🔁
🔥🔥🔥 Visual Recap 🔥🔥🔥
Syracuse vs. Michigan State
#MarchMadness 🍊🏀
---
JRF @ProfStink
🔁
Once again....RT if John Beilein is the best coach in the state of Michigan!
---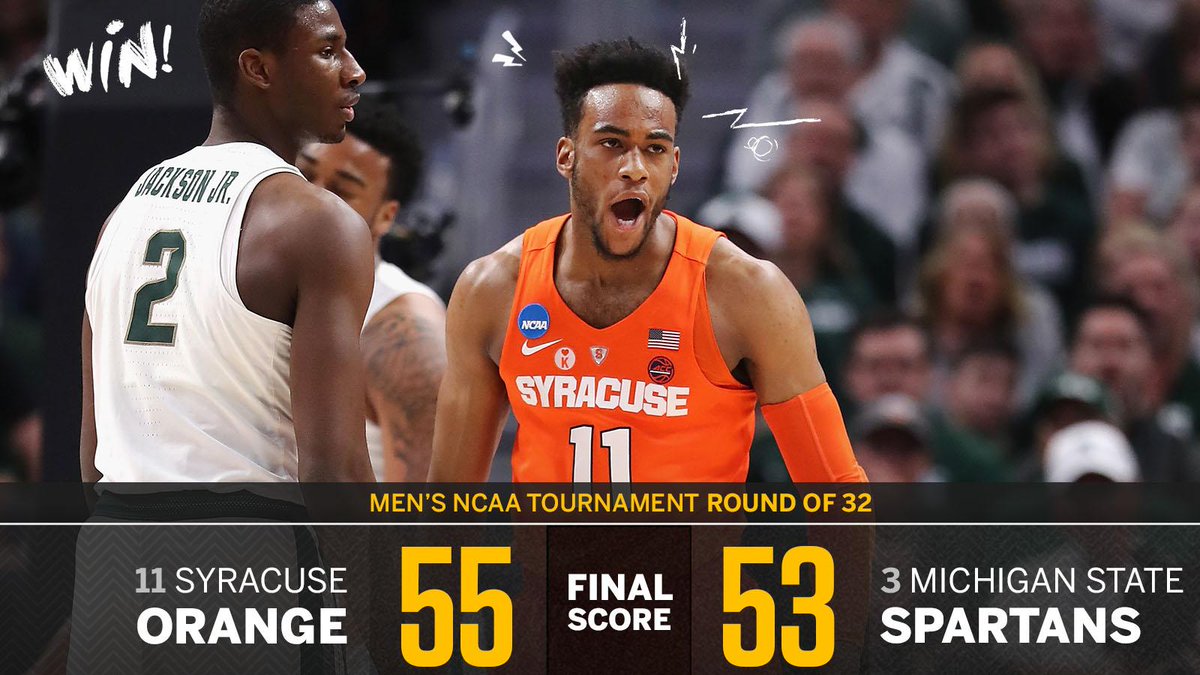 ESPN @espn
🔁
DOWN GO THE SPARTANS!
Syracuse upsets Michigan State to punch its ticket to a 19th Sweet 16!
---
Paul Hembekides @PaulHembo
🔁
Syracuse was outrebounded, 51-30.
Syracuse made one 3-pointer.
Syracuse had 3 assists.
Syracuse won.
Against Michigan State.
In Detroit.
---
marISSA @ackermanforever
🔁
CHIPPEWAS WIN! OH HOW SWEET IT IS! Central Michigan downs No. 3 seed Ohio State, 95-78! CMU will take on No. 2 seed Oregon in Spokane, Washington!
---
Carlton Brewster II @CarltonBrewster
🔁
Clarkston / Michigan State signee Foster Loyer wins Mr. Basketball
---
Kim Burma @KimBurma
🔁
It's official folks. will welcome Michigan State to the Sanford Coyote Sports Center this Thursday at 7pm for the Round of 16. Get your tickets at . We need to see you all there wearing red!
---
Ashley Huddleston @AshBroHud
🔁
With North Carolina, Virginia, and Michigan State now out of the NCAA tournament, I think it's really important for the entire country to put aside our differences for the next couple of weeks and join together in rooting against Duke.
---
James Woods @jhwoods
🔁
Holland High School had an incredible day for the annual Michigan History Day day competition! 11 of the 14 8th graders that competed will be moving on to the state contest!
---
Xtreme Sports News @xtnetworks
🔁
Buffalo stuns Florida State to reach first Sweet 16 - The Sweet 16 has two double-digit Cinderellas after No. 11 see
twitter.com
ds Buffalo and Central Michigan won Monday. The Bulls, who beat Florida State on the Seminoles' court, and Chippewas are...
---
Xtreme Sports News @xtnetworks
🔁
Buffalo stuns Florida State to reach first Sweet 16 - The Sweet 16 has two double-digit Cinderellas after No. 11 see
twitter.com
ds Buffalo and Central Michigan won Monday. The Bulls, who beat Florida State on the Seminoles' court, and Chippewas are th...
---
ardisf @ardisf
🔁
Totally agree: "No other fan base in the country has it better when it comes to the combination of football and basketball. Not Alabama or Oklahoma or Michigan."
MSU fans have been spoiled.
---
Brian Chapman @bchapsports
🔁
is going to the Sweet 16 for the second straight year!
has failed to get to the Sweet 16 for the third straight yea
twitter.com
r!
Who will go to more Sweet 16's in the next five years? Michigan or Michigan State?
---
Alicia Bellmore @BlueBellmore
🔁
FINAL: Central Michigan 95 Ohio State 78. just blew out the Big Ten regular season and tournament champion on their own campus! The 30-4 Chippewas are headed to their first ever sweet 16!! See you in Spokane!
---
Kristin @SimpleGirly
🔁
VICTORY FOR MSU!!! MSU D prevents Toledo from getting shot off before buzzer.
FINAL SCORE: Michigan State 68, 66 in 2nd round. MSU will play at South Dakota on Thursday.
---
germans?boi @golf_cart_guy
🔁
Facts:
There's no such thing as clean coal
I don't care what AR stands for in AR-15. It's about what it does.
Social programs aren't "handouts" we pay into them.
Flint still isn't fixed.
The roads are still shit.
And I am running for the Michigan State House!
Plz Retweet!
---
jake smith @Smith_Jake_
🔁
Remaining on the left side of the bracket...
5 Kentucky
9 Kansas State
11 Loyola-Chicago
7 Nevada
9 Florida State
4 Gonzaga
3 Michigan
7 Texas A&M
One of these teams is playing in the national championship.
---
Paul Oberst @pauloberst15
🔁
Out of the tournament:
Auburn/Tennessee, SEC co-champs
Virginia, ACC champ
Arizona, PAC-12 champ
Michigan State, Big Ten champ
Xavier, Big East champ
Cincinnati, AAC champ
The only power league champ to make the second weekend is Kansas.
---
Mitch Stacy @mitchstacy
🔁
Central Michigan stuns Ohio State in NCAA regional (from @AP)
apnews.com
---
Nathan Brian @SkibumNate
🔁
Michigan State "has a much bigger problem than Penn State." And officials there are making one mistake after the next, reports.
---
SpartyHomer @SpartyH
🔁
Congrats to Michigan State commit Marcus Bingham on finishing #4 in the Mr Basketball race! Everyone go show him some love, he's about to tear it up in EL, !
---
Marta Crow @FalconFanatic84
🔁
The Sweet 16 has two double-digit Cinderellas after No. 11 seeds Buffalo and Central Michigan won Monday. The Bulls, who beat Florida State on the Seminoles' court, and Chippewas are the first pair of 11 seeds or lower to reach the Sweet 16 since 2012.
---
Debbie Brandt @DebbieBrandt1
🔁
Nassar's Boss Said in 2016 He Didn't Believe Abuse Claims
a.msn.com
---
Handjobs for Ewoks @jeauboux
🔁
@DuaneLedien21 @whale_capper Not if it's Syracuse Michigan State
---
Joe Razz Rasmussen @JoeRazz15
🔁
How each AAC team ended their :
• Wichita State: upset by 6 to 13-seed Marshall in the first round
• Houston: lost by a miracle buzzer beater 3 from Michigan
• Cincinnati: blew a 22-pt lead in the final 0:10 to Nevada
Could be worse though, could be the Pac-12.
---
Coach Robyn Burton @CoachRobBurton
🔁
UPSET: No. 11 seed Central Michigan 95, No. 3 seed Ohio State 78
* Buffalo and Central Michigan are the first No. 11 seeds to advance since Gonzaga in 2015
* They are also the first pair of teams seeded No. 11 or lower to reach the Sweet 16 since Gonzaga and Kansas in 2011
---
Valerie Najera @valnajera95
🔁
An excellent article from outlining how truly awful MSU's response to the Nassar situation has been. Every MSU alum and current student should be demanding the entire Board of Trustees resign because of their gross incompetence.
----------
---
Melody Willoughby @MommaWilloughby
🔁
Sweet 16 academic rankings*
Duke (9)
Michigan (26)
Villanova (46)
Purdue (56)
Syracuse (61)
Clemson (67)
Texas A&M (69)
FSU (81)
Gonzaga (87)
Loyola (103)
Kansas (115)
Kentucky (133)
K. State (145)
Texas Tech (176)
WVU (187)
Nevada (202)
*Source: US News & World Report
---
John Bryant @JBSparty1609
🔁
The Spartans are the team to beat for Jase Bowen, a junior receiver from Toledo (Ohio) Central Catholic. (VIP)
---
Sonja Mitchell @missymitch3
🔁
@jaythoughts How ya feeling about that Michigan State pick now? 😜
---
WNBA Cat Watch @WNBACatWatch
🔁
and if you put on ESPN2, you'll see Central Michigan going for another 11/3 upset over Ohio State, currently up 15 with 2:36 left!
---
Angelo Newby @Angelo_in_the_D
🔁
History: Central Michigan advances to its first women's NCAA Sweet 16 with a dominating win over Ohio State.
---
The ebTalk Benefit @ebtSports
🔁
There have been over 335,000 picks made over the past 12 years in the ebTalk Benefit Pool. From the first round to t
twitter.com
he championship games, the top five picked teams of all those thousands are (in order):
1.) Kansas
2.) Duke
3.) North Carolina
4.) Villanova
5.) Michigan State
---
John Forbes @JohnForbes11
🔁
Reminder: Effective at 6 a.m. today, weight restrictions have been expanded to cover all state trunkline highways for the entire state of Michigan, both Upper and Lower peninsulas. State routes typically carry M, I, or US designations.
---
Max Cohen @MaxACohen
🔁
Inject Michigan State fans saying Michigan got lucky into my veins. I've always thought basketball is inherently a g
twitter.com
ame of bounces, and therefore contained a little bit of luck, but their arguments have made me reconsider.
---
---