#ALSen: 17.897k tweets talking about this in the last 24 hours

People talking about #ALSen: - GDouglasJones - HowardKoplowitz - funder - kurtbardella - g_ashleyhawkins - THUTO - robert_codman - NadineH98 - Margie1820 - TheBFRoom[...]

- GWagner42 - News365247live - BigOrange_2015 - MrMikeVasquez - benwetmore - RockersDenStore - sh_irredeemable - OurVoice911 - purplephun - MaeveMagdalen - HopeSprings13 - NicolePauline17 - FoxNews - BDawson4Justice - Jarhead_Jew - spitdabit - raiderjim40 - A_Gruszka - kgd1963 - GideonHenry - Chwoman4Trump - ToniDSanClement - mlong42947 - Chwoman4Trump - RoyLeePlummer1 - PaigeAndJon - cferrer777 - AmanJohalGFA - Monniewills - tiger78232 - Ponyexpress2 - bbegin3954 - TNrina - fightcrazy - ascending2him - BtsBill - tpuffingtonhost - mspugh01 - Pappenjazz - GaetaSusan - AUdebm - Lulugopgirl - imtan2 - SoloChooWookie - CoolChange80 - 3bbe415fc0094cd - realJohn_Wesley - ARRESTBHO - billclunie - BethanyBlankley - singergrl84 - DeplorableMtn - ShaneGoldmacher - TheJays - MerlinGyr - sandyzb426 - lorihack_az - CarlCole3 - redwing13040774 - Roy___Rogers - Emmita17E - KIRRSF - Nestlesquickga1 - alexis_levinson - lisababy1124 - Jr3597 - Jarhead_Jew - cferrer777 - tatine47 - mcmxlvman - JohnTibbs65 - MarkBadgett7 - violavineyards - RickyMariposa - wamnode - PennyLDuncan - CMDR_Paylor - RachaelMontagu2 - tysoneberly - IndforChange - BRad6765 - 1catherinesiena - QuidProPanda - DebraGaillytton - Rebeccasez - TuxcedoCat - sadiewix - dralmavillegas - steph93065 - sadiewix


This Tag appearing in: United States: ( Louisville - ).
Popular tweets tagged with #ALSen:

10 de fevereiro de 2017
Ricky Mendieta @RickyMariposa
🔁
Child molesters for Jesus #ALSen
---
loading...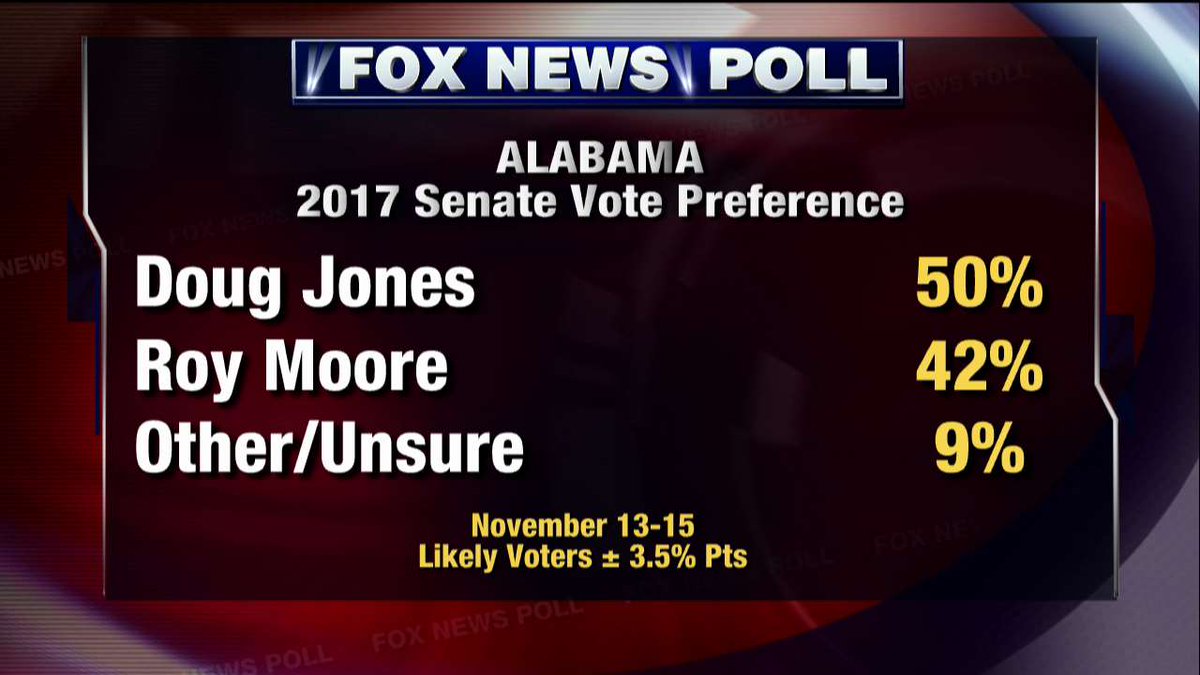 Michael Vasquez @MrMikeVasquez
🔁
Fox News Poll: @GDouglasJones leads @MooreSenate 50% to 42% in #ALSen.
---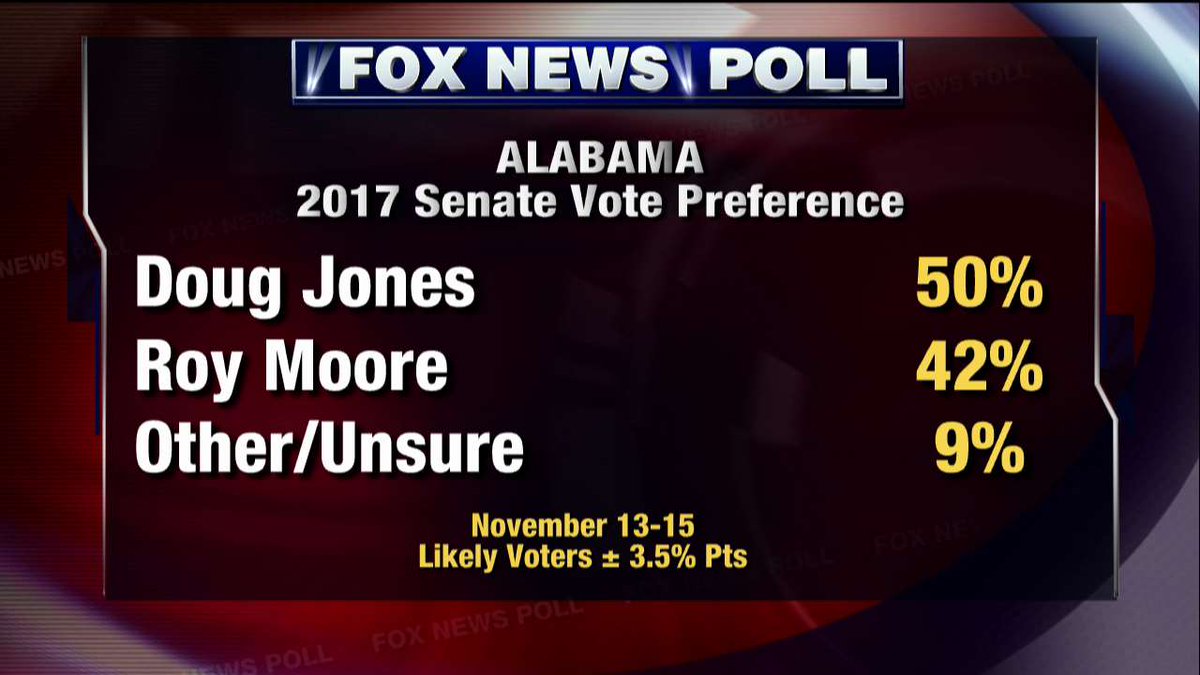 Fox News @FoxNews
🔁
Fox News Poll: @GDouglasJones leads @MooreSenate 50% to 42% in #ALSen.
---
⚡️Gideon Henry⚡️ @GideonHenry
🔁
Judge Roy Moore in 1982 chopping wood at his home in Etowah County, Alabama
#ALSen #RoyMoore
---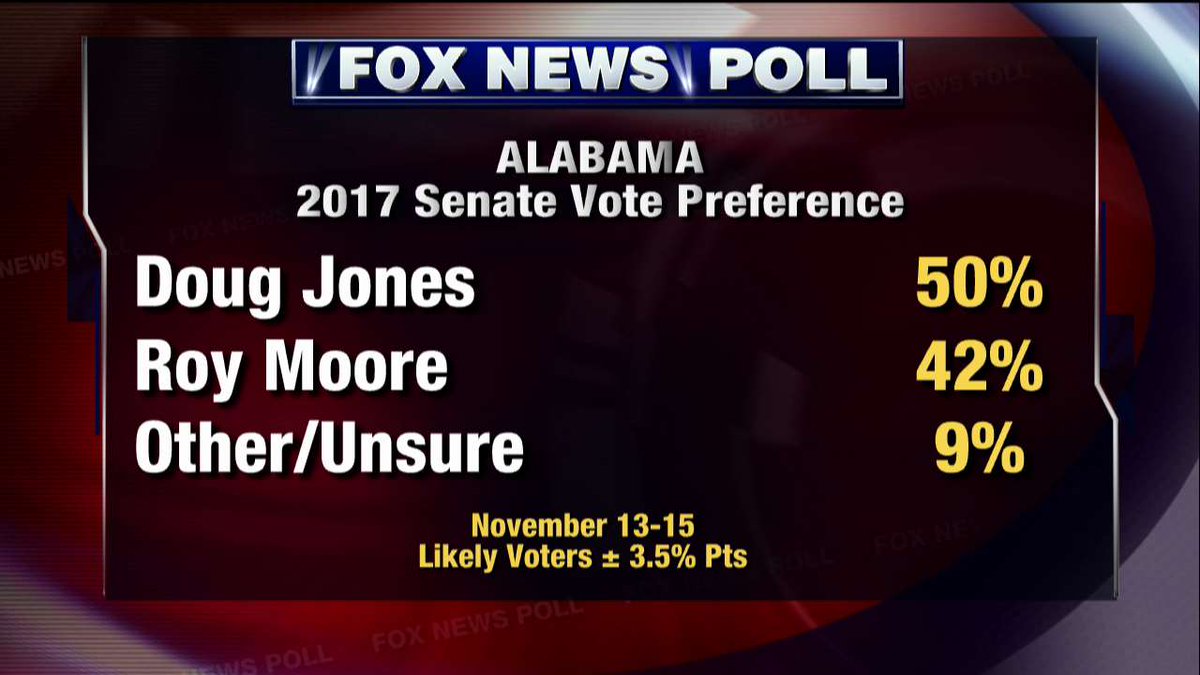 The Briefing Room @TheBFRoom
🔁
FOXNEWS: Fox News Poll: GDouglasJones leads MooreSenate 50% to 42% in #ALSen.
---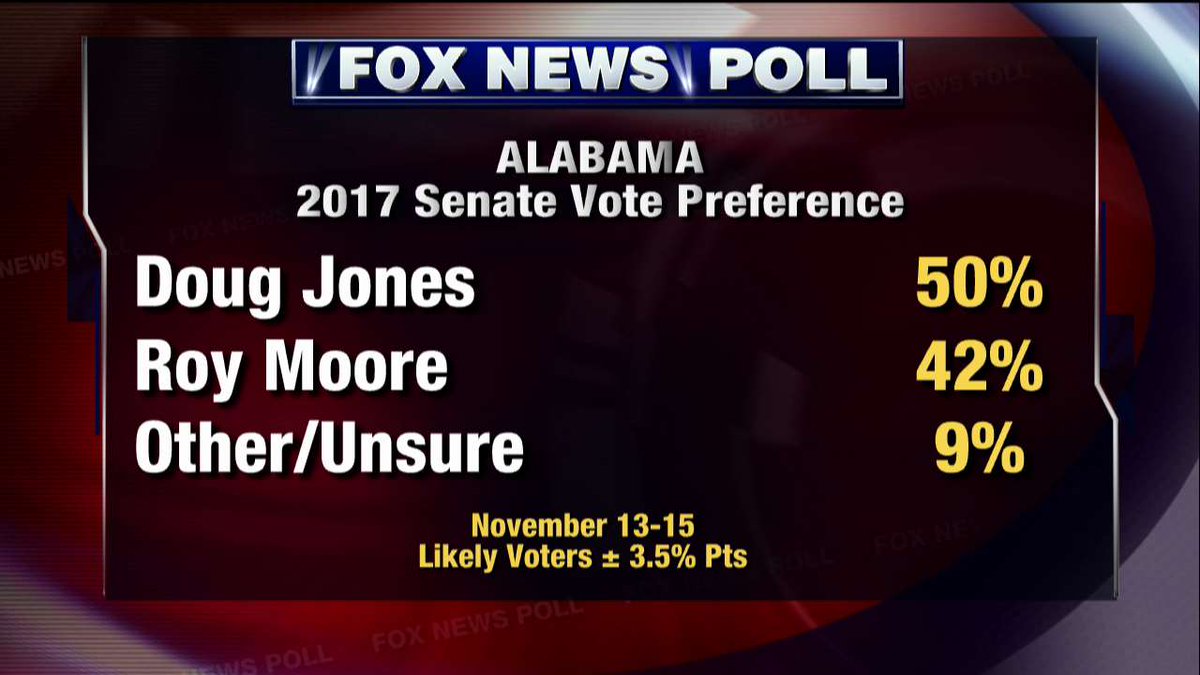 Annelize Bester @THUTO
🔁
FoxNews: Fox News Poll: GDouglasJones leads MooreSenate 50% to 42% in #ALSen.
---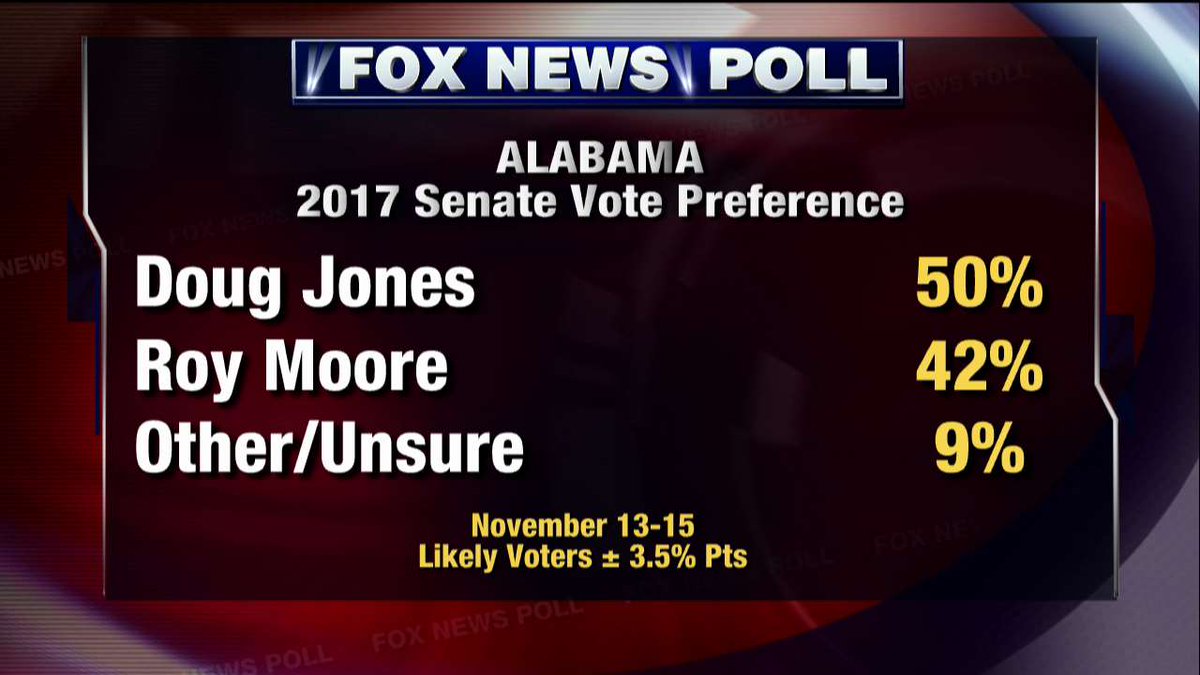 G. Ashley Hawkins @g_ashleyhawkins
🔁
Fox News Poll: GDouglasJones leads MooreSenate 50% to 42% in #ALSen.
---
Doug Jones @GDouglasJones
🔁
Our campaign is gaining momentum & supporters from every corner of Alabama.
We're 26 days out and preparing for the twitter.com final push.
If you're voting for me on December 12, can we count on you?
---
Howard Koplowitz @HowardKoplowitz
🔁
.: "Alabamians will be the ultimate jury in this election- not the media or those from afar."
twitter.com
---
Scott Dworkin @funder
🔁
NEW: Roy Moore's 6th victim came forward today for him groping her while in his law office. Moore was married at the
twitter.com
time.
'He didn't pinch it; he grabbed it'
---
Kurt Bardella @kurtbardella
🔁
New Today asks "Why the Hell is Still Defending " - my thoughts:
twitter.com
---
Codman Robert @robert_codman
🔁
Judge Roy Moore RT
32m
Good morning, Alabama!
Day 3 of New York attorney Gloria Allred's refusal to turn over h twitter.com er fake yearbook for third party examination.
---
Nadine @NadineH98
🔁
What's going to happen in Alabama? #ALSEN #psc110 #psc115
---
Geoff Wagner @GWagner42
🔁
My latest... #ALSen
afa.net
---
Ben Wetmore @benwetmore
🔁
I'm gonna tell you who needs to step down, that's Mitch McConnell. #alsen
---
RockersDenStore @RockersDenStore
🔁
Send a message to the DC swamp and corrupt MSM! Vote Roy Moore!
#ALSen
pscp.tv
---
Irredeemable_D.Sharp @sh_irredeemable
🔁
Let me improvise for Mitt:
Innocent until proven guilty is for criminal convictions, not elections. I believe Leeann twitter.com Tweeden. Her account is too serious to ignore. Al Franken is unfit for office and should step aside NOW!
Roy Moore
---
I love America @purplephun
🔁
GADSDEN MALL MANAGER Barnes Boyle: Roy Moore Was Never Banned, Never Accused of harassing ANYONE.
---
Maeve Magdalen @MaeveMagdalen
🔁
Even a bad atty like wld have seen /D.A. for what it was The perp is unfortunately a
twitter.com
---
Hope Springs @HopeSprings13
🔁
@thehill Finally some sanity: "innocent until proven guilty, but not electable until proven guilty." Nicely done @GBYRs. #ALSen
---
Nicole Pauline @NicolePauline17
🔁
Are you really using this shit as justification? My signature changed over the years. I DO believe you signed that bo
twitter.com
ok, but again, it wouldn't matter because our writing changes over time!
---
Hebrew Hand Grenade @Jarhead_Jew
🔁
@daveweigel The scales over your eyes seem to be loosening ...
Now apply this newfound awareness to the #RoyMoore #ALSen hysteria.
---
Anthony Gruszka @A_Gruszka
🔁
@MooreSenate Pedal to the metal against all these lying #DemocRATS #AlSen
---
Aman Johal @AmanJohalGFA
🔁
Trump was just asked if he thinks accused child sexual predator should get out of the race. He wouldn't answer and still won't even condemn the behavior that Moore is accused of engaging in.
...too close to home?
---
Monnie Wills @Monniewills
🔁
The Roy Moore debate is over. #alpolitics #ALSEN
alreporter.com
---
Gloria Murphy @Pappenjazz
🔁
IfADecentMan Like LosesElection, It WillGiveTheGreenLight2The GloriaAllreds, MSM, , Est e.g. I.e. DeepState2 CO
twitter.com
NTINUE 2Lie/Manipulate/DirtyReputations/DestroyLivesAtWill!
---
Deb M. 💪🏻 @AUdebm
🔁
Editorial Board endorses 👏🏻
Alabama it's time we stand on the & vote
👉🏻
👉🏻VOTE: twitter.com
---
Linda Ennen @imtan2
🔁
"One has to ask if there is any politician more selfish than Roy Moore right now?" #ALSen
redstate.com
---
Solo @SoloChooWookie
🔁
Good morning Judge Bad Touch! Year 40 of you being a child molesting perv and refusing to admit the truth.
twitter.com
---
Michael @CoolChange80
🔁
@WayneRoot Mitch McConnell , Karl Rove, and Rupert Murdoch Better Get Use To Hearing The Name
#SenatorRoyMoore ! #VoteRoyMoore #ALSen
---
John☝🏻Wesley🇺🇸 @realJohn_Wesley
🔁
We missed yesterday's podcast due to sickness in the Wesley household. Tomorrow's podcast will be up at normal time.
twitter.com
Take time to listen in.
---
Kaye McDonald @ARRESTBHO
🔁
Presumption of innocence.As an American, it is your birthright. It's Judge Roy Moore's too. #ALSen
pscp.tv
---
Bill Clunie @billclunie
🔁
A couple more years we won't have to deal with messy Senate races. Trumpigula will just appoint a horse to a vacant S
twitter.com
enate seat.
---
Shane Goldmacher @ShaneGoldmacher
🔁
Tina Johnson, one of the women accusing Roy Moore of sexual harassment is on Megyn Kelly's show right now #ALSEN
---
Merlin @MerlinGyr
🔁
theplainsman.com
The youth of our state have spoken. Vote #DougJonesDec12 #ALSEN
---
Lori Hack @lorihack_az
🔁
Careful hypocrite! … King David - A man after God's own heart was VERY flawed ... ... Who isn't flawed and in need o
twitter.com
f DEEP forgiveness? I will wait. Also, bearing false witness is HUGELY evil.
---
Carl Cole @CarlCole3
🔁
Jones' presentation and demeanor were ... Senatorial. #ALsen #alpolitics
twitter.com
---
Rick S @KIRRSF
🔁
Our President sets the example from his playbook on how to respond to accusations like Roy Moore from his past. But h
twitter.com
e denied to the end and will burn in hell. Trump and Moore and other men like them are worst kind of hypocrites!
---
This email address is being protected from spambots. You need JavaScript enabled to view it.

@Nestlesquickga1
🔁
you are playing dirty politics...straight of the playbook. We will need your resignation Senator.
---
Alexis Levinson @alexis_levinson
🔁
Tina Johnson, one of the women accusing Roy Moore of sexual harassment is on Megyn Kelly's show right now #ALSEN
---
loading...
Jenn Ratcliff @Jr3597
🔁
A powerful endorsement from Steve Duncan.
Thank you, Steve. I won't let you down!
---
Hebrew Hand Grenade @Jarhead_Jew
🔁
Cool - so you're not only calling for to be held accountable for actions he admits, you're also denouncing the false
twitter.com
allegations, defamation, and innuendo being thrown at Awesome! Finally some integrity and intellectual honesty from the Left.
---
HG⚔Commander Paylor⚔ @CMDR_Paylor
🔁
This is a beautiful ad and testament to country over party. This is how politics should be run. No attacks. No divisi
twitter.com
veness. No hate rhetoric, just factual reasoned thought. Bravo!
---
Steel Magnolia @Rebeccasez
🔁
Do evangelical voters abandon principles regarding preferred yet seemingly immoral candidates? Why?
Liste twitter.com n: Do Religious Voters Excuse Immorality? -
---
(((RB Blair)))❄️ @TuxcedoCat
🔁
If you're holding a "women for #RoyMooreChildMolester" press conference, you're losing!
#ALSenate #ALSen #GOPfascists #GOPhypocrisy
---
bwix @sadiewix
🔁
This piece from @DD_MarySell is typical of her top-of-the-shelf work.
decaturdaily.com
#ALSEN #alpolitics
---
---