Witten: Become Trend on twitter at (2017-12-18 05:25)

People talking about Witten: - Patriots - nickeatman - Brice_Butler - ASUboy19 - Offparoletx - kevinpineda1991 - itsJakeE3 - ToniLyn_ - SeanPlichta - nothoughtforit[...]

- zaccrain - pmh9946 - P0kerPsych - 9JEDweCAN - ezy06001 - FlyLynofCoke - Dee_storey03 - NoleFan06 - SchnixB04 - 6Grampy - mike47725919 - aystorey - jessdead6 - Kyledooog - _SamUncensored - dnt505 - DeanS_B - izzy100fuegos - thetwilightsown - KylieSwerving11 - Jade_emily80 - Coal_Signs - prthegreat609 - joeg0nyea - briggbates - RyanDaniels95 - 2018finnasuck - tiny_aspiration - theyylovedarahh - jmuoio88 - MarkLeNoir79 - JayHughes24 - Ray72law - wheresBIGTUNEZ - StevenVanOver - AsTaR06 - 1stnameashley - jacobhale_ - rickyabbott18 - _kaseyleanne_ - RyanBarcuch - talavera_alex - RAIDERJESSY - ASteezin - Hoodiez26 - JScruggs_TM - Mwilliamson46 - WhoBeenDrinkin - MLGSmarts - AntFosterTom - rebeccasan2004 - RyanAlanSecoy - taylorgarvin2 - PoloKidSean - Traneofthought_ - Marshallx20 - DAT_BOY_CHR1S96 - RichHopkins - TRizld10 - ACmeRollin - The6th_Espada50 - suttonimpaQt - AndytcAndrea - hannahkrams - ChanceSadler85 - jems_tx - jesusramos805 - MalfaJ98 - pat_kelley - fbiagent4hire - Traneofthought_ - DNeckel19 - AJTheManChild - SeattlePatsFan - DayDaydaMonster - BluecordPoet - raven_charmcity - MTulickas - jeosena_11 - Whitney_Leito - simasa828 - dkeithtrack - PATSandJAYS - tjwhawk_ - IamHannibalT - aye_itsalex - Zyo7g - Mr_Candelaria - Cam_B_2Chill - JasonChanning


This Tag appearing in: United States: ( Albuquerque - Atlanta - Baltimore - Baton Rouge - Birmingham - Chicago - Cleveland - Colorado Springs - Columbus - Dallas-Ft. Worth - Detroit - Fresno - Greensboro - Harrisburg - Indianapolis - Jacksonville - Kansas City - Long Beach - Louisville - Memphis - Milwaukee - Minneapolis - Nashville - New Haven - Omaha - Philadelphia - Portland - Providence - Raleigh - Richmond - Sacramento - St. Louis - Salt Lake City - San Antonio - San Francisco - San Jose - Seattle - Tallahassee - Tampa - Tucson - Virginia Beach - Washington - United States - ).
Popular tweets tagged with Witten: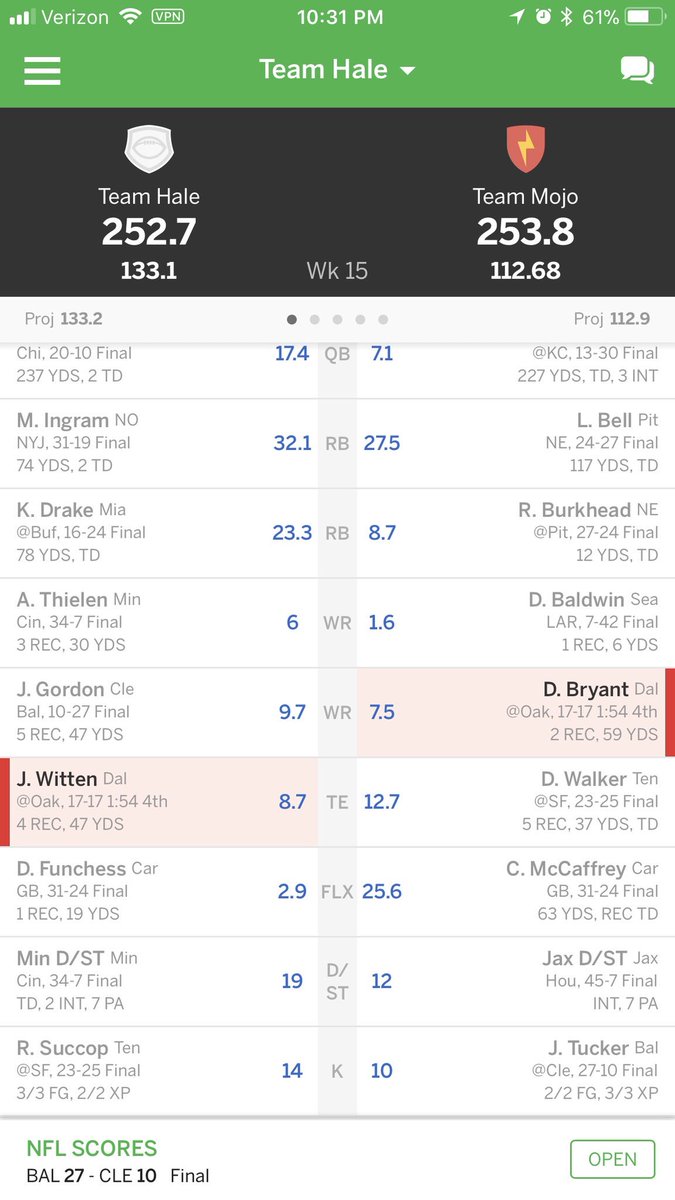 jacob hale❄️ @jacobhale_
🔁
I need a TD to witten 😭😭 this is so close
---
loading...
Brice Butler @Brice_Butler
🔁
Witten's knee isn't down where the announcers are saying It is... his knee isn't hitting the ground it's on top of 42's arm
---
Nick Eatman @nickeatman
🔁
Witten is still asking the refs why there was no call on the hit to Dak's helmet? #cowboyswire
---
New England Patriots @Patriots
🔁
. joins Tony Gonzalez & Jason Witten as the only tight ends in NFL history with four 1,000-yard receiving seasons.
twitter.com
---
Brett @ASUboy19
🔁
. joins Tony Gonzalez & Jason Witten as the only tight ends in NFL history with four 1,000-yard receiving seasons.
---
. @Offparoletx
🔁
Jason Witten doesn't want it to go to overtime because he's got a big all-staff meeting at the Service King he manages in Flower Mound in the morning.
---
Sean D&S Sports @SeanPlichta
🔁
@dmcreek These are the refs that initially thought Witten got the first down which clearly he didn't in live action so...
---
Sleepy Floyd @zaccrain
🔁
Jason Witten doesn't want it to go to overtime because he's got a big all-staff meeting at the Service King he manage
twitter.com
s in Flower Mound in the morning.
---
P.M. Hart @pmh9946
🔁
@TheFakeESPN After they tried to give Witten 3 more yards than he actually got.
---
Glenda Kaye @P0kerPsych
🔁
1st down high throw
2nd down inside zone run (!!)
3rd down Witten short of the sticks
👍🏻
---
★ Daily ✈️ Planet ★ @9JEDweCAN
🔁
3rd and 10
Thrown to Witten who gets close to the 1st down
---
HULK HOGGIN @FlyLynofCoke
🔁
Throwing to Dallas future HOFer TE Jason Witten on a crucial 3rd down is ALWAYS a good idea.
---
Mike @NoleFan06
🔁
I was down by 1 going into tonight's game and had Witten and Morris to play; he had Sean Lee. I'm still down by 1. L
twitter.com
uckily I have Jameis tomorrow night.
---
Eric @SchnixB04
🔁
@annkillion Also, Witten gets consistently better spots from the refs than any player I've ever watched. #thefix
---
Mike DeSorbo @mike47725919
🔁
You could clearly tell by the yellow line on the field for us viewers that Witten was short of it, give me a break @NFL
---
Dean Rasheed @DeanS_B
🔁
He definitely did and got an ass slap from Witten after he gave the first down.
twitter.com
---
Mark Salomon @thetwilightsown
🔁
@Chad_Earl @SNFonNBC @ZCoia Then force a challenge like they did to the #RAIDERS on the obvious non-TD with witten
---
no one @Coal_Signs
🔁
End of 3, Let's Finish This ✭
17 10
•Prescott: 13-21, 130 Yds. 1 Rush TD. 2 INT's.
•Morris: 11 Car. 54 Yds.
•Witten: 3 Rec. 38 Yds.
---
Lil Ugly Dude @prthegreat609
🔁
And Witten slapped the ref on the ass after he called 1st down lmao unbelievable
---
Brigg Bates @briggbates
🔁
why didn't we throw to witten on the play action rollout
---
Ryan Daniels @RyanDaniels95
🔁
This is the play right after Oakland had to challenge a spot because Witten was clearly a yard short of the first, not sketch
---
5-9 @2018finnasuck
🔁
The cowboys need to go the falcons route with Julio and go get a stud wr..it'll help prolong dez's career..and it's t
twitter.com
ime to move on from Jason Witten reliable is nice but Dak needs playmakers
---
Jmuoio88 @jmuoio88
🔁
Hand the ball off to Jason Witten..he'll get in
---
Mark LeNoir @MarkLeNoir79
🔁
@JMac_1776 yeah after he gave witten whole yard on the spot
---
#GoPackGo 😴hibernating😴 (7-7) @Ray72law
🔁
It's more like
Dak = Overrated but still better than most
Zeke = Above average RB
Dez = Overrated af
Witten = Reliabl
twitter.com
e TE
Just an opinion though lol no need to roast me.
---
Steven Van Over @StevenVanOver
🔁
Solid call overturning Witten 1st down by refs ... now if they can just figure out what a catch is ... #NFL #DALvsOAK
---
Ashley Panteah @1stnameashley
🔁
Witten is The Man. #CowboysNation ✭
---
Ricky @rickyabbott18
🔁
Jerry Jones, throw away all our wide receivers, except witten. And sign OBJ and Josh Gordon please
---
RAIDER JESSY @RAIDERJESSY
🔁
Even the placement of the ball was shit. Witten's thigh was down way before his damn knee!
---
Jolly Vegeta ✭ 7-6 @ASteezin
🔁
Witten
---
Hoodiez @Hoodiez26
🔁
@M4nnyFr3sh_ Same reason they gave Witten damn near a whole extra yard on that last play before Oakland challenged it
---
Matt Williamson @Mwilliamson46
🔁
@CowboysNation Witten butt Tap lol
---
BigBossReezie @WhoBeenDrinkin
🔁
Jason Witten be targeted like 15 times tho
---
SM4RTS @MLGSmarts
🔁
@ViBeEzCoD Blind for calling witten down a full yard ahead of where he was.
---
Anthony Foster @AntFosterTom
🔁
A lil geometry in the Dallas and Raiders games lol. Jason Witten told the ref to hold the first down marker at a 90 d
twitter.com
egree angle to check for the first...... First down! The refs have sum tough calls to make.
---
Ryan Secoy @RyanAlanSecoy
🔁
Ole wiley vet Jason Witten gonna get this tuddy!!!
---
Garvin @taylorgarvin2
🔁
Literally Witten is me
twitter.com
---
George Martin @Traneofthought_
🔁
Again, Karl Joseph was the one who blew it this drive. If the guy can't run with Witten, who can he run with?
---
Rich Hopkins @RichHopkins
🔁
That Witten catch gives me a victory straight up this week in - though I had already qualified for the championship
twitter.com
round that adds up the NEXT two weeks. But that index card 1st down was baloney.
---
♎️montrel.deshaun.young @TRizld10
🔁
Witten with some Yac
---
loading...
Austin Caffey @ACmeRollin
🔁
@ehlermade @zg5 Gene knew Witten was about to end his life if he screwed us over with a call for a second time in 3 years..
---
Javier Gonzalez @The6th_Espada50
🔁
The ref called that a first because Witten looked like he was gonna give the refs those hands!!!! #DallasCowboys #DALvsOAK
---
HO-HO W-HO-LESOME 🎅🏾🎄 @suttonimpaQt
🔁
I think Kevin Dyson was as close to scoring that TD in superbowl 34 as Jason Witten was to getting that 1st down #DALvsOAK
---
han @hannahkrams
🔁
idk who i love more Dez, Dak, or Witten
---
Jemma 🤘 @jems_tx
🔁
Seeing Jason Witten get mad at a referee was the hottesr thing I've seen in a while 😍
---
Joe Malfa @MalfaJ98
🔁
On that Jason Witten catch, I took a 99.5-98.6 lead in the semi-final of one of my fantasy leagues (no loss of points
twitter.com
for fumbles, so I'm safe). Sorry , heck of a battle.
The win puts me in 3 championships next week 💍💍💍
---
Darren Leurer @fbiagent4hire
🔁
@BigReginaRick I'm not sure what's going on to be honest. First the forward spot on Witten and then this 😒
---
George Martin @Traneofthought_
🔁
The play was made by Witten beating Joseph. Bad coverage, even worse tackling.
---
AJ Harris @AJTheManChild
🔁
Dude, Dez is a 4.7 40 guy now AT BEST. The Giants' practice squad DB was locking him up last week. The slowest skill
twitter.com
player on offense is Witten. Dez is the slowest WR.
---
SeattlePatsFan @SeattlePatsFan
🔁
Gronkoswki joins Tony Gonzalez & Jason Witten as the only tight ends in NFL history with four 1,000-yard receiving seasons.
---
Raven 🎄🤪💖 @raven_charmcity
🔁
Witten!!! #DALvsOAK
---
jason hodges @JasonChanning
🔁
Did Witten get the first?
---
---