#Wikileaks: 13.100k tweets talking about this in the last 24 hours

People talking about #Wikileaks: - ScottPresler - KamVTV - kim - joandgordonjoan - WaterflowerM - Paul_Dan - AnnaMoras - joe_hinder - ManyaZuba - freyenator17[...]

- Nimbisimbi - Braveswyn - AmyP68 - Charla_04 - GrahameLucas - Raoulkitty - Pyrokitteh - Tahsarl - captain_clegg_1 - So_Ethereal - seattlerockchic - chispasos9 - JuneLeeEverett1 - TheDailyPioneer - QueenDPortugal - heruykiros - CristineAlbanes - 9GemDotCom - hearye_hearme - Loftea - 2Ckm72 - melissawoolsey1 - LaurieHavens07 - ioumail - OneCauseATATime - BL_St1 - defendressofsan - bri_monster1 - jgionova - ProudlyWeHail - lotsofuss - rpkenn - lotsofuss - PulpNews - MargosunC - GrizzleMaximus - CristineAlbanes - KathleenHicks - lvrnvc - gh0st_sh - quazy101 - WSSmith_wsg - SusanVermazen - SusanVermazen - MAGA2279 - soniaerasmus - mattiaswac - Outlander10J - quazy101 - EmmaQuinlan - Marianhouk - acceentee - dj_ferdinand45 - acceentee - suzQ117 - TheSocialPlan_ - djosiahlake - LabourMovementG - Godscourtclerk - CarbonatedTV - mitchiepoo46 - GOPisComplicit - alanna8675309 - af737digger - SheilaBran - OnePixelWorld - TimothyKopp2 - 18dPl - auldcove - BakodiPeti - DolanLawGroup - DEF407 - hilly_my_love - alva_issa - cmpeacefully - ericlewis0 - CherylC2017 - michaelje67 - BookMD - cgrapski - Kyras47_ - ChemtrailedSky - justinajuli - Rose52413 - mommags2579 - hearye_hearme - WorldMedia4u - washumom - LMKOTCH - SickBoy36


This Tag appearing in: United States: ( Albuquerque - Atlanta - Austin - Birmingham - Charlotte - Cincinnati - Cleveland - Dallas-Ft. Worth - Detroit - El Paso - Fresno - Greensboro - Harrisburg - Honolulu - Jackson - Jacksonville - Los Angeles - Louisville - Mesa - Miami - Minneapolis - New Haven - New Orleans - New York - Norfolk - Orlando - Philadelphia - Phoenix - Providence - Raleigh - Richmond - Sacramento - St. Louis - Tallahassee - Tampa - Tucson - Washington - United States - ).
Popular tweets tagged with #Wikileaks: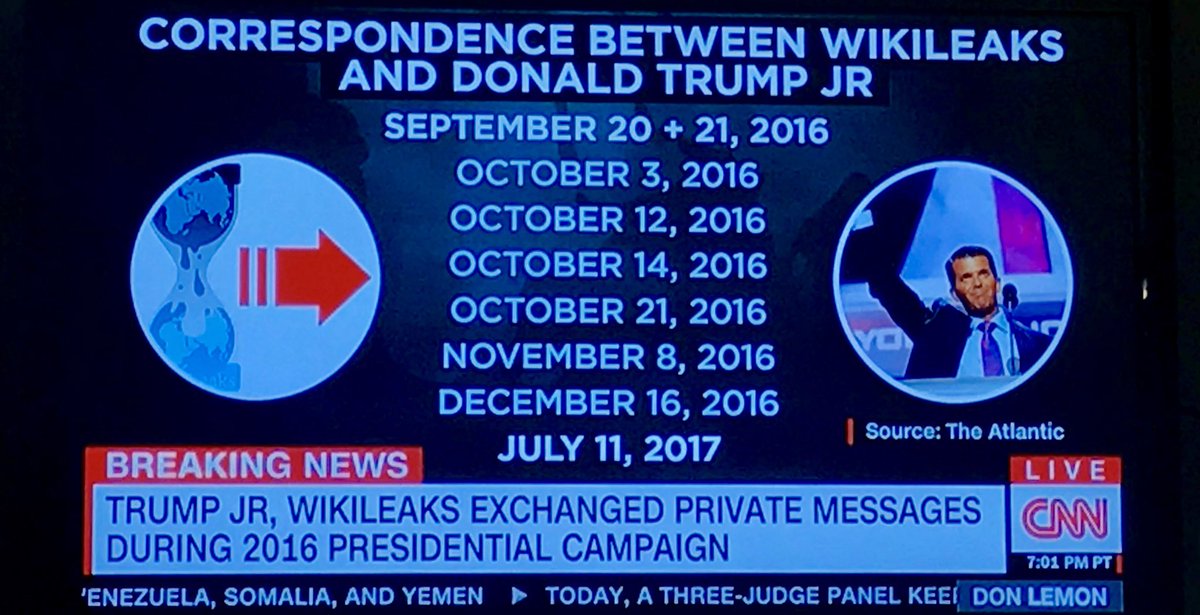 Marian Houk @Marianhouk
🔁
Donald Jr correspondence timeline with "'non-state hostile intelligence service" #Wikileaks
---
loading...
Kambree Kawahine Koa @KamVTV
🔁
CNN right now trying to walk back what they have said about and since Don Jr released the conversation 😂😂😂😂😂😂
twitter.com
😂😂
---
#ThePersistence @ScottPresler
🔁
One of the biggest takeaways of Wikileaks is that the DNC rigged the election for Hillary Clinton.
We already had t twitter.com he proof from Wikileaks emails. This was corroborated by Donna Brazile, who admitted that Hillary Clinton bought the DNC.

---
IAmThe🔥🔥🔥Phoenix @defendressofsan
🔁
Yeah, what if. 🙄 #Wikileaks
---
@kim @kim
🔁
Oh my god! Assange asked Junior for the Australian Ambassadorship. These DMs are a hoot.
twitter.com
---
joan gordon @joandgordonjoan
🔁
While we are on the subject of let us be reminded that Jill Stein had Assange speak at the 2016 Green Party convention.
She also quoted Wikileaks every chance she could during her nefarious & deceitful campaign
---
W. Meadowbrook @WaterflowerM
🔁
Donald Trump Jr. releases exchanges with #WikiLeaks
cnn.com
---
Paul DL @Paul_Dan
🔁
#WikiLeaks Releases #SourceCode for #Vault7 Tools. #IT #security #cybersecurity
infosecurity-magazine.com
---
Anna Moras @AnnaMoras
🔁
Trump hating observers of have one set of rules for every major publication and cable station that overtly sided with Clinton and another set of rules for . Everyone from CNN to WaPo hiring Podesta can do as they please. But if DMs Trump Jr OMG!!!
---
Amy Pope @AmyP68
🔁
Angel mom Fights for Change After Illegal Alien Kills Her ONLY Child
---
Trump is a moron! @Charla_04
🔁
Donald Trump on Don Jr. and
"I never knew the guy, no wait, he was just a coffee boy, no wait, he was a low level u
twitter.com
npaid volunteer, no wait, he was _____"
---
Grahame Lucas @GrahameLucas
🔁
Donald Trump Jr. releases exchanges with #WikiLeaks
cnn.com
---
JinxDog @Raoulkitty
🔁
You know what they say, the family that engages in Treason together...
... goes to prison together.
---
Lord Hartgrove @captain_clegg_1
🔁
If a guy/ girl tells you: You are so fricking HOT!!!
You think.... #poll #Wikileaks
---
Seattle Rock Chick @seattlerockchic
🔁
O.M.G.
. was dumb enough to correspond with -- classified by the CIA as pro-Russian 'hostile intelligence service' ?!
---
The Pioneer @TheDailyPioneer
🔁
#WikiLeaks: Donald Trump Jr., the US President's eldest son, has released exchanges he had with the WikiLeaks...
fb.me
---
Heruy Kiros @heruykiros
🔁
This seemed to be the case. Nice to see some evidence->
The Atlantic: The Secret Correspondence Between Donald Trump
twitter.com
Jr. and .
---
Cristine Albanese @CristineAlbanes
🔁
: reports that when made contact with he notified ALL SENIOR campaign officials-- . . Virtually ALL these senior campaign staff HAVE LIED about contact w/Wikileaks
---
9Gem.com @9GemDotCom
🔁
gemstone is very famous for its looks.. Let's see its characteristics that make ruby so amongst all the other gems
twitter.com
tones @
---
This is Me @hearye_hearme
🔁
Wow. You guys are in deep 💩. Season's greetings from soon. You might want to keep holiday decorations to brighten
twitter.com
up the Guantanamo prison cell. Hope it was worth it.
---
Andrew Lofthouse @Loftea
🔁
Join us Claims Jnr messaged in lead up to last year's election, and that was suggested as ambassador to t
twitter.com
he US.
---
cindy @2Ckm72
🔁
What the DEMS are missing about bringing up , it puts focus back on Dem corruption.
They can't undo that
---
Melissa Woolsey @melissawoolsey1
🔁
Leaked correspondence reveals suggested that president-elect ask Australia to send 'real smart tough guy' to DC
twitter.com
---
Laurie Kester Havens @LaurieHavens07
🔁
That time AFTER election that hacked our very own CIA, dumping 1000's of documents & right before hosted Russian s
twitter.com
pies in WH & passed them classified info after axing Comey! Pompeo went on live tv & called Wikileaks a hostile intelligence agency.
---
ioumail @ioumail
🔁
Now you know why never released Trump's video or his tax returns or his mob connections or his Russian connections...
---
SuccessAffiliates @OneCauseATATime
🔁
Thank you again & Julian Assange for exposing where we learned the horrifying truth about.. Etc..
---
Johnathan Gionova @jgionova
🔁
Uday, you in danger, girl #DonJr #Wikileaks #ImpeachTrump #TrumpRussia
twitter.com
---
Donna Lynn @ProudlyWeHail
🔁
So. DOJ responded to 's questions re: 's Memos by comparing to and saying his leaking of the memos to was unauthorized. This is a big deal — Comey testified that he leaked the memos to spark a Special Counsel.
---
Beki Knott @lotsofuss
🔁
"The family that spies together, fries together."

Sorry, sir. I had to.... it was just hanging over the plate
---
PulpNews Crime @PulpNews
🔁
#Donald #Trump Jr. communicated with #WikiLeaks during 2016 campaign - Nov 14 @ 2:34 AM ET
youtube.com
oddcrimes.com
---
Cristine Albanese @CristineAlbanes
🔁
: asked to LEAK them a copy of 's so the public can think they were IMPARTIAL. This suggests and campaign KNEW ALL ALONG Wikileaks was working with Russia FOR
---
Kathleen Hicks @KathleenHicks
🔁
Surprised? Nope. #DonaldTrumpJr communicated with #WikiLeaks during 2016 campaign, sources say
abcn.ws
via @ABC
---
Maja Lovrenović @lvrnvc
🔁
#Wikileaks & popcorn for breakfast 😂😂😂
---
Gh0st Shell 👻 @gh0st_sh
🔁
The Secret Correspondence Between Donald Trump Jr. and #WikiLeaks
---
Emma Jane Quinlan @EmmaQuinlan
🔁
Boys and their DM's... 🙈 #Wikileaks
---
Ferdinand Pelayo @dj_ferdinand45
🔁
Trump tweeted this out 15 MINUTES after received email from . Wikileaks = the Russian intel operation to get Trump elected.
---
CountryGirl 4 Trump @TheSocialPlan_
🔁
has just learned that the made payments to , the author of the .
---
David Josiah-Lake @djosiahlake
🔁
She is now acknowleding something has been denying + downplaying Russia aims to destabilise West + is succeeding w
twitter.com
/ help of + in EU ref - no surprise he turned up at rallies in France w/ Le Pen + in Ger w/ AFP
---
God's Court Clerk @Godscourtclerk
🔁
Wikileaks
Corrupting truth with fabricated lies, your morals well defined
Each lie derived, spread, your guilt is mul
twitter.com
tiplied!
Septendecim
---
Carbonated.TV @CarbonatedTV
🔁
Turns out, Trump Jr. and #WikiLeaks were secretly exchanging messages during presidential campaign
goo.gl
---
loading...
🇺🇸Besties4Life🇬🇧 @mitchiepoo46
🔁
Even the left knows David Brock is a douche
---
GOPisComplicit @GOPisComplicit
🔁
emails with show that he coordinated leaking stolen emails with a foreign entity, maybe more. No connection to me! I barely know the kid! Read my first wife's book about how I barely spoke to the kids until college!
---
Tommy Johnson @af737digger
🔁
Do you think it was appropriate for #Wikileaks to message Donald Trump Jr. on Twitter?
---
Micheal Stiles, MA @OnePixelWorld
🔁
Do you still love ? BTW: America is still waiting on a public testimony under oath from has told on you, & are go
twitter.com
ing 2 make a deal & turn state evidence. Do you really think Pense is going to protect you?
---
Peter Bakodi @BakodiPeti
🔁
#Wikileaks just lost ALL credibility, not as if they had too much though
theatlantic.com
---
Dolan Law Group @DolanLawGroup
🔁
#trumpjr communicated with the #Wikileaks × 16 in '16
---
ILLA @alva_issa
🔁
BREAKING: Twitter Colludes With Dems To LEAK Private Messages Between Donald Trump Jr. & ; Can't Trust Twitter
---
michael emonds @michaelje67
🔁
To and others, read this. and Julian Assange have long been a busted flush to anyone who understands them, but to support them now would be insanity
---
Nellie Sabin @BookMD
🔁
"Like clockwork just as we learn of damning details of Donald Trump Jr.'s contacts with , the Trump administration is
twitter.com
firing up the fog machine to distract from the Mueller probe." [WaPo] , Trump
? ?
---
Charlie Grapski @cgrapski
🔁
The notion has a right to further its interests is abhorrent to deranged Hill Bots who pride themselves on Clinton evading indictments, paying for Fusion GPS doss, colluding shamelessly w media. They think publishing Clinton's EVIL words is a crime against humanity
---
This is Me @hearye_hearme
🔁
My friend Vlad really thinks my hands aren't that small. I think he really means it. I really do. Believe me, I'l
twitter.com
l share all the details soon.
---
---