Vikings: 107.892k tweets talking about this in the last 24 hours

People talking about Vikings: - barstoolsports - Vikings - casekeenum7 - pardoscovich - shantpant - hellll0_there - bokrodriguez291 - vigesiml - I2ICesar - kweags[...]

- TheNFLHotline - handfulofarab - MN__TWINS__GUY - gibbbbs_ - _tiffu - lindapotyrala13 - youngrich_quinn - ScottyBjorn - Shut_UpImTweetn - DomePlus - LeannClaireMary - JacobBinegar - kkatlas - ya_boy_combs - MorganHaggenmi1 - IamJSeale - paigepatterson7 - danarchie6 - kglonews - Rip_yuH - Hi_flight47 - dxjonnny - TroyCoby - NickMaher12 - tonydeez05 - What_Up_E - Womb_Raider23 - drooski0311 - kosho22 - mikritereza - meganadrianna21 - BamseDavid - Maldi_San - 1500ESPN - wigfalljerry - CarolynItaliana - cstallls - mmcoyle_ - Luca_Ceraso - nelroy78 - deaverwaylon - DJx1555 - iOrbitStorm - TheFapGod_ - darius_rucker22 - maddywhacks - jms276 - daRYANO8 - phillyfan1970 - AmberWestt_ - MorganHaggenmi1 - NotUrAvgHoodrat - grady_beck - Aye_Rain - MoHoActivities - PushSendToTweet - l_carnahan - coog57 - vbcc17 - WLCgirlshoops - MannyFresco16 - aclayton33 - mjakubik - inet6thestar - callme_Mlle - hebatalkingshit - vbcc17 - vbcc17 - Antney2835 - EricG_89 - bread_gein - c1utch_ - mangz96 - DpmEnterprises - NickMaher12 - coog57 - reallyasa - MyPhillyAlive - megangresss - MattSween14 - bacon_lover10 - vikings_fgsn - MorganHaggenmi1 - GameIdeaSSSS - gbcfetty - BrennenLeidy - PMancil - L0N3_SURV1V0R - Eaglestalk1 - PhillyMutHead


This Tag appearing in: United States: ( San Diego - ).
Popular tweets tagged with Vikings:

Vikings Report @vikings_fgsn
🔁
Vikings Face Unprecedented QB Conundrum with Keenum, Bradford and Br... #VikingsNation
fanly.link
---
loading...
10 de fevereiro de 2017
Bijay Poudel @hellll0_there
🔁
Is this fate, or a sick and twisted Vikings fantasy?
---
Khaled | Hulu @I2ICesar
🔁
I've just watched episode S05E09 of Vikings! #vikings #tvtime
tvtime.com
---
10 de fevereiro de 2017
Devin @mangz96
🔁
Vikings fans are handling things about as good as can be expected
---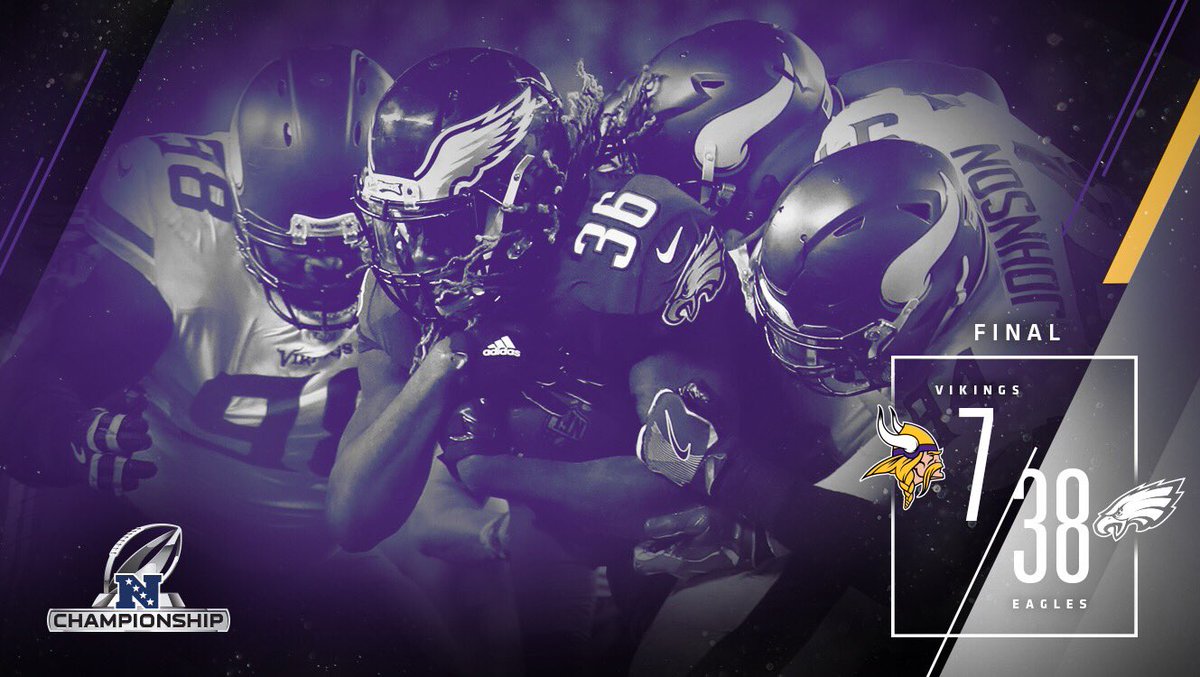 Minnesota Vikings @Vikings
🔁
An unfortunate ending to a great season.
#Skol
---
10 de fevereiro de 2017
Barstool Sports @barstoolsports
🔁
Vikings fans are handling things about as good as can be expected
---
Case Keenum @casekeenum7
🔁
Vikings fans, unbelievable year. Not the way we wanted to finish. But so many memories I will cherish for the rest o
twitter.com
f my life. Much love
---
Jeff Pardo @pardoscovich
🔁
I witnessed, in real life, a group of eagles fans scream "FUCK YOUUUUUUUU" to a baby in a stroller wearing a Vikings hat
---
Jeff Spangler @kweags
🔁
If you want these same stories from Vikings fans I can give them to you - I have been physically assaulted at Vikings games - but the media loves a good anti-Philly story
---
Gib @gibbbbs_
🔁
Vikings fan goes to Eagles game
Eagles fan -"Go Birds!"
Vikings fan- "I was almost murdered in Philadelphia"
---
Linda Potyrala @lindapotyrala13
🔁
RB Jerick McKinnon says he's "shown my worth.'' Might take a big raise and evidence of a significant role in store for him to want to return as free agent.
---
Bjorn @ScottyBjorn
🔁
nytimes.com
article and fantastic sports research. The real Minnesota Miracle is the Vikings making the Super Bowl. ouch
twitter.com
---
Cal ⚡️ @Shut_UpImTweetn
🔁
Bro that whole game was weird because I know the Vikings defense is better than that lol ever since I seen that post
twitter.com
about us facing the Patriots in the Super Bowl that game never seemed right to me
---
Dome Souvenirs Plus @DomePlus
🔁
Happy #Vikings Thoughts as we go into next season:...
fb.me
---
Claire Sartorius @LeannClaireMary
🔁
let's go @Vikings! MN REPRESENT LETS GOOOO
---
Jacob Binegar @JacobBinegar
🔁
Vikings fans, unbelievable year. Not the way we wanted to finish. But so many memories I will cherish for the rest of my life. Much love
---
Katrina Filippidis @kkatlas
🔁
If you haven't see it yet, here is the Fimbul Troll teaser!
---
Nick Combs @ya_boy_combs
🔁
Came into our city and disrespected one of the greatest fighters ever, Rocky Balboa, by putting a Vikings jersey on h
twitter.com
im this is what you get
---
Morgan Haggenmiller @MorganHaggenmi1
🔁
@omqnal @JonahMarais @Vikings How the hell is that a advantage just cuz we would be in our stadium doesn't mean we would have won.
---
Joel Seale @IamJSeale
🔁
Congrats Vikings on a great season as well - much love, Minneapolis! But, I gotta go with the Birds, born and bred a fan 🦅
---
DB @danarchie6
🔁
Vikings fan filmed her walk into The Linc and it was basically what walking through hell would seem like
---
KGLO News @kglonews
🔁
Iowa State falls at Texas, AP boys basketball poll, Timberwolves win on road, Vikings news post-NFC championship...
fb.me
---
Riley James Burke @Rip_yuH
🔁
Boogie shoulda played for the Vikings on Sunday
twitter.com
---
Lone Sniper 🔫💥 @Hi_flight47
🔁
People are calling Eagles fans classless for tossing beers at the Vikings fans lol. Listen, they rolled up to Philly doing that stupid chant on the Rocky Steps & draped the statue in Vikings gear. You can't disrespect sacred Philly ground like that & think its gonna be sweet 😂
---
Coby 🎋 Troy 🍂 @TroyCoby
🔁
Foles throws 3 TDs as Eagles rout Vikings in NFC Championship Game
foxnews.com
---
Nick Maher @NickMaher12
🔁
Wow!!!
 DT Fletcher Cox Upset After Eagles Clinch Super Bowl Berth?
"I don't think [the Vikings] should have scored at all!
It should have been a shutout!"
---
Because no Sean Lee @What_Up_E
🔁
Dear cowboys fans that attend games at the linc,
I have new found respect for you guys after witnessing Vikings fans cry all the way back home about getting booed. Thank you for being able to dish it and take it.
I still hate you,
L
---
Drew Shearer @drooski0311
🔁
Look at this poor Vikings fan getting harassed and abused at the tailgate! The man is trying to do an interview for local Minnesota TV. Have these savages no respect? Do they not have an "inside voice"? Animals, all of them!
---
Kristina Vorkapits @mikritereza
🔁
@Vikings Always winners in our eyes! #SKOL #winners #vikingsfans
---
David Borg @BamseDavid
🔁
He could be Geralt, or maybe Emhyr var Emreis or Lambert. Every good sword and sorcery show has a hot Scandinavian! Look at Game of Thrones, Vikings and Britannia.
---
USNVet @wigfalljerry
🔁
I DONT blve the saints topped the ball(BLEW THE GAME) I saw the video the day after the Vikings mysteriously won but
twitter.com
if they did... BLOW THE GAME my question is why b n we hvnt bn to the sprbwl snc 2010. OPPORTUNITY MISSED ON PURPOSE SO Y BLOW THE GAME.
---
One Chance @CarolynItaliana
🔁
@joshduhamel @Eagles @Vikings Games always have people like that they could of happened anywhere don't blame philly it's everywhere
---
Goons @Luca_Ceraso
🔁
Dear lazy media,
Here is a video of a VIKINGS FAN spitting on an Eagles fan as she is being escorted out of the stadium. Change the narrative.
Love, Philadelphia
---
Nelson Royster @nelroy78
🔁
Just pathetic that they can't accept that they couldn't beat the Vikings themselves.
twitter.com
---
LOVEMYVIKINGS @deaverwaylon
🔁
Who's to say MN fans don't pay back Philly and there fans by keeping there tickets now and turning the tables on them in the SB as home crowd feel for the Patriots I doubt they would but I'm sure MN would love to stick it to them after how they were treated there what better way
---
DrJX1555 @DJx1555
🔁
Ok. No longer bitter about yesterday's Vikings vs. Eagles game. Way to go Pennsylvania!! I shall root for the Eagles as my tiny recompense for this grand decision.
---
Orbit Storm @iOrbitStorm
🔁
#Vikings fans have officially lost their minds. #BloodOnYourHands 🤦‍♂️
twitter.com
---
Jason Santini @jms276
🔁
From now, until your time comes to an end, you'll always remember where you were, & who you were with, when the Eagles beat the Vikings to advance to Superbowl 52.
Great moment in Philly sports history.
---
Morgan Haggenmiller @MorganHaggenmi1
🔁
What the hell is wrong with u ur so mean ur not a true limight cuz limights stick together no matter what.
twitter.com
---
Grady Beck @grady_beck
🔁
Also every defense is the number one defense??? Lol seriously which is it Vikings? Jags? Eagles??? Make your mind up
twitter.com
people and stick with what ya say
---
loading...
THE Lunatic Buddhist @Aye_Rain
🔁
Vikings fans was talking CRAZY trash before that game and now after the game, they all got abused, stomped out, and s
twitter.com
hot all of a sudden. I think them feelings just hurt
---
Mt Horeb Activities @MoHoActivities
🔁
Tuesday's JV and Varsity boys basketball games at Baraboo will be streamed live on
TheCube.com
Good Luck Vikings!
Direct links:
twitter.com
JV Boys BSKB: Mt. Horeb at Baraboo
Varsity Boys BSKB: Mt. Horeb at Baraboo
---
Brandon Boe @PushSendToTweet
🔁
After 20 years I've finally learned my lesson, I will never have hope in the Vikings again. If you ever catch me starting to show hope, slap me to remind me
---
Lee Carnahan @l_carnahan
🔁
How about you post the video of the Vikings fan who spit on the Eagles fan while she was being escorted out by security. But that would ruin your narrative, wouldn't it? Bad journalism
---
coog57™ @coog57
🔁
"I love this team, I love these guys, I love the coaching staff, I love this whole organization." -
---
Andy Clayton @aclayton33
🔁
Here's our back page.
---
Mark Jakubik @mjakubik
🔁
I want to invite sore loser Vikings fans to call the show tomorrow. We will give you your say. I want to know why you have to disparage this fan base when you lost the game. I get it the Vikings were embarrassed but accept the loss and move on. Here is the #610-632-0975. 10a-2p
---
TRƎVØR ВΔΝK$ @inet6thestar
🔁
The Saints player ducked...If it is rigged i don't really care. I treat celebrities and sports as fantasy. I was just
twitter.com
happy the Vikings won in that fantasy. Feels like Madden NFL in physical form.
---
🌌Callme_mlle🌌 @callme_Mlle
🔁
@ALeeStudios I love it so much ! She looks like a vikings goddess of winter. Une vraie reine des neiges ! (Queen of snow)
---
cruzianmac @vbcc17
🔁
See you in six months, @Vikings. Godspeed.
---
cruzianmac @vbcc17
🔁
Vikings need to sign Drew Brees don't @ me.
---
Dave Monahan @DpmEnterprises
🔁
I've never heard so many horrific stories from Vikings fans who were subject to unsolicited hot dog, beer, battery throwing Eagles fans beyond the verbal abuse. One guy just told me he's been treated better in 3rd world countries. Yes it was scary for them
---
It's really me @reallyasa
🔁
Saw no less than 3 people on Facebook the game on Sunday. Personally, I think it's dishonoring God to downplay the
twitter.com
athleticism and competitiveness He wired into the players, but that's just me.
---
MyPhillyAlive @MyPhillyAlive
🔁
Congratulations to the on becoming the 2017 NFC Conference Champions!!
The Eagles beat the 38 - 7 Sunday night twitter.com !
Bring on the New England !
---
Matt Sweeney @MattSween14
🔁
sounds like a disgruntled Vikings fan. Vikings fans didn't make a dent in Philly. 20fans went to the Art Museum steps
twitter.com
👏🏼. Minne would have been taken over by Eagles fans.
---
Morgan Haggenmiller @MorganHaggenmi1
🔁
Wow really way to cheer him up I'm pretty sure that u rnt a true limight cuz limights stick together no matter what h
twitter.com
appens.
---
GamerBotVERK09 @GameIdeaSSSS
🔁
The Game is a Stealth Game where you play as a Baker named Tywin. Your goal is to save the energetic Vikings.
---
Pris @PMancil
🔁
Take a bow Case Keenum. You are one of the class acts in all of sports. And you had one heck of a season.
---
Avery @Eaglestalk1
🔁
Remember this Vikings fan thought the Vikings D-Line was as good as the Eagles & Linval Joseph was as good as Cox. Good times
---
---