Trey Gowdy: 47.753k tweets talking about this in the last 24 hours

People talking about Trey Gowdy: - RealJamesWoods - SteveSchmidtSES - ABC - lrkap - JGSelvaggio - RogerPicardUSA - DeannaKlaub - KatyLovesYa41 - TheBowman - vanisles[...]

- Sjc1956 - SonsMary - sissyroxx - William31432230 - ShoffKim - Growsbeak - ZitaaMcD - chrisvader51 - BeauJest1 - g1gary - JohnBrynt - Moleseeker - scutterhadley - Cognac4Paws - CarrieC61279531 - sbaker209 - OhhLookShiny - dmills3710 - warriorpride2 - JackieStoppel - dragonraceryod - PaulaBa02408273 - realHeatherD - Cirellan - TexasRoseBud2 - CABird6 - jaybrigitte - LynnPau74891383 - Spitfirehill - BowdryVaughn - ChrissyStP - cameralibrarian - DoerflerHelen - Mr_Proctober - IDEALIST310 - Donnie2Tongues - HeartOfMine7 - bcatalum02 - JanetRuss5 - ejsail - not_a_ten - DebraMMason1 - petsneverfailu1 - Nvania - hharrington541 - AJPPatriot - zeola_rose - ObiWontyaBlowMe - Tammy8645 - truthdetector15 - LolaGib98557714 - WE_R_TH_STORM - DeezBeesKneez - 8pointedstar - gapfiller99 - skmerrill3 - VeronicaSam13 - MarkPer21948063 - Bonesweems - Kbpats8012 - DCPACrat - VBMiMi - NigelCharles - ladia93bvr6 - abouttheburgh - TormeyKaren - Mbeekmanrea1 - Jidgettewynn - Anirtal61 - Pattyamethyst - Reaity_Check - wodelic - stacestew - AccostedTone - UcciAlt - jilleebadger - JohnABusinger - CherylFreestone - tdpga - daveawayfromhom - hansroland2 - RoguePaddington - scwoodham - zenderbender - SugithVarughese - liberaltears67 - wfrolik - WaxaRazorback - princess_furby1 - TiredTater


This Tag appearing in: United States: ( Baltimore - Boston - Chicago - Columbus - Dallas-Ft. Worth - Fresno - Houston - Indianapolis - Jacksonville - Kansas City - Las Vegas - Long Beach - Los Angeles - Minneapolis - New York - Norfolk - Oklahoma City - Orlando - Portland - Sacramento - San Diego - San Francisco - Seattle - Tucson - Virginia Beach - Washington - United States - ).
Popular tweets tagged with Trey Gowdy: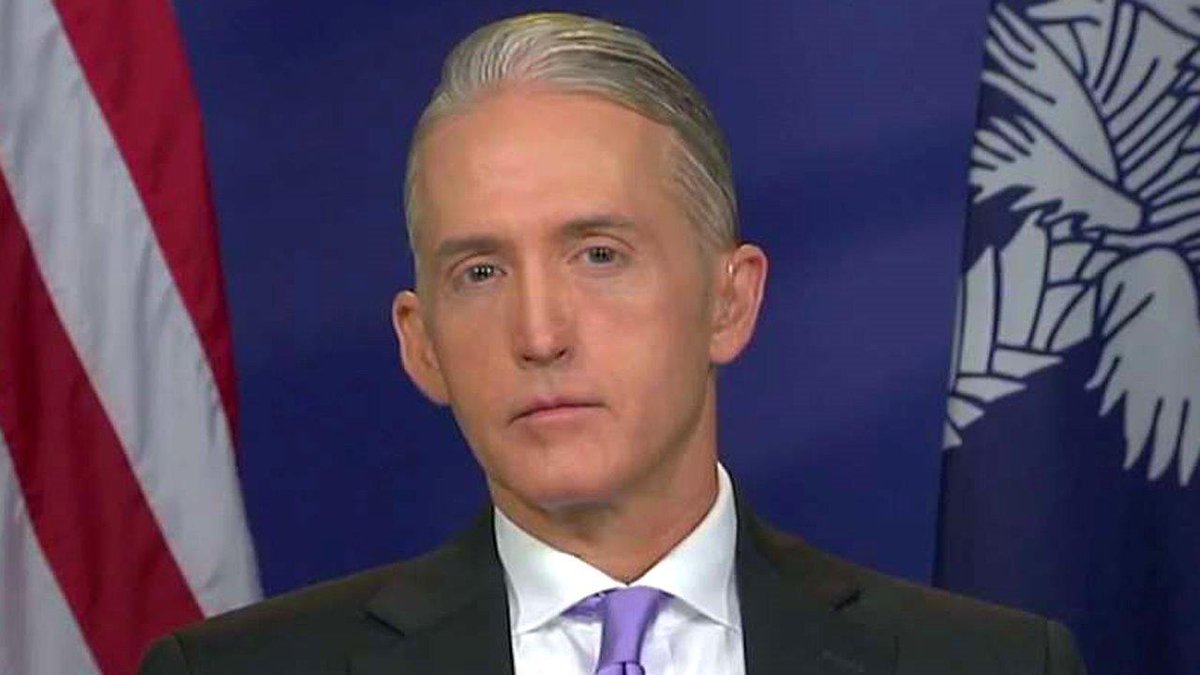 AJP @AJPPatriot
🔁
Trey Gowdy is who America needs as Attorney General!
Retweet your agreement!
@TGowdySC #MAGA
---
loading...
James Woods @RealJamesWoods
🔁
Imagine, if you will, a world where Trey Gowdy were the Attorney General of the United States...
---
Dkd @DeannaKlaub
🔁
Imagine, if you will, a world where Trey Gowdy were the Attorney General of the United States...
---
Rod Myers @TheBowman
🔁
Remember the banjo kid in Deliverance?
His name is Trey Gowdy.,
---
Steve Schmidt @SteveSchmidtSES
🔁
I can honestly say that after watching Trey Gowdy today; for the first time in my 47 years, I can honestly say, thank god I'm bald !
---
ABC News @ABC
🔁
FBI Agent Peter Strzok applauded by Democratic members of House Oversight Committee after passionate response to Rep.
twitter.com
Trey Gowdy, saying Gowdy's accusation "deeply corrodes what the FBI is in American society, the effectiveness of their mission, and it is deeply destructive."
---
Secret Society's Child @lrkap
🔁
Russians- Okay we admit it! We hacked the American election!
Donald Trump- How are you so sure?
Russians- Um...because we did it.
Devin Nunes- I don't think you did it.
Russians- No seriously we did it.
Trey Gowdy- ITS OFFICIAL! HILLARY CLINTON HACKED THE ELECTION!
---
selvaggio @JGSelvaggio
🔁
@TheDailyShow Frosted Tips...Trey Gowdy auditioning for the 90s boy band Out Of Touch
---
Roger Picard @RogerPicardUSA
🔁
This is Brandon Brown
He's the democrat running for that little prick Trey Gowdy's seat in South Carolina District 4
Let's show Mr Brown some love with a RETWEET!
---
Sharon @KatyLovesYa41
🔁
All you have to do is look at the GOP maggots interviewing Strzok. Gohmert (pathetic little dweeb), Jim Jordan (protects a pedophile, and Trey Gowdy (just a clown with a big mouth). Theeese are the people the Pasrty picks to attacking the FBI. They are pathetic little weasels.
---
Sam @Sjc1956
🔁
Last night Trey Gowdy said it best on Hannity, "the politcalization of law enforcement is the end of us." It's the death of our Republic! Witch hunt!
Why aren't these corrupt people being prosecuted? Why?
And where the Hell is Jeff Sessions? Hiding?
---
Mary Batson @SonsMary
🔁
Trey Gowdy said it best tonight on Hannity, "the politcalization of law enforcement is the end of us." It is the death of our Republic!
Why aren't these people being prosecuted? Why?
And where the Hell is Jeff Sessions?
---
Reese @ShoffKim
🔁
One thing the Peter Strzok hearing has exposed — is that it's not just Trump anymore, but the entire Republican party is now a wholly owned subsidiary of Putin and his ever expanding portfolio of conservative assets, traitors and quislings, including Trey Gowdy and Bob Goodlatte.
---
Glo G @Growsbeak
🔁
I'm going to put Peter Strzok's monologue admonishing Trey Gowdy on my cardio mix
---
BeauJest 🌊 🇺🇸 @BeauJest1
🔁
@HoarseWisperer Trey Gowdy walked into a bar and the bartender said
"Why the long face?"
---
Brynt @JohnBrynt
🔁
WITCH HUNT! I'm sure there's a completely innocent explanation for the way Devin Nunes, Jim Jordan, Trey Gowdy, Matt Gaetz and Dana Rohrabacher have been behaving.
---
MAGA @Moleseeker
🔁
Trey Gowdy is coming as SP just watch mark my words charges are going to TREASON! Never lost a CASE IN HIS CARRER EVER 2ND ONLY TO GULLIANI IN RECORD!
---
Warrior Pride 66 @warriorpride2
🔁
Gowdy's big argument is that Peter Strzok didn't call for the impeachment of Hillary Clinton. You can't make this stuff up, folks!
"You never engaged in any impeachment texts throughout your entire Hillary investigation?" - Trey Gowdy
---
@unspecific apostate @dragonraceryod
🔁
That moment when Trey Gowdy realized he done opened a YUGE can of whoopass…
…on himself.

---
Heather @realHeatherD
🔁
Peter Strzok just did a better job of making Trey Gowdy look like a dick than Trey Gowdy's barber.
---
Christine Fitzgerald @CABird6
🔁
In case you missed it, watch Peter Strzok EPICLY DESTROY Trey Gowdy, Jim Jordan, Louie Gohmert and the entire GOP Narrative!
---
Trumpette 👍 MAGA ❤Q @LynnPau74891383
🔁
Keep at it, see a message you agree with, RT etc... Call the WH tell them u have a message for Pres. Call yr reps in Congress/Senate and also Devin Nunes, Trey Gowdy, Gohmert, etc tell them as well. I do, I try to call someone on my list everyday!
---
Helen Doerfler @DoerflerHelen
🔁
Listening to Benghazi Trey Gowdy lecture Peter Strzok about the importance of running investigations without bias is like listening to an alcoholic with a beer in his hand lecture someone on the importance of sobriety.
---
Luis Moran @IDEALIST310
🔁
Here are the House GOP Intel names:
Devin Nunes, CA
Mike Conaway, TX
Peter King, NY
Frank LoBiondo, NJ
Rick Crawford, AR
Trey Gowdy, SC
Tom Rooney, FL
Will Hurd, TX
Ileana Ros-Lehtinen, FL
Mike Turner, OH
Brad Wenstrup, OH
Chris Stewart, UT
Elise Stefanik, NY
---
Beach Mom @ejsail
🔁
Trey Gowdy could not have come back with a better response to this arrogant traitor.
twitter.com
---
Nvania @Nvania
🔁
Trey Gowdy Reveals 5 Biggest Democrat Secrets Contained In Damning FISA MEMO
americafans.com
---
Howard Harrington @hharrington541
🔁
Trey Gowdy's Seven Words Left Robert Mueller In A Panic
youtu.be
via @YouTube
---
Rose @zeola_rose
🔁
Just watch it's coming Hillary maybe in meeting her maker she's I'll but the rest! This is 1/10th of what's coming wait for SP TREY GOWDY HES LEAVING AND RETURNING TO LAW ENFORCEMENT, REMEMBER!
---
Michael @truthdetector15
🔁
Rep Trey Gowdy Gets Interrupted Over 20 Times During The Questioning Of FBI Peter Strzok.: via
youtu.be
---
Lola G @LolaGib98557714
🔁
Once again, Joy Behar gets schooled by Meghan McCain on her ignorance of Trey Gowdy not seeking re-election of his seat.
---
WE_TH_PPL_R_Th_STORM @WE_R_TH_STORM
🔁
@ACLU Trey Gowdy was too busy harassing the FBI to do anything about the poor kids.
---
Gap Filler @gapfiller99
🔁
@realDonaldTrump PLEASE GET US A NEW AG. TREY GOWDY?
---
Al Williams @Bonesweems
🔁
Trey Gowdy looks like the type of dude you see outside a shitty club in Daytona Beach selling Molly out of his Dodge Neon with his drugged up teenaged Vietnamese boyfriend nodding out in the passenger seat...
---
Ken Davis @DCPACrat
🔁
~ Trey Gowdy - let's try & berate Peter Strzok. It's my new Benghazi!
~ Matt Gaetz - Ya, let's distract from my multiple DUIs & me being a Russian agent!
~ Louie Gohmert - I'm a Russian agent too! I'll distract & yell at him!
~ Peter Strzok - Hold my Patriotism. I got this.
---
douge‹(•¿•)› @abouttheburgh
🔁
"Wow, that was intense! It was like A Few Good Men but with even fewer good men. I was wondering why Gowdy was slumped so far down in his chair. Turns out it's because he had his ass handed to him." --
---
🇺🇸🇺🇸True American Patriot🇺🇸🇺🇸 @UcciAlt
🔁
Have you no decency Trey Gowdy?
---
John A.Businger @JohnABusinger
🔁
House Oversight Chairman Trey Gowdy left the hearing room where Lisa Page is being interviewed behind closed doors. He ignored questions about the interview, about the indictments and about whether the Putin-Russia meeting should take place. And left in an awaiting pickup truck
---
Daveawayfromhome @daveawayfromhom
🔁
There's no liberal equivalent to Jim Jordan
There's no liberal equivalent to Trey Gowdy
There's no liberal equivalent to Louie Gohmert
There's no liberal equivalent to Steve King
And the media's mewling insistence that there is is the greatest lie of 21st century.
---
Hansroland3 @hansroland2
🔁
✔RETWEET✔ if you agree Trey Gowdy and Republicans destroyed Peter Strzok at hearing today! 💥
The FBI agent said "We will stop it" referring to Trump winning Presidency.
He found out what all Trump foes do; Donald J. Trump ALWAYS wins.
---
Susan Woodham @scwoodham
🔁
Listen to Peter Strzok speak or Rod Rosenstein or Robert Mueller. Then listen to Trey Gowdy, or Matt Gaetz or Jim Jordan or Devin Nunes or Mitch McConnell.
If you don't think Strzok, Rosenstein & Mueller are the real patriots fighting for America, you're on the wrong side.
---
loading...
Deplorable Texan! @liberaltears67
🔁
Trey Gowdy carved up Peter strzok. He got him to admit that he conducted zero interviews before his famous impeachment text. So he had already concluded that Trump should be impeached before he even interviewed anyone. And they concluded Hillary was innocent before any interviews
---
---