#TheGoodPlace: Become Trend on twitter at (2018-07-12 17:51)

People talking about #TheGoodPlace: - nbcthegoodplace - nbcthegoodplace - nbc - ifeelpainsohard - dianacm13 - muffin_cannibal - micky_joe97 - caropedia - vthequietheart - BrittTown4[...]

- OsianIAndrew - InnovationMCC - LombardLoyLand - agenttcarterz - jayheaux - johnkubicek - PicTotes - GinnyPottter - francokarlie - anyway_17 - In_somniac19 - francokarlie - lex5lu - reesah - ryryroro - seventiesmom - ZahoriBalmaceda - Limmer13 - preduiranco - marck_sousa - megjameson - EJEralino - zaritomas - twoheadedbah - moviegeeks_ - ZahoriBalmaceda - Psitanium - marlessastivala - Maggie_Tennis - TinaCharlesTV - mockwgjay - RakedReviews - JoshuaKazemi - joemope - suprsman - ConStar24 - ch1du - nnallves - andyouloveher88 - kandyallen_ - mIepclaynos - francokarlie - RushOfStories - ShirleySueThom3 - fmatrash - AnnaBarnesCOM - DCHoosierGirl - llamatrot - getawayicar - vthequietheart - m0ths_ - TonyLeadholm - ayetortuga - BreezeRiley - klaineftgreyson - felixtre89 - ChelseaDMorning - criiticalveins - manusinia - farellajoseph - Incarille - DennisPerkins5 - badwolfs - robsforman - BHXG90 - jackster_93 - sunnybaudeIaire - siemsw - rvwitharvi - mellymet - MelindaKinnaird - aaeilrv - SamuraiParfait - JamieCinematics - Jxreau - Mochi_milly - theguynamedtony - BisonStats - Teensdoll - MeeganReadCBC - tamara_fuentes - Darrenisaredvin - eleanorperaltas - Softy38 - LookOlouk1 - Jamie_HJ_ - jencsi - CorvusCantum - SandraP87014136 - insidethetube


This Tag appearing in: United States: ( Los Angeles - ).
Popular tweets tagged with #TheGoodPlace: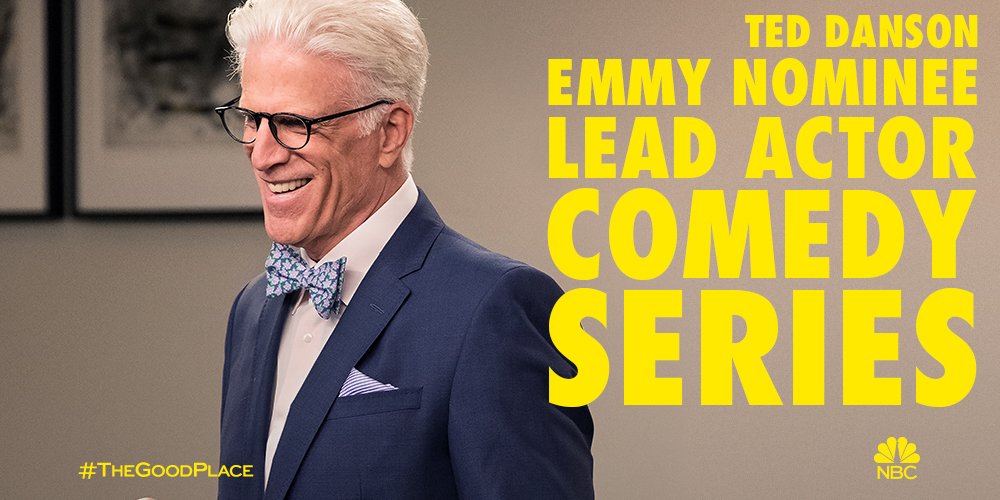 The Good Place To Have A Ted Danson Talk 🏆 @nbcthegoodplace
🔁
Hey @TedDanson, does this count as an opposite-torture? 🎁 Congrats on your @TheEmmys nom for #TheGoodPlace!! #Emmys
---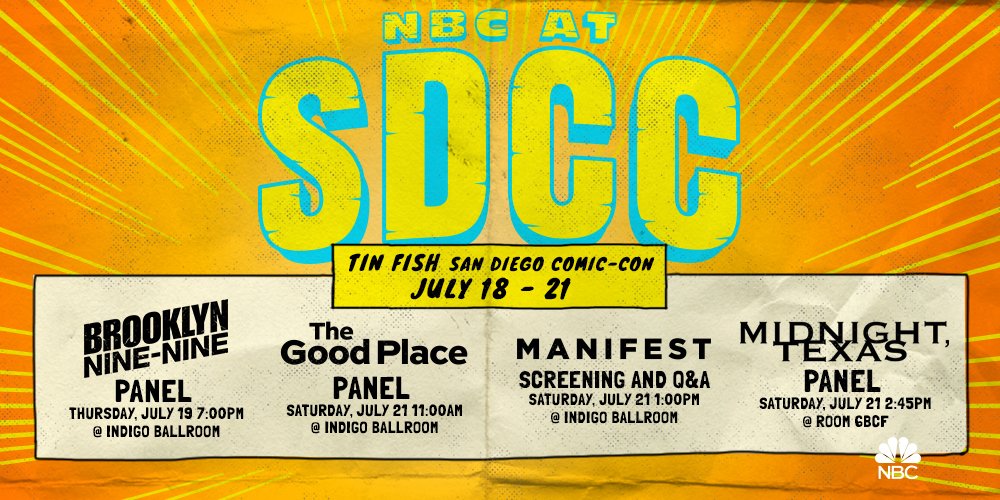 NBC Entertainment @nbc
🔁
Hope you've earned enough positive points because #TheGoodPlace (and more) will be at #SDCC this year!
---
🐺 @ifeelpainsohard
🔁
Going to ? See you in ! Follow Janet's instructions and start packing all the garbage you have no real use for. 🛄
---
Diana @dianacm13
🔁
Hey , does this count as an opposite-torture? 🎁 Congrats on your nom for !!
---
Britt Town @BrittTown4
🔁
star Ted Danson scores his first Emmy nomination for lead actor in a comedy series in 25 years
---
Osian Andrew @OsianIAndrew
🔁
The 2018 nominations are announced tomorrow. Will critical darlings like and be recognized?
---
InnovationMCC @InnovationMCC
🔁
According to TV Line, NBC is recreating the Good Place neighborhood in the Gaslamp Square at Comic-Con. It's describe
twitter.com
d as NBC's "largest interactive fan experience yet."
---
Diane Morales @LombardLoyLand
🔁
Bortles!!!
Are you headed to #TheGoodPlace at #SDCC?!
Pre-register now so you can skip the line:
twitter.com
---
John Kubicek @johnkubicek
🔁
In the Gust categories, I'm thrilled to see Maya Rudolph nominated for #TheGoodPlace and Jimmi Simpson for #Westworld.
---
PicTotes @PicTotes
🔁
The cubic design gives every Tote a specific design. Take a look on the many combination possibilities. It's in your
twitter.com
hands.
---
karlie @francokarlie
🔁
I don't want to sound dramatic but the fact that is not nominated for Best Comedy is a crime against television and writing and comedy and Emmy voters should be ashamed of themselves.
---
karlie @francokarlie
🔁
Where's the list continuation? Because I don't see Kristen Bell again and IM NOT OKAY WITH THAT. She deserves so much love for .
---
Fits of Fury @Limmer13
🔁
Come on, is the best and I'd nominate for everything but at least Sandra Oh finally gets some respect.
twitter.com
---
Meagan Jameson @megjameson
🔁
@AgentLanaKane also, i want a nom for #insecure and #thegoodplace in best comedy series!!! (BUT YAY @TedDanson!!!!!!!!!!)
---
Marlessa Stivala @marlessastivala
🔁
So excited about @TedDanson 's nomination for #TheGoodPlace ! Fork yes! #Emmys2018
---
TinaCharlesTV @TinaCharlesTV
🔁
Also, how is #TheGoodPlace NOT up for Best Comedy? That should have been a no brainer. #Emmys
---
Joshua Kazemi @JoshuaKazemi
🔁
#TheGoodPlace isn't nominated for Comedy Series?
PASS twitter.com
---
Connie, Electric Lady, Time Lord @ConStar24
🔁
Fork in the dishwasher over this 's Emmy snub. (I mean most of broadcast TV got snubbed, but this was the first one I
twitter.com
thought about). Also the show's overall snub is killing me.
---
Stacy Glanzman @DCHoosierGirl
🔁
I am bummed #TheGoodPlace wasn't nominated but happy for @TedDanson!
---
llamatrot @llamatrot
🔁
Welcome... to ! Sign-ups are open (again) for the NBC activation (but they're not time sensitive, and just get you into a shorter line at ). Make sure you click the link in article:
---
Tony Leadholm @TonyLeadholm
🔁
Big thumbs up for the & Comedy Guest actress nominations!!! Both were downright hysterical!!
twitter.com
---
Catherine Schreiner @ayetortuga
🔁
Happy about Maya Rudolph for , Lin-Manuel Miranda for , Matthew Goode for , and !!
twitter.com
---
Breeze Riley @BreezeRiley
🔁
I adore Ted Danson on #TheGoodPlace but that show deserved every nomination it's eligible for
---
Dennis Perkins @DennisPerkins5
🔁
Once again I shall be hosting my alternate #Emmys in my rage-bunker. Send ravens to RSVP. #TheGoodPlace #TwinPeaks
---
(((Rob Forman))) @robsforman
🔁
Even with a ridiculously stuffed field of 8 nominees, it is shocking to me that did not get an outstanding comedy se
twitter.com
ries nod.
Also congrats to BBC America for having two of the outstanding lead actress in a drama series slots with Tatiana Maslany & Sandra Oh!
---
Jackie™️ @jackster_93
🔁
@TedDanson congrats on your #Emmy nomination! @nbcthegoodplace #TheGoodPlace 😊
---
Jamie Jirak @JamieCinematics
🔁
Thrilled for Ted Danson BUT HOW THE FORK was #TheGoodPlace not nominated for Best Comedy Series? That is 🍌🍌🍌!!! #Emmys
---
Philiana @insidethetube
🔁
Joining Ted Danson with Emmy love this morning is Maya Rudolph for her FANTASTIC guest arc! Omg!!!!!!!!
twitter.com
---
---