The FBI: 272.670k tweets talking about this in the last 24 hours

People talking about The FBI: - RepLeeZeldin - DineshDSouza - RepMarkMeadows - devine_moser - KerriTonkin - pam53 - Sam201810 - AppStateJen - fubaglady - MaryKeithBare1[...]

- powklan7 - ChampionMtager - LandslideTrump - AnnRR - RLiberalskiddin - Lou02703 - ZannerTryon - Furf_7 - zuma02 - PotusDoc - kayakcowboy - BlackFeather_6 - activeshow - BassiouniMorris - PlzVoteItCounts - Trumponly - fasting39 - Jc888J - Edwinq4769 - FeistyTrumpette - luisaponteortiz - PollySigh1 - moselle - ToddHC04 - Trudyburton10 - chicagospark - TheNakedParty - WilliamMoran07 - TheCentrist5 - NoraDaniels20 - traceet1113 - togalk - MisterB76428978 - landsend99 - bellvedere - bluesbuster11 - William81232842 - BLUELOU70 - Dhottman1 - cubscoltsfan - overlyrediclous - WrendyKulick - KennethTrumper - junipersage1 - heidisname - DoleenR - sbaker209 - tcwiv - 575haiku - MyPlace4U - smedley_buster - elsatheangelho1 - ToniWaSaCha - americanchic - smp0711 - DefeatTyranny1 - franolich77 - MJSayre - US_Marj - hartlace1 - Goz_1911 - sgtmaj1958 - Themarie51 - JKolkin - JMMP78340550 - solodadmd - patriotsuzy - Civics_Junky - Dave_M_Brooks - Blanc65Ronnie - minnesue - beinpulse - harmonicwave4 - glad2betex - AppStateJen - JohnRobertFinch - toby1995 - Lynn_Thinks - kemptont - DavidLabar7 - all_hrs - mmwlawtaos1 - alexsmith1787 - samanthaowen008 - jbug9969 - VivianArps - DARLA_1 - stop_trump_ryan - AmyMachen - booklady888


This Tag appearing in: United States: ( Albuquerque - Atlanta - Austin - Baltimore - Baton Rouge - Charlotte - Cincinnati - Cleveland - Columbus - Dallas-Ft. Worth - Denver - Detroit - Fresno - Greensboro - Harrisburg - Honolulu - Indianapolis - Jacksonville - Kansas City - Las Vegas - Louisville - Memphis - Mesa - New Haven - New York - Norfolk - Orlando - Philadelphia - Phoenix - Portland - Richmond - Sacramento - St. Louis - San Antonio - San Diego - San Jose - Seattle - Tucson - Virginia Beach - United States - ).
Popular tweets tagged with The FBI:

10 de fevereiro de 2017
larry @harmonicwave4
🔁
Peter Strzok admits that his anti-Trump text messages have "tarnished" the FBI.
---
loading...
Lee Zeldin @RepLeeZeldin
🔁
If it requires handcuffs to get Lisa Page, an employee of the fed govt, to abide by a Congressional subpoena to testi
twitter.com
fy & answer questions then so be it. Working for the FBI is a great privilege, but Page doesn't become her own branch of govt in charge of her own set of fed laws.
---
10 de fevereiro de 2017
Rick Spurlock @togalk
🔁
Peter Strzok admits that his anti-Trump text messages have "tarnished" the FBI.
---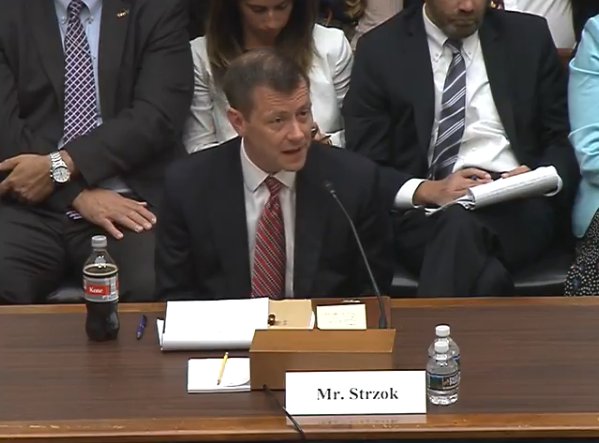 Toni @ToniWaSaCha
🔁
Peter Strzok told the truth. He said that his conduct was detrimental to the FBI
---
Dinesh D'Souza @DineshDSouza
🔁
Time for the FBI to raid Lisa Page's house. Oh wait! Are they afraid they will find stuff that incriminates their own top brass?
---
Mark Meadows @RepMarkMeadows
🔁
Contrary to what her attorneys are telling the media, we just learned Lisa Page actually DID review documents at the
twitter.com
FBI yesterday. Her failure to appear before Congress this morning had little to do with 'preparation'--and everything to do with avoiding accountability.
---
Donna DeVine Moser @devine_moser
🔁
Not a single Democrat asked Strzok why IF Russian meddling is SO horrific, why did the FBI do nothing about Russian-hacked DNC and Clinton servers.
---
KTonkin @KerriTonkin
🔁
Rep. Trey Gowdy got heated while questioning anti-Trump FBI agent Peter Strzok Thursday.
Gowdy told Strzok that the doesn't "give a damn" what Strzok appreciated or wanted.
---
pam53 @pam53
🔁
How did the FBI get the Dossier? Did they get it from Bruce Ohr, whose wife works for Fusion GPS?
youtube.com
---
Sam2018 @Sam201810
🔁
Strzok wasn't under fire. The GOP traitors questioning him were. This isn't mere GOP 'scrutiny' akin to a playful armwrestling match. It was a group of traitors attempting to discredit the and and undermine the rule of law. Stop it w/ these 'playful' ledes.
---
FlyEaglesFlyNC @AppStateJen
🔁
"Not once in my 26 years of defending our nation did my personal opinions impact any official action I took," FBI agent Peter Strzok says in congressional testimony about the agency's Russia investigation
---
Mary @MaryKeithBare1
🔁
After Rep. Gowdy says "I don't appreciate having an FBI with an unprecedented level of animus working on two major investigations during 2016," FBI agent Strzok passionately defends himself and the FBI, drawing applause from chamber during House hearing
---
Darlene Powell @powklan7
🔁
Page's refusal to testify in Congress shows even more contempt for the American people, accountability & transparency, than it shows contempt of Congress. This former top FBI official & Strzok accomplice should be held in contempt & brought to Capitol Hill by force if necessary.
---
Meredith champion @ChampionMtager
🔁
Finally. A useful and notable piece of information. Bruce Ohr provided documents to the FBI that originated from Christopher Steele. He was a funnel for Fusion GPS.
---
🇺🇸Trump🇺🇸Landslide🇺🇸2020🇺🇸 @LandslideTrump
🔁
And here it is. Bruce Ohr gave Steele oppo research to the FBI.
Holy moses.
#StrzokHearing
---
Lou @Lou02703
🔁
Watching the police-state Democrats clap like a bunch of buffoons at the words of a deeply troubled FBI agent who destroyed the reputation of the FBI while screwing up the Clinton, Flynn, and the early Trump Team investigations is a new low for this broken Party.
---
Zann @ZannerTryon
🔁
This is unwatchable political theater. If only Republicans would take the threat of Russian cyberattacks and election interference as seriously as they attack FBI agents and the important work the FBI does to keep us and our democracy safe.
---
Furf @Furf_7
🔁
Just a reminder: the FBI helped Trump win and Hillary lose. We voted in November 2016 not knowing the Trump campaign was under investigation for colluding with Russia. That's how far down the rabbit hole of ridiculousness we have gone.
---
Lee wolverine @zuma02
🔁
Strzok--who slept with an FBI co-worker behind his wife's back, texted that he wanted to stop Trump, that he was an f'ing idiot, and that Trump voters were ignorant hillbillies--just claimed that he held himself to the highest possible standard while investigating Trump.
---
The AuDioAsYLuM @BlackFeather_6
🔁
57 mos. Thts wht South Dakota & US current punishment for standing up for your heritage & land against the FBI & oil
twitter.com
companies. Unless your a white rancher in which case you can set fires to federal land & walk away w/ a presidential pardon.
---
bill samples @activeshow
🔁
FBI's Peter Strzok testified today he didn't remember writing his anti-Trump texts. If he can't remember his own texts, how in the hell can he remember what Gen. Mike Flynn told him?
---
Morris Bassiouni @BassiouniMorris
🔁
#PeterStrzok "loves the FBI," his wife, AND his mistress. And he fucked them all.
---
M Davis @PlzVoteItCounts
🔁
Strzok said Giuliani's comments in October 2016 about a "surprise" that would damage Hillary just before the election caused him "great concern" because it suggested that FBI agents had leaked information to Giuliani
---
Trump @Trumponly
🔁
Where is the Talented Mr. Wray? Waiting to learn why he's allowing this obvious charade go on by an FBI agent kicked off the Mueller team and relocated to the basement of the human resource dept. Hard to get a signal to text down there.
---
fasting39 @fasting39
🔁
Strzok: "Mr. Ohr provided information to the FBI that included material that is what everybody is calling the dossier."
Fusion GPS didn't hire Nellie Ohr for her expertise. They hired her because of her contacts.
---
jc888_JNV @Jc888J
🔁
Strzok claims he left his political bias at the door while involved in the Mueller investigation but his politically
twitter.com
biased texts, emails & discussions with Page occurred at all hours & on an official FBI phone & computer.
---
Edwin Qujano @Edwinq4769
🔁
FBI Director Christopher Wray should do the same and order an investigation into the political motivations of Agents Strzok, McCabe, Lisa Page and Comey.
---
Luis Aponte @luisaponteortiz
🔁
Rep. Jordan is getting closer and closer to confirming the dossier came to the FBI and Strzok's C.I. team from Bruce Ohr at DOJ who got it from his wife Nellie Ohr who was employed by Glenn Simpson of Fusion who was hired by the Clinton campaign
---
Polly Sigh @PollySigh1
🔁
So nice of the NYT to let Peter Strzok write the twitter headline on the story about himself.
nytimes.com
---
Moselle @moselle
🔁
The single greatest tragedy of the dalliance of lust and treachery is the stain it splattered on a noble institution, the . Thousands of hard-working and dedicated public servants (agents and staff) have been harmed irreparably by their antics and corruption.
---
Todd C. 🇺🇸 #Maga 🇺🇸 @ToddHC04
🔁
Regardless of what the Democrats say Equal justice for all is not believed by the majority of Americans! We do not believe that the FBI is a fair judicial system! We must vote all Democrats out of the system that we can in November!
---
🇺🇸Trudy🇺🇸MAGA🇺🇸KAG🇺🇸 @Trudyburton10
🔁
I am truly sorry for my friends at the today - some of whom I've worked undercover side by side with - served in combat with - worked in FCI investigation with - you have been done a disservice and harmed by Peter Strzok - this is truly tragic
---
mike leonard @chicagospark
🔁
Strzok says the American people have not lost confidence in the FBI.
Um, I beg to differ you little smug a-hole.
Where did you get that info? From the DemocRats? We beg to differ in my cirlces.
---
The Naked Party @TheNakedParty
🔁
"But this did nothing to actual change or damage or bias any actual work of THE WHOLE FBI, but sure it didn't look good. Fine. Moving on."
---
Lloyd @TheCentrist5
🔁
You know their are probably several FBI agents who were/are watching today that are so pissed at this guy cause he i
twitter.com
s the absolute disgrace to the badge they hold so dear. This is ridiculous this guy is no poster child no matter your ideological preference.
---
russian bot in your face @traceet1113
🔁
My extremely hot take is that the FBI's #2 in Counterintelligence cheating on his wife with *at least one woman* is a huge blackmailing opportunity for our adversaries (including Russia!) and has not been explored enough.
---
Debbie Carroll #MAGA @landsend99
🔁
I'm happy to answer this...
Because it wasn't the FBI who issued his security clearance.
As I mentioned earlier... who is running this guy?
---
Stacie @bluesbuster11
🔁
The vileness of the FBI on full display today was beneficial in that it has united more than ever!! Thank you . Patriots will win. There will be no capitulation to you or or any dirty Deep State activity ever again.
---
#WWG1WGA #QAnon #Q @BLUELOU70
🔁
Peter Strzok said the American people have NOT lost faith in the FBI. Do you agree? Please vote and retweet. Thank you.
---
Wrendy kulick @WrendyKulick
🔁
Unfolds.... After 8 Hours, Peter Stzrok Finally Admits Bruce Ohr (His Wife Worked For ) Gave FBI Christopher Steele Material Including & Received You Call The Dossier ....DNC Outbursts Fail Again! Email Also Named John McCAIN & David Corn Supplying Dossier
---
loading...
Kenneth Trumper @KennethTrumper
🔁
I BELIEVE THEY KNOW THAT IF THE TRUTH OF WHAT THEY DID WAS KNOWN AMERICAS DEMOCRACY WOULD BE IN JEOPARDY ?
twitter.com
?🤔🤔THINK ABOUT THAT 🤔. 🚂🇺🇸✝️👍👏
---
Deplorable Trumplican @junipersage1
🔁
NEVER FORGET...
It wasnt a coincidence that Peter Strzok was in charge of BOTH exonerating Hillary & framing Trump.
Odds that a FBI employee (Strzok) would run BOTH the Hillary Investigation & Trump/Russia Investigation:
1 out of 35,000 (.00002% chance)
Strzok was the FIXER.
---
Heidi Bollard @heidisname
🔁
So the FBI agent saying that a text is hyperbole is bad, but the entire Trump administration saying that every shitty
twitter.com
and racist thing that comes out of their mouths is a joke is totally fine? Got it.
---
Doleen Ann Reynolds @DoleenR
🔁
Today, I just want to thank the men and women of the FBI and their families for their dedication to serving our country -which often requires risking their own safety- in order to make it more secure for us all. 🇺🇸
Signed,
Grateful American
---
S Baker 🌊#TrumpLiesMatter #VoteBeto @sbaker209
🔁
The Peter Strzok hearing is evidence that Trump succeeded in making the GOP a group of enablers of his unfathomable anti-democratic actions and enemies of Americans who work and have sworn to keep our democracy safe in the FBI, CIA and NSA.
Shame on the GOP
---
ESP K @575haiku
🔁
'Just another victory notch in Putin's belt': FBI official Peter Strzok testifies before the House Judiciary Committee in a high-stakes hearing
---
T-Covfefe @MyPlace4U
🔁
Well, leaving FBI out of it...there was State Dept official Jonathan Winer who confirmed to you and Isikoff information about Steele. And then there were the law enforcement officials who were your background sources.
---
Smedley Buster @smedley_buster
🔁
Rep. Louie Gohmert holds nothing back as he blasts Peter for lying to the House Judicial committee, being an embarrassment to America, to the and the to Justice System.
---
Elsa Hernandez @elsatheangelho1
🔁
Peter Strzok is being protected by Democrats who care more about covering up information from the public than getting any answers about what the FBI was up to in 2016
---
AMERICAFIRST28 @DefeatTyranny1
🔁
It amazes me that Dems don't believe in transparency at all. They want the FBI run like the Stasi. They want the FBI to weaponize the law against Rs. Just like they got the IRS to target Rs. Dems have became tyrannical under Bo
---
Stand or Quit @franolich77
🔁
@RepValDemings @OrlandoJobs And no I do not trust the FBI any longer..
---
MJ Sayre @MJSayre
🔁
Hi, . None of the GOP members you quoted were top FBI agents, heading an investigation into phony Trump/Russia collusion. Are you some kind of idiot?
---
Marj @US_Marj
🔁
#PeterStrzokHearing
Peter says his bias has not affected the trust the American people have in the FBI.
Do you trust the FBI?
---
DEPLORABLE HARTLACE1 @hartlace1
🔁
JW filed its FOIA lawsuit w/ the DOJ for answers on any & all communications & payments made between the FBI & Christopher Steele ― the author of the "Trump Dossier" that was funded by Fusion GPS thru Clinton / DNC ― yet the FBI is stonewalling us on this.
---
Goz 1911~NRA~LIFER 🇺🇸🇺🇸🇺🇸 @Goz_1911
🔁
.
Stop saying this hearing is about Hillary Clinton's emails...it's about top level of the FBI interfering with a presidential election! I don't see hillary sitting in that chair...I see the 2nd in command of the FBI and if you don't think that's a big deal step down!
---
Andrew Lashua @sgtmaj1958
🔁
I didn't realize that the FBI agent who said that Trump supporters were smelly hillbilly Walmart shoppers would take offense at it being pointed out that he lied to his wife while he bedded a colleague with whom he seemingly conspired re stopping an election.
---
Jennifer Kolkin @JKolkin
🔁
WOW- : "If anybody should be pissed at the FBI, b/c you all helped this unfit man become POTUS by not revealing to the people that he was under investigation, it should be me. They should be applauding you, kissing you...but for you we would have had a legitimate POTUS"
---
JMMP @JMMP78340550
🔁
Strzok has totally damaged the FBI, DOJ, the American ppl, his family, Pages family...........can we ever trust and r
twitter.com
espect again❓‼️
---
suzy @patriotsuzy
🔁
BTW, Witnesses are coming forward showing that Women within the FBI were sexually harassed, that is not an isolated i
twitter.com
ncident with Storzk, but it is in fact a culture of abuse within the FBI of rape/infidelity/threats against victims
---
Civics Junky @Civics_Junky
🔁
The democrats (Strzok)are using the EXCUSE that Russia tried to interfere in our election to justify the corrupt FBI's actions.
The Russia's aren't trying to destroy this country...the damn democrats are.
Sick of the RUSSIA CRAP!😡
---
Dave Brooks @Dave_M_Brooks
🔁
New trend emerging in Trump-Russia probe: journalists getting very cozy with the FBI.
dailycaller.com
@dailycaller
---
I'm supposed to be working right now. @beinpulse
🔁
you F-ing piece of 💩 you have destroyed out entire trust in the
---
Tania Still Fiaschet @glad2betex
🔁
Anyone else watching the Democrats on the House Judiciary making a joke of the FBI Agent Peter Strzok hearing.
Strzok should be held in contempt and Rep Nadler should be disciplined.
---
FlyEaglesFlyNC @AppStateJen
🔁
FBI agent Peter Strzok says his anti-Trump texts were in response to then-candidate Trump's "horrible, disgusting" insults of an immigrant family, but they were "in no way, unequivocally any suggestion that he would take action" to impact the election
---
John Robert Finch @JohnRobertFinch
🔁
BREAKING: Stzok was never actually stripped of his classified clearance as reported. He still retains TS/SCI clearance and was reading classified information just yesterday, even though he was escorted out of the FBI building last month
---
Lynn McCallister @Lynn_Thinks
🔁
I'm totally ashamed anti Trump FBI lawyer Lisa Page is getting away with defying a congressional subpoena.
If I did the same, I would be arrested.
I don't care who you are, Mrs. Page. But I expect the same treatment for you.
Lock. Her. Up. Who Agrees?
---
TK @kemptont
🔁
"The Capitol Hill show trial of veteran FBI agent and former head of the Bureau's Counterespionage division Peter Strzok turned into a disaster for Republicans."
---
O. Ray Moose @all_hrs
🔁
5 Thoughts On Peter Strzok:
1 - This is a bonafide sociopath
2 - This is NOT the behavior of someone who has had to answer to anyone
3 - Who actually OWNS this guy? (it's not the FBI)
4 - Today we put a face to the Deep State
5 - Comey/McCabe were scared of this psycho
---
Michelle @mmwlawtaos1
🔁
"As an employee of the FBI" Peter Strzok "cannot comment on active criminal investigations" but GOP "tried to put him in the position" of either doing so, or risking "contempt" -
---
Alex Zen @alexsmith1787
🔁
Peter Strzok just admitted under questioning from Rep. Jim Jordan that Bruce Ohr, husband of Fusion GPS operative Nellie Ohr, funneled documents to the FBI related to the Russia case. Strzok refused to say what those documents were.
---
DeplorableAsHell @jbug9969
🔁
The FBI may now be the most corrupt organization in America! They no longer represent the American People. We don't answer to our Government its the other way around.
It's time We The People start letting our Government know this. It starts this fall.
---
Darlene Sivak-Kurnig @DARLA_1
🔁
Strzok is an embarrassment to the FBI AND WHAT IS CHRITOPHER WRAY HIDING! SOMETHING I THINK COULD BLOW UP BADLY FROM
twitter.com
OBAMA ON DOWN. THIS WAS A CONCERYED EFFIRT TO NULLIFY AN ELECTION WHICH IS STILL GOING ON.
---
StopGOPCraziness @stop_trump_ryan
🔁
California Dem unleashes on GOP during Strzok hearing: 'The FBI hasn't magically been transformed into a left wing organization'
---
real life @AmyMachen
🔁
Witnessing the people brought forward, to testify on behalf of the I'm very alarmed. These people are some of the most corrupt & incompetent people I've ever seen.
They should never serve in a position of power.
When I'm worried it's time to worry.
---
Ann Juurinen @booklady888
🔁
Peter Strzok's testimony today solidified that the enemy of the American people is not the Free Press or the "Deep State" FBI. The enemy of the American people is the Russian asset in the White House and the complicit Republican party enabling him.
---
---