#TIME100: 112.825k tweets talking about this in the last 24 hours

People talking about #TIME100: - TIME - chadwickboseman - ava - edwcasttro - c_tweets_here - sfreel1 - davidk7654 - MaggieL - miki82800 - stillscorned[...]

- Sara91619451 - podobensky - b_zymryte - ferociousfuz - TheNomadicHeart - sassyfxngirlx - JeimsVas - Sara91619451 - narrysgirl0822 - _Shishaa - alina_official - MagCaniffNj - DavidNe99469223 - IkchuksG - 77lastjedi - reason313 - Sara91619451 - bodybrainandsol - JayRyKK - STARBASE53 - SallieMaeCohen4 - DManortey - VIRAT_AJAY_18 - gswjamie - ChummyMummies - BornNOkc2016 - irishgilly - rsy_0829_ - therealericpark - lisamurphyTO - JacerJulian - merriox - MikeVisevok - itsmallah - DavidMKC - collegiatecoach - 3grXb2zotmLMz21 - BurakHezar - janverboom - PhineasDelgado - momo_chan0409 - AzarSahin - LittleMonster10 - MKlave - MacArthurBrian - Frances_Fisher - ThinkerG06 - GGodLove77 - Sharp_Shoot_r - FleetfootLives - ratgiselle - bIackphillip - RaysonTanz - GDiddy210 - bethlouisebrown - kbtexas91 - knitwithtammy - CaliPharaoh - liszella - kendallololol - MGSBGGGSC - trishgillum - itechoesaspark - prettiedove - FatmaNaib - SHawrami - graciedaleyyy - JanetKJones4 - angieacunaa - ruthellaowens - TGEE21 - ViloriaJanine - Krakenstein - ToriTarr - Karen10668 - ClaytonRayborn - aDreamofHome - mattw2214 - pita_ducx - shawnsmood - MaraGrate1 - tmaysshuman - freelemoi - FlynnMV - Numbers28 - sarahross1113 - SwankCarpent - JainudinRajSal3 - tatiiana - hausofriya


This Tag appearing in: Canada: ( Winnipeg - Quebec - Montreal - Toronto - Edmonton - Calgary - Vancouver - Canada - ).
United States: ( San Francisco - ).
Popular tweets tagged with #TIME100: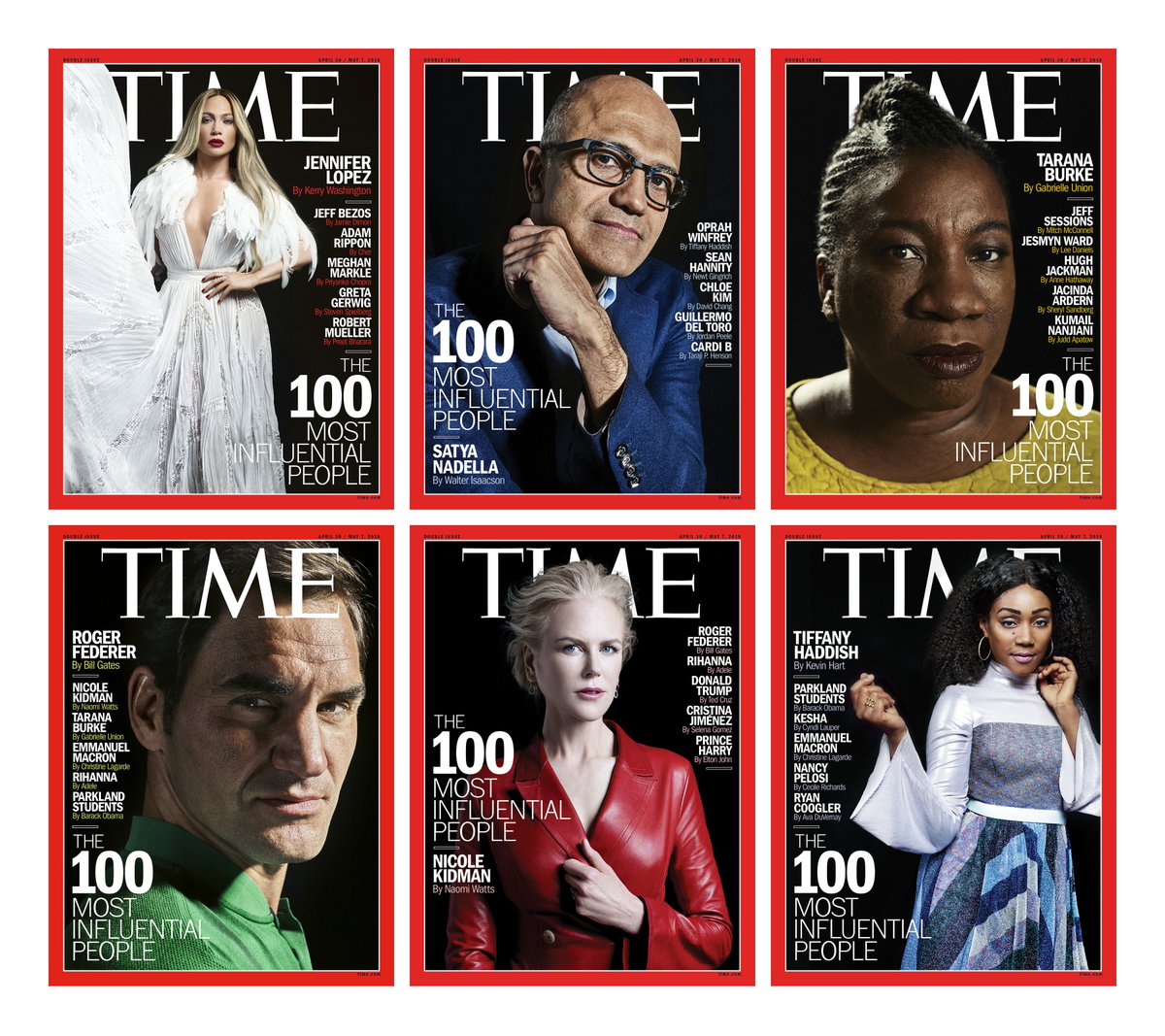 fande @JayRyKK
🔁
Introducing the 2018 #TIME100
ti.me
---
loading...
Ava DuVernay @ava
🔁
Congratulations to for being named to the . It was an honor to write about him. And an even greater honor to call hi
twitter.com
m friend. 🖤🌸🙏🏾
---
TIME @TIME
🔁
.: "By bearing witness to carnage, by asking tough questions and demanding real answers, the Parkland students are sh
twitter.com
aking us out of our complacency"
---
10 de fevereiro de 2017
zymryte.b @b_zymryte
🔁
Congrats on making #TIME100's Most Influential @ShawnMendes!
cc: @johnmayer
---
Edw @edwcasttro
🔁
. on : "His songs are often his interpretation of music he's fallen in love with, sometimes while he's still on his honeymoon with it"
---
Chrissy @c_tweets_here
🔁
Steven Spielberg on how Greta Gerwig's film 'Lady Bird' sweeps you up "in its sweetness and pain, in its humility and frankness"
---
Susan Diane Freel @sfreel1
🔁
"Our kids now show us what we've told them America is all about, even if we haven't always believed it ourselves: that our future isn't written for us, but by us." - on Parkland student organizers
---
david @davidk7654
🔁
Congrats to all the phenomenal humans in this year's ! 🌟 I see you !!!! 🌟
---
Maggie Leber @MaggieL
🔁
" you owe the Parkland students an apology…Had every child been given the same armed security yours were protected by there never would've been a Parkland massacre for you to weaponize in your hit piece attacking "
---
みきファジ @miki82800
🔁
Malcolm thank you so much for your heartwarming compliments. I would also like to pay my deepest respect to your outstanding leadership and am very much looking forward to continuing to work hand-in-hand for peace and prosperity of our region! 
---
SA.RA. SHANASA @Sara91619451
🔁
Greta Gerwig by Steven Spielberg
Prince Harry by
by
by
by Benicio Del Toro
Here's the 2018 .
---
therealdeal @podobensky
🔁
Pedophile Spider-Man Window Washer Sentenced to 105 Years Molesting Infants/Toddlers & Distributing Child Pornography
---
Mortified American @ferociousfuz
🔁
When planned its largest-ever annual benefit with host Trevor Noah, little did they know he'd cancel 18 days before the event.
---
Robyn Vincent @TheNomadicHeart
🔁
"Our history is defined by the youthful push to make America more just, more compassionate, more equal under the law.
twitter.com
This generation—of Parkland, of Dreamers, of Black Lives Matter—embraces that duty."
---
James Vásquez @JeimsVas
🔁
A Fantastic Woman #TIME100
ti.me
---
B A N J I / ADAMA 🗣 @_Shishaa
🔁
Issa and Chadwick's shots look like every Black person the first time we heard a white kid cuss their mom out.
---
БРАЙЕН О'ДИЛАН @alina_official
🔁
.@Adele on @Rihanna: "She makes her own rules and bends ours" #TIME100
ti.me
---
G_Ikchuks @IkchuksG
🔁
. on 'Black Panther' Director Ryan Coogler: "What kind of person attracts unprecedented acclaim, the likes of which has never been seen in the history of cinema? A person with extraordinary talent, yes. But also one with a spirit of integrity"
---
Visit TheUprising.TV @reason313
🔁
Congratulations to for being named to the . It was an honor to write about him. And an even greater honor to call him friend. 🖤🌸🙏🏾
---
SA.RA. SHANASA @Sara91619451
🔁
. on Meghan Markle: "This ever-smiling, strong free spirit found her prince, fell in love and in turn made a cynical world believe in fairy tales again"
---
Donna Marie @bodybrainandsol
🔁
. on : "To me, no matter how successful she becomes, she will always be Jenny from our block. And I will always be a grateful witness to her journey"
---
JCWEAVER @STARBASE53
🔁
In all the years I've been advocating for stronger gun laws, I've never seen the passion, momentum and dedication that young people are showing today. Thank you for honoring the Parkland students. We WILL succeed in getting weapons of war off our streets.
---
MAYBERRY @SallieMaeCohen4
🔁
Big honor for me to be on this year's #TIME100 list. Thanks @cue for the kind words!
time.com
---
Dorcas Manortey @DManortey
🔁
"She could have given up… But instead, she fought to get an education so she could help change the socio­cultural structures that continue to impede women's lives." Read more about in :
---
ChummyMummies @ChummyMummies
🔁
Chris Pratt: " started 2018 as Jim from 'The Office' and has emerged as a bona fide visionary and respected filmmaker"
---
lois mcdade @irishgilly
🔁
Winning is when Barack Obama writes your profile.
"They have the power so often inherent in youth: to see the world anew; to reject the old constraints, outdated conventions and cowardice too often dressed up as wisdom.
The power to insist that America can be better."
---
PrizeFighter01 ⚡️ @merriox
🔁
So thrilled to see recognized as part of the for her incredible work with . If you're looking for some Friday inspiration, check out 's tribute to one of the most courageous leaders I know.
---
Mike Lvov @MikeVisevok
🔁
Senator summed up perfectly: "President Trump is a flash-bang grenade thrown into Washington by the forgotten men and women of America."
Very nice tribute.
---
Rm. @itsmallah
🔁
. on London Mayor : "At a time of increasingly divisive political rhetoric, he has been an important voice for tolerance and unity"
---
David Casey @DavidMKC
🔁
When I got the news that I was in 100 this year, I won't lie, I cried. I promise to continue to help others who are struggling or feel unheard. Just being yourself can be so powerful. Thank you, , for the beautiful introduction.
---
Dr. Suz @collegiatecoach
🔁
The Parkland students are on @TIME's list of the world's most influential people #TIME100
ti.me
---
Jan Verboom @janverboom
🔁
Do you consider Donald Trump as one of The Most Influential People of 2018? #TIME100
---
Phineas "Facts Over Truths" Delgado @PhineasDelgado
🔁
Thank you and for this tremendous recognition! I'm honored to be included on 's list of the world's most influential people
---
momo @momo_chan0409
🔁
Japanese Prime Minister 's "confident and dynamic leadership has revived Japan's economy and prospects" writes Australian Prime Minister
---
SAHIN MD AZAR LASKAR @AzarSahin
🔁
So happy and proud to see my friends and on the list.. Big congratulations and so well deserved
---
HippieChick @MKlave
🔁
Robert Mueller is on 's list of the world's most influential people, written by
---
Frances Fisher @Frances_Fisher
🔁
founder is "not even going to bring more seats to the table—she's going to turn the table over and build a new one," writes Gabrielle Union
---
thinkerg30 @ThinkerG06
🔁
Federal Judge says Rod Rosenstein's Power Grant to Special Counsel Robert Mueller May Violate DOJ Rules
---
Emperor Gamaliel Hasani I @GGodLove77
🔁
Embracing his responsibility. Following his conscience. Strengthening his country. For these attributes and more, names our CEO Ken Frazier to their 2018 list:
---
Beth Brown @bethlouisebrown
🔁
.: "By bearing witness to carnage, by asking tough questions and demanding real answers, the Parkland students are shaking us out of our complacency"
---
loading...
Keri Burns @kbtexas91
🔁
"Every few years, a professional athlete touches the heart and soul of a city in a way that has nothing to do with athleticism. Such is the case with Houston Texans star ," writes Houston Mayor
---
CaliPharaoh @CaliPharaoh
🔁
NBA player Kevin Durant "is giving those growing up in tough situations, like he did, a path to success. His generosity knows no bounds"
---
wendall @kendallololol
🔁
.: "I'm so sick of people saying 'I can't wear this it's for models.' It made me insane. So I was like, 'Ok, well then I'm going to make my models look more like you'"
---
Fatma Naib @FatmaNaib
🔁
I am so honored to be part of the The outpouring of support is amazing. Thank you for the recognition and for the beautiful words. It is by working together and with the communities that will
---
Valintina @TGEE21
🔁
Last year, 's common sense defense of the Affordable Care Act helped shape the argument that saved health insurance for millions of American families. Thanks, Jimmy
---
Clayton Rayborn @ClaytonRayborn
🔁
What an honor to be apart of alongside so many influential people. Thank you for your incredibly kind words. This is not a moment, this is a movement.
---
Chicago•West•Cousin 👑 @pita_ducx
🔁
Read why President of Zimbabwe @edmnangagwa is on the #TIME100
ti.me
---
María Gárate @MaraGrate1
🔁
.: "You can't win them all, but at the same time, you can give all you have"
ti.me
---
Freedom 'Free' LeMoi @freelemoi
🔁
So happy and proud to see my friends and on the list! Congratulations and so well deserved!!! Y'all rock!!!
---
Meghan Flynn @FlynnMV
🔁
Nice Nailantei Leng'ete is on @TIME's list of the world's most influential people #TIME100
ti.me
---
Jainudin Raj Salman @JainudinRajSal3
🔁
I think is worse handle because they din know that who should be in top 100. are not a part of it and is part of top100 what a joke.🤗😂😂😂😂
---
---