Steven Adams: Become Trend on twitter at (2018-04-29 06:01)

People talking about Steven Adams: - SheaSerrano - NBA - NBA - san_os78 - _Michaelinho - VETAL_9 - VETAL_9 - _fawaz___ - BradWillo15 - Matthew_E91[...]

- lucianoml83 - Djuka_1991 - MrHydroLV - 19miktul - Sergidq - dunker - jadaindahouse - braydizz - kougamehei - JackBarnsley_ - StashBoxReggie - LittleBigDen - MasonHoz11 - BayemOA - apachebarber - alexmo2k - Tvyvion - thelastcavalier - anntieup - CGCarlos92 - RedditGrizzlies - gcwoolf - khedira_top - brockgriffin1 - wojespnbot - marco_stampa - RRREXXXX - iheartwestbrook - OK_tay15 - iheartwestbrook - ballstreet2k - dasilva_austin - DeeshotKofi - IkeYescas - GarDetta_GD3 - KevinSeawrightt - tunafishtyler - Bballtweets3 - AlainIbaka93 - onlythebulls13 - Skizoider - juanma_rubio - Dayoaderibole - WalkingBuckett_ - Harlem19therare - JustinP_13 - nelbertq - AtrainWright - connor_rountree - Michael__Waite - RyanO24_ - Kemperball7 - ltrainnz - ThundrLightin_n - kaiokenn - NelsonTorres111 - MockDraftHQ - ThunderOKC229 - royreport - JohnnyScruggs - mikkovitug - VanillaPentagon - dalbenson - bucksstarcoffee - houstonfan00 - ChrHier - mkr2400 - ChrHier - witsoeswhatnow - Prime_LeBron23 - ChessBooker - patrickmdennis - MG34_ - DopeUnicorn_ - Mitnavnmark - SLIMVP35 - rknrobin13 - Lachlan_Howe - shakeitfahtae - Getrusshelptbh - BobbyBonerz - Getrusshelptbh - all_in_adams - ancientvincent - blamdonnelly - jkelmuhcoogs - ShannonBlake94 - willosophy_ - BigHatPosse - szyq516


This Tag appearing in: United States: ( Oklahoma City - ).
Popular tweets tagged with Steven Adams:

10 de fevereiro de 2017
NBA @NBA
🔁
Steven Adams swipe and dish in transition!
#ThunderUp take back the lead in Q2.
📺: @ESPNNBA
---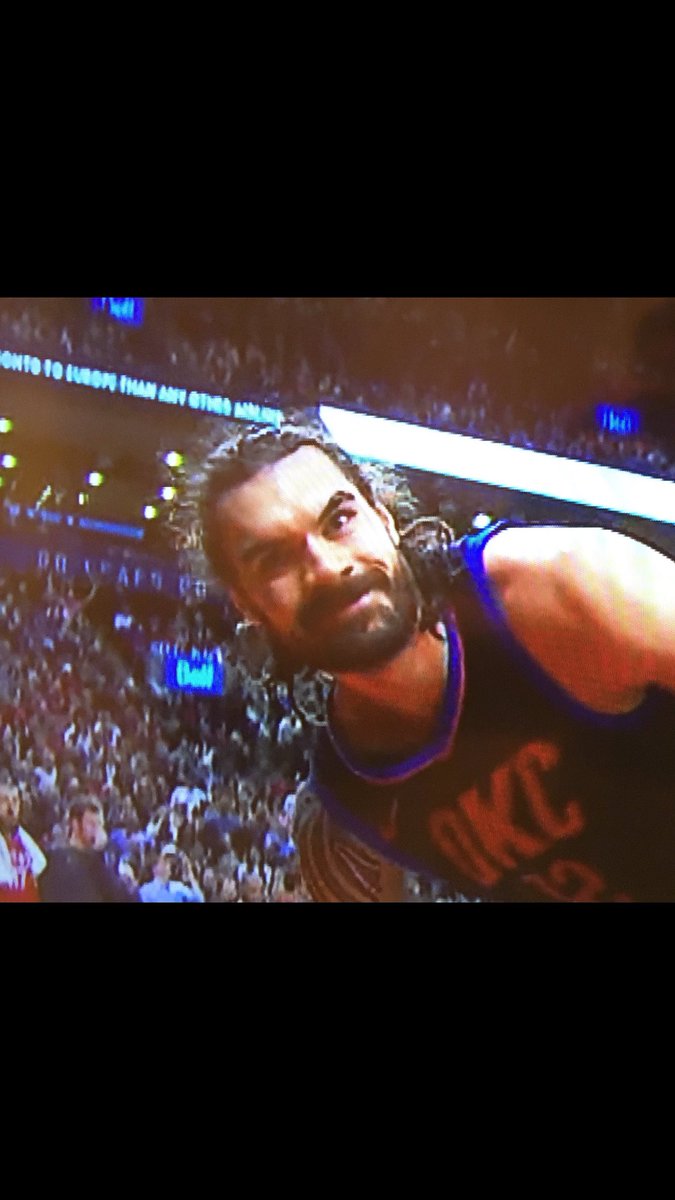 Max @MG34_
🔁
Steven Adams really looked at the camera like this after baiting Ibaka into that foul 😂😂😂 god I love him
---
NBA @NBA
🔁
All knotted up going into halftime!
41 | 41
Russell Westbrook leads all scorers with 15 PTS.
Steven Adams: 9 PTS, twitter.com 7 REB
Donovan Mitchell: 10 PTS, 2 3PM
Joe Ingles: 9 PTS, 3 REB
📺:
---
Sanos @san_os78
🔁
Steven Adams, one of us!
twitter.com
---
MH @_Michaelinho
🔁
Steven Adams, one of us!
twitter.com
---
Vitalii Mykhailenko @VETAL_9
🔁
Steven Adams says he doesn't have any summer plans yet, but will probably "pop into Japan. Get a good ol' bowl of ramen." He was particularly happy about this.
---
Vitalii Mykhailenko @VETAL_9
🔁
Nick Collison of Steven Adams: "He was great for us this year. Consistent. He was a force in the middle. He's a great teammate. He's got .., there's very few guys that totally want to do what's best for the team. There's no agenda. He's one of my favorite teammates of all-time."
---
FOH @_fawaz___
🔁
There ain't anyone else in the NBA who's gone through a madder change than Steven Adams and dudes still 25
---
Brad Wilson @BradWillo15
🔁
Steven Adams on if he'll ever shoot 3s: "I'm comfortable shooting it. The tough part is just making it."
---
Matthew Edwards @Matthew_E91
🔁
Other teams still alive should get to bid for Steven Adams.
---
Shalom @BayemOA
🔁
Lmao. Westbrook has Playoff P, Melo and Steven Adams. His team is good enough he just have any IQ to run the court th
twitter.com
at's all facts
---
𝔩𝔲𝔠𝔦𝔞𝔫𝔬 @Tvyvion
🔁
Cavs get:
• Paul George
• Steven Adams
Thunder get:
• Cavs 1st round pick
• Kevin Love
2018 Draft day trade idea.
• Cavs solve their inside game / rebounding problems and get another reliable scorer. Thunder get to start semi rebuilding while staying competitive.
---
thelastcavalier @thelastcavalier
🔁
lol seeing steven adams strip donovan mitchell on the perimeter and then run a fast break is like seeing a bear walk out of the woods to your campsite and then build a house of cards at your picnic table
---
abortion funding is liberation pass it on @anntieup
🔁
Here's Steven Adams, in his own words the weirdest most normal guy in the NBA, and somebody everybody would want to play with:
---
Graeme Woolf @gcwoolf
🔁
Not as funny as last year but some good laughs from him.
Thunder exit interview - Steven Adams via
twitter.com
---
Adrian Wojnarowski @wojespnbot
🔁
Steven Adams has been traded for Spencer Hawes and a player to be named later, league sources tell ESPN.
---
Brenda Hawkins @iheartwestbrook
🔁
Nick Collison on Steven Adams: "He's one of my favorite teammates of all time, and he's going to be one of the best players that I play with in my career."
---
Former Lillard stan ☁︎ @OK_tay15
🔁
KD=KD
Draymond >> Ibaka
Klay>>> Young, inefficient 6th man
Harden
KD >>> Paul George
Draymond > Stev twitter.com en Adams
Klay >>>>>>>> Washed, soon
retired Melo
"buT MuH 2015"
Second best player on the Cavs was Matthew Dellavedova lmfao
---
Isaac Yescas @IkeYescas
🔁
Someone could make a whole highlight reel of Steven Adams getting hit below the belt. There's no way he's having kids at this point
---
General G @GarDetta_GD3
🔁
Steven Adams on the Russell Westbrook being tough to play with narrative: "No. Because we've had success. As a player, playing with him, it's not difficult. He just has very high standards and you have to meet them. That's what ultimately makes you better as a team."
---
Kevin Seawright @KevinSeawrightt
🔁
Steven Adams on if he'll ever shoot 3s: "I'm comfortable shooting it. The tough part is just making it." via /r/nba
reddit.com
---
Tyler Mussehl @tunafishtyler
🔁
@laurenwhoisthis What if it's a Steven Adams jersey??
---
Dennis Rodman Stan @onlythebulls13
🔁
Steven Adams deserves better than this.
---
8,168-149-3,048 @Harlem19therare
🔁
I liked a @YouTube video
youtu.be
Steven Adams 19 Points Full Highlights (4/27/2018)
---
Nelsón @nelbertq
🔁
When a dude is 6'6" is grabbing boards, I'm impressed. When a 6'6" dude is being handed 5 a game by Steven Adams, I c
twitter.com
all it a useless anomaly.
---
Thunder'n'Lightining @ThundrLightin_n
🔁
It would be like your buddies throwing in on a beer run. I have no fucking clue whey they let Harden go though??? S
twitter.com
till, we got Steven Adams from that trade.
---
Mockdrafthq.com @MockDraftHQ
🔁
Guys Westbrook has played with and not gotten a ring :
Kevin Durant,
James Harden,
Carmelo Anthony,
Paul George,
Serge Ibaka,
Victor Oladipo,
Domantas Sabonis,
Enes Kanter,
Derek Fisher,
Steven Adams...
---
Roy Report @royreport
🔁
You're kidding.... if you can't win 50 games in the reg. season and aren't capable enough to beat a team who's best p
twitter.com
layer is a rookie when you have 3 future Hall of Famers and a great center in Steven Adams that smells stink.
Lay off the crack-pipe.
---
Run As One @houstonfan00
🔁
Capela- Gobert is gonna be a really fun matchup to watch this series. Clint is playing a lot more aggressive than he did early in the season. That was an issue against Gobert and Steven Adams. Hoping Cap negates Rudy like he did KAT.
---
warren witsoe @witsoeswhatnow
🔁
It's time for Steven Adams to become a unicorn for OKC. More from a playmaker/hockey assist guy aspect than a scorer.
twitter.com
The IQ and skill are there. Likely he'll just have to wait til he finds himself on the pacers to realize his potential though.
---
#HTownTakeover @patrickmdennis
🔁
A few UDFA signings, some (or all) of which might be out there:
Steven Dunbar to 49ers
Tony Adams to Jaguars
Quadree Henderson to Steelers
Mason Gentry to Texans
Joe Ostman to eagles
Ray Lawry to Bengals
---
Lachlan Howe @Lachlan_Howe
🔁
Steven Adams on the possibility that he'll shoot 3-pointers in games: "I'm comfortable shooting it. The tough part is making them."
---
Matthew Adams @all_in_adams
🔁
Houston wide receiver Steven Dunbar [] signs as undrafted free agent with San Francisco 49ers, per reports
---
William Saxman @willosophy_
🔁
I was just listening to a podcast where they said the exact same thing. He's the closest thing to Iverson we've ever
twitter.com
seen and there's only a very specific way to win with him. Steven Adams is the only player they need to keep. He pairs well.
---
---