Sessions: 805.609k tweets talking about this in the last 24 hours

People talking about Sessions: - matthewamiller - tedlieu - SethAbramson - Red_Leader_One - JoeyMaynez - Innov8SportzCIC - MichaelBlounte7 - bullock_gw - Milead7 - MichaelBlounte7[...]

- KathCLeSage - EdwardARowe1 - 426_ghost - 61Harrell - _dparedes - therachelchick - speckledsheep - TatumptTracey - BLPlacements - Ronnisuev - acdcjoanie - blxkmamba - PoetryNEarth - BBC6Music - truMISCHEYELLEp - TheKidJNel7 - micheleblond1 - MrMike_H - thedvolpe - Macdonald71 - the420wire - GrainOfSands - DeniseSheppard - GaverRalph - LeslieC89939671 - InspectorMAP - papaschu1 - RevkahJC - billharrisparis - kevin52850 - OneVoiceUS - truMISCHEYELLEp - c_shark970 - fck_twtr - sajosephine2017 - beaglebabe48 - Barbara80014143 - RockzGaming - RechayahuBen - anzed - chaun1307 - AnnMust - ApexFiend - ahmad98raza - MaryHic84119281 - RevkahJC - DonaldKleier - TheBeatnikDiva - buckygrrl - SoonerRice - firefox_53 - elynnhardi - habanalady961 - Furlicity - CopperBraden - JpareseParese - CEO_ofFagNation - 61Harrell - SouthpawRick - TDSAuthor - FrankDiamante1 - MichaelMcKinle5 - JulieDAnderson - berry_fairy88 - TaylorWilson45 - chaun1307 - ZinczaneJulian - i_dont_match - HillstonePS - lsfarmer311 - lars_j_lindahl - biblio67 - Decrawford1 - JamesCordeiro3 - dem4ever2020 - phildubock - ninasimone220 - McGregorEwan_ - women_prof - sherylthebrown - Shreya070801 - Dolores22967974 - therealzanetta - bahdum - tom_donahue13 - chmatiya - michaelchipman8 - ProblemPanacea - Vic2g2 - followchantel


This Tag appearing in: United States: ( Denver - ).
Popular tweets tagged with Sessions: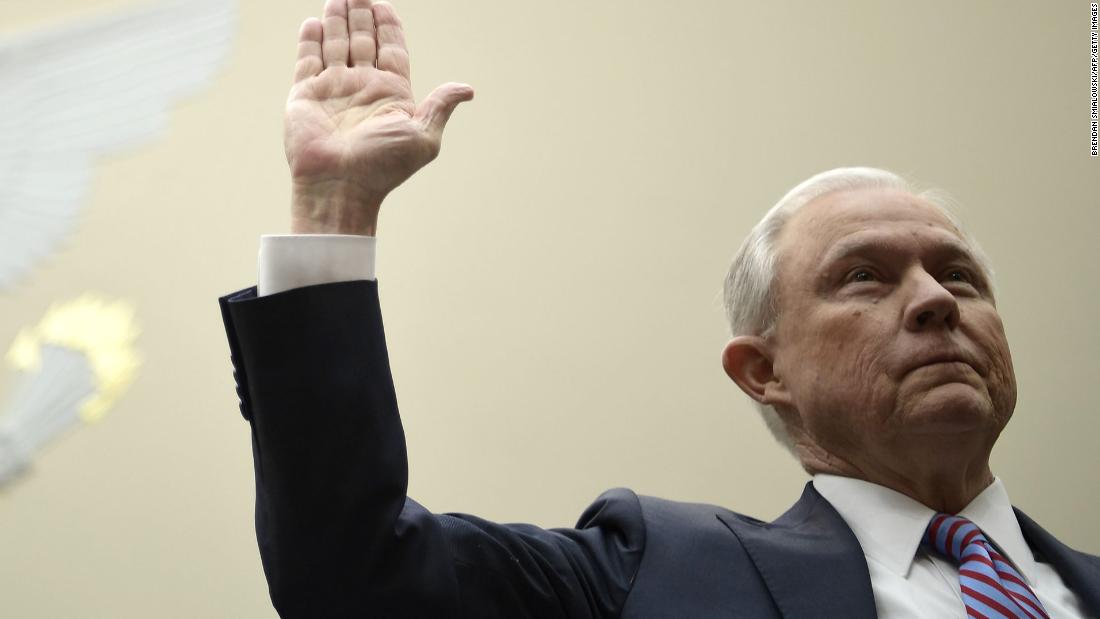 Philippe du Bock @phildubock
🔁
10 moments to remember from Attorney General Jeff Sessions' testimony
cnn.it
---
loading...
Ted Lieu @tedlieu
🔁
You can believe Jeff Sessions' testimony under oath before the US Senate. Or you can believe Sessions' testimony unde
twitter.com
r oath before the US House. But you cannot believe both because they contradict each other.
---
Matthew Miller @matthewamiller
🔁
Sessions appointing a special counsel to investigate Trump's political enemies is the equivalent of firing Mueller. W
twitter.com
orst abuse of power possible.
---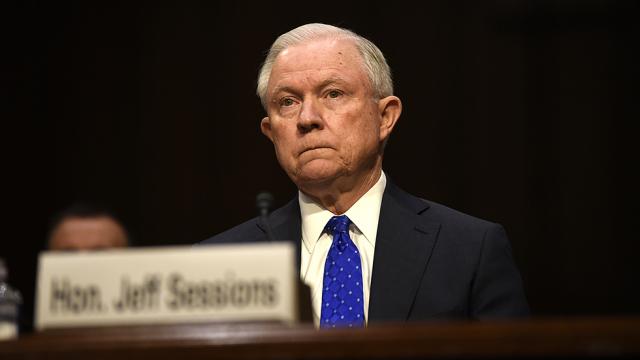 Dem4ever @dem4ever2020
🔁
Sessions refuses to say if White House intervened in AT&T-Time Warner merger
hill.cm
---
Seth Abramson @SethAbramson
🔁
(THREAD) This thread provides live updates on any newsworthy events in Attorney General Sessions' public testimony b
twitter.com
efore Congress today. I hope you'll follow along and share this tweet.
---
Red Leader @Red_Leader_One
🔁
Trump Campaign Aides
who met w/ Russia:
🔹Donald Trump Jr
🔹Jared Kushner
🔹Jeff Sessions
🔹Paul Manafort
🔹Michael Flynn
🔹Papadopoulos
🔹Carter Page
Hillary Campaign Aides
who met w/ Russia:
🔹Not a single fucking one
---
Joseph Maynez @JoeyMaynez
🔁
Representative Jim Jordan (One Of The Good Guys In DC) Grilles Jeff Sessions, Asking WHAT DOES IT TAKE TO GET A SPECIAL PROSECUTOR To Look Into James Comey, Hillary And The Clinton Foundation
---
Michael Blounte @MichaelBlounte7
🔁
@brianefallon @MalcolmNance No independence of the DOJ. Sessions is simply a Trump puppet.
---
Grant Bullock @bullock_gw
🔁
Sessions says the Trump campaign "was a form of chaos every day, from day one."
---
Milead @Milead7
🔁
🔥 HAMMERS for saying "I do not recall" when Lyin' Jeff Sessions previously said publicly, "Intentional failure to remember can constitute perjury."‼️
---
Michael Blounte @MichaelBlounte7
🔁
@brianefallon @MalcolmNance Sessions will be locked up himself eventually. All in due time.
---
Kath C LeSage @KathCLeSage
🔁
Jeff Sessions was asked why the FBI investigates 'Black extremists' but not the KKK. It did not go well for him.
---
Edward A. Rowe @EdwardARowe1
🔁
You can believe Jeff Sessions' testimony under oath before the US Senate. Or you can believe Sessions' testimony under oath before the US House. But you cannot believe both because they contradict each other.
---
Harrell James 61 @61Harrell
🔁
Finally, to consider appointing a special counsel on Uranium One.
Honestly, it shouldn't have to be considered, it should be investigated!!!!
It's time to Lock. Them. Up.


---
MAKE THE DEMS WHIGS. @therachelchick
🔁
Donald Trump is presidential; Jeff Sessions is honest; Roy Moore is a Christian; and Blake Shelton is the "Sexiest Man Alive." It's like America has totally stopped trying.
---
tracey tatum @TatumptTracey
🔁
@TheLastWord 1965----😜😜😜🤣🤣🥂🥂🥂--Hard for Sessions!
---
Business & Law Placements @BLPlacements
🔁
Do you have a query about your Placement search or need CV/application advice?
Then call by during our Business & L twitter.com aw Placements drop-in sessions - Tues, Wed & Thurs - between 1pm and 4pm, Student Central, CCE1
Mark and Annette look forward to seeing you then :)
---
Rhonda Valencia @Ronnisuev
🔁
How can you expect me to recall who I saw and talked with a year ago, says Sessions. How is he qualified to hold the highest legal office of the land if he can't remember anything???
---
Denise J. O. @acdcjoanie
🔁
Jeff Sessions did not recall meeting with George Papadopoulos until he read about it in a newspaper. That's ok. Everyone in the Trump campaign will recall conspiring w/ Russia when they read about in a newspaper from their prison cells.
---
BBC Radio 6 Music @BBC6Music
🔁
This Wednesday is joined by on the .
📻📱💻 Tune in worldwide from 10am-1pm GMT to hear what's likely to be one of the live sessions of the year.
---
🍃🥀DAR🚂🎅🎄🤶🚃💨COVFEFE @truMISCHEYELLEp
🔁
TheBIG FISH is JAME pscp.tv S COMEY
BUT
NOT in WAY y'all THINK
left CRUMBS
KNOWING
JEFF😈SESSIONS was
HEAD😈of
🐍SWAMP🐍
---
Jake @TheKidJNel7
🔁
🚨 Joe Biden Skeletons - Former Secret Service Agent Claims He & His Colleagues Regularly Had To Protect Women From Biden.
Even Sessions has to put the smack down on Creepy Biden.
---
michele blondin @micheleblond1
🔁
The completed recording 6th album "Rubber Soul" 52 years ago today, 15th Nov 1965.
Both "Day Tripper" & "We Can Work It Out" were recorded during Rubber Soul sessions, but left off the album & released as a double A-side single.
---
Denise Sheppard @DeniseSheppard
🔁
Jeff Sessions testified about the Trump campaign and Russia today, providing some much-needed details about things he remembers nothing about.
---
Gaver @GaverRalph
🔁
@TGowdySC Trey Gowdy for Attorney General..we need a pit bull not a quivering poodle #Sessions
---
Leslie Cummings @LeslieC89939671
🔁
How about a special prosecutor for perjury by Justice Department officials?
cnn.com
---
Mark Pyles @InspectorMAP
🔁
Rep. Trey Gowdy to AG Jeff Sessions: Congress Will Investigate a Politicized DOJ (Video)
thegatewaypundit.com
---
NoTolerance🇺🇸 @RevkahJC
🔁
This entire Roy Moore scandal setup is so obvious with Mitch McConnell as the band leader. He also wants to manipulate getting rid of Sessions in DOJ. Think outside that little box people.
It's a sick shame he's being found guilty without trial or representation
---
Bill Harris @billharrisparis
🔁
Asked today if FBI paid for Bogus Trump Dossier, Sessions says he can't answer. "I'm not able to provide an answer to you."
---
Kevin Wright @kevin52850
🔁
Breaking:
Sessions can't recall a damn thing about anything besides the one thing he did to potentially exonerate him.
Also, nobody believes him.
---
OneVoiceUS🙏🛡⚖️🇺🇸 @OneVoiceUS
🔁
.: "There were intentional leaks by the Obama administration during the Trump transition to undermine the President-elect of the United States. And Jeff Sessions said today that there are 27 different investigations going on now."
---
🍃🥀DAR🚂🎅🎄🤶🚃💨COVFEFE @truMISCHEYELLEp
🔁
- there is EVIDENCE
- tremendous amount
Oh my GOSH says HILA youtu.be RY
So IS
the
"NO REASONABLE PROSECUTOR
WOU amp.theguardian.com LD TAKE ON...
...SUCH A CASE"
Jeff Sessions: 'Not enough basis' for special counsel investigate Hillary Clinton
---
Chris Sharky @c_shark970
🔁
Just added the beautiful to the roster of beauties at MWC, Check out my site for more info, to book sessions etc. Happy wrestling guys 😘😘💋❤️💪💪 😜
---
Bob Doombringer @fck_twtr
🔁
Today I asked Attorney General Sessions what steps the Justice Department is taking to protect our elections from foreign interference. He couldn't answer. That's outrageous.
---
Josephine @sajosephine2017
🔁
Why is it so hard for people to process and articulate that Jeff Sessions is lying like a rug?!…
---
Steph @beaglebabe48
🔁
It's time for some to start loving Jeff Sessions again. 👀
twitter.com
---
Barbara Joyce @Barbara80014143
🔁
"It does seem selective that he only remembers things when recalled to his attention." on Jeff Sessions not being able to recall meetings.
---
[CE] RockzGaming @RockzGaming
🔁
[Achievement Unlocked] 🏆
Track your progress toward Affiliate, Partner, & beyond with Achievements!
Available now:
---
Rechayahu Ben Harvey @RechayahuBen
🔁
Sessions says he knew of ex-Trump aide's Russia ties, despite testimony
yahoo.com
---
Dorothy Williams @anzed
🔁
"Do you want to change your testimony when you said you never met with Russians?"
"I don't understand"
"I don't understand"

Why is it acceptable for the AG of the US, Jeff Sessions, to use "I'm too stupid to deal with a simple question" as a deflection?
---
loading...

Ann Must Ⓥ @AnnMust🔁What has this world come to? you're stuck between voting in Alabama for Chester Molester (Moore) or Pinocchio (Sessions).We need a party for the People!
---
Mary Hickman @MaryHic84119281🔁@MadBarbi @AllochkaFL2017 @ColumbiaBugle @realDonaldTrump Sounds like Jeff Sessions....
---
NoTolerance🇺🇸 @RevkahJC🔁Ok. Subject change. Politics and the DOJ are supposed to work separate from each other. The Hearing today centered around Sessions bowing and being influenced by political pressure BUT the entire 5hrs was politicians pressuring Sessions 2do what they wanted. He stood his ground.
---
the other DONALD. Donald Kleier @DonaldKleier🔁We Need To Know If The

▶️Paid For The FAKE

▶️Used The LIES Against

▶️Is Working With One Party Against The Other

Would Not Answer
---
Babs @TheBeatnikDiva🔁@DannyZuker @tedlieu Is it just me, or did Sessions sound like he was about to cry, there at the end??
---
buckygrrl @buckygrrl🔁Sessions has not recalled over 85 times in 3 testimonies to Congress. This man isn't fit to mow my lawn let alone be Attorney General.
---
David Rice @SoonerRice🔁@CrystalLynne2u Jeff Sessions lied under oath.
---
Lynn @elynnhardi🔁Sessions surely looked and sounded either addled or incompetent. I think both. The level of incompetence displayed on a daily basis by the Trump administration is frightening. Is this really making America great or is it just the opposite? Vote Democratic!
---
Furlicity #IVU @Furlicity🔁 SWAMP: AG Sessions DEFENDS Loretta Lynch's Use of Email Alias thegatewaypundit.com
---
Jaclyne Parese @JpareseParese🔁The BIGGEST moment in the Sessions hearing—not coincidentally, the ONE way Sessions changed his story on Russia—is him NOW saying he told Papadopoulos he could NEVER be a Trump surrogate. He and Trump know what's coming and want a RECORD of saying Papadopoulos WASN'T their agent.
---
Harrell James 61 @61Harrell🔁AG Jeff Sessions has directed senior federal prosecutors to evaluate whether a special counsel should be appointed to investigate concerns raised by Republicans, including alleged unlawful dealings by Clinton Foundation and the sale of a uranium company. 🎯
---
Rick Stellwagen @SouthpawRick🔁Sessions is acting like Hillary or Obama have some dark secret on him and won't investigate them because of it. Do yo twitter.com ur JOB or move on. I bet Trey Gowdy wouldn't have a problem?
---
TooDamnSmart @TDSAuthor🔁@funder The only job Sessions is qualified for is making license plates in prison.
---
Michael McKinley @MichaelMcKinle5🔁 Jeff Sessions has forgotten more meetings with Russians than most people have ever had.

#SessionsHearing
---
Julie D. Anderson @JulieDAnderson🔁Rep. Hakeem Jeffries did a great job pointing out Jeff Sessions' hypocrisy here when speaking about lying under oath.
---
Tristan4Trump @berry_fairy88🔁That theory that Sessions is a 33rd degree Freemason that will not do hatm to other Freemasons is getting stronger & stronger. Freemasonry is Luciferianism in disguise
---
Taylor Wilson @TaylorWilson45🔁Follow me live & cheer me on with #Runtastic LIVE Tracking! runtastic.com
---
Charlie @chaun1307🔁What's it going to take, Jeff?!

Rep. Jordan presses AG Sessions for Special Counsel, speaking for all Trump Nation.



---
Hillstone School @HillstonePS🔁6I love our new guided reading sessions; this week they have really enjoyed using Anthony Browne's 'Voices in the Par twitter.com k' to develop their inference skills.
---
#HeyAGirlCanDream🌊 @lsfarmer311🔁:

Ted Lieu to AG Sessions: "Either you're lying to the U.S. Senate, or you're lying to U.S. House of Representatives."
---
PutinAintYourFriend @lars_j_lindahl🔁Who forced you?
Now tell us about Sessions lying yesterday. And how about Junior posting proof of collusion on Twitte twitter.com r? You might have to bail him out soon.
---
Decrawford @Decrawford1🔁This 30 yr career Dem can barely read his completely bias attack on Trump & RUSSIA allegations(zero proof) at Sessions hearing after lengthy list by GOP on CORRUPTION BY CLINTONS!! Now talking my about Nixon 🤣🤣🤓🙄 DELUSIONAL DEMS 🙄DEMS DONE!
---
James Cordeiro @JamesCordeiro3🔁Attorney General Sessions putting on quite a show in hearing. Now he does recall he was told about Russia contacts, just didn't remember until it was repeatedly brought up. Wow. Thanks for putting the pressure on Sessions.
---
Ewan McGregor @McGregorEwan_🔁We need your voice in this Sessions/Russia fight. Call your members of Congress today at (202) 224-3121 and tell them Sessions must resign.
---
Prof Women 4 Justice @women_prof🔁Jeff Sessions says that he NOW remembers the Meeting with Papadopoulos, but had forgotten it because of sleep deprivation.

I can't wait for Mueller to come after this flagrant liar.
---
Zanetta @therealzanetta🔁 Jeff Sessions yesterday...
---
Tom Donahue @tom_donahue13🔁This black guy grilling Sessions about how many African-Americans/minorities are there here there everywhere... why are they always talking about color? Why don't they talk about who is qualified?
---
Christina Burton @chmatiya🔁Sessions grilled by lawmakers from both parties thehill.com
---
Trisha @ProblemPanacea🔁I'm About To Spill The Tea:

Jeff Sessions has already made 2 gigantic hints during his testimony
✔️Hillary Clinton may be under investigation
✔️DOJ may be investigating the Fusion FPS Russian dossier
---
---