Russians: 325.744k tweets talking about this in the last 24 hours

People talking about Russians: - realDonaldTrump - realDonaldTrump - ARmastrangelo - vintag369 - 0u812B - teamalive9556 - KKirsten7 - Hawleyroad - gcameron1 - coldkeyes[...]

- HalloweenBlogs - Gval1209 - imagesbyeric - wp4637 - Ninja_Jenkins - WilmaTrovs - Johnl1986Urban - WomanVote - jenhan - Trump45Michael - lynxcatjmu - Neverwatchnflag - Ceromancyvisio1 - a_mcbartles - junogsp5 - 413714 - designdivo - MobileTech_News - Kaweese - pmkj - Myday2 - ctolderfanj - toman61 - MariJoDeLeon - CorlessHanson - sissylou1 - AsiaRonn - Susan2Call - Slowater123 - JohnCzer1 - helenehrenhofer - Trump_U_S_A - ciel225 - KardaszMichelle - CrosbyJenet - lyncan_ - JARosenberg12 - AlbertoMarsano - therealshawnfog - jola1110 - BitchHartha - zap_joe - GBHanks3 - Bonnielass1297 - Rhondeezie - rpwpb - LatinMass9876 - Jali_Cat - rockdodger8 - sissylou1 - maichorto - Jillibean557 - gbsb6 - dwhfarmall - rober1236Jua - Kanen_ling - Tigerlily874 - merkler1 - aliciadbrady - SearingUnicorn - Nabi20161108 - jodythedeadcat - TaniaMaglasu - alltidashley - TimothyDowling - selfhelp5 - christine_cart - ironchef1018 - Avianic - WyomIndependent - TimothyKerby - marwash123345 - alexissmirks - anegadanow - rodulio69 - amystanley4242 - dian_simplethin - ruthellaowens - IAmSoSmart - HelloShunshine1 - jelle_simons - JohnnyAkzam - Full_On_Cynic - CarolinFlorida - StaceyK49erGal - jackieOshea25 - fbartho - xchixm - duganjames - MelissaEHouse


This Tag appearing in: United States: ( Seattle - ).
Popular tweets tagged with Russians:

Christopher Redwing @Avianic
🔁
Don't worry everyone, we've found numbers without context to prove the Russians were actually pro-Clinton.
---
loading...
Donald J. Trump @realDonaldTrump
🔁
"Charges Deal Don A Big Win," written by Michael Goodwin of the , succinctly states that "the Russians had no impact
twitter.com
on the election results." There was no Collusion with the Trump Campaign. "She lost the old-fashioned way, by being a terrible candidate. Case closed."
---
Donald J. Trump @realDonaldTrump
🔁
General McMaster forgot to say that the results of the 2016 election were not impacted or changed by the Russians and
twitter.com
that the only Collusion was between Russia and Crooked H, the DNC and the Dems. Remember the Dirty Dossier, Uranium, Speeches, Emails and the Podesta Company!
---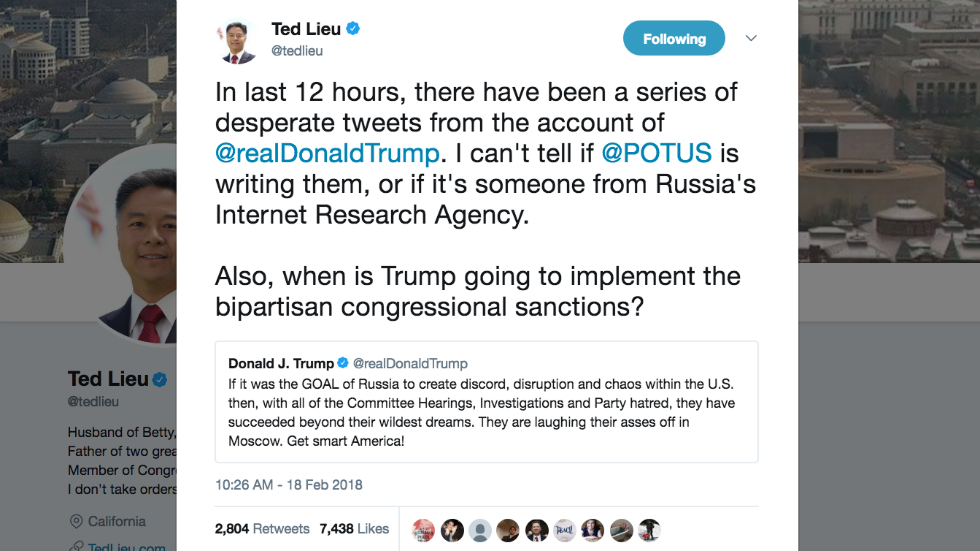 Ronnate Asirwatham @AsiaRonn
🔁
Dem lawmaker: Is someone from Russia writing Trump's tweets?
hill.cm
---
Alana Mastrangelo @ARmastrangelo
🔁
Let's all be honest with ourselves for just one second,
Russians attacked & promoted both presidential candidates w twitter.com ith silly social media bots/ads. They didn't do it to get someone elected, they did it to fuel hate & division in our country.
And it worked.
---
michael carriere @vintag369
🔁
John Podesta Rattled After CBS Host Asks 'How Did the Russians Know to Focus on Wisconsin But Hillary Didn't?' (VIDEO)
---
Linda Lu 😎 @0u812B
🔁
Using American bank accounts, drivers' licenses and disposable phones, about 80 Russians worked to disparage Hillary Clinton, promote Trump and sow political discord
---
Sam @teamalive9556
🔁
The IOC has said it may allow the Russians to march with the Russian flag and in national uniform at the Games closing ceremony on Feb. 25, provided they will have complied with its code of conduct on neutrality.
The code requires compliance with IOC anti-doping rules.
---
🇺🇸 K. Kirsten 🇺🇸 @KKirsten7
🔁
@1776Stonewall Clapper is flapping his jaw saying he thinks they will find that Trump laundered money thru the Russians.
---
gary cameron @gcameron1
🔁
17 HS students murdered, proof of Russians attacking USA, election that U lost by 3 Mil votes but got help from Put
twitter.com
in & all U do is talk about U.
U go to hospital with patients from shooting, what do U do?
Smile & give thumps up!
U TRULY R USEFUL IDIOT!
---
Deplorable coldkeyes @coldkeyes
🔁
"Instead of protecting our citizens at home, our FBI is too busy getting PLAYED by the Russians. Russia NEVER cared about who won the election. All they wanted to do was DIVIDE our country!"~
---
I'm With FBI @HalloweenBlogs
🔁
POLL ON BERNIE SANDERS/RUSSIA - The indictments affirm what most people knew: Russians helped Bernie Sanders. Should he acknowledge it, disavow their assistance, and provide a better explanation for being one of only two senators to vote AGAINST Russia sanctions?
---
Gval1701 @Gval1209
🔁
According to the Mueller investigation the Russians indicted tried to help Bernie Sanders defeat Hillary Clinton. Obviously, they were no match for the tampering of the Hillary/Debbie Wasserman Schultz collusion.
---
eric Lundquist @imagesbyeric
🔁
#SundayMorning
Do you think @realDonaldTrump colluded with the Russians ?
Retweet to spread poll.
---
Ben Scionti @wp4637
🔁
Please, Mr. President, try to act presidential for once. Stop demeaning our intelligence agencies and start to protect our electoral system from the .
---
AJ @Ninja_Jenkins
🔁
They were HELPED by the Russians too. It's how they kept the House and the Senate. Of course they're not going to act
twitter.com
...
---
Wilma frawley @WilmaTrovs
🔁
Let's keep it simple: Kremlin helped elect Trump. Trump's folks met with Russians. Everybody on Team Trump lied about this. Now....justice.
---
John L Urban @Johnl1986Urban
🔁
Sit back and look at what you're saying. There's no evidence of collusion with the Russians by Trump. Comey, Hillary
twitter.com
and Obama were all just exposed as shit bags in the investigation on her. You're crying in your beer here. :)
---
Woman Voter @WomanVote
🔁
ICYMI
They have lots of info on Manafort-
---
jenhan @jenhan
🔁
1) WH puts out a false talking point that essentially absolves the Russians of election interference
2) Russian propaganda arm embraces it and gives signal boost
---
John @lynxcatjmu
🔁
If the Russians and the Trump team "colluded" to win the election then why did Russian actors create Facebook pages for groups that literally supported Hillary? Was it some kind of triple, quadruple, reverse-psychology trick? Asking for a friend?
---
Mitchell man @Neverwatchnflag
🔁
and their trained media lapdogs have colluded done the bidding of the Russians with this whole attack on .
---
Daisy Duke 🌼 💋 1776 🎭 @Ceromancyvisio1
🔁
The Liberal Media is completely covering up the fact the Russians financed Liberal propaganda.
They are still pushing "Russia collusion".
These people are insane.
---
A McBar @a_mcbartles
🔁
In this fellow's BS, the goal of the Russians was to sow dissension, when clearly their goal was to get sanctions removed and to change US policy in Ukraine and Syria.
---
Tom Moore @junogsp5
🔁
🚨Mueller Just Revealed That Russians Are Behind 'The Resistance'🚨
Don't feel stupid for being played by if you've used their hashtags
.
Just REALIZE you got played & STOP!

---
COZYCATS @413714
🔁
General McMaster forgot to say that the results of the 2016 election were not impacted or changed by the Russians and that the only Collusion was between Russia and Crooked H, the DNC and the Dems. Remember the Dirty Dossier, Uranium, Speeches, Emails and the Podesta Company!
---
Mark Sommerfield @designdivo
🔁
@JTMann05 @realDonaldTrump Maybe the Russians were wearing red? Let's give the adled a wide berth, like North America.
---
Jean @pmkj
🔁
Dear ,
13 Russians and 4 members of your campaign have been indicted.
Your son and son-in-law met with the Russians in Trump Tower and lied about it.
Your campaign had 31 contacts and 19 known meetings with Russians.
RUSSIA IS NOT A HOAX.
YOUR PRESIDENCY IS.
---
Gary owen @Myday2
🔁
He has not been cleared of anything.we now have established what the Russians did was criminal. Collusion and maybe
twitter.com
complicity is a crime.
---
ct olderfanj @ctolderfanj
🔁
But it does take a special kind of stupid, and criminal, to be worth MILLIONS and be unable to get a loan from a US bank in the last 20 years. Not to worry, the Russians stepped in and financed him through their money laundering bank - Deutsche Bank.
---
MJ Rosete De Leon @MariJoDeLeon
🔁
@DavidCornDC Jill Stein was colluding with the Russians!
---
CorlessHanson 🇨🇦🇺🇸 @CorlessHanson
🔁
The Russians committed an act of war against our democracy. If Trump were President on Dec. 7, 1941: "Japan started building aircraft carriers long before I became President, and they haven't attacked any of my resort properties. What we should really be focused on is Wilkie"
---
Sissy Jenkins @sissylou1
🔁
The Left got rode hard and put away wet by the Russians. They even rope-a-doped Michael Moore to head the "Not My President" protest in NYC! Now we know, and we have admissions from both Mueller and Rosenstein that there was NO collusion with the Russians by the Trump campaign.
---
Shawn @Slowater123
🔁
WRONG! The election was obviously invalid. And everything the Russians did should disqualify the invalid results. Americans deserve a . Everyone who retweets this agrees.
---
John Czerwonka @JohnCzer1
🔁
The progression of Trump's denials:
1. There was no interference.
2. Okay, but we had no contact with Russians.
3. Okay, but we just made small talk and discussed adoptions.
4. Okay, but there was no collusion.
5. Okay, but it didn't affect the election.
6. Blame the media!
---
Helen Ehrenhofer @helenehrenhofer
🔁
As I understand it, one implication of Mueller's charge of conspiracy to defraud the U.S. against the Russians is that it could also be brought against Americans who helped in the conspiracy. In other words, if the courts agree with Mueller, collusion would be a crime.
---
Michelle Kardasz @KardaszMichelle
🔁
What is 'reflexive control' and how did the Russians use it in 2016?
, who says Russia "absolutely" impacted election outcome, and spoke with me earlier. This one is a must watch!
---
Jenet Crosby @CrosbyJenet
🔁
Welcome to the Mueller show where millions of tax dollars go to indicting Russians who cannot be extradited to the U.S. to even stand for a show trial *** Did Mueller Just Exonerate Trump?; Toothless Indictment of 13 Russians Does Not Include One American
---
Lynn McGee Cannon @lyncan_
🔁
@drdeon2000 @AdrianWapcapIet @PattyArquette @realDonaldTrump Hillary pays Russians.
---
JARosenberg @JARosenberg12
🔁
I think on just said the Russians are controlling the US electoral system?! WTF IS GOING ON?!
---
loading...
ALBERTOMARSANO @AlbertoMarsano
🔁
Get it correct Ted, you sound like fake news 13 Russians that attempted to cause issues and chaos and not just for t
twitter.com
he benefit of Trump. When they find that Trump did nothing wrong in this fake news about Russia you and many others are going to look like morons!
---
Shawn Fogarty @therealshawnfog
🔁
is costing Taxpayers on the avgerage $1.7 M a month. May17 2017 to Feb 17 2018 estimated $15.3 all for what 13 russians that didn't change our 2016 election. Like Putin will extradite them to U.S🤣63 M voted for because he was the best choice
---
Jola Karl @jola1110
🔁
@JackPosobiec Did Russians come up with "Not my President" slogan?
---
Scale Tipper @BitchHartha
🔁
@rmayemsinger @realDonaldTrump Russians love them that "Stable Genius."
---
Joe @zap_joe
🔁
FBI raided 68 y/o Businessman Paul Manafort's home in the middle of the night looking for Russians.
FBI received info that Nikolas Cruz said he was going to be a professional school shooter. Then a second credible tip that Cruz was armed & dangerous.
NO RAID FOR CRUZ. 🤔
---
G B Hanks @GBHanks3
🔁
As of today, Robert Mueller has done more to punish Russia for interfering in our election than Donald Trump (who Russians worked so hard to make president of the United States.)
---
Brenda @Bonnielass1297
🔁
In Raging Tweetstorm, Trump Says Russians "Laughing Their Asses Off", Mocks "Leakin' Monster" Schiff; SPENDING TOO MUCH TIME CHASING GHOSTS OF THE PAST; Need to Focus On
---
real Savage🇺🇸 @Rhondeezie
🔁
Oh! Thank you, Rod for calling on me. I'm John, and my question is; are these 13 Russians you indicted the ones that SOS Kerry got visas for in 2014? If so are they part of the 35 Russians Obama expelled after '16 election? If you're not sure, do you think he, over there, knows?
---
IHS @LatinMass9876
🔁
The Germans occupied Poland and built the death camps. Did Polish people work in those death camps? It would be foolish to think that they did not. Poland can recognize this. And explain it. Just as the Russians finally admitted to slaughtering Poles in the Katyn forest.
---
Brent Dozier @rockdodger8
🔁
"Charges Deal Don A Big Win," written by Michael Goodwin of the , succinctly states that "the Russians had no impact on the election results." There was no Collusion with the Trump Campaign. "She lost the old-fashioned way, by being a terrible candidate. Case closed."
---
Sissy Jenkins @sissylou1
🔁
Rosenstein: "There is NO allegation in this indictment that ANY American was a KNOWING participant in this illegal activity. There is NO allegation in the indictment that the [Russians'] conduct altered the OUTCOME of the 2016 election."
---
Eddie Murphy @maichorto
🔁
Schiff what happened? It took a DOJ indictment of the Russians for you to admit Obama should have told America he knew about the Russian election meddling. Did you know too being on the Intel committee?
---
Deplorable @gbsb6
🔁
💥 Mueller Just Revealed That Russians Are Behind 'The Resistance'. Hmm...So Hillary Clinton & Michael Moore were also part of the Russian backed interference ?


via
---
Wishbone @dwhfarmall
🔁
Simple question for the DNC. If you're so sure that your system was "hacked" by the Russians, then why did you deny both the FBI and Buzzfeed access to your systems?
---
BOB (a long name rarely adds anything to a person) @rober1236Jua
🔁
I mean did any really believe it was going to get free college, free healthcare, housing, 50% in minimum wage and al
twitter.com
l that other free stuff,
The Russians seem to know white Americans, especially males are stupid
---
Blond @Kanen_ling
🔁
Man. You got expose with 13 Russians were meddling in the election. Just quit already bro. You lost.
twitter.com
---
Heather @Tigerlily874
🔁
This tweet increased my suspicion that the campaign actually colluded with the Russians by 1000 percent.
---
Marty Merkler @merkler1
🔁
Russians, yes they work their programs. But we need to fix our Republic. So much we need to do internally while we
twitter.com
address outside interference.
---
alicia divina brady @aliciadbrady
🔁
The Media & liberals are once again lying. President Trump said Russian COLLUSION is a hoax. He did NOT say Russian interference was a hoax. They also want to blame him for that interference. WRONG. It was Obama who not only allowed it, but HELPED Clinton collude with Russians.
---
Brandy🤘🏻🖤🦄 @SearingUnicorn
🔁
Hey you have the ability to run algorithms that identify fake bot accounts. Why don't you use these tools to identify and suspend accounts by troll farms, Russians bots and other hate groups to stop the spread of hate and fake news.
---
Timothy Dowling @TimothyDowling
🔁
Well said. If he ever acted Presidential Id treat him with the respect that the office deserved. If he ever treated a
twitter.com
nyone else with the respect he treats Russians, Nazis, wife beaters and child molesters maybe Id treat him with respect.
---
Ellen Becker @selfhelp5
🔁
Today's tweets from prove his narcissism, insanity, collusion or all of them.
He said Russia accomplished what it wanted by interfering with the election because we uncovered Russia interfered with the election.
He didnt attack the Russians. He attacked the investigators
---
Christine Carter @christine_cart
🔁
"Get smart America"?? How about get smart ! You worked hand in hand with the Russians the entire time! YES you DID co
twitter.com
llude. You do not care about serving our country or the people. You have disgraced the office you (falsely) hold.
---
WyomIndependent @WyomIndependent
🔁
Lawless business; lawless campaign; lawless administration.
usatoday.com
---
Timothy Kerby @TimothyKerby
🔁
So, Russian trolls, posing as Americans, organized uneventful rallies to stir up discontent... and that's our evidenc
twitter.com
e that Russia meddled in our democracy? So, it could not have been American Intelligence posing as Russians, posing as civilian Americans to sow discontent?
---
Molly @marwash123345
🔁
The FBI is investigating the NRA for money laundering to the Trump campaign for the Russians.
On Saturday, the VP of Facebook Ads said there were Russian tweets re pro-gun re Florida shooting.
The two most destructive news stories of our time might well be connected.
---
Sodolu @anegadanow
🔁
@ARmastrangelo @CKeefeShea yes It worked. The degenerate is president. And guess what. Payback to the Russians. No sanctions.
---
RUTH ELLA OWENS @ruthellaowens
🔁
"It's a very difficult situation for this White House; If they were to throw out everyone who was a wife beater or collaborated with Russians, they might have a thin staff." – Richard Painter
---
Jelle Simons @jelle_simons
🔁
'President Trump is either totally compromised by the Russians or is a towering fool, or both, but either way he has
twitter.com
shown himself unwilling or unable to defend America against a Russian campaign to divide and undermine our democracy.'
---
Johnny Akzam @JohnnyAkzam
🔁
Yeah...cause Ted Cruz is all about funding grassroots candidates to beat out his competition. When things don't go th
twitter.com
eir way, they throw a tantrum and attack Progressives bc they are mad at everyone for listening to the Russians. .
---
Full_on_Cynic @Full_On_Cynic
🔁
So it turns out I was duped into being against wall st cronyism, Kissinger style foreign policy, fracking world wide,
twitter.com
feminism that stops at upper middle class whites women...
Damn those Wiley Russians
---
Xchixm (Miguel Quisqueyano) @xchixm
🔁
So in your historical analogy trump should put Russians in internment camps? Hyperbole doesn't work with people who know history silly girl.
---
Melissa @MelissaEHouse
🔁
Anyone can use Facebook to boost a message. Even Russian agents. - There's no longer any question at all: Russians m
twitter.com
eddled in the 2016 U.S. election, and they relied on social media tools we can all use. Facebook and its photo-sharing site, Instagram,...
---
---