putin: 506.510k tweets talking about this in the last 24 hours

People talking about putin: - realDonaldTrump - funder - SRuhle - glwoods3377 - janis08868043 - BernardParness - 8712patriciaac - DigMediaToday - RichMielke - atomless[...]

- blackalicious61 - hasura225 - annie_sparrow - JOSHUAJREYNOLD1 - blorchardpark - thefonz2529 - BLACSHARE - 63c99831b5dc463 - Bina1181 - BAMAPERRY - anaisa987_ana - JMichelleC1 - Davemart123 - SamWitts2 - LaineyRubin - cindi_feriby - vannsmole - zsarrina - talesofaSAHM - Openmind67 - knittingknots - 890kellyTimothy - Gatsby408 - pghpatrick1 - fingolfin58 - McCarthyinWI - JamesLawler1 - april_kellinger - StopBrexitEU - 790WAEB - uwtartarus - defcon_5 - roth10177 - TbBrame - artfact0ry - lafmtiffkita - didikins4life - Bttrfly214 - artistsreward - clandersen - lLadyBing - mrstreed2011 - BrexitGiggles - DonnaRsuppan31 - k8tidid - JBTRUTHSEEKER - KarenMHJ - mikehenebery - PKanagaratnam - KAGMAGA - comrade_volk - MrRemain - CapanoStina - PrettyPris - comefollowcath - Raunchy_Jesus - PsychobillyLily - KPotterman - Larramarr1980 - canisvex629 - kkmbol2 - Stricklandlaw - NoahChuck - Lillys1121 - JenBJenNCurly - isa97 - rm1268 - cbarber_art - breitenbauch - MaggieRicker - HopefulPatriots - eg4me2say - Alecsky_1 - billwilly49 - kchuck422 - Badgersbane - ILoveCrouchEnd - Rustylion1 - Zanlaughsatyou - eaglesoccoach - abchurchward - PantherAlyxx - 1948Flatfender - DBarth54484897 - james_of_el - GrouchyMarkx - Nduta_angelaa - NormanBuffong - SpotShopMedia - BrandonYunker


This Tag appearing in: Singapore: ( Singapore - Singapore - ).
United States: ( Seattle - ).
Popular tweets tagged with putin: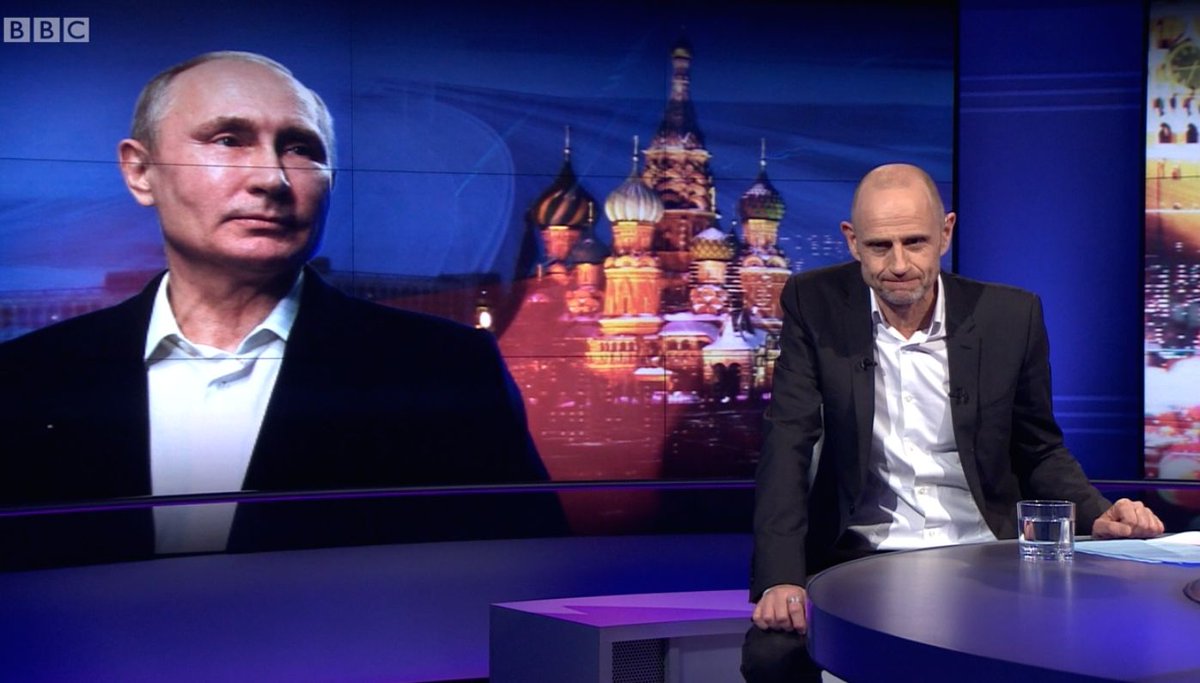 I Love Crouch End @ILoveCrouchEnd
🔁
That awkward moment when you realise you're presenting @BBCNewsnight dressed up as Vladimir Putin
---
loading...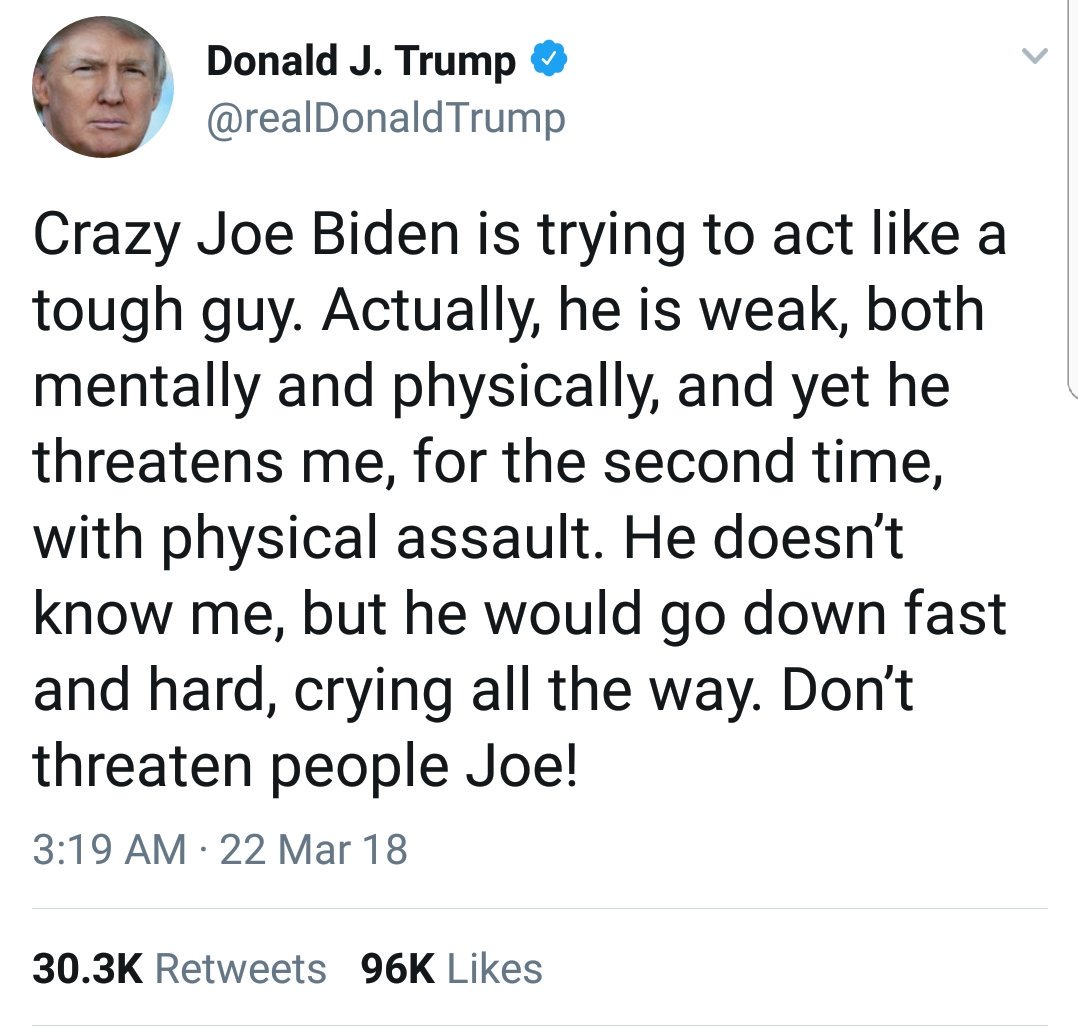 April JK @april_kellinger
🔁
Donald Trump talks tougher to Joe Biden than he does to Vladimir Putin!!
Good Lord.
---
mikehenebery @mikehenebery
🔁
The best cartoon I've seen yet on Corbyn and Putin.
---
Defiant Ms.E @Larramarr1980
🔁
One guy wasn't scared of Putin
---
Donald J. Trump @realDonaldTrump
🔁
I called President Putin of Russia to congratulate him on his election victory (in past, Obama called him also). The
twitter.com
Fake News Media is crazed because they wanted me to excoriate him. They are wrong! Getting along with Russia (and others) is a good thing, not a bad thing.......
---
Scott Dworkin @funder
🔁
Putin is literally attacking the US right now. Extensively. just defended Putin again. That's treason. Putin interfe
twitter.com
red in our election. Putin hacked into our infrastructure. Putin wants to hurt Americans. Anyone praising Putin is a traitor & a disgrace. Period.
---
Stephanie Ruhle @SRuhle
🔁
Hearing from inside-There were only 3 people in the room when CONGRATULATED Putin -John Kelly, HR McMAster &Nadia S
twitter.com
chadlow.
Kelly is "Furious" abt the leaker.
How do we know Kelly didn't leak & just wants to frame McMaster, thus forcing the final blow to HR?
---
🌻SunflowerGal @glwoods3377
🔁
. you are complicit 👇🏻
House Speaker Paul Ryan distanced himself from President Donald Trump's expression of congratulations to Russian President Vladimir Putin for his election victory, saying Putin "is trying to do everything he can to undermine democracy."
---
janis @janis08868043
🔁
Way to go, Pinocchio - wreck the economy. Just another gift for your puppet master Putin. You really are one of his
twitter.com
useful idiots.
---
Bernard Parness @BernardParness
🔁
@SenSasse Joe Biden will chew you up and then throw up all over you and Putin your boss. Traitor.
---
PJACK @8712patriciaac
🔁
I've believed for a few years that is a RUS mole. His goal in life has always been money and power. He doesn't care where he gets either one, so his LUST for gives Putin an upper hands. Putin uses HACKERS to get elected and gave him $$
---
DigitalMediaDaily @DigMediaToday
🔁
WIRED A Hurricane Flattens Facebook. The nightmare scenario will come if if it turns out that the Facebook data harvested by Cambridge Analytica ended up in the hands of Putin's trolls. via
---
Rich M Very Stable Genius @RichMielke
🔁
You won't say anything bad about Putin, but you talk smack about a former vice president? No wonder your attorney qui
twitter.com
t. Hard to defend a stupid client.
---
James Tindall #FBPE #FBR @atomless
🔁
Credit where its due absolutely exposes the hypocrisy of & May and the entire Tory Party £160k for a game of tennis!! £30k for dinner.. in the pockets of Crony FFS!!!
---
Anne Black @blackalicious61
🔁
The man is a disgraceful Secretary of State who has potentially put English fans in grave danger at the world cup. Comparing Putin to Hitler is madness. Didn't Eton teach him any history? The Russians lost 25Million in WW2, ffs.
---
J.J. @hasura225
🔁
John Bolton praises 'new era of freedom' under Putin in bizarre propaganda video for Russian gun group
rawstory.com
---
Annie Sparrow @annie_sparrow
🔁
The question is why are hospitals in opposition-held parts of Syria still being attacked after Russia was given their GPS coordinates? The point of the coordinates is to PREVENT the attacks, not to target them more precisely. Not much to investigate. What does Putin say now?
---
JOSHUA J REYNOLDS @JOSHUAJREYNOLD1
🔁
They have two options and neither is great for Trump but one is way worse - either he didn't read his briefing book before the call (documents), or he was mindful of not offending Putin.
---
ProudPatriot @blorchardpark
🔁
Hearing from inside-There were only 3 people in the room when CONGRATULATED Putin -John Kelly, HR McMAster &Nadia Schadlow.
Kelly is "Furious" abt the leaker.
How do we know Kelly didn't leak & just wants to frame McMaster, thus forcing the final blow to HR?
---
FONZ @thefonz2529
🔁
Trump spoke with Putin today.
He did not mention:
— The attack on our election
— The attack on our power grids
— The attack on our greatest ally
He did congratulate:
— Putin on his sham election win
We are being attacked by Russia and Trump is praising Putin. I smell treason.
---
Victoria Scherr @63c99831b5dc463
🔁
Because he sees Obama, Bush and Clinton as his equals. Putin is his superior.
twitter.com
---
Sabrina @Bina1181
🔁
To be clear: Trump is boasting that he has "chemistry" with Putin, a person who's openly manipulating Trump's fragile emotions.
---
Perry @BAMAPERRY
🔁
White House National security team fingered in Trump's call to Putin. H.R McMasters was tagged by a key lawmaker with leaking confidential notes ordering Trump not to call Putin. If true I wonder how long he will last!
---
Anaisa Pye @anaisa987_ana
🔁
Somebody please slip "DO NOT RESIGN" into his daily brief:
wapo.st
---
Michelle Clark @JMichelleC1
🔁
You rescinded DACA! You are responsible for this NO ONE ELSE. You are the one that doesn't care. You are an unstable, corrupt, traitor who is afraid of Putin. You attack everyone but not him. What does he have on you that you are too scared to do your job?
---
David Martin @Davemart123
🔁
@votevets Soon we will find out what hold Putin has on his Puppet Trump!! The evidence will astound the American People!
---
Maxoid_Mysticalmaid @SamWitts2
🔁
I fear Trump may be making the same attempt in U.S.A too, interesting that Putin, Tories & Trump heading to same dire
twitter.com
ction. Wonder what East European country the CA bloke meant they'd helped too. Russia?
---
Lainey Rubin @LaineyRubin
🔁
"Kremlin-backed media portray [trump] as weak" and, "plenty of headlines declare that Putin's gamble on Trump has fai
twitter.com
led."
"Confused? Only if you don't understand the Gerasimov Doctrine."
via
---
Cindi @cindi_feriby
🔁
Under Bannon's leadership in 2014, Cambridge Analytica found that young, white conservatives responded well to "thinly veiled forms of racism against African Americans" and authoritarianism. Strangely, the only foreign issue they tested was views of Putin.
---
🍃 V 🍃 @vannsmole
🔁
Trump doesn't take advice on who to congratulate!
Germany & France leaders also congratulated Putin.
Obama:
-Congratulated Putin in 2012
-Congratulated Iranian president in 2013
-Shook hands with Castro
-Bowed to the Saudi King
And your saying Trump shouldn't ?

---
Sue ❄️ #TheResistance 🌊 @zsarrina
🔁
OMG, yesterday Trump promised $50 Billion in Tariffs against China. Here's the problem:
- the US stock market will drop over $50 billion today
- Americans will lose jobs
- Inflation will hurt the cost of living
- Nobody wins a trade war
- Putin will be happy
- Trump is stupid
---
DD @talesofaSAHM
🔁
1. Joe Biden would beat the shit out of you.
B. Putin released a video depicting 7 nuclear warheads raining down on Florida and you called him to CONGRATULATE him... but you wanna fight Joe Biden, hhhrrright.
3. Joe Biden would beat the shit out of you.
---
Sue Stone @knittingknots
🔁
⚡️ "Putin's garbage problem is getting out of control" by @BV
---
Beardown71 @890kellyTimothy
🔁
I called President Putin of Russia to congratulate him on his election victory (in past, Obama called him also). The Fake News Media is crazed because they wanted me to excoriate him. They are wrong! Getting along with Russia (and others) is a good thing, not a bad thing.......
---
The Great Gatsby @Gatsby408
🔁
For the LEFT WING LOONY NEWS MEDIA, for them it is MORE IMPORTANT to Criticize - and talk about "Stormy Daniels" ..
twitter.com
. "RAINBOW COLORED WHITEHOUSES" rather than talk about the "FACTS" that have impact...! Toast to the , for Putin and CHINA LOVE YOU!
---
artnest @fingolfin58
🔁
A very offensive comment made in poor taste by today. Over 20,000,000 Russians, civilians and military personnel lost their lives in WW2, and Johnson declares "Putin's World Cup is like Hitler's 1936 Olympics."
How is this man foreign secretary again ?
---
Linda Mac @McCarthyinWI
🔁
Trump is NOT furious at Russia for attacking our election.
Trump is NOT furious at Russia for attacking our power grids.
Trump is NOT furious at Russia for attacking our ally with nerve gas.
Trump is "furious" at a leaker for exposing his compromised relationship with Putin.
---
James Lawler-#FBPE @JamesLawler1
🔁
The Leave campaigners:
1. Nigel Farage
2. A pub landlord
3. A vacuum salesman
4. Various multi-millionaire Tax dodgers
5. Far-Right, Nazi, Fascist and White Supremest groups
6. Putin
7. Trump
8. UKIP
---
790WAEB @790WAEB
🔁
The President says it is important to try to get along with Russia.
ihe.art
---
🎲 Storyteller Tulpa 👻 @uwtartarus
🔁
It's hilarious how many Republicans are acting like they're mad about the leak of Trump being told to not congratulate Putin. And not the actual congrats. Especially since the leak most likely came from Trump himself. This is the most corrupt White House & Congress in US history.
---
loading...
davidroth @roth10177
🔁
Hey Justice Gorsuch...Richard here, Richard Saunders. Trump and the Evangelicals basically claim that they control you and your vote. Kinda like the way Putin controls Donald Trump? Is that what they taught you in law school about the Supreme Court function and duty?
---
T.A.P.4 @lafmtiffkita
🔁
Adam Schiff tweeted this to : "Maybe Hillary Clinton & Obama don't have your smarts but at least they didn't call to congratulate Putin!" The tweet was deleted as I retweeted. He. Admitted. Trump. Is. Smarter. - forgot Obama congratulated Putin! 😂😂😂😂😂💣💥
---
diane straub @didikins4life
🔁
You know will be calling for a threesome. The question is will or be the legal wife?
---
Johanna @artistsreward
🔁
And yet STILL has never tweeted a single negative thing about Putin... 🙄
twitter.com
---
Blue Wave🌊 Impeachment @clandersen
🔁
Perspective: Succession plans protect nations. Putin and Xi just threw theirs out.
wapo.st
---
Teresa Reed @mrstreed2011
🔁
Putin is America's new Osama bin Laden. The election interference was a political 9/11. The hacks on our power grid, our nuclear, water & energy sectors, are all acts of war. Name one thing Putin's ever done that's helped us. Exactly. Nothing. He's only hurt us.
---
Brexit Giggles 😂 #FBPE #FinalSay @BrexitGiggles
🔁
Steve Bell on Putin and the Russia World Cup – cartoon
#Brexit #FBPE #FinalSay #StopBrexit
theguardian.com
---
Donna @DonnaRsuppan31
🔁
We need to deter the Russians from any further interference in our democracy. This isn't a Democratic or Republican issue; this is a President Trump versus all the rest of us issue.
Only he cannot see that Russia is not our friend and the need to hold Putin accountable:
---
K8tiDid @k8tidid
🔁
In 1 month Putin's poisoned ppl w/a Russian nerve agent on UK soil, hacked the US electric grid like he did to Chechnya, released a video of Russian nukes raining down on FLA, had another sham election and ONLY Donald Trump has the GUTS to congratulate him & take on Joe Biden.
---
SEER METATRON @JBTRUTHSEEKER
🔁
From NY Times editorial board comes the biggest question of the day:
Why is so afraid of Russia? My guess is Putin has information about Trump including financial records, mistresses & most likely tapes of meetings with the Trump team.

---
Popsy Kanagaratnam @PKanagaratnam
🔁
SASSE: "Vladimir Putin is not a friend, Vladimir Putin is a despot. The President of the United States was wrong to congratulate him and the White House press secretary was wrong to dump--to duck a simple question about whether or not Putin's reelection was free and fair."
---
Kage Megah @KAGMAGA
🔁
Todays "left":
"Trump is a pawn of evil Putin, but we want to disarm all Americans, risk a nuclear war, and stifle all free speech and expression and punch people we disagree with... because we're westernized and civilized. If you disagree, you're unamerican."
---
Alexey Volkov @comrade_volk
🔁
@Thommy_the_Tank @gabinfantemx @OksanaBoyko_RT If you look at your face in the mirror, do you see Putin behind you?
---
MrRemain is a very stable genius @MrRemain
🔁
So global Britain is now going around and pissing off one of it's biggest financial clients? Some £400bn of Russian m
twitter.com
oney flow through UK banks. But hey, who care?
---
Stina Capano @CapanoStina
🔁
Let me get this straight, Trump calls Putin, against advice, congratulates him on sham election. Doesn't condemn or even mention Nerve Gas attacks in UK. Admits he lied to Canada's leadership, starts trade war with our reliable trading partners.
---
Life is MARVELous™ @PrettyPris
🔁
: RUBIO BLAMES THE TRUMP-PUTIN CALL LEAK AS "SOMEONE WHO DOESN'T LIKE THE PRESIDENT."
He should consider WHY they chose to leak this, the meeting btwn Trump x Russians in the Oval Office, etc.
Perhaps, they're putting National Security over loyalty.

---
🙏 Ron Chi #Resists MAGAts👌👈 U @Raunchy_Jesus
🔁
on this at the end of a snow day! Who's in?!
Let's see your best *45 memes (with or without Putin)!
👍🏼Like
♻️Retweet
📣Comment
↔️Follow all who comment, like & retweet
👫Invite friends
💯MAKE SURE TO FOLLOW BACK

---
Lilly of the Uncanny Valley @PsychobillyLily
🔁
What said R's reject is an America that actually lives up to these values. It is appalling that it is like that. The
twitter.com
question is, if we have R's who are diametrically opposed to our values, why are we looking for their support? Of course they support Putin. They share his values.
---
KPotterman @KPotterman
🔁
Pathetic. You used to say you backed the police - how about Detective Sgt Nick Bailey, whom Putin attacked with a nerve agent? In language you'll understand:
Trump kneels before terrorists. Trump bows down to despots. Trump is a coward.
is un-American.
---
Canis Vexillum @canisvex629
🔁
McCarthy: "There's two people I think Putin pays: Rohrabacher and Trump" Ryan: "No leaks, this is how we know we're a
twitter.com
real family here."
---
Stephen Strickland @Stricklandlaw
🔁
If President Trump isn't Vladimir Putin's lackey, it's past time for him to prove it.
nyti.ms
---
(((️️WilliamGrove))) @NoahChuck
🔁
Russia re-elected Vladimir Putin as president on Sunday and 17 Reuters reporters spent the day at 12 polling stations across the country to keep an eye on how things went down. Here is just some of what we saw
---
Deplorable H @Lillys1121
🔁
Here's Bajraktari hanging in the Oval with Pres. Obama. He was one of the few with access to 's note cards for the call with Putin. Still can't figure out for the life of me who might have leaked those note cards to WaPo.
---
Unsullied Woodland Fairy @JenBJenNCurly
🔁
Who do YOU think is the White House leaker who spilled the beans on Trump's congratulatory call to Putin?
---
Isabella Cabre @isa97
🔁
RATIONAL people look at trump's unhinged, compulsive, Putin-worship behavior and say WTF?
IRRATIONAL people say MAGA!
What's REALLY behind trump's steady descent into madness?
Please vote and Retweet!
---
Rocky Saltares @rm1268
🔁
Putin simulated a nuclear strike on Florida.
cnn.com
twitter.com
---
Rev. Claudia Barber @cbarber_art
🔁
Serious question: everything suggests that Putin has something on Trump which is bad enough that Trump is too scared to voice even a hint of criticism. But what could he possibly have that is worse than what we already know?
---
Henrik Breitenbauch @breitenbauch
🔁
We need knowledge, defence/deterrence and outreach to deal with Putin's Russia. Clearsighted analysis on Western opti
twitter.com
ons by
---
Maggie Ricker (Aged Fine) @MaggieRicker
🔁
Putin is only now becoming aware of Canada because Trudeau has created more respect for Canada on the world stage. Tr
twitter.com
udeau is now considered the fresh face and adult voice on international issues. Canada is looked at as 'Paradise Island' compared to the rest of the world.
---
SaySomething @HopefulPatriots
🔁
But it's ok that your messiah Barack Obama congratulated Putin in 2012, the oppressive Iranian regime's winner in 2013, and the oppressive Muslim Brotherhood's candidate in 2012. That's ok, though...
---
Earl Greene @eg4me2say
🔁
Cooper to Trump: Where is Putin's nickname? Here's one: Bladdermir Pussyin!
yahoo.com
---
Alec Sky @Alecsky_1
🔁
. explains why the Left's outrage over President Trump's phone call to Putin is wildly overblown.
FULL VIDEO =>
---
Bill Cole @billwilly49
🔁
Your spin is not working. He congratulated Putin on winning to keep the relationship open. Not like Obama did on an o
twitter.com
pen mic saying he could do more after the election. DNC dirty politics.
---
John @Badgersbane
🔁
Hey John Kelly,
You should be furious over your boss congratulating a murderous authoritarian asshole who rigged his own win.
---
Rusty Carroll @Rustylion1
🔁
You still haven't created as many jobs as Obama did, and he didn't alienate our allies. When are are going to attack
twitter.com
Putin for the evil dictator he is?
---
ZanSmith @Zanlaughsatyou
🔁
I remember this very well. I came to the same conclusion. Possibly based on this very reporting, I can't remember, but seems likely. This is the kind of man Putin is. Life seems to mean little to Putin and the FSB (KGB). And yet Chump seems to look to him almost as a mentor.
---
Michael Sloan @eaglesoccoach
🔁
Trump had a fling with Stormy, but his long-term crush is on Putin.
---
Adrian Churchward @abchurchward
🔁
Ordinary Russian people
will be hugely insulted by the Putin-Hitler comments of Boris Johnson
20 million Russians died to defeat Hitler and the Nazi threat in WW2
Regardless of what you think of Putin
that surely ought to be remembered
---
Panther in support of youth @PantherAlyxx
🔁
The White House wants the leak to be the story. The leak is not the story. The story is that the President of the United States was explicitly told by his national security team, DO NOT CONGRATULATE Vladimir Putin on his sham re-election and he did it any way, right off the bat.
---
D Barth @DBarth54484897
🔁
We get it, , you have a huge man crush on Putin. Congratulate him all you want, it only shows: your submission to him or that you don't even care anymore about the ongoing investigations. Hard to tell!
---
James Of El @james_of_el
🔁
Trump doesn't care about Russian interference in US election, what Trump does care about is pleasing Putin
Congratulating Putin's electoral win, and then not challenging him on the nerve agent attack in the UK is telling Putin he can do whatever he wants
---
MARK A. KEMETER @GrouchyMarkx
🔁
Never forget, : Clinton won more votes, and she did it without Comey, Putin, or Cambridge Analytica.
---
Angela Nduta @Nduta_angelaa
🔁
Russian President Vladimir Putin congratulates for being elected Chinese president (file photo)
---
Norman Buffong @NormanBuffong
🔁
MEMO to Trump, Putin & Sessions:
"All my new FBI agents visit the Holocaust Museum to better understand what happens when law enforcement becomes a tool of oppression, or worse." — Robert Mueller, April, 2013
---
SpotShop Media @SpotShopMedia
🔁
Xi Jinping is every bit the monster that Vladimir Putin is. But have you ever heard Trudeau speaking about Xi Jinping in this way? No, of course you haven't.
---
---