#Pulse: 101.144k tweets talking about this in the last 24 hours

People talking about #Pulse: - MyDaughtersArmy - SenSchumer - TwitterMoments - prerana_1096 - alanaankrum - bassssfairy - Joshua_Jacks - larryqqueen - DBanksFL - Rytter14[...]

- Dee_Lexie - BIGBOYSLAP - kp0mm - charliezdc - keribrary - bzbyboi - DimiPolitis - lalaMadiha - SammieSparkman - ConnieHume9 - hail9y - artistnicolett1 - _Penelope - jilliemaze - foglifterpress - Saffron_Peters - Karenhaw - traceyjeanh - Seanbeag7W - BrennaDemands - infinities - blurryfacemk - TerriblyTexas - anastasiakeeley - ELFurness - emily_30_ - NtlLGBTMediaAsn - CharlotteEscami - lexileigh17 - jmmmie - hmmmerrol - marieramsxy - georgeorwell_84 - JimSanneman - seriouslybrinaa - pakmanlarry - phunkkat - jenmisstx - jaebumIive - NtlLGBTMediaAsn - pattysmithsfl - MarkKavenagh - ashmarlev - rosiecarpio_ - JasonFlattUCSF - mfoley5816 - nikkip17076 - Momcat2111 - elasticheartxox - LeAndyHD - TheKindClinic - ClassicJCC - WOWrestling2000 - akfullerton - cindycrum - DianaSc99717236 - CastonChris - gio_logie - _UpperKAT - JayBuz24 - Rey_Sistance - KnottyknitterSC - caregar2016 - kwaters2008 - realwoman95 - TiredofBS13 - ironpjman - rainbowjah69 - jmtorr - MySubBoxIsFull - AngelandRick - reignstrash - BenFriedman - kwybes - zuzuspetalsz - annaecaldwell - JanelleJeanne - eramos777 - 1gretchen - moonbeam655 - DevynFTM - MelCainHuckabay - EvitorialPage - JEstevezWFTV - Andreanicolex57 - MarionRSills - juju_the_jaguar - BrookeEMiller92 - BrennaDemands - WillToWriter


This Tag appearing in: United States: ( Albuquerque - Atlanta - Austin - Baltimore - Baton Rouge - Birmingham - Boston - Charlotte - Chicago - Cincinnati - Cleveland - Colorado Springs - Columbus - Dallas-Ft. Worth - Denver - Detroit - El Paso - Fresno - Greensboro - Harrisburg - Honolulu - Houston - Indianapolis - Jackson - Jacksonville - Kansas City - Las Vegas - Long Beach - Los Angeles - Louisville - Memphis - Mesa - Miami - Milwaukee - Minneapolis - Nashville - New Haven - New Orleans - New York - Norfolk - Oklahoma City - Omaha - Orlando - Philadelphia - Phoenix - Pittsburgh - Portland - Providence - Raleigh - Richmond - Sacramento - St. Louis - Salt Lake City - San Antonio - San Diego - San Francisco - San Jose - Seattle - Tallahassee - Tampa - Tucson - Virginia Beach - Washington - United States - ).
Popular tweets tagged with #Pulse: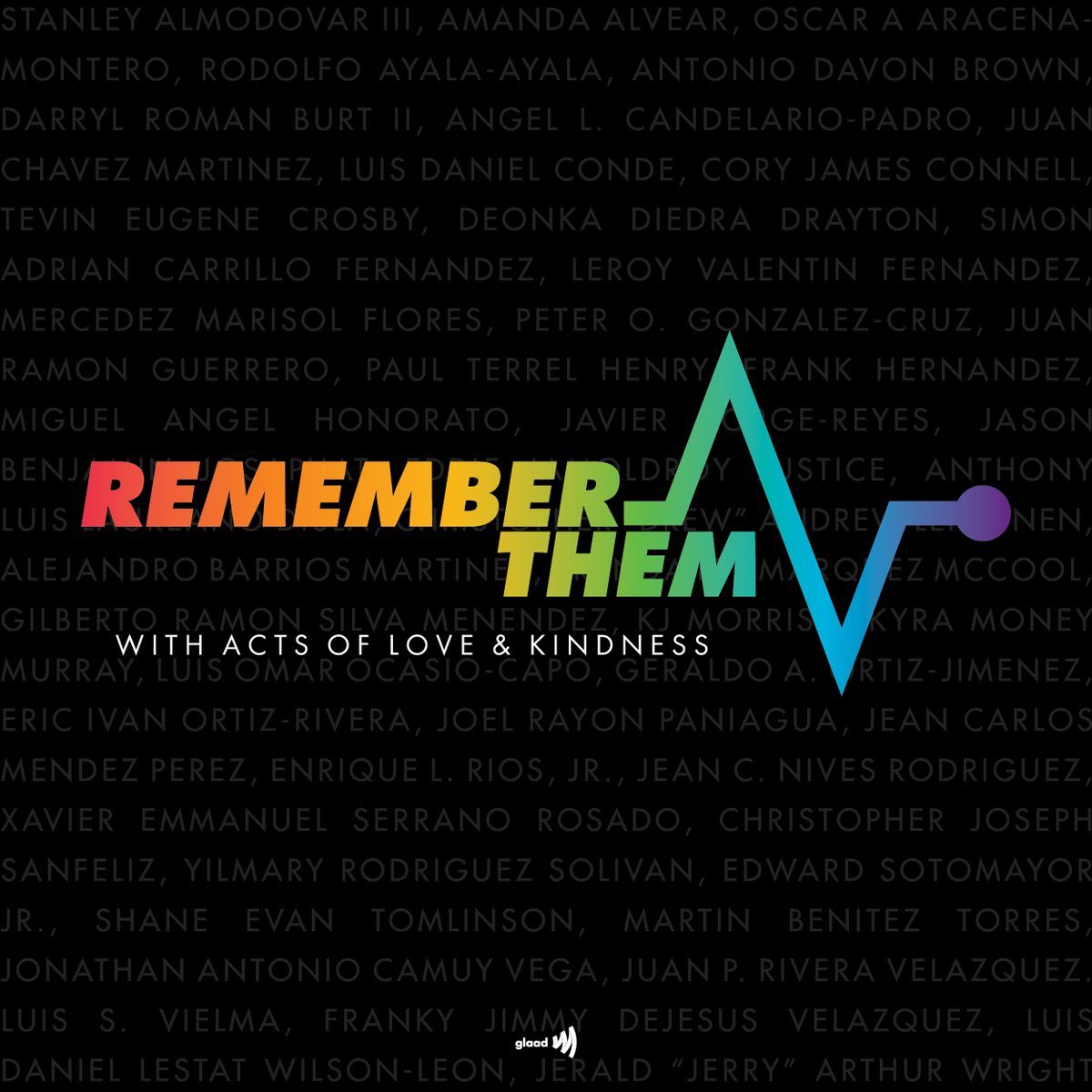 mikey @blurryfacemk
🔁
Today, and every day, we will remember them. ❤️ 🧡 💛 💚 💙 💜 #Pulse #OrlandoStrong
---
loading...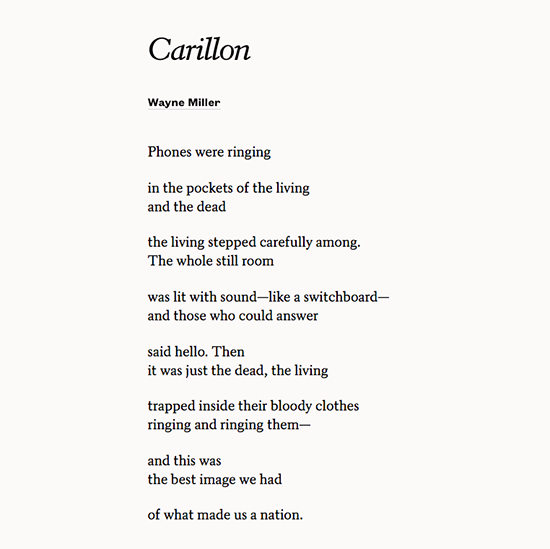 @foglifter @foglifterpress
🔁
A poem in memory of #Pulse.
poets.org
---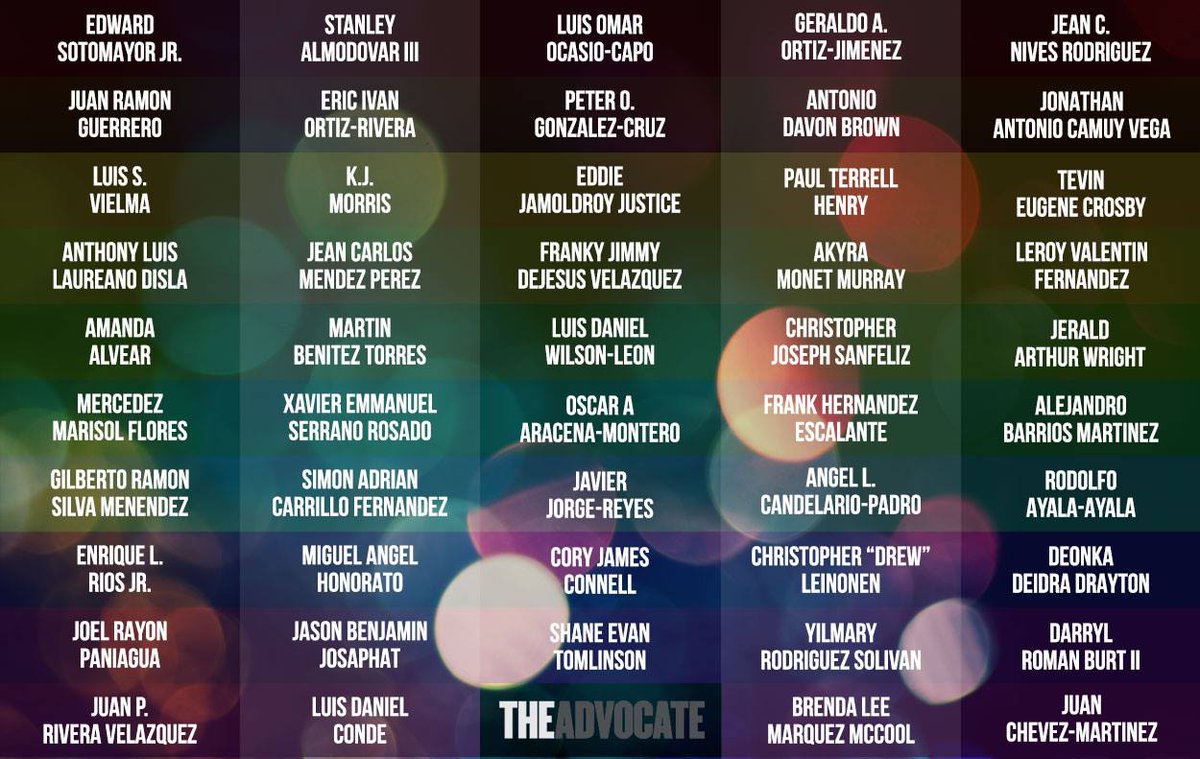 Tracey Jean @traceyjeanh
🔁
Today is the two-year anniversary of #Pulse. #SayTheirNames
---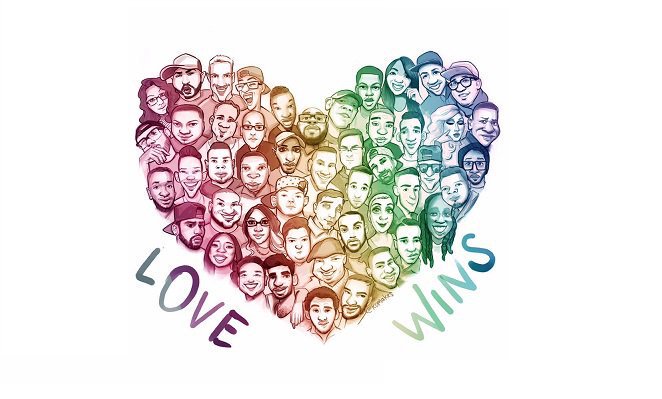 seanbeag7 @Seanbeag7W
🔁
In honor of the 49 gorgeous souls lost two years ago today.
(Artwork: Kelly O'Brien)
#Pulse
---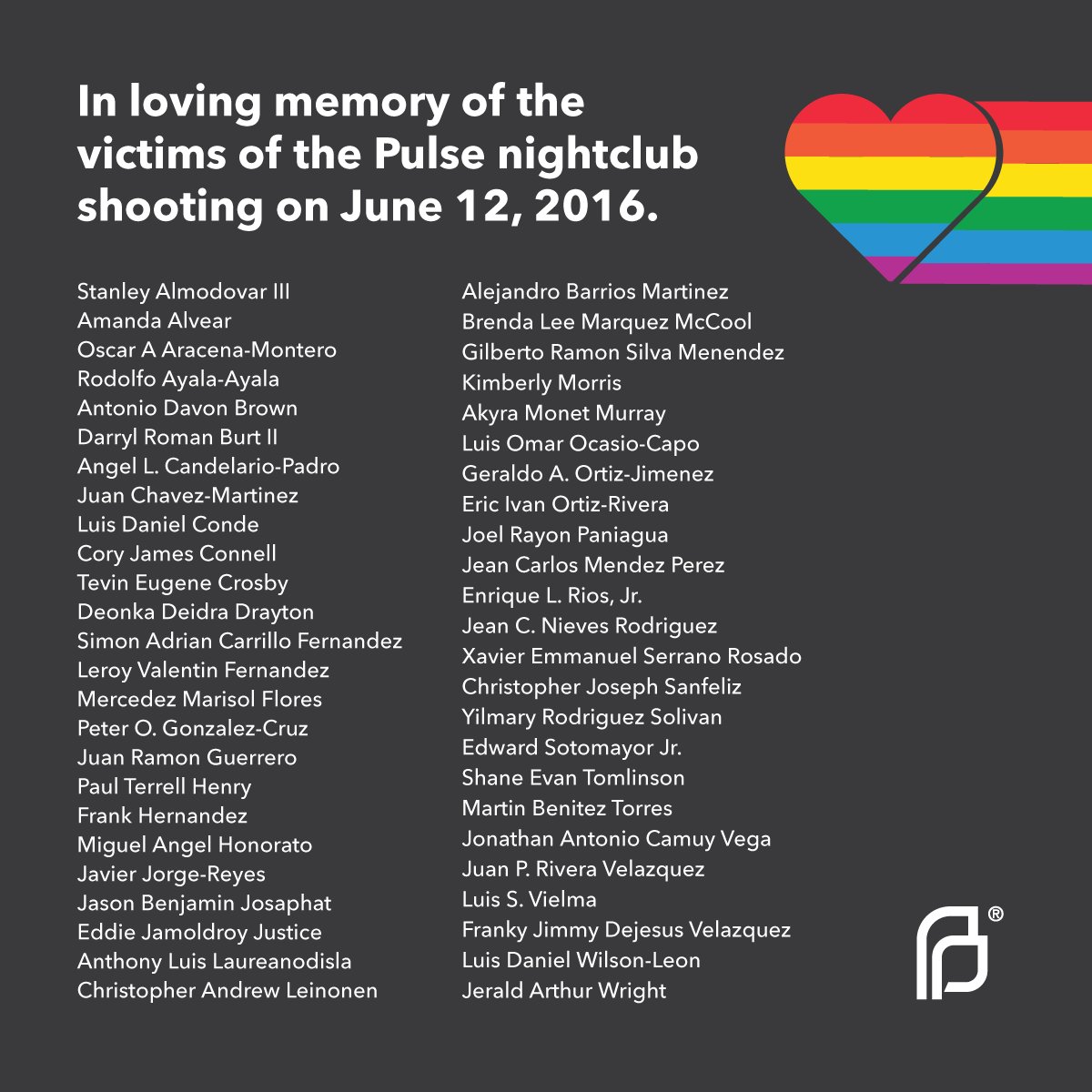 Deputy T. Weigel @kp0mm
🔁
We mourn. We remember. #Pulse
---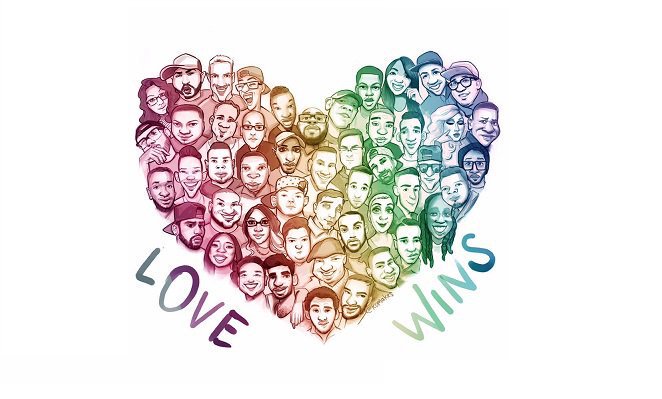 Greg Hogben @MyDaughtersArmy
🔁
In honor of the 49 gorgeous souls lost two years ago today.
(Artwork: Kelly O'Brien)
#Pulse
---
Chuck Schumer @SenSchumer
🔁
2 yrs ago today, 49 beautiful lives were taken from us far too soon. Today we remember & mourn but we must, must, mus
twitter.com
t in every community, city & state. Have the hard conversation today about in America. Dont put it off. Tell the story of .
---
Twitter Moments @TwitterMoments
🔁
On the #Pulse shooting anniversary, the 49 lives lost are remembered.
twitter.com
---
Riana Braganza @prerana_1096
🔁
Two years ago, a man fired 45 rounds a minute into the crowded club while I washed my hands in the sink. 13 of those rounds killed my best friends.
Today, the pain is the same. Someone please fix this.
I miss you. 💔
---
Larry Queen @larryqqueen
🔁
@AmyMek's account has been withheld in Germany, France based on local law(s).
support.twitter.com
Learn more.
---
Daniel Banks @DBanksFL
🔁
Y'all, came to the Pulse event last night, stood in the crowd, didn't try to get recognized, and didn't bring up her campaign a single time. That matters. Thank you, Gwen.
---
Keri Cascio @keribrary
🔁
Yesterday was such a historic day that will be in the future history books!
---
Dimitris Politis @DimiPolitis
🔁
Of all the articles written, this remains with me 2 yrs later. A father refused to claim the body of his son (a victim of the Pulse shooting) because he was gay. It serves as a reminder that we must love and protect LGBT youth.
---
Connie Hume @ConnieHume9
🔁
Columbine.
Virginia Tech.
Aurora.
Sandy Hook.
Charleston.
San Bernardino.
.
Las Vegas.
Sutherland Springs
Parkland.
Santa Fe.
The horrifying list goes on. We need common-sense gun legislation now.
---
Penelope Guzman @_Penelope
🔁
Never forget.
forbes.com
---
Brenna Demands @BrennaDemands
🔁
PHOTOS: Protesters hold die-ins to oppose gun violence on the anniversary of the nightclub shooting
---
Annie Shields @anastasiakeeley
🔁
To all the bartenders and bar-backs and bouncers and gogo boys and drag queens and club kids and freaks who make the nightlife—I STILL love you. I will always love you.
---
NLGBTMA @NtlLGBTMediaAsn
🔁
. explains her art instillation "49" honoring the victims of the nightclub shooting, which was featured at headquarters in Washington, D.C. in 2017.
---
Charlie🌈 @CharlotteEscami
🔁
forever changed my life. Made me embrace my queerness with no apologies. Gave me perspective on how the LGBT community still is in danger in this society. Showed me how many allies we have in the world.
---
Mediocre ✝️ @georgeorwell_84
🔁
Two years ago, a radical Islamic terrorist murdered 49 people at a gay nightclub in Orlando.
He pledged allegiance to ISIS, lied to the FBI, & his father was an FBI informant. There's nothing wrong with making sure the people entering our country don't want to murder us.

---
steele bayou @phunkkat
🔁
In the 612 days that passed between and Parkland, Rick Scott did nothing to help prevent gun violence in our state, while the State of Florida failed to process background checks for weapons permits.
---
Jen316 @jenmisstx
🔁
In honor of the nightclub tragedy two years ago today. I stand in 🌈 Let's take a moment to remember the lives that were lost 💜🙌🏻
---
NLGBTMA @NtlLGBTMediaAsn
🔁
JUNE 12, 2016
Orlando, Florida, USA
2 years have passed and in my heart your faces and spirits are as alive to me as they were before you were taken.
Today, we say your names. We miss you. We'll never forget.
---
Jason D Flatt @JasonFlattUCSF
🔁
The tragedy at nightclub reminds us that we have work to do. We're honored to be partnering with to research gun violence and people.
---
J from the Clique @ClassicJCC
🔁
On June 12, 2016 during many Pride weekends, many Black and Latinx queer and trans people were killed at nightclub. We must remember the names and faces of the 49 people and 53 others wounded. .
---
Arthur K. Fullerton @akfullerton
🔁
Two years after the nightclub shooting, has unveiled an interim memorial dedicated to the 49 victims, with plans for a permanent museum and memorial in the works.
📸: Chris McGonigal/HuffPost
---
Christine Caston @CastonChris
🔁
When hate comes armed, it can be deadly. From , an LGBTQ+ nightclub in Orlando, to a historic African-American church in Charleston, to a bar in Kansas, the common factor is that it is too easy for hateful people to get guns in our country. We must do more to .
---
Isabel/Looking for My Cluster @gio_logie
🔁
On the anniversary, support this worthy BIPOC publication. Make a difference.
---
TiredofBS #WWG1WGA #ReleaseTheTexts No lists @TiredofBS13
🔁
DOJ Arrests 2,300 Child Sexual Predators in Operation Broken Heart
---
John-Michael Torres @jmtorr
🔁
Cherríe Moraga: a lesbian Chicana writer and activist. She has played an important role in Queer & Chicana theory, activism, y self love. Let's honor queer Latinx folks today in remembrance of the lives lost at Pulse.
---
Alice// Infinity War Spoilers @MySubBoxIsFull
🔁
Remembering all the lives affected by the tragedy
The spirit of this message lives on ❤️ 🏳️‍🌈
---
Ben Friedman @BenFriedman
🔁
Y'all, came to the Pulse event last night, stood in the crowd, didn't try to get recognized, and didn't bring up her
twitter.com
campaign a single time. That matters. Thank you, Gwen.
---
Dr Maura Tuso @zuzuspetalsz
🔁
Two years later, teens are organizing a die-in protest on Capitol Hill to remember the 49 lost lives in the nightclub shooting and push for gun control. 
---
joyce all @1gretchen
🔁
: When we had a compassionate president. "This is a sobering reminder that attacks on any American, regardless of race, ethnicity, religion or sexual orientation, is an attack on all of us" -
---
Evvie Nanni @EvitorialPage
🔁
2 years ago, a mass shooter killed 49 people & injured 53 others at Pulse Nightclub in Orlando. My dear cousin, MJ Wright, was one of the mother's who lost a child, Jerry Wright, at . Many mass shootings, many lives lost, before and after Pulse. Congress still won't act. 🧡
---
Jorge Estevez @JEstevezWFTV
🔁
More #Pulse tributes are planned for today at @UCF.
at.wftv.com
twitter.com
---
Marion Ruth Sills, MD @MarionRSills
🔁
On June 12, 2016, a shooting at the nightclub in Orlando claimed the lives of 49 people — most of them young, LGBTQ and Latinx. Our nation was never the same. Today, we and commit to doing more to .
---
---