Peter Strzok: 286.074k tweets talking about this in the last 24 hours

People talking about Peter Strzok: - AnnCoulter - JohnBrennan - SethAbramson - WendelTaggart - cccp3o - MollyBa72541776 - CooperS58908827 - SingleSpeedGo - geezyloueezy - CameraPersonMBC[...]

- sedonasurf - niki5959 - Tora_Bushido - iRun4Jules - prs190 - LuckyLuna07 - tpqx - benbelaboehm - captainpbrac - SiCk_DiAbLo - Introsp83906581 - SeldenGADawgs - myrabradway - mzz_hernandezz - Isces1 - tynebrd - HillVelna - beadle_jb - jmann8144 - lynne2222 - sullivantodd308 - jaxdan43 - DalePackham - speakersamerica - nofeargage - missvic659 - JennPop56 - diedre66 - smith_jones6 - fe5035david - jill4house - Mh_Vic84 - nanhowze - DoreeeV - hddeucerider05 - a10cowgirl - fbaus6011 - SandiGarand - Geaneb3 - vt0924 - jennyhobbs1 - anja_buch - Deplorable4Trum - Lataine16 - TNrina - denisegail4453 - chuckandpamhoo4 - Cernovich - DyanSohn - pinnie99 - DanaLouWilliam2 - wyndflwr - patricktrench1 - Mandy04672415 - SahSoop - GDujanovic - Elena77h - JustMePammy - ss8423fx4 - CarlosM55087738 - alliswoodward - JerseyGirl_555 - thc911 - HylanderMacLeod - GeoGMatthews8 - rockettgal - wrdybrd - R98250729 - liberalpropaga - RyanWalis - ZachBlackburn - shAwneee514 - Socaloverrated - Le_Professeur0 - BrianASpeer - zeefa64 - pinbalgrl - RosieCosens - standshisground - fotozone6 - ByroadsChelsie - GordonCrash - coituslow - brett09070110 - Shhhh116 - DLP5760 - curtandnan - madmamma4 - thomaspearc3120 - LitzaLawrence


This Tag appearing in: United States: ( Nashville - ).
Popular tweets tagged with Peter Strzok:

Dan S @jaxdan43
🔁
Retweet if you believe Peter #Strzok is a criminal
---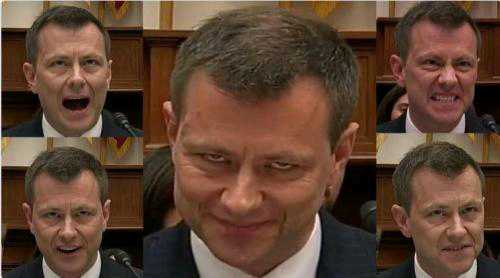 Joyce @a10cowgirl
🔁
Peter Strzok...the face of an evil Psychopath
---
10 de fevereiro de 2017
Molly Baker @MollyBa72541776
🔁
Saw this on Facebook, Peter Strzok... Laughing my ass off.
---
Ann Coulter @AnnCoulter
🔁
Peter Strzok's wife threatened to leave until he explained that not once did he let his affair with Lisa Page affect
twitter.com
any specific actions he took in their marriage.
---
John O. Brennan @JohnBrennan
🔁
Watching the spectacle of the House "hearing" with Peter Strzok today, I was reminded of the words of Abraham Lincoln
twitter.com
:
"America will never be destroyed from the outside. If we falter and lose our freedoms, it will be because we destroyed ourselves."
---
Seth Abramson @SethAbramson
🔁
Peter Strzok, who's spent a life in public service, may be imperfect—as we all are—but next to Trump and his stooges
twitter.com
in Congress he's a veritable superhero. I offer my thanks to Agent Strzok for weathering the attempted assassination of his character by the GOP. RT if you do too.
---
Wendel Taggart @WendelTaggart
🔁
Dear : You are right the Russian attack occurred under Obama. But the attack was ordered by Putin to help elect you.
You can thank agents like Peter Strzok who set aside his personal views of you and did his job by not disclosing an ongoing investigation.
---
cccp3-o @cccp3o
🔁
(11) I'm writing this thread to provide context to Peter Strzok Jr's actions.
He hates everyone and everything.
I can understand.
---
CooperS @CooperS58908827
🔁
Peter Strzok in this photo is an avatar of every decent person in America, facing down and his enablers.
---
1speedGo @SingleSpeedGo
🔁
Watching the spectacle of the House "hearing" with Peter Strzok today, I was reminded of the words of Abraham Lincoln:
"America will never be destroyed from the outside. If we falter and lose our freedoms, it will be because we destroyed ourselves."
---
B Johnson @geezyloueezy
🔁
Peter Strzok admits that FBI got parts of Dossier from top DOJ official Bruce Ohr.
Ohr's wife Nellie worked for Fusion GPS, the firm hired by Hillary Clinton to produce the Dossier.
---
Not Scorsese @CameraPersonMBC
🔁
Seeing Republicans Jim Jordan, Trey Gowdy, Louie Gohmert, Steve King question Peter Strzok and I am reminded that the Republican party is truly filled with a bunch of assholes. Molester protectors, racists, obstructionists, greed mongers.
---
Niki @niki5959
🔁
If the GOP tries to impeach Rosenstein after today's indictment & yesterday's hearing with Peter Strzok, it will be clear they have only one goal - self preservation. And that's not why we elected them.
---
GivePeaceAChance @prs190
🔁
44. "I want to believe the path u threw out 4consideration in Andy's (McCabe) office- that there's no way he ( ) gets elected but I'm afraid we can't take that risk"Strzok txtd on Aug 15 2016.
"It's like an insurance policy"
---
Walter Parsons @tpqx
🔁
A facinating read imlicitly implicating Giuliani.
nyti.ms
---
Paulb@captainpbrac @captainpbrac
🔁
"Peter Strzok should be in jail by the end of next week"~Rudy Giuliani
➡️RT to spread the will of the people‼️
---
Junior @SiCk_DiAbLo
🔁
Democrat: 'I regret' telling Peter Strzok he deserves Purple Heart
Hundreds of th washex.am ousands of widows have "Purple Hearts"! They live on with the honor & heartbreak of holding this medal.
Strzok is no Patriot!
---
Introspective @Introsp83906581
🔁
Peter Strzok is an American patriot. Retweet if you agree. Then subscribe to the below. Tweet out the link with the hashtag, we'll RT you.
---
SeldenGADawgs @SeldenGADawgs
🔁
24,000 RETWEETS AND COUNTING: John Brennan uses bogus Abe Lincoln quote to bash Congress over Peter Strzok hearing
---
JoeyFan @Isces1
🔁
Peter Strzok hearing, Congressman : "Let me start by saying, this is a stupid and ridiculous hearing."
I love him. 💙
---
Velna Hill @HillVelna
🔁
All of a sudden Trump's outrage over FBI agent Peter Strzok makes more sense- Strzok was lead FBI agent in 2010 that destroyed a massive Russian spy ring in America. Trump goes after Strzok and FBI as payback for Putin's help in 2016 election.
---
Todd Sullivan @sullivantodd308
🔁
I sketched Peter Strzok with his new medal. They should all go to jail in my opinion.
JonMcNaughton.com
---
Dale @DalePackham
🔁
The wife of Peter Strzok, Melissa Hodgman. Just so happens she was promoted to the role of director of the SEC at the same time the FBI was drafting the exoneration letter for the HRC. Peter Strzok was the last person on earth to see the deleted HRC emails. Nothing to see here.
---
lb gage @nofeargage
🔁
This, my friends, is called back pedalling.
Liar.
"I used it metaphorically, not literally. I never literally thought the Purple Heart should be given to agent Strzok." ~Cohen

---
Jen Papas @JennPop56
🔁
Anyone else see the horns on Peter Strzok's forehead? Anyone?
---
Diedre #diedrefied #trump2020 @diedre66
🔁
CNN panel of dummies demean Americans
mediaequalizer.com
---
Joe Smith @smith_jones6
🔁
Peter Strzok Reveals FBI Debated Aggressiveness of Russia Investigation Based on Trump's Poll Numbers
'Maybe we should just roll slow' because Trump Not Likely to Win
---
David Fernandez @fe5035david
🔁
Peter Strzok's wife threatened to leave until he explained that not once did he let his affair with Lisa Page affect any specific actions he took in their marriage.
---
Nan Howze @nanhowze
🔁
"House GOP members demonstrating that they cannot even conceive of the possibility someone could place duty and institutional integrity over base political and personal interests. The concept is too foreign to them to comprehend."
By
---
DorotheaV🇺🇸🌻🌵🤠 @DoreeeV
🔁
I'm back in Arizona and about to join on to talk about the contentious Peter Strzok hearing on Capitol Hill this week. Hope you'll watch at 10:30 AM AZ time.
---
mike carpenter @hddeucerider05
🔁
What Peter strzok has done was not biased. It was criminal. Plain and simple. If I were a laywer and had a client in
twitter.com
the system while this moron and his idiot friend . I would ask for a miss trial on or a retrial because of these 2 crooked cops.
---
Francisco Baus @fbaus6011
🔁
The DEFINITION of Deep State.
---
Sandi Garand @SandiGarand
🔁
Peter Strzok is a highly imperfect standard-bearer for the FBI, but this was a super-impressive performance, and I don't doubt for a second that there were a lot of people cheering for it yesterday at the Bureau.
---
jenny hobbs @jennyhobbs1
🔁
If you think Strzok wanted to use the Russia investigation to hamper Trump's political chances, it's very hard to explain why Strzok didn't use the investigation to hamper Trump's political chances.
---
Deplorable4TrumpPenc @Deplorable4Trum
🔁
Peter Strzok's testimony was a disgrace. It taints the entire Mueller witchunt. President Trump is being investigated by people who possess pathological hatred for him. All the results of the investigation are "fruit of the poison tree" and should be dismissed.
---
Debbie USA @TNrina
🔁
Spook Peter Strzok Refuses to Hand Over Texts to Congress
truepundit.com
---
Charles and Pamela @chuckandpamhoo4
🔁
Peter Strzok did not come out a hero during the congressional hearing, Peter Strzok only proved to the American people he is a pathological liar, biased buffoon and hypocrite
Republicans walked right into Peter Strzok's trap -- Here's what they missed
---
linda=Deplorable @pinnie99
🔁
Newt Says What The Rest Of Us Are Thinking: It's Time To Throw Peter Strzok In Jail
teaparty.org
---
loading...
patrick @patricktrench1
🔁
Why is FBI Director Christopher Wray protecting Peter Strzok?
---
Mandy @Mandy04672415
🔁
Crooked Hillary said she would win the election but lost. James Comey said he was a man of integrity but was shown to be a lying coward. Peter Strzok said his vile anti Trump texts didn't show bias but they did. Donald Trump vowed to and he is. I love My POTUS🇺🇸
---
SoopSah @SahSoop
🔁
Deep State has you talking about Russian Hacking today instead of mental patient and serial liar Peter Strzok & crooked FBI. That's how fast they can manipulate the public & narrative. A glimpse of what truth tellers face daily. Up against nasty machine programmed by evil people.
---
Christian Patriot ✝️ @GDujanovic
🔁
Peter Strzok should be in prison, alongside his criminal lover Lisa Page
They colluded together to try and prevent Trump from being President
Fire them, eliminate their pension, and put them both in prison
No one is above the law
---
JustMePammy @JustMePammy
🔁
.: Peter Strzok is still on the payroll of the FBI. Why is he still getting a paycheck from the American taxpayer?
---
rivera rat PATROL @CarlosM55087738
🔁
We have a Strzok in Iran, Peter Sr. We have a Strzok in Russia, Mark. We have a Strzok in the SEC, Melissa. We have a Strzok in the FBI, Peter jr. We have a Strzok links to Russian uranium mines that are apart of Uranium One. Enter Clinton, Obama & Mueller. Pay, Play & Prosecute.
---
Where's the Outrage? @alliswoodward
🔁
Bizarre, Creepy Video Of Peter Strzok Smirking Goes Viral | Zero Hedge
zerohedge.com
---
Jersey Girl 55 @JerseyGirl_555
🔁
Congressman Cohen from my home state of Tennessee wants to give Peter Strzok a Purple Heart.
Just wanted to say that Cohen does not represent my
area.
Thank God
---
Jock Tamson's Dug @thc911
🔁
She has no one else left to attack.
She has failed in her uncontested position as leader.
The rest of the Globe is twitter.com laughing at the Globalist and her so called friends in the party. The 'lady' has more faces than Big Ben and Peter Strzok put together!!
---
Jane Barry-Davis @wrdybrd
🔁
Imagine if Congress spent as much time on reuniting kidnapped children as they are in questioning Peter Strzok's personal political tweets to his lover.
Imagine if they actually cared more about these children than obstructing an investigation into election interference.
---
R @R98250729
🔁
Peter Strzok's appearance before Congress was a predictable political circus. Trump will have to declassify a host of docs if he wants Americans to ultimately learn the truth about what happened in 2016.
-FISA apps
-Woods Procedures docs
-302s
-1023s
---
Brian Speer @BrianASpeer
🔁
This Individuals on this CNN panel are either truly stupid about what Peter Strzok did or are complicit with his free
twitter.com
dom-hating attempt to change the results of the election.
---
Zee Zembry @zeefa64
🔁
Too late! You've already solidified your ignorance! Your constituents will handle you at the ballot box!
washingtonexaminer.com
---
gab.ia_AreWeLivingin1984 @ByroadsChelsie
🔁
(37) They got the nuclear deal, and then they demanded a fake operation that would make Iran look good back home AND on the international stage.
And my guess is that Peter Strzok Jr is in the middle of it all.
---
@Curt Golden @curtandnan
🔁
By a Farce - my weekend column on why House investigations should be shut down if obstructive witnesses and agencies witnesses are not going to be held in contempt -
---
---