Nazi: 201.007k tweets talking about this in the last 24 hours

People talking about Nazi: - JasminMuj - emilynussbaum - eugenegu - remeanie - maddi_the_fatty - jackalsilva - tame_lioness - shamir_k - lisag2030 - afangelar_pa[...]

- VhagarllBarry - RubieSweet - ccaspen - thelastspank - emily_the_freak - ventivents - mostly_cookies - MikeDon71 - spinifex23 - reginaw50361 - Flyingright1 - warp9scotty - DarthRevan1024 - Frazzling - appleplexy - RebeketaPelFred - KrmtDfrog - _georgew01_ - slittlefox - Scottski91 - emily_the_freak - KarenJacoby9 - Terminus_Verge - JomairaBSalas - petabites - Noel_zeek - Darrell_Lloyd - ActorSeanCory - condoloft - neyvay - PiddyCams - taratrudell12 - yossinyc26 - bobchanning - AliceObviously - Connor_Lyon_ - AnaMardoll - margo94 - ChuchRingulet - smcenturff - LizaMNavarro - karstenlynn_ - mah_nazi - peter_koekoek - ShaneGraber1 - Ty_in_TX - functionsoldier - basque_design - JackSmithIV - nazi_quait - newtman - hmullphoto - jruss - HawkinsErica17 - JabezWaters - psyber_bully - TheOligopoly - klmr - chort0 - eileenaoconnor - mc_polistina - dmdesigninc - DarkheartsClub - zach_buncy - functionsoldier - Link_Man_1 - BernToTheFuture - gallifreyan100 - conleylyons - BrynAdler - cidyv - idealust - JungleCatB - ShelleyMicheleP - mskvarla36 - DaveLisney - ThyNameIsWicked - Skipperdee2015 - SpankCityHall - IloveC_at_L - msdwrites - laprofe63 - MohrMichaelyn - BernToTheFuture - sonyasteele - maryrcook - racechikee - CarmenL27018925 - sharonpentay - mukulleo


This Tag appearing in: United States: ( Portland - ).
Popular tweets tagged with Nazi: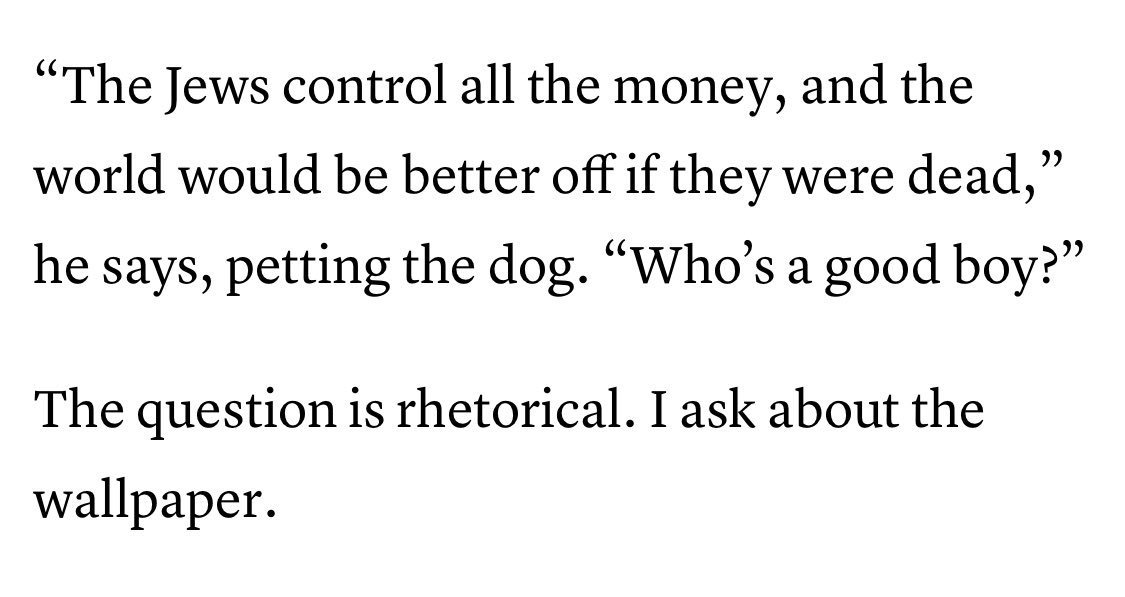 Konrad Rudolph 👨‍🔬💻🇪🇺 @klmr
🔁
Perfect parody of the NYT Nazi profile.
theatlantic.com
---
loading...
Jasmin Mujanović @JasminMuj
🔁
The NYT Nazi fluff text is only further proof that, at a fundamental level, large segments of the US intelligentsia d
twitter.com
o not appreciate the existential crisis now facing their republic. In short, they're not actually concerned — and they really should be.
---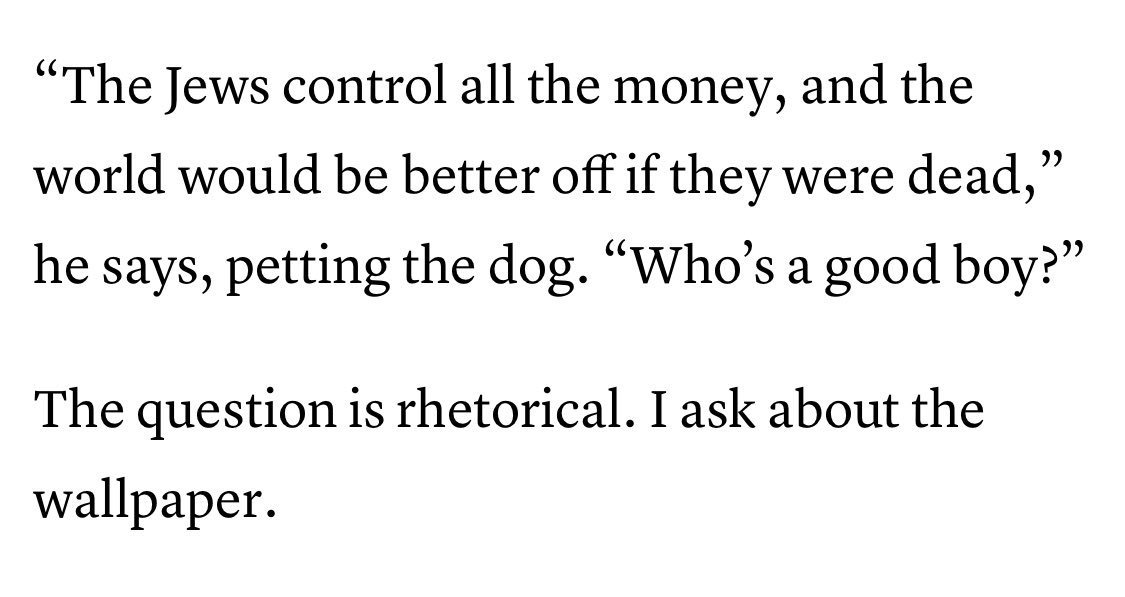 Emily Nussbaum @emilynussbaum
🔁
Perfect parody of the NYT Nazi profile.
theatlantic.com
---
Emily Yvonne Hoover @emily_the_freak
🔁
Moscow celebrates victory over Nazi Germany. May 9th, 1945.
---
Eugene Gu, MD @eugenegu
🔁
Dear New York Times,
As an Asian-American doctor in the Deep South, a low-key Nazi attacked me in the parking garage twitter.com . Please don't normalize white supremacy.
Sincerely,
Eugene Gu, MD
---
Remy Maisel @remeanie
🔁
If Jews really controlled the media as much as Nazis thought, we sure wouldn't have as many bullshit Nazi puff pieces.
---
brüh @maddi_the_fatty
🔁
Reminder: Hillary voters never once got an article as empathetic and soft lens as that Nazi profile
---
Jackal Silva @jackalsilva
🔁
nazi: hitler was right
nyt reporter: [nervously looking at notepad]
nazi: but u'll notice that i dont heil all the time, im not heiling hitler right now
nyt reporter: oh what a scoop! so what do you do with ur heiling arm instead? cook pasta?? pet a dog??!
---
Tame Lioness @tame_lioness
🔁
Hi, I'm back. I apologize for calling a certain Nazi a rapist. Just because he's repeatedly bragged about raping women and been charged with rape doesn't mean he is definitely a rapist. That was abusive of me, unlike his campaign of anti-Semitic harassment, which is not abusive.
---
Red Zin @lisag2030
🔁
All you need to do to gauge the impact of this article is to go to Mr. Hovater's Facebook page and observe the slew of Nazi sympathizers who have now found a new hero in their online community. This piece did not enlighten. It simply united hate.
---
(((AnonymousKraai))) @afangelar_pa
🔁
Nazi Oath Keepers and KKK have gotten into every branch of law enforcement.
twitter.com
---
Barry Lerner @VhagarllBarry
🔁
You are such a deplorable racist misogynistic lying Nazi psycho fake potus that each word out of your lying mouth is
twitter.com
total bullshit. You are fake news. VIVE LA RESISTANCE
---
Sandy fletcher @RubieSweet
🔁
The MSM and the left always say the Nazis were "right wing." But Nazi literally means National Socialist German Workers' Party. They were far left socialists who supported gun control, abortion, socialized healthcare and strongly hated capitalism. Just like liberals today.
---
🕷️ Spanky Don't Surf 🕷️ @thelastspank
🔁
Neither was Kate Middleton, but newsflash - anyone can fall in love.
Was it "etiquette" when Harry dressed up as a twitter.com Nazi or any of his family members supporting them back in the 30's?
If "etiquette" either consists of holding a teacup by your pinky or being white, you're daft.
---
Emily Yvonne Hoover @emily_the_freak
🔁
Ok folks, there seems to be a lot of misinformation regarding what a Nazi is or is not, so here's a quick primer:
Nazi - short for Nationalsozialismus, aka national socialism, which despite the name, has *nothing* to do with Marx/Lenin.
In fact, it's quite the opposite. 1/
---
thingsicantsayatwork @ventivents
🔁
I don't mean to sound intolerant or coarse, but fuck this Nazi and fuck the gentle, inquisitive tone of this Nazi normalizing barf journalism, and fuck the photographer for not just throwing the camera at this Nazi's head and laughing.
---
Tread on Nazis! ☕ 😾 @spinifex23
🔁
UPDATE: Following publication of this article, HKIRC emailed Newsweek to say that the domain dailystormer.hk will be taken down within 24 hours.
---
Spiritfilled7 @reginaw50361
🔁
In 2018 we will make the Nazi GOP a crime scene. A Blood Bath a massacre. In 2018 we must vote them all out. The part
twitter.com
y of Trump Russian Traitor Trash, KKK, 1 % and pedophiles forgot about us a long, long time ago.
---
Lisa @Flyingright1
🔁
@AndyRichter How 'bout you & your fellow assclowns stop calling EVERYONE who disagrees w/you a Nazi! Jerk!!!!
---
Marc Cooper @DarthRevan1024
🔁
Favorite President! Ha! Maybe if that person is a Nazi than yes. But normal people think you are a moron.
twitter.com
---
Yvonne Dean @Frazzling
🔁
If you use Nazi words like lugenpresse you might be a nazi
twitter.com
---
Karen Lo @appleplexy
🔁
A lot of ppl are pointing to my Dolezal profile for how to interview dangerous ppl- esp. regarding race & racism. There are so many brilliant writers of color & Jewish writers who could have done that NYT Nazi profile right. What a wasted opportunity.
---
((RebeketaPelFred))) @RebeketaPelFred
🔁
Campaign against teachers, journalists and anti-fascists. Impunity for nazis and serious nazi infiltration in Madrid police
---
georgew01 @_georgew01_
🔁
@BeccaTurnis @chris_woodsKP No, because it doesn't mean I'm going to become a Nazi.
---
suze foss @slittlefox
🔁
She's as delusional and idiotic as that orange Nazi she loves! She bought into bot Putin crap, when there was nothing
twitter.com
truthful nor honest published about Hillary. Her history was diplomacy. Now look at the mess we have in US, thanks to idiotic morons of sarandon I'll!
---
Scottski91 @Scottski91
🔁
The New York Times gave a Nazi a platform to normalize his views.
I'm giving six Holocaust survivors a platform to tell their stories.
Please feel free to share stories from your family if you feel compelled to do so.
---
Karen Jacoby @KarenJacoby9
🔁
wait LAST YEAR the New York Times ran a different soft-focus Nazi story that featured the co-founder and podcast co-host of YESTERDAY'S NAZI
---
Nyarlathotep @Terminus_Verge
🔁
I keep thinking how that nazi peddling piece did not happen in isolation. Folk like made careers out of that shit
---
Jomaira Salas Pujols @JomairaBSalas
🔁
Anyone who promoted or reviewed favorably Kill All Normies doesn't get to complain about or critique the NYT Nazi JO sesh. That book did everything the NYT profile did AND packed it in a nice bed of transphobia and anti-"SJW" rhetoric. We got eyes, ya know.
---
Pet... @petabites
🔁
Hey, remember the last time the tried to humanize a Nazi, and then that Nazi organized a Nazi rally in Shelbyville where he and his Nazi friends beat up a couple because the guy was black and the woman was white?
---
Noel @Noel_zeek
🔁
Playing football now banned in German schools, due to wear & tear on children's shoes & leather shortage. Boys encouraged to train for military or read Nazi propaganda instead.
---
Darrell Lloyd @Darrell_Lloyd
🔁
NEW COMMANDMENT:
Thou shalt not:
- Be Nazi
- Help Nazis
- Write an adorable Nazi bio for the NY Times
- Refer to Nazis as 'fine people'
- Vote for Nazi sympathizers
I feel like this shouldn't have to be said.
---
Sean Cory @ActorSeanCory
🔁
1/ I wanna respond to the very thin-in-reason defense of the NYT article that claims pointing out the ordinary nature of the Suburban Nazi is supposed to serve as a warning to readers. I worked at the U.S. Holocaust Memorial Museum for a year, and I have some thoughts… (thread)
---
Toronto Real Estate @condoloft
🔁
Prora was designed by the Third Reich as a retreat for loyal German workers. Will the complex's redevelopment whitewash its dark origins?
---
the juice is pressed but your boy never is @neyvay
🔁
Harry is also racist, he called people "ragheads" and Pakis. He wore a Nazi costume once. Marrying a PoC doesn't make
twitter.com
him not racist
---
Tara Evonne Trudell @taratrudell12
🔁
should have "agonized" harder...
The New York Times defends its inflammatory Nazi sympathizer profile
huffingtonpost.com
via @HuffPost
---
Yossi @yossinyc26
🔁
@Yair_Rosenberg @jaketapper Hateful Nazi!
---
Jordan Ferguson @bobchanning
🔁
NYT: nazi who are you??? what do you want
NAZI: white power, cops even more murdering black people w impunity, feudalism, hitler was v v chill
NYT: but nazi what do you want
NAZI: i just said
NYT: oooooo so what are you putting in that pasta you're making, looks yum
---
A @AliceObviously
🔁
Convinced a must have been a nazi or somehin in ma past life to deserve the amount of constant bad luck tht a get hit wi
---
Connor Lyon @Connor_Lyon_
🔁
Why are people still spreading this misinformation? Obama voted against this Russian-sponsored "anti-Nazi" resolution every year too. It violates the First Amendment and opens the door to political censorship, which is why the U.S. has always opposed it.
---
loading...
Ana Mardoll @AnaMardoll
🔁
I nearly subbed this to you guys first just so you could laugh and tell me I couldn't say "fucking Nazi" that much
---
Margo 👀👂👀👂 @margo94
🔁
This thread is worth reading--really highlights the poor reporting of the @nytimes nazi piece.
twitter.com
---
Jason Ringulet @ChuchRingulet
🔁
@TalibKweli @Ares_thePrince @richy_mcnally Always okay to punch a nazi? The answer is... 100% of the time.
---
Shauneen M🇨🇦 @smcenturff
🔁
❤️this thread in response to @nytimes nazi promotion & what the author of the article omitted
twitter.com
---
Liza M. Navarro @LizaMNavarro
🔁
Me: I am really bothered by this NYT puff piece on Nazis
My mentions: UGH, STUPID LIB, you think everyone who disagrees with you is a Nazi
Me: They ... they call themselves Nazis. They wear swastikas and sail "Heil" and do the salute.
My mentions: WHO'S REALLY THE FASCIST?
---
مهنازی @mah_nazi
🔁
one person unfollowed me // automatically checked by
fllwrs.com
---
Peter Koekoek @peter_koekoek
🔁
As the NY Times writes about "the Nazi sympathizer next door, polite and low-key," it's worth remembering other "Nazi sympathizers next door," like these Auschwitz personnel (1944), "polite and low-key" parts of a mass murder machine.
---
Shane Graber @ShaneGraber1
🔁
@marclacey U still don't get it. An entire story on a Nazi, and not one word on structural racism. THAT's the problem.
---
Firien @functionsoldier
🔁
@Eddied80 @lsarsour Hey bro. Obama admin voted against giving the UN this type of power also.
cbsnews.com
---
Basque Design Museum @basque_design
🔁
architectmag: Prora was designed by the Third Reich as a retreat for loyal German workers. Will the complex's redevel
twitter.com
opment whitewash its dark origins?
---
💞Naziya Shaikh💞 @nazi_quait
🔁
As a kid I have performed in our neighbourhood cultural programmes. But as a professional I did my first live concert after I turned 19 I think:) Can't remember where though.
---
newtman @newtman
🔁
Hey @Twitter @Jack, can you stop being Nazi defending garbage eaters? Thanks.
twitter.com
---
Hmmmmmm @hmullphoto
🔁
If you offer them a platform are not explicitly opposed, you are complicit. A 'neutral' passive voice = a Nazi broadcast/recruitment drive.
---
Jonathan Russ @jruss
🔁
As I said in my previous thread, these guys aren't "Nazi sympathizers," as the article put it. They're Nazis. They're Nazis. Nazis organizing other Nazis.
---
🌹 @psyber_bully
🔁
I was at Olive Garden with my orthodox Jewish family. Millie Bobby Brown came over to our table, and without warning rolled up her sleeve and flashed her Nazi arm band at us. Then she said "get gassed" and farted on my salad.
---
Haley Olig @TheOligopoly
🔁
Must read thread on why that @nytimes Nazi story rubbed so many people the wrong way.
twitter.com
---
chort (↙️↙️↙️) @chort0
🔁
When the Nazis invaded Poland, my grandmother's best friend in their Ukrainian-Polish-Jewish town pushed her to the ground and said, "Give me your sewing machine, soon you won't need it." That's the Nazi sympathizer next door.
---
Eileen O'Connor @eileenaoconnor
🔁
"They're not Nazi sympathizers. They're Nazis."
twitter.com
---
mcp @mc_polistina
🔁
Literally within 3 days, NY Times has celebrated both Wahabbi extremism and Nazi extremism—normalizing both. These are the two greatest ideological scourges on humanity today.
This is extremely dangerous.
---
Dave McClinton @dmdesigninc
🔁
Is Harry the one that dressed like a nazi that one time? Because I'm starting to understand how he's getting so much media coverage.
---
Soy Boy green is made of PEOPLE @DarkheartsClub
🔁
NYT: were gonna try to humanize nazi-sympathizers this week
NEWSWEEK: u r like a tiny baby. watch this
---
Zach Buncy 🌹 @zach_buncy
🔁
the young Nazi had fine table manners, a flair for public speaking and lush facial hair
he showed me his paintings and introduced me to his long term girlfriend Eva
in retrospect I think i may have profiled hitler but in my defense I was in a hurry and did not ask any follow-ups
---
Link🔗Man @Link_Man_1
🔁
Figures that the first New York Times article ever showing sympathy to a millennial would be about a Nazi.
---
#SandersTurner/FreePete @BernToTheFuture
🔁
5/ There was no subtlety about the exhibit. The message was clear: these people are just like you, just like your friends and family, and they viciously bought into Nazi ideals. Their ears and tongues did the bulk of the legwork in rounding up Jewish folks to be exterminated.
---
Conley Lyons @conleylyons
🔁
Hey , look! Nazis can seem like regular folks! From the : a photo of Nazi staffers having fun between killing Jews:
---
Bryn Adler @BrynAdler
🔁
All 4 of my grandparents were concentration camp survivors. Most of their families--parents, siblings, children--perished.
But thank you for sharing the story of a Nazi's fear that anti-fascist protestors would disrupt his wedding. How rude!
---
Cindy Viola @cidyv
🔁
Activists built a Holocaust memorial outside the home of a German politician to protest his call for Germany to stop feeling guilty about Nazi atrocities
---
Shelley Palmer 💜 @ShelleyMicheleP
🔁
Only good Nazi. Is a dead one
twitter.com
---
lizard @DaveLisney
🔁
Katie Hopkins - Imagine being so far right wing that even the Nazi loving Daily Mail balks at the idea of employing you.
---
Dylan @ThyNameIsWicked
🔁
why'd the nyt nazi have to be a metal guy 😭
---
Melyssa Hubbard 🌐 @SpankCityHall
🔁
@AltCyberCommand @personalitycri1 @TheRickWilson I am THE tea party founder. Are me and my friends Nazi racists?
---
Ms D 🌈💕 @msdwrites
🔁
@guardian Pretty sure neither of them are Nazi sympathisers (and yes, I think he's served his time for idiotic teenaged fancy dress)
---
Lisa Amor Petrov @laprofe63
🔁
@nytimes "nazi sympathizer" uh no, he's a nazi. being sympathetic to him makes one a nazi sympathizer. so...
---
Michaelyn Mohr @MohrMichaelyn
🔁
I'm drinking a nice warm cup of covfefe from my , then turning on before doing my last nazi crossword-since I canceled my subscription, followed by me ordering pizza from not & then watching football players take a knee to peacefully protest.🇺🇸
---
#SandersTurner/FreePete @BernToTheFuture
🔁
4/ Throughout the exhibit were examples of real people who may have not worn Nazi armbands but turned-in Jewish folks, often unnecessarily. Some participated in violence. Most participated in discrimination. Just ordinary people behaving ruthlessly.
---
Mary R Cook @maryrcook
🔁
The NYT Nazi fluff text is only further proof that, at a fundamental level, large segments of the US intelligentsia do not appreciate the existential crisis now facing their republic. In short, they're not actually concerned — and they really should be.
---
Anna Annison @racechikee
🔁
Here is what I don't get. Liberal experts say that Nazism is the alt-right. But the original term for Nazi is National Socialist. That tells you that they form as a Socialist party. Socialism is the left. Therefore, Nazis originated as the alt-left!
---
Sharon 🇪🇺 §åböțëųř #FBPE @sharonpentay
🔁
@JackyHolyoake @janemerrick23 Cos they're, like, an independent regulator and everything..
skwawkbox.org
---
Mukul @mukulleo
🔁
I don't like the oppressive Saudi regime but I will send flowers next time the present Saudi crown prince gets marrie
twitter.com
d. Because I need to separate my ideological opposition and wishing well upon individuals. Got it. Nazi costume? I guess for the sake of happiness, let that slide
---
---