NATO: 643.879k tweets talking about this in the last 24 hours

People talking about NATO: - realDonaldTrump - realDonaldTrump - tedlieu - erikagrey - disruptor_v - mattmarohl - drewdellinger - TheDailyDigest - Hoya97 - AngryVoter2016[...]

- BiglyPissed - CheyenneDancer - Kate_Is_Rising - Autarkh - DTRenney - BoyCharioteer - TWEEDY79722230 - maritzasolito - Carmauro10 - DennGordon - diaperdan72 - roemike99 - aquawilki - penismightier_ - altierotracey - kbrunocrafts - TheRealTeagle - RachelJ011032 - elenanunzio - d_oversole - Latvian_Power - SunnyJL52 - BarbarellaLV - Deb777 - Azcats97Mota - ofpeopl - PatsyLe93798095 - amrieyyyy - fallriver47 - jrjf1001 - worktop64 - waythingsturn - MissHellTX - PatrickJLavin - lenesemd - Gerald12_ryan - kashman24 - RebeccaAnCampos - libertyiscallin - SheriSpain - benishii_ - RogerKnisely - troycombs6 - AbroadVet - ChrisXMorse - KikkiPlanet - MoffittJill - DennGordon - VirginiaMohlere - Pitchershandout - dcole0007 - GermanyinQatar - straehs - WSPate - JackieSelf78 - c_dubem - Path_ology - courty1793 - BettyMc61352112 - Choctaw1812 - wcam54 - socalnaza - RwsMo - willwilkinson - atttservices - UPTOWNGIRL2008 - Jools_D0510 - JoanVinallCox - lirpalomina - jpjack_brennan - megwyckoff - sequencers - PoliticallyErr1 - airuyi - dvam88 - benishii_ - Barbara802 - RebelSioux - claracampostor1 - DocPakistan - StevenMStrohl - XSiveVerbosity - TokuKoyomi - LovattWinifred - DAlmoly - GMA4Trump_ - Diplomacy_Works - MeAndOurWorld1 - PDieskes - chemasko


This Tag appearing in: Canada: ( Winnipeg - Quebec - Montreal - Toronto - Calgary - Canada - ).
Poland: ( Gdańsk - Kraków - Lodz - Poznań - Warsaw - Wroclaw - Poland - ).
Latvia: ( Riga - Latvia - ).
Sweden: ( Gothenburg - Stockholm - Sweden - ).
Australia: ( Perth - Adelaide - Brisbane - Canberra - Darwin - Melbourne - Sydney - Australia - ).
Thailand: ( Bangkok - Thailand - ).
Nigeria: ( Benin City - Ibadan - Kaduna - Kano - Lagos - Port Harcourt - Nigeria - ).
United Arab Emirates: ( Sharjah - Abu Dhabi - Dubai - United Arab Emirates - ).
Israel: ( Haifa - Tel Aviv - Jerusalem - Israel - ).
Russia: ( Chelyabinsk - Khabarovsk - Krasnodar - Krasnoyarsk - Samara - Voronezh - Yekaterinburg - Irkutsk - Kazan - Moscow - Nizhny Novgorod - Novosibirsk - Omsk - Perm - Rostov-on-Don - Saint Petersburg - Ufa - Vladivostok - Volgograd - Russia - ).
New Zealand: ( Auckland - New Zealand - ).
United States: ( Austin - Chicago - Pittsburgh - Portland - San Diego - ).
Popular tweets tagged with NATO: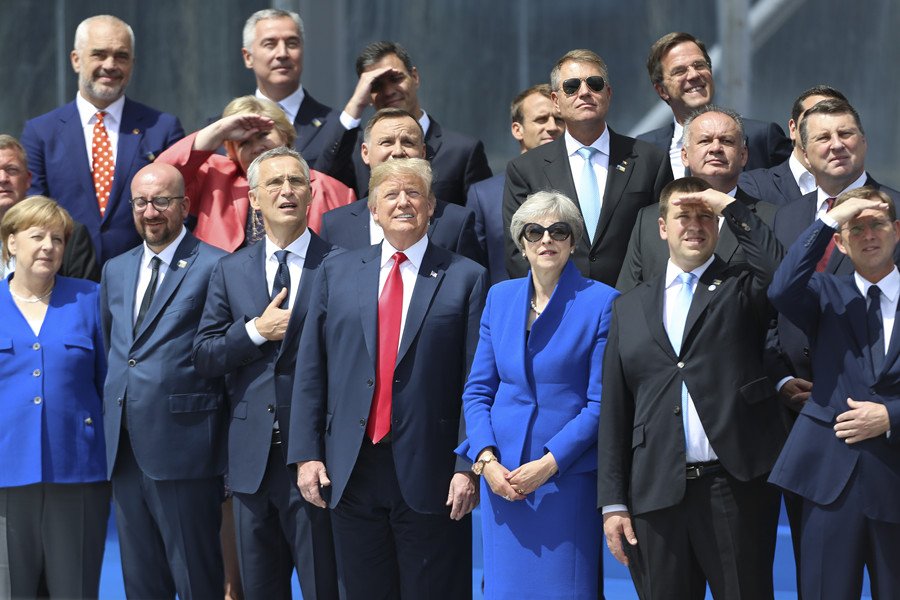 benishii @benishii_
🔁
Opinion: Widening cracks of transatlantic alliance at #NATO summit
xhne.ws
---
loading...
Ted Lieu @tedlieu
🔁
Dear : You asked for an increase in US defense spending. Remember? If you think the US spends too much on defense, th
twitter.com
en you should ask for a reduction in defense spending.
Also, can you please get a briefing on how NATO works? It's an alliance, not a common defense fund.
---
Donald J. Trump @realDonaldTrump
🔁
As I head out to a very important NATO meeting, I see that FBI Lover/Agent Lisa Page is dodging a Subpoena & is refus
twitter.com
ing to show up and testify. What can she possibly say about her statements and lies. So much corruption on the other side. Where is the Attorney General?
---
Donald J. Trump @realDonaldTrump
🔁
Great success today at NATO! Billions of additional dollars paid by members since my election. Great spirit!
---
Erika Grey @erikagrey
🔁
Tune into this week's live broadcast at 1:00 EST NATO and Bible Prophecy
youtu.be
via @YouTube
---
Vivek V @disruptor_v
🔁
BJP' aviation minister Jayant Sinha garlanded cow mob lynchers. He was partner at Omdiyaar network which is alleged to have funded fascists/Neo-nazis in ukraine to help bring about a NATO favorable puppet govt. Sinha was also named in Paradise papers.
---
Drew Dellinger @drewdellinger
🔁
A president innocent in this matter would've gone to the NATO summit with a renewed focus on shared protection against a Russia interfering in elections.
---
The Editor @TheDailyDigest
🔁
New article (US proxies in Syria failed, direct NATO action will end in shame – Iran's top adviser) has been publishe
twitter.com
d on The Daily Digest -
---
#RedWaveRising @Hoya97
🔁
Trump Pulled Classic Reagan Move on Germany During NATO Talks.
Did you remember Reagan blew up the deal Thatcher desperately wanted in 1982 between Soviets & Europe?
Merkel asks for protection against Russia while paying Russia BILLIONS for gas & energy.
---
Deplorable Joe C @AngryVoter2016
🔁
This is so frustrating. The media continues to harp and pound on mean words and ruffled feathers instead of results. It is dishonest. NATO is a much better organization today than it was on Monday.
---
Mr. Heavyfoot @BiglyPissed
🔁
@kbcrhn @TheRickWilson As would our NATO allies.
---
Kate Is Rising @Kate_Is_Rising
🔁
Ex-U.S. Amb. to NATO Nicholas Burns: "You saw the real Donald Trump this morning ... when he said, 'you're changing the culture through immigration.' That's code word for white supremacists. That's code word for keeping people of color and other diverse backgrounds out."
---
Autarkh @Autarkh
🔁
To be clear: this week, Trump was aware of a British woman murdered with a Russian nerve agent & 12 pending indictments of Russian intelligence agents who attacked American democracy when he lashed out at NATO allies & the UK government while simultaneously praising the Kremlin.
---
Donna Renney #FBPE @DTRenney
🔁
NATO = The North Atlantic Treaty Organization - Which is Why Canada is a member!!!
ASIA is not the North Atlantic - it's The South Pacific - China seas - etc - its also NOT the Middle East
---
Stephen Miller @BoyCharioteer
🔁
"We need NATO to protect us from Russian attack"
"But Russia has never attacked us"
"That proves NATO is working"
Anyone spot the logical fallacy?
---
TWEEDY @TWEEDY79722230
🔁
France's President Emmanuel Macron just stated that trump lied about NATO allies upping their percentages..
Your U.S. President Donald trump is a fucking liar..
---
Maritza Solito @maritzasolito
🔁
BREAKING: The Pentagon is in damage control mode, doing clean-up with NATO allies, after Trump left a mess, in Brussels.
via
---
Barbecue Chicken @diaperdan72
🔁
Trump won't rule out ceasing military exercises if Putin asks
cnn.com
---
M.R. @roemike99
🔁
@ValMackinnon @ChapmanHapman @WBrettWilson @NATO @gmbutts @JustinTrudeau Lol. Hillary lost a rigged election.
---
DW..#I_STAND🇺🇸🇨🇦 @aquawilki
🔁
Not surprised.......
John Kerry Loses His Marbles After Trump Lays the Ultimate Smackdown on Merkel at NATO.
---
Tracey Altiero @altierotracey
🔁
@piersmorgan I hope he didn't ask her about NATO 2 percent
---
Space For Dogs @TheRealTeagle
🔁
Want NATO to be less of a burden on US taxpayers? Cut the military budget in half. Easy.
---
elena karataraki @elenanunzio
🔁
As leaders are leaving the NATO summit, chancellor Merkel is reminding President Trump that the only time NATO's collective defense Article 5 has ever been invoked was after 9/11 - at the request of the United States.
---
Latvian Power🇱🇻 @Latvian_Power
🔁
Courtesy of the military industrial complex this summit was again focused on the inexistent Russian threat.
President said that Europe and Russia should create a joint defence system, the proposal was rejected because it's essential that remains the boogeyman
---
Barbara @BarbarellaLV
🔁
. is taking America to an evil place with military plans for 2 mass detention camps in California that could hold 94,000 people. See my new column plus more on , motherhood, NATO.
---
Patsy Lee @PatsyLe93798095
🔁
Great success today at NATO! Billions of additional dollars paid by members since my election. Great spirit!
---
💂‍♀️ @amrieyyyy
🔁
Frankly trump is afraid of nato and russia.
---
Dakota Dan @fallriver47
🔁
well the Donald embarrassed our country once again. acting out the bully rich boy with NATO and Britain. I would h
twitter.com
ave told him to go home we don't need you. and Germany should tell him your military bases in our country will now pay taxes. its becoming reckless.
---
Jerry Frost @jrjf1001
🔁
EU officials are treating the public with contempt by blaming back trouble for Juncker's erratic behaviour. It's plain to see he was blind drunk at the NATO summit:
---
Paul Fear @worktop64
🔁
Either Mr Juncker is quite unwell or he's pissed. Either way what is he doing at a NATO summit? The EU is not s member of NATO so why don't its member states just tell the EU to FO?
---
Jeff McKown @waythingsturn
🔁
So Trump knew about this while he was saying meeting with Putin -- proven to be actively interfering with out election -- would be the "easiest" meeting compared to shaking down NATO for some more money.
---
MissHellTX🌊 @MissHellTX
🔁
TRUMP LEANS INTO TREASON. Threatens to pull out of NATO unless they increase spending by Jan 2019 or USA will "go it alone." On Putin "He's not my enemy … maybe we'll be friends."
---
American Integrity @PatrickJLavin
🔁
Schumer And Pelosi — Trump Cares For Putin Over NATO Allies
Why shouldn't Pres. Trump have called out NATO on making the United States cover expenses while they soak up the benefits.
---
Lenese Diapoulis @lenesemd
🔁
Turkey is a ally & is holding innocent American Brunson in prison. Sign the 's petition to demand his release.
---
Ryan Gerald @Gerald12_ryan
🔁
Obama mentioned time after time for American million and billionaires to pay their fair share.
According to the med twitter.com ia, that was acceptable. Somehow, Trump is a jerk for asking our allies to pay their fair share into NATO. Obama asked NATO behind closed doors. How did that work?
---
KASHMAN24 @kashman24
🔁
This, from a well-respected veteran U.S. diplomat says Trump's NATO critique is valid.
nationalinterest.org
---
Rebecca Campos @RebeccaAnCampos
🔁
NATO leaders think Trump is nuts, and certainly not the "stable genius" he claims. To deal with him is to understand they are correct. Most incompetent man to ever become POTUS. Meanwhile, House GOPers are willing to act like nuts to support him.
---
benishii @benishii_
🔁
It's been a stormy Summit start, as lashes out at European allies, accuses Germany of being under the sway of Russian interests
---
Roger Knisely @RogerKnisely
🔁
Weakening NATO, picking fights with allies, refusing to prefer democracies to dictatorships--these aren't idiosyncratic bugs of Trump's foreign policy. These are features of an America First foreign policy, which Trump is increasingly if somewhat chaotically pursuing.
---
Troy L Combs @troycombs6
🔁
Liberal logic decipher:
Gun control - Good
Abortion control - Bad
More taxes - Good
You keeping more of your $ - Bad
Cops - Bad
Criminals - Good
Russia - Bad
Germany enriching Russia - Good
NATO - Good
NATO members paying up - Bad
Illegal - Good
Legal - Bad
---
loading...
VetDemocratAbroad @AbroadVet
🔁
'Very stable'
politico.com
---
Kathleen Smith @KikkiPlanet
🔁
WATCH Hillary at Oct 19, 2016 debate warning Trump will try to break up NATO because it's on "Putin's wish list." She also predicts Putin was hacking 2016 election to help Trump win which was just confirmed by GOP led Senate Intel Committee. Like today Trump denies Russia did it:
---
Jill Moffitt 💎 @MoffittJill
🔁
The American military is fully mobilizing to meet with leadership ... doing damage control from the shitting all over our historic alliance.
Doubt that will be covering that.
---
Dennis M. Gordon @DennGordon
🔁
Yesterday, I was flamed on Twitter for reporting that it was intention at the summit to strengthen the alliance, not weaken it.
---
Daniel Cole @dcole0007
🔁
If NATO collapses the eu will fund its own army;strongly resisted and vetoed by the uk. We'd probably start buying fr
twitter.com
om China. USA would lose a lot of trade and I'm sure the more sensible would stop him
---
German Embassy Doha @GermanyinQatar
🔁
FM : We are amongst the guarantors of the free world. We are staying committed to assume responsibility within .
twitter.com
---
Freda Olson @straehs
🔁
President Trump claims progress at NATO, specifics scant
kmvt.com
---
Jackie Self @JackieSelf78
🔁
"American tax dollars allow Left-wing European governments to continue their lavish welfare wonderlands while under-funding their militaries."
Does Trump Want To 'Fire' NATO? The President Sees America is Getting Fleeced
---
Donna Davidson @Path_ology
🔁
Trump arrived 30 minutes late to today's NATO summit, missed his scheduled meetings with at least two world leaders, prompted the secretary general to call an emergency session, held an impromptu 35-minute news conference, and is now leaving for the airport go fly to London.
---
George Court @courty1793
🔁
In a parallel universe after a successful NATO summit David Cameron thanked Hillary Clinton for being a reliable ally
twitter.com
, stressing the UK would always value both our American & European alliances. She wished him well and looked forward to working with his successor Theresa May
---
Betty McFarland @BettyMc61352112
🔁
I do alot of live video on FB and Youtube. I'm expanding to an audio version of my podcasts for Twitter. Please listen and let me know your opinion on the topics.. SCOTUS, NATO, Vets, Trumps pardon.. and more Listen to Live 4 Liberty with Malena Chastain
---
Henry Clay1812 @Choctaw1812
🔁
Many liberals are saying Trump's talks on NATO made our country look bad.
I say, I'm glad to see a president who is standing up for America.
Who Agrees?
---
craigalan @wcam54
🔁
.'s shadow is reflected on the wall as he makes a statement and answers questions as he departs the NATO Summit in Brussels, Belgium. Also reflected is Secretary of State Mike Pompeo and National Security Adviser John Bolton.
---
Nancy Z. Adams @socalnaza
🔁
Our Baltic allies are under constant threat from Russia, and NATO's military exercises are a vital deterrent. Little would undermine NATO more than the idea that security of NATO members is subject to negotiation with Putin.
But perhaps that's precisely the President's intent.
---
RevRay @RwsMo
🔁
Trump goes to Russia lying his way through trip, massive protests by Brits and bitter attacks on NATO allies. Putin
twitter.com
will welcome him with open arms and say "Job well done Donald." Republicans at home cover up, attack FBI, remain silent. Only hope is Mueller & Nov. elections.
---
Will Wilkinson 🌐 @willwilkinson
🔁
"We're literally watching [NATO] unravel right in front of our eyes," Mike Mullen, former chairman of the Joint Chiefs of Staff, tells , and the meeting with President Putin is feeding into that.
---
julia duplock @Jools_D0510
🔁
Barely a single thing Mr Trump said at yesterday's NATO press conference was factually correct. Even his "off piste" irrelevant ramble about winning Wisconsin, where Reagan had failed. Wrong. Reagan won Wisconsin twice. He lost Minnesota. So did Trump. Nixon last Repub to win it.
---
ScrapDoctor @jpjack_brennan
🔁
United States of America now sells:
oil & gas !you don't have to go with Germany &D Russian pipeline: Germany is goi
twitter.com
ng to give billions of dollars to Russia: can sell it for more money to you guys?
NATO is finished???
better stay with America!
---
meg wyckoff @megwyckoff
🔁
Trump: 'Yesterday I let them know that I was extremely unhappy at what was happening and they have substantially upped their commitment'
TRUTH: Nothing has changed since Trump arrived in Brussels.
---
Will I Am Schive @sequencers
🔁
Remember before Trump left for NATO, ENGLAND & PUTIN..
But AFTER being briefed by Rod Rosenstein
Trump still said Putin would be the easiest
Just think about that. The US *president knows Putin is directly responsible and he still says it will be easier to meet him.
---
Fergus Meiklejohn @airuyi
🔁
The Trump two step:
Nato Day 1: Bluster
Nato Day 2: Retreat and cover up
UK Visit Day 1: Bluster
UK Visit Day 2: Retreat and cover up
---
🇺🇸#LockThemUP 🇺🇸 @RebelSioux
🔁
BREAKING: Robert Mueller has indicted and additional 12 Russian intelligence officers related to 2016 Election Interference.
The announcement was made as Trump is overseas meeting with NATO, Vladimir Putin, and others.
---
Clara Campos @claracampostor1
🔁
The mass demonstration on Saturday and the No-to-NATO counter summit on Sunday rejected US calls for all 29 NATO member states to increase military expenditures to 2% of GDP.
---
DoC @DocPakistan
🔁
BREAKING: used depleted uranium munition during 2011 Libyan airstrikes - report
sptnkne.ws
---
Rob Brown @XSiveVerbosity
🔁
Apparently resisting Trump now requires supporting NATO, an alliance that promotes destabilization and military aggression while keeping the Cold War alive. And if you don't support NATO you're a Trump-loving Kremlin agent. God I hate 2018.
---
Jared @TokuKoyomi
🔁
SAKURA AND NATO FIGHTINGGGG
---
Winifred Lovatt @LovattWinifred
🔁
BRITAIN THANKS YOU
You told Khan what he is
You told Merkel what she is
You told NATO what they are
You told May what she is
You to us what Brexit now is
You told us what the EU is
You told Boris what he is to you
Despite MSM spin,
WE HEAR YOU POTUS
THANK-YOU
---
DanielA @DAlmoly
🔁
What comes first ,chicken or egg ?
NATO alliance formed during the cold war
Had there been no NATO,it is very possib
twitter.com
le and likely Russia would have extended their influence to the West
NATO is protecting from the Russian "attack" , and there have been no attacks because of NATO
---
Diplomacy Works @Diplomacy_Works
🔁
Key anecdote from Brussels:
The Danish military has suffered casualties in Afghanistan in roughly the same proportion
twitter.com
as the US. Danish PM Rasmussen told POTUS that he had attended the funerals & could not accept Trump telling him that Denmark was not doing enough for .
---
Chemasko @chemasko
🔁
Donald Trump said he was a great success at NATO
Was he?
---
---