Moore: 584.634k tweets talking about this in the last 24 hours

People talking about Moore: - BenjySarlin - chrislhayes - eugenegu - fabianatalialov - jedoeller - GManderville - rap5657 - Lasvegashub - GAPeaches2017 - AmyChristineC[...]

- deesbarbara - OhioDistrict12 - MarkL137 - lubnabaransy - george98414198 - KazadiEmmanuel - sherbenstine - 9633tm - primoman610 - ramburner1 - karmicstorm - anamomoftwo - RikiTikiTorrre - mathewp661 - cheathamguy61 - Floridaartist1 - tomschenkjr - DannyKramer7 - susan19514 - LilyBelle05 - Alfie231123 - worldnews_net - beinformedone - unclehim369 - realjwat - jamescando - jRocks_On - crodpolitics - TheChosen1Jr - gary9758 - laxietoo - Burkssimon - SetimaTava - JaneGrader - OletaG999 - dianesummers6 - laquialene69 - CeciliaCmaida - ATSD - ChaisMalec - FrankTheDoorman - givemepie360 - marciadillon32 - DianaGoncalves6 - YanksFan70 - Andrea51544005 - obpair - BeckyThiess - MarilynWechsler - jimbull - pennyvk - Janice01872236 - wsshru1 - chubbyslowkid - MikeCarolla - BeVegan4ever - 4030lisa - LisaChipman - MeeraRao17 - MudBound - XDaneelOlivaw - universe2519 - Shockjockey48 - Cup_of_Joe2 - RitaDentino - TheRealNodge - Merbie_Merbsz - ucla_007 - rtutching - AngryCDNMom - JustaPinion - charbone1 - DanielKusa - jotomanelli - YoginiWriter - michellebhasin - Davis_Boom - KayByrdzofgrace - john_brumjo - SZG220 - DebraTremain - jmewayne - Kevin_Stride - jercars1964 - ptiff68 - pointsweekly - Shaddilay - Orangeblood2012 - ReneeArnett - 38_milo


This Tag appearing in: United States: ( San Francisco - ).
Popular tweets tagged with Moore: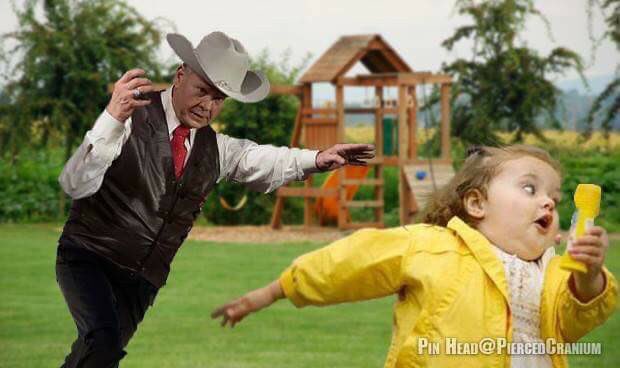 george wetterer @george98414198
🔁
I'm Roy Moore and I'm running on my family values.
---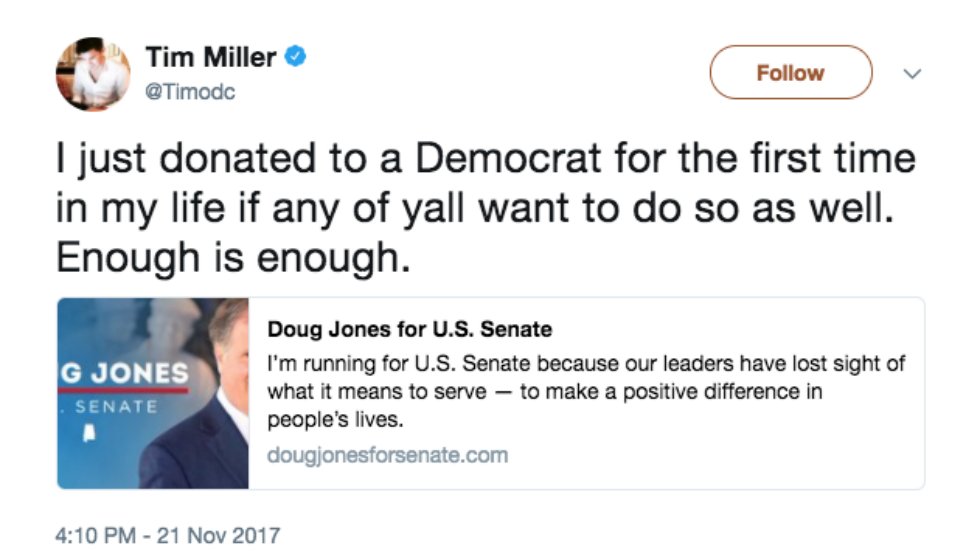 James Canchela @jamescando
🔁
GOP operative: I'm donating to a Dem for first time to fight against Roy Moore
hill.cm
---
Chris Hayes @chrislhayes
🔁
So Doug Jones, a lifelong prosecutor who convicted the monsters that murdered four little girls is "soft on crime," b
twitter.com
ut Roy Moore, the district attorney alleged to have molested a child and sexually assaulted a 16yo is not.
Got it.
---
Eugene Gu, MD @eugenegu
🔁
If Marshawn Lynch should be suspended for sitting, perhaps the Attorney General should be jailed for lying, Roy Moore
twitter.com
for child molesting, and the President of the United States for sexual assault, collusion, and treason.
---
Fabia Natalia @fabianatalialov
🔁
Judge Roy Moore Jumps to 33 POINT LEAD in PredictIt Market Following Trump Nod and statement today./
twitter.com
GP
---
Jeannette Doeller @jedoeller
🔁
A reminder: trump has attacked or insulted nearly everyone and every institution you could think of, except for Vladimir Putin, Rodrigo Duterte, two highly dangerous, murderous Dictators and Roy Moore, a pedophile. 🤔
---
Graham Manderville @GManderville
🔁
Trump insisted the Central Park Five were guilty after they were exonerated by DNA evidence and a confession.
But Roy Moore "totally denies it" is good enough for the next U.S. Senator apparently.
---
Richard Paz @rap5657
🔁
Roy Moore speaking at a revival in Alabama: "They started to create new rights in 1965, and today we've got a problem." Civil rights? He's a racist too.
---
Leroy Hood @Lasvegashub
🔁
Rick Santorum said tonight that Roy Moore should step aside. Santorum said that the second accuser's story sounds cre
twitter.com
dible and that he should care about the country and clear the air! Does Rick have something to hide or what?
---
deedee @GAPeaches2017
🔁
Conservatives have nothing to fear from highly-overrated Mitch McConnell who couldn't even pass the 'skinny' Obamacare repeal, Roy Moore will prevail!
---
Amy C @AmyChristineC
🔁
There is no surprise that the most disgusting, inhumane, individual ever sit in the Oval Office publicly defended and by default, endorsed accused child molester .
was accused of raping a 13-year-old and sexually abusing 16 other women.
---
barbaradees @deesbarbara
🔁
that Moore is a sick bastard, if the republicans don't kick that piece of garbage to the curve , they own his filth as well.
---
Ohio District 12 @OhioDistrict12
🔁
"It's hard to think of two easier stands to take in American politics than condemning Nazis and denouncing child sex-abuse, and yet Trump has flinched twice."
---
Mark L. Clark @MarkL137
🔁
As a U.S. Attorney, Doug Jones locked up Klansmen who murdered four little girls at a church.
As a district attorney, Roy Moore preyed on teenage girls at the mall, at their high schools, and outside family court.
---
emmanuel kazadi @KazadiEmmanuel
🔁
In Three Years, Restaurant Employee Never Saw Roy Moore Accuser Work There! via
SHE NEV waynedupree.com ER WORKED THERE Trailer Park Trash Like This Accuser Will Do Anything For $1000 And Gloria Allred
---
Sherby Sherbenstine @sherbenstine
🔁
@prietoj @CNN Defending Roy Moore's actions by pointing out that someone else is guilty of sexual assault. You, sir, are a douche.
---
TM @9633tm
🔁
Revised prediction: The yearbook signature irregularity provided a "fake because" that will get Roy Moore elected. If the signature doesn't fit, the voters will acquit.
---
primoman @primoman610
🔁
One chromosome short of an adult, male human.
Alabama Police Chief Suspended After 'Joking' About Roy Moore Sexual A twitter.com ssault Allegations
---
shelacharles @ramburner1
🔁
BREAKING: New Evidence Emerges! Moore Campaign 'Completely BUSTS' Accusations
truthfeednews.com
via @truthfeednews
---
KarmicStorm @karmicstorm
🔁
Donald Trump has been accused by 16 different women (so far) of sexual assault. Today, Trump endorsed a child molester.
To any politician chasing more political power instead of standing up for those hurt, know this. We are coming for you.

---
Ana @anamomoftwo
🔁
Trump discounts allegations against Republican Roy Moore and says, 'We don't need a liberal person in there.' -@AP
---
RikkiTikkiTavi @RikiTikiTorrre
🔁
Did anyone hear if that slime ball called out any of the 6 democrat sex offenders or was it just Moore (which is loo
twitter.com
king more & more like a set-up every day)
---
Mark Dryden @cheathamguy61
🔁
Don't believe Roy Moore's accusers? Then listen to Moore describe first noticing his wife when she was roughly 15....
---
Deplorable 4 Trump! @Floridaartist1
🔁
From the negative sentiment Fox has shown and continues to show in regards to Roy Moore, I'd be willing to wager a bet that Fox was paid by someone to push the smear campaign. Almost done with them. There are WAY too many gay cockboy reporters on Fox.
---
Tom Schenk Jr. @tomschenkjr
🔁
The GOP tax bill's bringing out my inner socialist. The sex scandals are bringing out my inner feminist. Donald Trump and Roy Moore are bringing out my inner liberal.
WHAT IS HAPPENING?
---
Danny Kramer @DannyKramer7
🔁
Today, the president effectively endorsed a man credibly accused of picking up a 14 yo girl outside a custody hearing and molesting her.
---
✨Susan✨ @susan19514
🔁
So Moore and Putin are apparently the only people who this ignorant "president" believes, and of course all his dumb
twitter.com
supporters fall in line. 🙄
---
Amy Mullen @LilyBelle05
🔁
Purity that he stole. Purity he exploited, leaving someone like 14-yr-old Leigh Corfman broken, doubtful & damaged
---
Alfie23 @Alfie231123
🔁
You're forgetting that Moore wanted a 3rd party to examine the yearbook which is the proof. They won't allow that. W
twitter.com
hy? If it wasn't a forgery why not solve this once and for all? What are they hiding?
---
be informed @beinformedone
🔁
Ivanka Trump said there is a special place in hell for people like Roy Moore
Donald Trump just told the people of Alabama to vote for him
---
mike @unclehim369
🔁
.@realDonaldTrump - Roy Moore Accuser's Story Destroyed!, 1898
By Bill Still
youtu.be
---
Julie Reiner @jRocks_On
🔁
In the mind of , it was never a question of what Roy Moore had DONE. It was only a question of whether he thought Moore could WIN. Now we know the answer.
---
Chris Rod @crodpolitics
🔁
Trump was willing to accuse Ted Cruz's dad of killing JFK based off a National Enquirer article, but claims Roy Moore is innocent after 9 women came forward because he 'totally denies it.'
---
Gary Thompson @gary9758
🔁
Ex-Alabama Cop: Roy Moore Harassment Claim Based on 'Rumors,' Says Gadsden PD Never Got a Formal Complaint - Breitbart via
---
Wendy 🇺🇸 @laxietoo
🔁
That's a funny way of saying, "Roy Moore stalked barely pubescent girls that he later molested for their purity."
Roy Moore dated "younger ladies" for their "purity," his pastor friend says

---
Simon Burks @Burkssimon
🔁
Trump showed his true colors by implicitly endorsing Roy Moore for the Alabama Senate seat: "We don't need a liberal person in there, a Democrat. I'd much prefer a child molester who lusts after 14-year-old girls."
👉[NOTE: 2nd half of this quote is satire]
---
Tava setima @SetimaTava
🔁
EVERY SINGLE DETAIL of Gloria Allred's Attack on Roy Moore Has Been Debunked
👉ARREST HER NOW!!
thegatewaypundit.com

---
Jane Weiser @JaneGrader
🔁
Faye Gary, retired Gadsen Alabama police officer, on Roy Moore: We were also told to watch him at the ball games. And make sure that he didn't hang around where the cheerleaders would be.
---
loading...
Oleta 4 Trump @OletaG999
🔁
There was absolutely nothing wrong with response to Roy Moore today. Nothing. The hysteria really has to stop. It's getting old. Take a valium and clean up your own house mediates.
---
Democratforlife @dianesummers6
🔁
. to MSNBC on Trump, Roy Moore: "What he has done is put a scarlet 'P' for pedophile on the forehead of every Republican in this country that does not strongly repudiate this."
---
Laquita Christian @laquialene69
🔁
So who is ready for a world in which Democrats force Al Franken out of the Senate while Republicans vote Roy Moore in?
---
Cecilia Maida @CeciliaCmaida
🔁
Let's enact a new rule that bans voting past age 60. I have come to the conclusion, based on Brexit votes, Trump votes and Roy Moore votes, old people are the drivers here. Maybe this will change once the current older generation dies off, but until then let's cut them off.
---
∞ ➰Elisheva➰ ∞ @ChaisMalec
🔁
So Doug Jones, a lifelong prosecutor who convicted the monsters that murdered four little girls is "soft on crime," but Roy Moore, the district attorney alleged to have molested a child and sexually assaulted a 16yo is not.
Got it.
---
Paul Solomon @FrankTheDoorman
🔁
Trump endorses Roy Moore. Trump has more compassion for elephants than he does for women who were sexually assaulted when they were children.
---
Louis @YanksFan70
🔁
Meanwhile, in case anyone missed it, Roy Moore not only was banned from the mall, he had to be trailed by cops at local sporting events to prevent him assaulting underage cheerleaders. Please Alabama, don't send this criminal to DC.
---
Andrea @Andrea51544005
🔁
Feel truly bad right now for the women who had the courage to speak up about their experiences with Moore. Impossible to imagine what it's like to have a president say he thinks you're lying about that type of experience.
---
john O'scallen @obpair
🔁
@jpodhoretz All references to civil war in Moore's speeches to be nararated by Morgan Freeman period
---
Marilyn @MarilynWechsler
🔁
Alabama pastor: Roy Moore's accusers are getting paid 'healthy sum,' and 'some 14 year olds...could pass for 20'
---
James Bullington @jimbull
🔁
in all fairness to Trump's defense of Roy Moore, it's not like he was banned from that mall for something TRULY unforgivable like shoplifting
---
Penny Van Kampen @pennyvk
🔁
says Roy Moore denies it, he totally denies it! So that makes it untrue?? Another page from . "We don't need a liberal in that seat." Let's get a child molester instead.
---
Janice @Janice01872236
🔁
SO BUSTED! Court Documents Raise Significant Questions About Leigh Corfman's Accusations Against Roy Moore - Breitbart via
---
Butch Mailhot @chubbyslowkid
🔁
Sorry Mitch McConnell, but watching your #1 Moore Accuser's story completely fall apart, bro, you just aren't good at this.
---
caspersmommy @LisaChipman
🔁
Trump's standard for male guilt apparently is: "he says he didn't do it, so I believe him." Applies equally to Roy Moore and Vlad Putin.
---
Meera Rao @MeeraRao17
🔁
So now the President is not only involved (accused) by 13 women of sexually assaulting them, he is now involved in dismissing 9 accusers of Roy Moore. What will Republican Party which has denounced Moore do? Make no mistake, GOP will be haunted by this! Is tax bill worth a child!
---
La Triste🗽 @MudBound
🔁
Alabama ex-cop says she was tasked with keeping Roy Moore away from cheerleaders at high school games | Raw Story via rawstory
---
Bobiisgood @Shockjockey48
🔁
9 women say he did it;Trump says:"You have to listen to him(Moore)and he totally denies it".Our CIA,NSA,FBI say Russia interfered but Trump says Putin "says he didn't do it and I believe he means it."Charlottesville Neo- Nazi's & KKK:"There are good people on both sides." Sad!!
---
Rita Dentino @RitaDentino
🔁
Baptists church complains about being branded 'pedophile congregation' after controversial pastor defended Roy Moore
---
Queen B✨ @Merbie_Merbsz
🔁
donald trump
Didn't Have the 🏀🏈To Take A STAND ON PEDOPHILE ROY MOORE‼️I Can See How it Could be hard for him,seeing as How he Sexually ASSAULTED MANY WOMEN, & WALKED IN ON TEENS & YOUNG WOMEN IN DIFFERENT STAGES OF UNDRESS,ON PURPOSE‼️
---
Billy Depp @ucla_007
🔁
When he was 32, Roy Moore picked up an 8th grader outside a custody hearing and molested her. And the White House supports him becoming a Senator.
---
rich tutching @rtutching
🔁
70 Alabama clergy speak out:
"No person of faith can, in good conscience, support" Roy Moore
---
Watchdog @JustaPinion
🔁
And so you have it. A Democrat journalist admits being hard on Moore and light on Franken because...He's a Democrat a
twitter.com
nd so is she. Wow! » So-Called Feminist Says Al Franken Should Not Resign
---
Sharon Charboneau @charbone1
🔁
Alabama ex-cop says she was tasked with keeping Roy Moore away from cheerleaders at high school games
rawstory.com
---
Patricia B. Writer @YoginiWriter
🔁
MSNBC guest mocks Trump's Moore support: 'He had no problem with Nazis, so he has no…
rawstory.com
---
Michelle Bhasin @michellebhasin
🔁
@MattMurph24 Roy Moore did the same thing in Alabama.
---
John @john_brumjo
🔁
Doug Jones at forum in Huntsville----> "Look, I'm applying for a job. Roy Moore isn't applying for a job. He can't seem to hold one."
---
Debra tremain @DebraTremain
🔁
Watching this again it's hard to say EXACTLY what Moore's attorney is saying but it's definitely racist
---
American Redneck @jercars1964
🔁
Let's get the word out to hep BREAKING NEWS ABOUT LYING DEMS: Roy Moore's Lying Accuser Admits He Didn't Ever Touch Her:
---
P.T @ptiff68
🔁
The leader of the Republican Party, Donald Trump, just endorsed Roy Moore by telling people not to vote for Jones. This is where Republicans truly stand on the issue of a child molester running for office. They strongly support it. Congrats, GOP.
---
Marlon Dwight @pointsweekly
🔁
Moore also believes Muslims shouldn't be allowed to serve in Congress. He should've been disqualified long before the first woman came forth
---
Truthseeker @Shaddilay
🔁
Here's another truthbomb: Trump & Bannon always wanted Moore. They're the most effective double act in American political history.
---
* VIEWPOINT @38_milo
🔁
Court Documents Raise Significant Questions About Leigh Corfman's Accusations Against Roy Moore - Breitbart via
---
---