MS-13: 378.528k tweets talking about this in the last 24 hours

People talking about MS-13: - realDonaldTrump - chrislhayes - dbongino - shiplyka - mwiley4975 - soniarivera858 - LovelyRita1022 - iamprojectman - rickwross - BatCave780[...]

- Niner970 - EyePatchGuy - bvs12356 - BlueAJ41 - fedagentmark - WootpoolTheMad - LowellSavoy - proudmom2five - HEV_patriot - kttrombone - stvcurrey - shiplyka - Karen10668 - joey_tweedy - JasonSc92193543 - Proud_InfideI - JoeGreaves504 - AshleyEdam - wornduglsgraves - vettesandplanes - 9erfan80 - NAVHDAScott - banderson235 - LonepineRjr - SpotTheSpook - 491_678 - JeffreyaMeier - BurghBoy412 - garydailydrift - dyates0914 - Creativeways4 - judy3birds - NicolePalamara1 - aseeger3 - ETVT - mikeinknoxville - JuliaYo3466 - RRS67 - ddsquared - patnjak - chiefek2 - DRoofwood - AustinMBurger1 - joey_tweedy - grainofsand2020 - Amanbadwal7 - TurkshVan - TedderButch - madmaness - Disc_Coastie - inappropriaunt - philippians437 - becasilverstein - islandwalker1 - CindiPuncerelli - RobChristie11 - LKMMerlin427 - aimywinkler - zeola_rose - AlafiaGran - Michael80602609 - kiki405 - RonVan944 - zacktheblackcat - 9449sarlo - Philly_Rocker - gailfraser12 - 4truth2017 - dvldog_ml - ggibson1957 - jeep_sifu - Douger691999 - MohawkCarpetNYC - akaSnuffy77 - SarcasticAssass - JANIGAYL - Ladyawake1 - JackieBerger16 - Magnoliainct - joey_tweedy - dybarb - bubbypham - kay_wiley - crzydogmom68 - Owlie17 - syjere17 - bails94 - katorin_jou - WeighedWillsun - robertwinthrop


This Tag appearing in: United States: ( Albuquerque - Atlanta - Austin - Baltimore - Baton Rouge - Birmingham - Boston - Charlotte - Chicago - Cincinnati - Cleveland - Colorado Springs - Columbus - Dallas-Ft. Worth - Denver - Detroit - El Paso - Fresno - Greensboro - Harrisburg - Honolulu - Houston - Indianapolis - Jackson - Jacksonville - Kansas City - Las Vegas - Long Beach - Los Angeles - Louisville - Memphis - Mesa - Miami - Milwaukee - Minneapolis - Nashville - New Haven - New Orleans - New York - Norfolk - Oklahoma City - Omaha - Orlando - Philadelphia - Phoenix - Pittsburgh - Portland - Providence - Raleigh - Richmond - Sacramento - St. Louis - Salt Lake City - San Antonio - San Diego - San Francisco - San Jose - Seattle - Tallahassee - Tampa - Tucson - Virginia Beach - Washington - United States - ).
Popular tweets tagged with MS-13: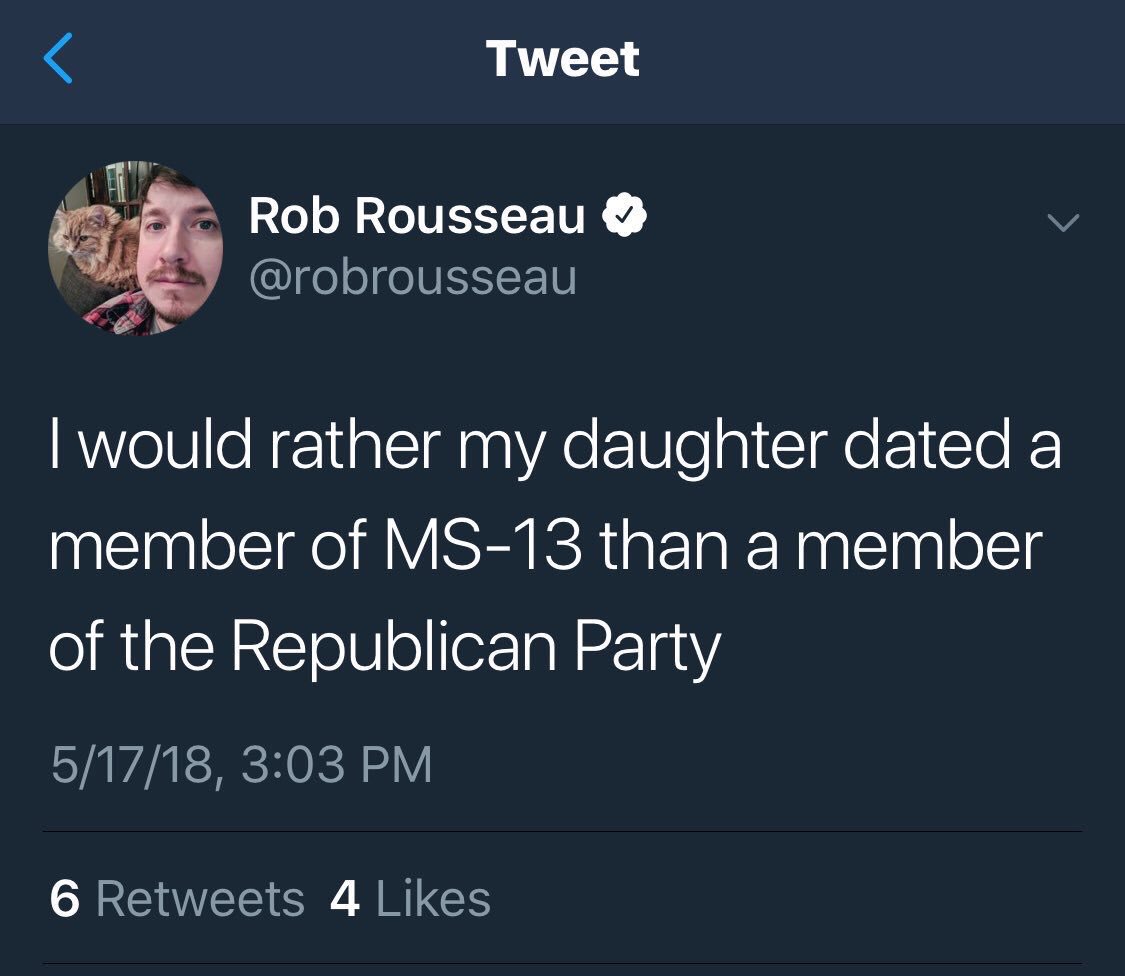 Rick Ross @rickwross
🔁
MS-13 literally traffics young women in giant rape gangs. They also dismember women.
---
NOLA @JoeGreaves504
🔁
The MSM supports MS-13.
---
Chris Hayes @chrislhayes
🔁
The president works very hard to make people think every Muslim is a member of ISIS and every Latino immigrant is a m
twitter.com
ember of MS-13.
Everyone knows what he's doing, while a lot of people want to pretend they don't.
GMAFB
---
Dan Bongino @dbongino
🔁
Democrat Dictionary:
1) Illegal Immigrants - Dreamers
2) Trump Supporters - Deplorables
3) MS-13 Killers - Human Bei twitter.com ngs
4) Human Beings in the Womb - Not Human Beings
5) Hamas Terrorists - Protestors
6) Law Abiding NRA Members - Terrorists
---
US PATRIOT @shiplyka
🔁
MS-13 are animals, so Trump called them animals.
America loves him for telling it like it is.
---
melissa wiley @mwiley4975
🔁
Answer Yes or No': Kamala Harris do you support MS-13 ???
California Democratic Sen. Kamala Harris slammed President Trump's characterization of MS-13 during his State of the Union Address. 
---
Sonia C Rivera @soniarivera858
🔁
‼️MS-13 crimes are so heinous, so gruesome, so barbaric, this article has to come with a "graphic content" warning‼️
Their motto? Rape, Control, Kill
Read the article carefully & you decide if they deserve to be called "animals" or not.
---
Rita Nelson @LovelyRita1022
🔁
Blaming all Hispanic immigrants for MS-13 is like blaming all blonde women for Tomi Lahren.
---
Audie @iamprojectman
🔁
If Dimitrios Pagourtzis was a member of the MS-13 gang we'd hear calls for a wall & how immigrants are animals, if he was a Muslim we'd here pleas for a Muslim ban but since he's a white male with an obsession for guns & Nazis, we'll hear about mental illness.
---
Marble @BatCave780
🔁
Thank goodness @realDonaldTrump didn't call murderous MS-13 gang members "super predators," right @HillaryClinton?
#Animals
---
Niner_70 @Niner970
🔁
.: "If the media and liberals want to defend MS-13 they're more than welcome to, frankly I don't think the term the president used was strong enough."
---
Brian @bvs12356
🔁
Retweet if you agree with . that any member of the murdering, raping, criminal gang MS-13 is an "animal."
---
The Agent of Chaos 🚁 @WootpoolTheMad
🔁
If you're actually upset that Trump called MS-13 "animals," here's a reminder on what they do:
• Child prostitution
• Machete attacks
• Recruiting of middle schoolers
• Gang rape
• Kidnapping
• Home invasions
• Brutal beatings
• Murder where body parts are torn apart
---
Lowell Mennenga @LowellSavoy
🔁
Anna Navarro, just another hypocrite... MS-13 GANG MEMBERS are WORSE than wild animals and they PREY on Latino ILLEGAL IMMIGRANTS. Stop the fake outrage with everything President Trump says.
---
Kim @proudmom2five
🔁
Todays questionable incidents:
- Santa Fe shooting
- Cuban plane crash
- Trump golf club incident
- Vehicle striking people in Bronx
To distract from:
- Chileans bishops resigning
- IG report on Hillary about to drop
- MSM lit up for defending MS-13
- Weiners Laptop
---
Ken Tromburg @kttrombone
🔁
MS-13, Hamas, Hezbollah, Pornstar, Pornstar Lawyer, Terrorists, ISIS, Liars, Corrupt Politicians...all get favorable treatment by the media.
Conservatives, Truth, Christianity, Family Values all demonized.
It is Time to Turn-off the media & spend time with your family!
---
Steven Currey @stvcurrey
🔁
Trump says that MS-13 gang members are animals. Do you agree?
Vote and retweet for authentic results
---
US PATRIOT @shiplyka
🔁
I once joked that the media would side with "Iran, Kim, terrorists, or MS-13" to avoid siding with Trump. Now they've done all four.
(The people who tried to attack the embassy opening in Jerusalem were terrorists and the media sided w them to hate Trump.)
---
Karen @Karen10668
🔁
When the left thought Trump didn't denounce white supremacy fast enough they were crying screaming Day after day even after he denounced them 100 times. We now need to hear from the Democrats about their MS-13 support.
---
Joey Tweedy @joey_tweedy
🔁
Nope. I saw full clip. For last time, Trump probably meant MS-13 and the media was wrong to not provide context, but it is not certain he meant MS-13, especially due to his history, and as POTUS he should have chosen his words far more carefully. He's being held to a low standard
---
The_Rubicon2018 @JasonSc92193543
🔁
Retweet if You Believe The Democratic Party Is NOT For America
🤪They Sided With Iran Over
🤪They Sided With Hamas Over Israel
🤪They Sided With Terrorists Over The First Woman To Lead CIA
🤪Now Sided With MS-13 Gang Members Over American People?
---
Proud Infidel @Proud_InfideI
🔁
. JUST STOP already with the Nazi comparison to YOU are a hypocrite! And yes, MS-13 gang are wild out of control animals! If they hurt someone close to you, "animals" is putting it lightly! SMH!
---
Deplorable Ashley @AshleyEdam
🔁
. on MS-13: "Even animals really don't behave in this way in terms of the depravity, just the malice, and the disgusting things that they prey on."
So true Worse than animals indeed.
---
Sleepin w/1 Eye Open @wornduglsgraves
🔁
Do you know what MS-13's motto is? "Kill, Rape, Control." Anyone who would adopt that as a model is NOT human.
---
Joe Orzo @vettesandplanes
🔁
Truth! Sad how some folks will defend killers and rapists just because they hate the President.
usatoday.com
---
Mark Murray @9erfan80
🔁
Democrat Dictionary:
1) Illegal Immigrants - Dreamers
2) Trump Supporters - Deplorables
3) MS-13 Killers - Human Beings
4) Human Beings in the Womb - Not Human Beings
5) Hamas Terrorists - Protestors
6) Law Abiding NRA Members - Terrorists
---
Scott Willoughby @NAVHDAScott
🔁
.: "So when says about undocumented immigrants, 'These aren't people, these are animals,' you have to wonder, does he not believe in the spark of divinity, the dignity and worth of every person?"
---
lonepine @LonepineRjr
🔁
Hasn't anyone figured out why he targets MS-13? I don't think it's because he cares that they are a gang threatening the safety of our neighborhoods. He clearly does not care about anyone like that. Maybe it's because they are a competitor taking business from the Russian mob?
---
Reality Check @SpotTheSpook
🔁
The Left:
AR-15 = BAD
MS-13 = GOOD
Hmmmmkay? Any Question? #TrumpDerangementSyndrome #MAGA
---
Buck Stone @491_678
🔁
.@RealDonaldTrump is right. MS-13 members are 'animals.'
usatoday.com
---
Hillary for Prison Jeff @JeffreyaMeier
🔁
Sarah "If the media and liberals want to defend MS-13, they're more than welcome to. Frankly, I don't think the term used was strong enough... It took an animal to stab a man 100 times and decapitate him and rip his heart out."
---
BurghBoy412 @BurghBoy412
🔁
Liberals defend the *humanity* of MS-13 members because we don't want to live in a world in which anyone, much less Donald Trump, gets to decide who counts as human.
---
GaryWellings @garydailydrift
🔁
Brace yourselves, the same people who spent the last week defending Hamas and MS-13 are about to start labeling millions of law-abiding Americans as "terrorists".
---
Dennis Yates @dyates0914
🔁
Just so we're clear, Democrats want Americans to ride their so called blue wave in support of, illegals, MS-13, HAMAS, Abortion, leaving our schools unprotected and a corrupt ex-president,2 Sec's of State, AG,, Nat. Security Advisor and CIA and FBI directors.
---
Judith Johnson/p.s...I made the soup! @judy3birds
🔁
I never thought that I'd see the day when MS-13, Hamas, Hezbollah, Pornstar, Pornstar Lawyer, Terrorists, ISIS, Liars, Corrupt Politicians..would get more favorable treatment by the media than the President of the United States. Welcome to the World of !
---
Npal13 @NicolePalamara1
🔁
Did you ever think the media would be defending Hamas and MS-13 in the same week?
---
Ann Seeger @aseeger3
🔁
Meanwhile morons like John Legend are playing mental gymnastics trying to get compassion for MS-13 members. No problems seem to occurring with his Twitter. Anyone who thinks Trump is evil but wants to make excuses for MS-13 can fuck off. What up Jack?
---
unmasked @ETVT
🔁
. on media taking out of context when he referred to MS-13 as 'animals': "They are blinded by hatred for our president."
---
loading...
Mikeinknoxville @mikeinknoxville
🔁
MSM Dem Freakout Over Trump's MS 13 'Animals' Comment Shows How Out of Touch They Are With Average Americans via
---
Julia @JuliaYo3466
🔁
17-year-old Dimitrios Pagourtzis who took the lives of at least 9 kids today at Santa Fe High School was NOT a Muslim. He was NOT an MS-13 gang member. He was a White American.
It's not time for us to take the 2nd Amendment away, but it IS time for common sense gun laws! NOW!
---
ddsquared @ddsquared
🔁
The most powerful gang of America as of right now?
MS-13❌
Crips❌
Bloods❌
NRA ✔
And they'll continue to be powerful as long as we keep delivering thoughts and prayers instead of taking action.
---
chiefek2 @chiefek2
🔁
Very disingenuous, do you think we are that stupjd we cannot discern between what he said about MS 13 and Immigrants?
twitter.com
That's why he was elected, you act like we are stupid, and we should believe what you say? No way, Chucky!
---
L D Woodroof @DRoofwood
🔁
MS-13 gang members ARE ANIMALS! If you feel otherwise, maybe you can take them in your home and show them some love.
---
Austin M. Burger @AustinMBurger1
🔁
America is too generous & will go down hill:
Trump Gains Unexpected Ally in MS-13 'Animals' Debate: 'They're Mullin
twitter.com
g, Killing, and Raping People"
"Anybody who is a violent criminal in my book can get called an animal."
---
Joey Tweedy @joey_tweedy
🔁
Nope. I saw the whole thing. He might have been referring to MS-13, maybe even probably was. But he did NOT say that or make it nearly as clear as he should have, and which any other POTUS would have.
---
#WeThePeople 🇺🇸 👍 @grainofsand2020
🔁
RT: reminds politicians like and celebrities like and , who are defending the "humanity" of MS-13, of the gang's disturbing history of murder, rape, mutilation and violence. Make no mistake. They are animals.
---
Aman @Amanbadwal7
🔁
Fake News Media had me calling Immigrants, or Illegal Immigrants, "Animals." Wrong! They were begrudgingly forced to withdraw their stories. I referred to MS 13 Gang Members as "Animals," a big difference - and so true. Fake News got it purposely wrong, as usual!
---
Hotaru Hatun (Alt-ترك) @TurkshVan
🔁
incels: subhuman scum of the earth should be eradicated fuck em
ms-13: noooo my babies, my precious babies, they're people too don't hurt them
---
Butch @TedderButch
YOU CLEARLY REFERRED TO THE MS 13 GANG MEMBERS AS ANIMALS, AND PEOPLE THAT ARE NOT IN AMERICA TO BE PA
🔁
//twitter.com/i/web/status/997815449818562560" target="_blank">twitter.com BIDING SOCIETY... THEY ARE HERE TO RAPE, PLUNDER, AND KILL FOR PROFIT.
---
Deplorable Ron @philippians437
🔁
WATCH: California Black woman GO OFF at City Council as she exposes how MS-13 & illegal immigration hurts black communities the most. President Trump is speaking for forgotten Americans like her while the media lies & refuses to cover their suffering
---
Cindi Puncerelli @CindiPuncerelli
🔁
Were your great-great-grandparents criminals & thugs like these MS 13 gangbangers?
twitter.com
---
😊Rob Christie😊 @RobChristie11
🔁
My biggest fear outside my family is Democrats regaining power.
Democrats fight harder for MS-13 killers then law abiding citizens. That scares the hell out me
---
Michael Shaw @Michael80602609
🔁
Anna Navarro Criticized Trump For Calling The Brutal Gang MS-13 Animals AND Conveniently Forgets That She Called Trump 'A Animal' on Twitter
Liberals Are True Hypocrites
---
ke @kiki405
🔁
Donald,
AR-15's kill more people annually than MS-13's. Does that mean that yourself, the GOP and the NRA are not just "animals", but more akin to "monsters" or "beasts"?
Just wondering.
Disrespectfully yours,
Go f*ck yourself.
---
gail @gailfraser12
🔁
MS-13, like SLUG-44, want guns banned.
If that doesn't tell you anything, then you suffer from Liberalism.
---
redinct @Magnoliainct
🔁
I just got off the phone with one of my close friends. She lives in Monterey Mexico and was out having drinks with girlfriends. They were making fun of and the fact that she defended MS-13.
---
Joey Tweedy @joey_tweedy
🔁
Glenn the reporting on "animals" was bad, but not as bad you make it out. He MIGHT have been meaning MS-13 but he did NOT say that & I don't think he deserves much benefit of the doubt here given his history. Obviously I agree the media's horrible/broken & often wrong about Trump
---
Dalaina 🇺🇸 @dybarb
🔁
President Trump will get it done ✅ Watch MS-13 Smiling in court 🙁 on video. Pray for President Trump and our nation🙏🏼
---
I Am Verus @syjere17
🔁
Are MS-13 Gang Members 'animals'?
Please retweet. Twitter Shadow Banned me last August, and I don't reach as many people as I used to
---
Catherine嬢 @katorin_jou
🔁
WE NEED A MS-13 DISNEY PRINCESS
WE NEED A MS-13 DISNEY PRINCESS
WE NEED A MS-13 DISNEY PRINCESS
WE NEED A MS-13 DISNEY PRINCESS
WE NEED A MS-13 DISNEY PRINCESS
WE NEED A MS-13 DISNEY PRINCESS
WE NEED A MS-13 DISNEY PRINCESS
WE NEED A MS-13 DISNEY PRINCESS
---
Captain Deadpool @WeighedWillsun
🔁
@johnlegend You're right. Saying MS-13 are animals is a bad comparison. I would let an animal in my home.
---
---