Iran: 126.462k tweets talking about this in the last 24 hours

People talking about Iran: - RealJamesWoods - kylegriffin1 - JZarif - libturdflusher - Barb138 - redtaz3 - StockhammerPat - RitaMiller2001 - Peace2Palestine - bjpyouthsupport[...]

- Kenneth64986685 - jekiedugn1 - GiffyDeb - Roshanahmadi - Jaihawkk - Roshanahmadi - Zameerjaffri - TheNextBigNurse - ShahzadShahy - fotibenlisoy - Roshanahmadi - Smittyshs - Roshanahmadi - BrainnewsR - ariel_lior - nneusj - Roshanahmadi - Investor_Luke - MSpan10 - massyhume - berard_mike - adamglantz - kakeenan - Roshanahmadi - BoriquaGoddess - Estelle_CSC - MickeyMcgunigle - tabitha_mel - abosife2010 - LouiseMagill1 - alb347713 - Ps5725 - need_history - battlefrontgen1 - bridget4kicks - DuQuene8 - juanmpuertas - scsieb42_carol - takebeerism - Blakers2699 - julieagannon - Emma19780 - BoriquaGoddess - Bane1349 - k3yj4ck3r - newlorazepam - cherroncarr - sara_arub - happyhollow551 - svearwig - m_richardmayson - JeanneStanton7 - soxen2013 - RezaEiman - kinman1313 - berard_mike - TheRiotActNYC - Iran_probe - WorldRumors - koroshmirzaey1 - Newsweek - AbhisheqMishra - hasspir - PartainAnn - koroshmirzaey1 - drawandstrike - IranianSolidar1 - alexakabob1 - eclectetsy - Roreee - ironmike1968 - delshady013 - RezRezart - gomezjunco - wandainparis - zr17925257 - TheBuzzerBug - tracy_texas6 - ForIranias - SouthVinie - DmlHoo - mccraw_birkie5 - ZariaMassacre - Walkmaster1 - delshady013 - hagawi - dmills3710 - jenninemorgan - BoriquaGoddess - Mahdokht45


This Tag appearing in: United States: ( San Francisco - ).
Popular tweets tagged with Iran: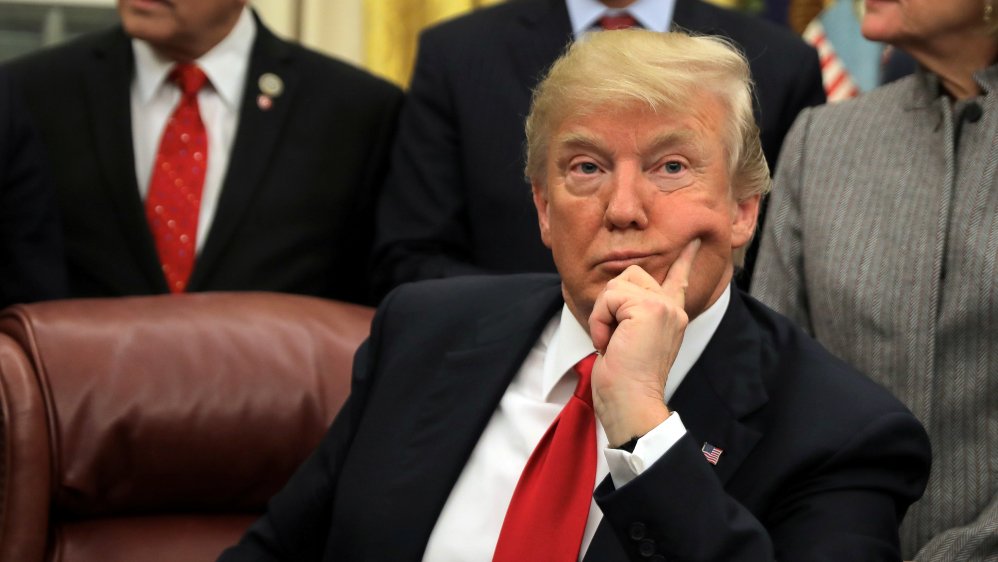 Michael Berard @berard_mike
🔁
Why is Donald Trump against the Iran nuclear deal?
aje.io
via @AJInsideStory
---
loading...
Javad Zarif @JZarif
🔁
Trump's policy & today's announcement amount to desperate attempts to undermine a solid multilateral agreement, malic
twitter.com
iously violating its paras 26, 28 & 29. JCPOA is not renegotiable: rather than repeating tired rhetoric, US must bring itself into full compliance -just like Iran.
---
Kyle Griffin @kylegriffin1
🔁
It took the White House 22 mins. to figure out how to enable the "listening only" feature on a conference call on reg
twitter.com
arding Iran sanctions, CBS reports.
"This White House can't even run a f*cking conference call," a reporter on an unmuted line exclaimed.
---
James Woods @RealJamesWoods
🔁
"President Obama failed to act as the Iranian people took to the streets in 2009. He turned a blind eye as Iran built
twitter.com
and tested dangerous missiles and exported terror..."
---
Flushing libturds @libturdflusher
🔁
The false warning in is a reminder to Hawaiians & all Americans how fortunate they are to a strong POTUS like
& his hard stance on & Iran could make the difference from this becoming real.
---
BC @Barb138
🔁
2) The additional san
reuters.com
ctions applied were enough to draw screeches from Iran, which is heartening, shows we stepped on their tail.
---
Dan Robertson @redtaz3
🔁
"President Obama failed to act as the Iranian people took to the streets in 2009. He turned a blind eye as Iran built and tested dangerous missiles and exported terror..."
---
P. Stockhammer @StockhammerPat
🔁
Chabahar, S
This is a school in the 21st century & in a country sitting on an ocean of crude oil & natural gas...
---
Rita Miller @RitaMiller2001
🔁
The Women's March isn't doing vaginas hats because they are afraid to oppose female genital mutilation in America & b
twitter.com
e associated with the Brave women of Iran against male oppression.
---
James Jackson @Peace2Palestine
🔁
Moscow has a critical attitude toward latest U.S. statement on reviewing the Iran nuclear deal and will do all it can to resist any attempt to scrape the deal, Russian authorities say
---
BJP Youth Support @bjpyouthsupport
🔁
In the future society of Iran women will be equal to men. My administration shall do what ever possible to make this dream come true.
---
Kenneth Miller @Kenneth64986685
🔁
Obama, did nothing, Clibton gave them ehat they wanted, Bush was distracted by 9/11! So now, Iran has billions, & hel
twitter.com
ping N. KOREA! GREAT !
---
Deborah Gifford @GiffyDeb
🔁
My heart goes out to the people of Hawaii that had to go through this false alarm. Nuclear war is not a laughing matter. No amount of shelter can protect anyone or our planet. We must roll back this inflammatory speech with North Korea and Iran immediately and pursue diplomacy
---
ROSHANI @Roshanahmadi
🔁
Inhumane pressure on 's political prisoners. We urge orgs, & UN Working Group on Arbitrary Detention to condemn torture of prisoners. Fact-finding mission needed to investigate their situation
---
Jaihawkk @Jaihawkk
🔁
@SamanthaJPower Hey, remember when the administration you worked for paid billions to the terrorists in Iran?
---
ROSHANI @Roshanahmadi
🔁
13.01.2018: Supporters of the resistance in solidarity with gathered in front of the regime's embassy in Oslo, Norway. They are chanting "death to Khamenei" "death to Rouhani"
---
#IndiaRejectsIsrael @Zameerjaffri
🔁
Yes
Like You showed Hundred protesters in Iran as millions and millions supporters of Iran were not shown at all. I
twitter.com
t's all Fake. What u say?
---
Elize Ratched @TheNextBigNurse
🔁
Max Boot will say anything if they just let him invade Iran.
foreignpolicy.com
---
Shahzad Shahy @ShahzadShahy
🔁
God bless President trump ,Thanks For helping Iranian people sanctions Regime ,please no more time for regime Iran
twitter.com
---
Foti Benlisoy @fotibenlisoy
🔁
"The region has been so plagued by the politics of 'the enemy of my enemy is my friend' that any effort to develop a
twitter.com
n affirmative vision of a humanist alternative to capitalism around universal concepts and goals has been missing"
---
ROSHANI @Roshanahmadi
🔁
13.01.2018: Supporters of the Iranian resistance gathered in front of the regime's embassy in Oslo, Norway
---
Lil〽️iss~🇺🇸Patriot @Smittyshs
🔁
Iran protestors thank and the American people for their support, demand more sanctions. Watch my story and read my article, Voices from the streets:
---
ROSHANI @Roshanahmadi
🔁
13.01.2018: Protest in front of the regime's embassy in Oslo, Norway
---
Brainnews Radio @BrainnewsR
🔁
Why is Donald Trump against the Iran nuclear deal?
brainnewsradio.com
---
(((Ariel J Lior))) @ariel_lior
🔁
Iran 'will not accept' Trump's demand to alter nuclear agreement
washingtonexaminer.com
via @dcexaminer
---
ROSHANI @Roshanahmadi
🔁
Members of the Iranian community in and supporters of People's Mojahedin Organization of portest, Rome , Italy 🇮🇹 13 January 2018.
---
Luke @Investor_Luke
🔁
@afneil Shhhh Andrew, Germany does a lot of deals with Iran so the EU must not upset them.
---
M. Span @MSpan10
🔁
We should pay more attention to recent (and dangerous) bipartisan efforts:
• Expand government surveillance
• Declare Jerusalem the capital of Israel
• Sanctions against Iran/DPRK
• $700 billion in "defense" spending
---
massyhume @massyhume
🔁
@spectatorindex what about Iran????
---
Michael Berard @berard_mike
🔁
Iran lifts ban on popular messaging app Telegram, Iranian media reports. Authorities filtered the app following deadly anti-government protests that began on December 28.
---
Adam Glantz @adamglantz
🔁
On the watch of Iran's judicial head Larijani:
features unfair trial processes but also grotesque punishments like juvenile executions and "corporal punishment … [including] amputations and the dripping of acid into the eyes of the convicted,"
---
C🎯nservatarian @kakeenan
🔁
Wow. Something BIG happened today.
Look what ELSE Trump did to the press.
---
ROSHANI @Roshanahmadi
🔁
's Supreme Leader Unwittingly Admits the Real Threat to his Regime
via
---
Domestic Goddess @BoriquaGoddess
🔁
Lovely and talented Iranian-American actress stands in solidarity with the people of .
---
Estelle @Estelle_CSC
🔁
You know North Korea completed their nuclear weapons program under President Obama, right? You know President Obama g
twitter.com
ave Iran billions of dollar in cash & agreed to that disastrous Iran deal, right? Perhaps put your hate aside because intellectual dishonesty is very unattractive.
---
Mickey🍀McGunigle @MickeyMcgunigle
🔁
24 year old Saro Ghahremani, one of the Iranian protesters killed while in detention was buried today in Sanandaj, West Iran,
---
Tabitha Hoffman(Mel) @tabitha_mel
🔁
I guess the FBI lowballs threatened Mr. Putin like Iran thought they would.
---
Alan Beattie @alb347713
🔁
WARNING - GRAPHIC IMAGE
Jan 11 - Salmas, NW Iran
Activists are reporting a 39-year-old man by the name of "Hossein" was executed in public.
A man identified as "Saeid" was also executed on Jan 10 in Qazvin, west of Tehran.
---
Psmyth @Ps5725
🔁
Actually midget brain it is on Obama for ignoring NK and building up Iran's nuclear weapons. We would not be so threa
twitter.com
tened had Obama been capable of managing a country. It's also on you for hiring him. I voted elsewhere.
---
Latour_Scholl @need_history
🔁
Remaining in the Iran deal is an important step, but keeping our promises and disavowing regime change policy are equally critical for us to earn the trust of North Korean diplomats, de-escalate the nuclear crisis, and ultimately denuclearize the Korean Peninsula.
---
loading...
FreedomMN @battlefrontgen1
🔁
"Barack Obama has now enabled Iran, the world's leading sponsor of terrorism, to speed ever-closer 2ward successful attainment of nuclear weapons, approving a secret delivery of roughly 130TONS of uranium for the fundamentalist Iranian regime."
---
Deplorable Bridget @bridget4kicks
🔁
It's not on him. It's on Bill & Obama allowing dangerous countries to expedite their nuclear capability by ignoring what they are doing.Who gives 1.7 billion in cash to Iran?A country who screams death to America. Who stopped funding modernization of our military Needs?Obama 1/
---
Henry Abd @DuQuene8
🔁
1) So, on face value, thus was pretty disappointing at first, but as and myself are saying, regime change is coming, and Trump will act when the time is right
---
Bilaal Mo @takebeerism
🔁
That's been the crux of one of his arguments for a long time. JP is going to be the ultimate atheist deconverter, esp
twitter.com
ecially for those who were just atheists of convenience.
---
Blake Ballinger @Blakers2699
🔁
This week, Trump has offended Pakistan, Canada, Mexico, Palestine, the UK, The Netherlands, Iran, North Korea, South Korea, Haiti, Norway, El Salvador and the 54 African countries.
And that's just since Monday.
---
EmmaAmerican @Emma19780
🔁
I'm sorry WTHECK..how can the US order another country to pay anyone. Makes NO SENSE!
Judge orders Iran to pay Flint
twitter.com
ex-Marine Amir Hekmati, jailed for 4 years via
---
Domestic Goddess @BoriquaGoddess
🔁
A large crowd gathers to mourn the passing of Mohsen Adeli, a young man who was killed by security forces during in Dezful, southwestern Iran
---
KGB Agent BANE 🇷🇺 @Bane1349
🔁
Go Ahead Iran...Make My Day !
twitter.com
---
Cherron Carr ⌛️ @cherroncarr
🔁
That was no accident!! It was either a cyberattack from China, Russia, Iran, NK or some bad actors in Hawaii. I doubt
twitter.com
one person at the Hawaii Emergency Management made this happen no matter what they say.
---
Father Simon @svearwig
🔁
Iran rejects any change to nuclear deal
a.msn.com
---
Richard Mayson @m_richardmayson
🔁
Iran says it will retaliate against 'hostile' US sanctions
radionz.co.nz
---
Kevin Inman @kinman1313
🔁
🚨Here we go again...
😡Thanks guys for 30 yrs. of drawing a red line in the sand for Iran and North Korea.
Whatever happens I am sure you will blame
---
Iranprobe @Iran_probe
🔁
Increasing disagreement between Iranian regime and EU following of people
---
World Rumors @WorldRumors
🔁
Iran lifts block on Telegram app imposed during unrest: report
reut.rs
---
koroshmirzaey @koroshmirzaey1
🔁
Resistance calls on , , , and International Human Rights Organizations not to stay idle before crackdown of defenseless protesters, take urgent action.
---
Hasspir @hasspir
🔁
By the way, it is not a Saudi led war against the poorest country of the region, it is a US-UK led war as they sham
twitter.com
elessly selling more and more bombs to Saudi. Reminding their unconditional support to Saadam in the 80s during his war against Iran
---
Ann Partain @PartainAnn
🔁
Justin in: Body of Arya Rouzbehi Babadi, 25, detained by the security forces during the protests, was pulled out of Karoun River, in Khuzestan Province on Jan. 9. His hands and legs were tied.
---
koroshmirzaey @koroshmirzaey1
🔁
Day 5 of : Already 14 towns witnessed marches for regime change despite crackdown. At least 12 anti-regime protesters have been killed & 1000 arrested by regime forces. International action needed to halt the crackdown & free political prisoners in .
---
Iranian Solidarity @IranianSolidar1
🔁
Iran's Supreme Leader Unwittingly Admits the Real Threat to his Regime
huffingtonpost.com
via @HuffPostBlog
---
Alex @alexakabob1
🔁
Please and Join Over 1,500,000 🌏Worldwide Calling On 's
SL To Be Moral and Zaghari Ratcliffe.
Denied 22 Months.
Denied Early Release, Urgent Health Review by .
Where is Humanity? via
---
Cindy @eclectetsy
🔁
Iran protesters thank , call for stronger sanctions
Activists risk their lives to bring freedom to .
---
Odelay Miggy @ironmike1968
🔁
Your White House is all fucked up. Gutted State Dept. doesn't help...W.H. can't even set up conference call with reporters re: Iran WITHOUT IT BEING ALL FUCKED UP. Can't even spell NORWAY CORRECTLY. I've never seen SO MUCH INCOMPETENCE FROM ANY OTHER W.H. F.U.!
---
mohamaddelshady @delshady013
🔁
, (13.01.18): Iranians in Oslo in solidarity with the brave protesters in Iran. DOWN WITH DICTATOR!
---
rez @RezRezart
🔁
Although this can be another lesson for some think tankers and analysts who were getting excited with developments in relationships between Saudis and Iraq, saying that "oh this is Big Blow to Iran" , ...
---
Roberto Gomez Junco @gomezjunco
🔁
U.S. ultimatum on nuclear deal, new sanctions draw Iran threat @Reuters
reuters.com
---
Wanda SanMiguel @wandainparis
🔁
Washington Post asked me to address 5 myths about commonly held by Americans. It will be in the Sunday Outlook section, but the online version is already avalable:
---
@z@r @zr17925257
🔁
Mohammad Mohsen Nejad (right), a retired teacher was arrested and his family was told that if his son Aidin (left) does not turn himself in, he would stay in prison.
---
Tracy 🇺🇸👠🚂 @tracy_texas6
🔁
Look in the mirror lady!!! Where is your outrage that Bill Clinton gave N.K missle tech, Obama gave pallets of cash to Iran, and Hillary stole Billions from Haitian EQ relief to name a few!! I'll wait..........
---
Freedom For Iranians @ForIranias
🔁
Is that what the great relationship between
and Iran[Persia] has been for thousands of years? Does accept to be cov
twitter.com
ered 4 dealing cheaply with invaders of their old friends? Shouldn't it be condemned ?Isn't it an assault to Chinese civilization&values? Stand4Freedom
---
Who hoo. DML @DmlHoo
🔁
Hawaii emergency system has confirmed the earlier warning of a missile strike was false alarm. But it begs the question is the USA ready, or are we too consumed being PC. Sanction Iran, take out Kim. Why wait for them to strike first!
---
🌵ArizonaKat🌵 @mccraw_birkie5
🔁
5) Trump gave his ultimatum; he was not going to recertify the Iran deal again. Some view this as a shot clock for the regime. Me? I see it as giving the Iranian people more time to force regime change on their own.
---
pennie brettin @Walkmaster1
🔁
You have lost what's left of your ever loving liberal mind...Bill Clinton gave NK nukes, BHO gave billions to Iran to buy nukes, Hillary Clinton & heard of that? Democrats are criminal elements of a plagued society. 🇺🇸
---
mohamaddelshady @delshady013
🔁
, (13.01.18): Supporters of the Iranian Resistance are once again gathered in front of the regime embassy to condemn the killings and arrests of peaceful |
---
Zain A H ® @hagawi
🔁
By the way, whatever situation Saudi Arabia was in for the last 40 years was in reaction to the so called "Islamic re
twitter.com
volution" in Iran. It started a movement to the Islamization of everything on both sides, I hope the future rivalry will be in the fields technology and human dev
---
Domestic Goddess @BoriquaGoddess
🔁
At Least Five Iranian Protesters Die in Regime Prisons | on why "the fate of the activists reflects 's determination to suppress dissent & intimidate citizens from challenging rule"
---
Mahdokht @Mahdokht45
🔁
's ministry of Intelligence arrested . He was tortured & killed in prison. If you still consider Rouhani a moderate and reformist you possibly deserve to experience what went through in Iran.
---
---