executive order: 95.940k tweets talking about this in the last 24 hours

People talking about executive order: - timkaine - ASlavitt - SenBooker - MktngWizard5 - MourphingTime - girlzinger - Angel50lw - tessyto - Coddiwomple1 - stephm0921[...]

- Ree98045631 - LishaM01 - EnkiSpeaking - PattiStrout - SamScrogg - 0k0i040v0w0t0 - dbFromartz - russo_ira - Andrewc11776 - SenRonJohnson - MrCalvert - 1401bonniek - MsAmandaFish - jazzneophyte - HokieCarrie - ExposureJb - CitizenMAGA - marklopresti - janekross - unStunned - Sharrprime - bootznlove - bolderpusher111 - JoyKathy - alf27900 - ilovemydogs1972 - patsroll12 - eClinicalTrial - arkangel129 - GaryNelson51 - luizhsrodrigues - isthisnameused - jammopo2014 - swim2it - CanadaRod - Bacchus63 - CindySo27736141 - henricoblue - thewzedd - Appalled_Mom - AnnJack92007784 - racer9876 - SusanDeSanti - BlaisBlais5 - larryfd - CHRTumich - KruseKimberly - Musclered - SashGirlVegas - Marys1stson - MLHoenig - MamiNJsupreme - EMegahee - askish - FiscalHealthNC - Cmvanwink - setislady - lefranc55 - cubsb4bears - selina3sticks - Im_Ms_B_Haven_ - K3VMedia - Justheatheralla - Pet4093Sandra - UniterOne01 - MSPCHIhappy - StephenCMars - EMegahee - Liberalyogi - jtb00ne2 - NetBum1 - Teslamare - 24baseballReed - elikdh - pdbrebbe - quazy101 - ElegantLeopard - sportjames23 - AsinineVulpine - colmant_ - mgedmin - ajknight51 - PatriciaVeris10 - gbellflowers50 - WolfHunter045 - LighthouseForum - WHDNYC - CrankyColoradan - xoxoslc - reyna0084


This Tag appearing in: Vietnam: ( Can Tho - Ho Chi Minh City - ).
United States: ( Albuquerque - Baton Rouge - Birmingham - Charlotte - Chicago - Cincinnati - Cleveland - Dallas-Ft. Worth - El Paso - Fresno - Jackson - Jacksonville - Las Vegas - Louisville - Mesa - Minneapolis - New Haven - New Orleans - Pittsburgh - St. Louis - San Francisco - Seattle - Virginia Beach - Washington - United States - ).
Puerto Rico: ( Puerto Rico - ).
Popular tweets tagged with executive order: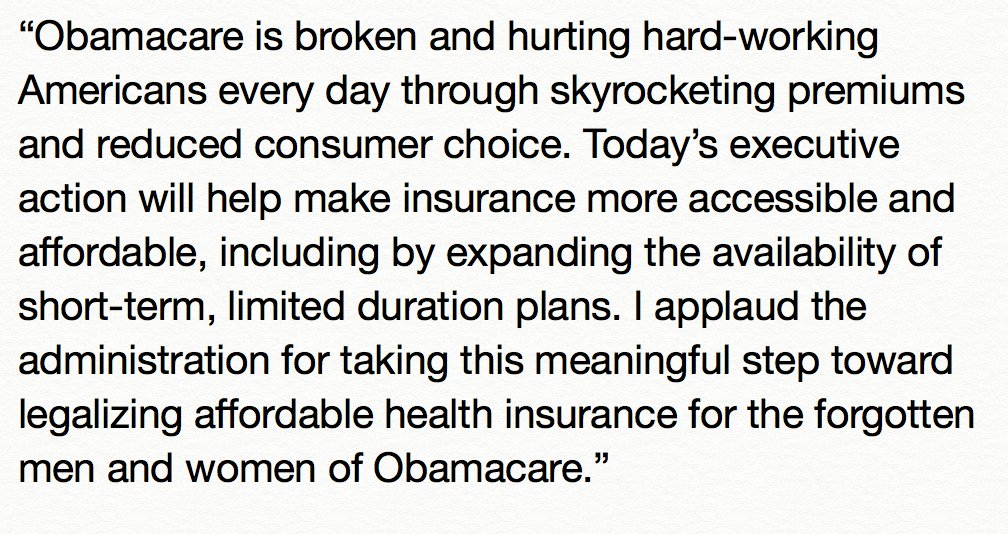 Senator Ron Johnson @SenRonJohnson
🔁
.@SenRonJohnson statement on @realDonaldTrump's health care executive order-->
---
10 de fevereiro de 2017
SashGirl @SashGirlVegas
🔁
#Editorial This is a fantastic executive order by President Trump! #MAGA #Healthcare
---
Tim Kaine @timkaine
🔁
President Trump's health care executive order may seem a little complicated so let me break it down: It's sabotage.
---
Andy Slavitt @ASlavitt
🔁
BREAKING: Tomorrow 11:15 Eastern, Trump will sign his Executive Order on ACA. 1/
---
Sen. Cory Booker @SenBooker
🔁
After failing to convince the American people & the majority of Senators, Trump is now forcing Trumpcare via executive order. It's sabotage.
---
@MktngWizard5 @MktngWizard5
🔁
Trump's executive order to undermine Obamacare, explained
vox.com
---
Blue Saber @MourphingTime
🔁
Since congress failed to repeal Obamacare, President Trump signed a free market health care Executive Order loosening Obamacare rules!
---
girlzinger @girlzinger
🔁
.'s Executive Order will obliterate preexisting condition protections and bankrupt families facing unexpected tragedies.
---
Angela Webb @Angel50lw
🔁
President Trump's executive order aims to offer alternatives to Obamacare to increase competition and bring costs down. 👍👍
---
Tessy👠❤🇺🇸🇮🇱MAGA @tessyto
🔁
Executive Order allows insurers to sell across state lines->first step toward a "freer" market for health care. Competition = lower premiums
---
🇺🇸🦅🇺🇸🗽🇺🇸 @Coddiwomple1
🔁
👇🏼READ👇🏼
Trump's Executive Order on is devastating‼️
👉🏼enables junk insurance for healthier ppl
👉🏼sicker ppl will pay MORE
---
Ree @Ree98045631
🔁
Donald Trump signs order to let groups of people band together to buy bare-bones health coverage.
cbc.ca
---
Lisha Millett @LishaM01
🔁
In midst of , Executive Order will leave many of those in grips of addiction without access to treatment.
---
World Traveler @EnkiSpeaking
🔁
Jacob Wohl LIVE -- Talking UNESCO, Obamacare Executive Order, Weinstein Scandal and more
pscp.tv
---
Patti Strout @PattiStrout
🔁
Yesterday— tried to end Clean Power Plan. Today—he's sabotaging the ACA. Does he want to kill us?
---
I.am.Sam @SamScrogg
🔁
Now that Trump has signed the Executive Order, #ACA is now Trumpcare. He implemented it unilaterally. He owns the fallout now.
---
🇺🇸Invictus👩‍✈️ @0k0i040v0w0t0
🔁
. signs executive order on health care. This is a step in the right direction without Congress' help. 🎯🇺🇸
---
dbFromartz @dbFromartz
🔁
Look! A bunch of rich white people celebrating cutting health care for poor people....
fb.me
---
Ira Russo @russo_ira
🔁
Answering now: Will Trump's executive order affect those getting subsidized plans thru ACA?
Comment your ACA Qs:
---
AC @Andrewc11776
🔁
With today's order, is fulfilling a promise to the 28 million Americans left behind by failures of Obamacare.
---
Scott Calvert @MrCalvert
🔁
The decision will allow insurance plans that don't meet the law's requirements.
huffingtonpost.com
---
Amanda F @MsAmandaFish
🔁
Donald Trump's health care executive order is corrupt, unconstituonal, and genocidal against the American people.
---
HokieCarrie @HokieCarrie
🔁
Trump's Obamacare exec order tries to undermine literally the most popular part of Obamacare: the part that keeps insurers from screwing you over. People will get screwed over. The question is whether they'll know to blame Trump.
---
Citizen MAGA🇺🇸 @CitizenMAGA
🔁
Let's be clear. Obama signed executive order FORCING you to purchase private insurance. Trump signed one allowing you to choose your plan.
---
Circus N. Towne @unStunned
🔁
Fragile snowflake Trump kills Americans by Executive Order because the man their healthcare is named for made fun of him at a dinner once.
---
Rodney C. Johnson @Sharrprime
🔁
President Trump Signs Executive Order To Promote Healthcare Choices and Options...
theconservativetreehouse.com
via @thelastrefuge2
---
kjt @bolderpusher111
🔁
Trump accused of sabotage after signing executive order to weaken Obamacare
---
Patriots12 @patsroll12
🔁
I just talked to several insurer CEOs about what they're planning to do if the ACA Executive Order happens.
---
wayne madison @arkangel129
🔁
Trump signs important and impactful executive order opening up healthcare markets
He has done more than Congress this week!
---
Luiz Rodrigues @luizhsrodrigues
🔁
"Mr. President, you need to sign it" - to Trump as he walks out without signing the executive order he was just announcing
---
🍩 Ed the lib. Elite @isthisnameused
🔁
Rand Paul today: Praises "boldness" of Trump's executive order.
Rand Paul 2 years ago: An executive order is not how you make law.
---
Rod @CanadaRod
🔁
Where are the INDIGNANT Republicans who hollered about dictator Obama's executive actions now that Trump is doing Obamacare exec order?
---
DylanUSC @Bacchus63
🔁
Trump signs order to undermine Obamacare insurance rules
huffingtonpost.com
via @HuffPostPol
---
Blue Heron @henricoblue
🔁
Unbelievable how far Trump will go to undermine healthcare system & raise costs on those w/ pre-existing conditions.
---
Bill Hogan @thewzedd
🔁
Liberals FUMING over UNESCO pull out and Trump health care executive order.
pscp.tv
---
Meredith @Appalled_Mom
🔁
Trump's Executive Order on Obamacare is
🚨Call your 3 MoC's.
🚨202-224-3121
🚨We require bipartisan fixes.
🚨No short-term plans.
---
Gaylene+Lee @racer9876
🔁
John Kelly on health care reform: "This was a way to take care of as many Americans as he could legally with an executive order."
---
Susan DeSanti @SusanDeSanti
🔁
President Trump's health care executive order may seem a little complicated so let me break it down: It's sabotage.
---
loading...
Heather Blais @BlaisBlais5
🔁
You own this now, . ROOT AND BRANCH. May you be haunted by the spirits of those you murder.
---
CHRT @CHRTumich
🔁
Hear our director's take on today's executive order. @mudowp is live on @wjrradio now
---
Rob Boston @Musclered
🔁
It's official: Trump is trying to kill the Affordable Care Act through Executive Order since repeal efforts failed.
---
James D @Marys1stson
🔁
Trump's executive order to undermine Obamacare, explained
vox.com
---
Michael L Hoenig 📎 @MLHoenig
🔁
This move by President Trump will force patients to pay more for health care and lose quality coverage options.
---
Eric Megahee @EMegahee
🔁
THIS. This needs to be repeated over & over: Trump's Executive Order is explicitly designed to SCREW YOU OVER
(Yes, even you, Trump fans!)
---
Spec. Counsel Meyer @selina3sticks
🔁
@tweetleED51 @kylegriffin1 It is, sadly.
thewrap.com
---
H. @Justheatheralla
🔁
BREAKING: ACA Executive Order has leaked out.
Will post soon. 1/
---
Sandra Peterlin @Pet4093Sandra
🔁
Trump Executive Order on the ACA:
—No scoring on its effects
—Lawyer-crafted behind closed doors
—Not public until today
—Trump owns the ACA
---
Lisa F @MSPCHIhappy
🔁
Exec order will cause costs to skyrocket & will dismantle the insurance market. Another broken promise.
---
Resist! Boone 🏳️‍🌈 @jtb00ne2
🔁
1/ THREAD: Trump's signing his EO tomorrow. Here's how it can destroy the Individual Market:
acasignups.net
---
Teslamare @Teslamare
🔁
@POTUS Thank you! Thank you! Thank you, for the Executive Order on Healthcare!! This will stimulate competition BADLY needed!!
---
c.anne Reed @24baseballReed
🔁
Dazed and Confused: Trump walked out of the room without signing his health care executive order, had to be brought back by Pence.
---
Rainer Ebbers @pdbrebbe
🔁
News 4 You OBAMASNARE ????❌ News
goo.gl
---
Quazy @quazy101
🔁
Trump to sign executive order Thursday that - at its root - is intended to kill Obamacare. Read 👇?
washingtonpost.com
?
---
Tanya Manus @ElegantLeopard
🔁
1: This executive order will offer CRAPPY health care, SPIKE premiums for people with pre-existing conditions, and DESTABILIZE markets...
---
Vulpine of Nowhere @AsinineVulpine
🔁
Trump accused of sabotage after signing executive order to weaken Obamacare
ebx.sh
---
colmant_ @colmant_
🔁
With unilateral Executive Order, continues to segregate sick & suffering from wealthy & healthy. We are stronger and kinder than that
---
RedWhiteBlue @PatriciaVeris10
🔁
⚠️Found it! Executive Order text the media doesn't want you to see for yourself!
---
🇺🇸SHEEPDOG 🇺🇸 @WolfHunter045
🔁
Executive order provides variety options for small bus. & millions individuals get better healthcare 🇺🇸👏🏻👏🏻🇺🇸
---
Pete @LighthouseForum
🔁
BBC News - Trump signs executive order to weaken Obamacare
bbc.co.uk
---
CRANKY COLORADAN @CrankyColoradan
🔁
Trump's executive order would mean cheaper insurance premiums for healthy Obamacare customers
truepundit.com
---
---