Embiid: 13.153k tweets talking about this in the last 24 hours

People talking about Embiid: - BleacherReport - barstoolsports - Tom_NBA - egdsgn - chris19thws - Moekrig - _unevakno - trevorstweetss - SatsuiNoNegrou - ajtorres1230[...]

- JordonToupin98 - Eurisisdope - piffpaul_ - Tywash820 - StretchMyBandz - TheSylverFox - TommyPointJon - Go_Sixers_Go - Frankjperez12 - SInow - SickDeee - kram93291 - Aftermath8 - Erikk_the_Dane - EaglesWTD - joescribe - ajd22_UW - connor_engle - Hays1868 - PhilthyBird215 - ajd22_UW - GlennQSpoonerSt - kev_in_the_box - ZachSalwach - 12breanna - Kevinptrump - DownWithTTP76 - OlympicMemes - natefl24 - KeemtheDream22 - coug88 - HarleyPlease - tothemax4e - yaboy_joeyk - d_money23nation - logan_deluca - JonDon323 - DaRealPeterG - poloboxxrrs - nobodies_safee - DanTheMan2k15 - ItsKingCraig - phillyflu - NBANewsNow247 - jameslevy21 - TheOriginalCQ - 2012sampson - therealZackKatz - therealZackKatz - FuenteDelDinero - _11golive - chrisalbertsonn - r_glennon - And_Porter - TheSylverFox - JoeyLong_ - mpastore8 - WhatUpJT - MattShea26 - DanSaysThat - chrisfarley71 - CurMiller - tj_flood - Mrsmith562 - Eraseddd_ - jameis1of1 - Iam_ShanSmith - JarrydGoldstein - Pears923 - chrisfarley71 - joshuafsmith081 - FrozenKogurt - Jeremybeast7 - rach_ricca - NiftyNI22 - chris_mckendry7 - _brivn_ - shatcher_5 - TheSylverFox - _brivn_ - _TheBoMan_ - KnicksPassionFr - LocoGrecoG4 - TheSylverFox - ScottMuir_ - nateee_10 - iPass4Iona - eszilagyi99 - hooplifeapparel - Waynesteward4


This Tag appearing in: United States: ( Philadelphia - ).
Popular tweets tagged with Embiid: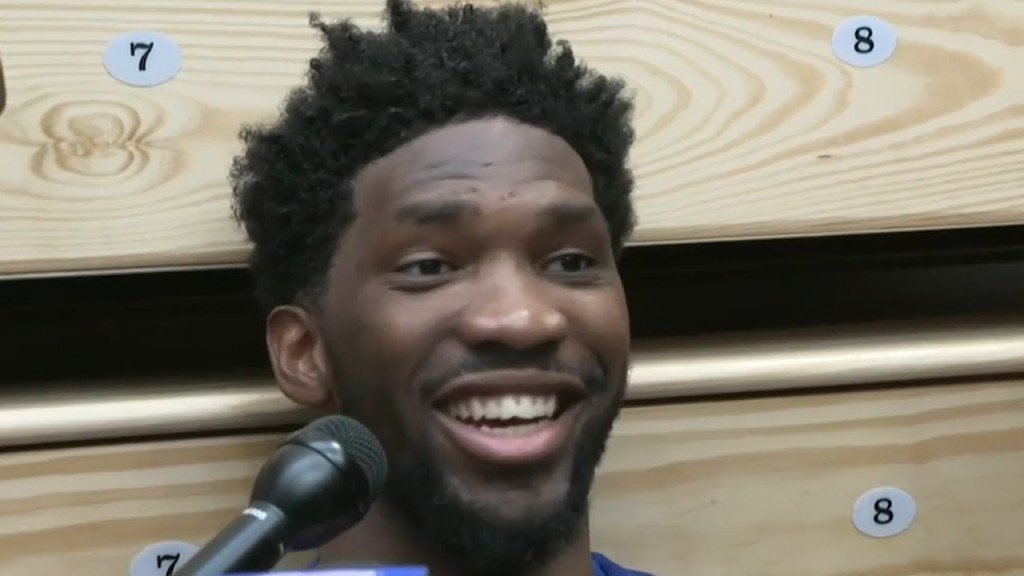 Official Hooplife® Brand @hooplifeapparel
🔁
Joel Embiid interview before Game 2 against the Celtics
hooplife.net
---
loading...
Bleacher Report @BleacherReport
🔁
Embiid on the Sixers' future: "[Simmons] came up to me, showed me his hands, and said, 'There's going to be a lot of
twitter.com
rings on these.'" 👀
---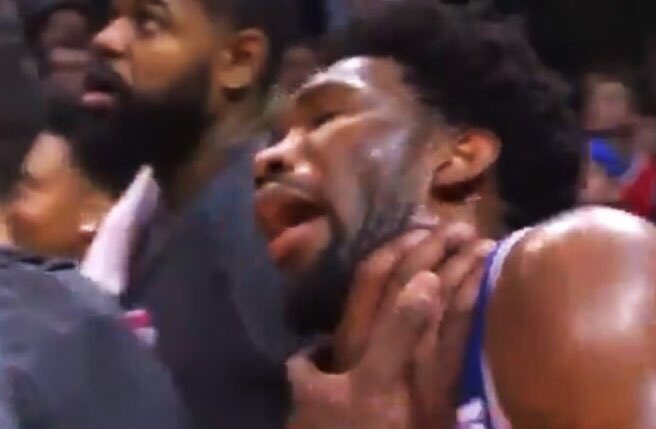 Barstool Sports @barstoolsports
🔁
Embiid called his own shot like Babe Ruth. A legend in the making @MickstapeShow
---
NBA News Now @NBANewsNow247
🔁
Joel Embiid sets himself another lofty goal he hopes to achieve next season -
nbanewsnow.com
---
Tom Westerholm @Tom_NBA
🔁
The NBA's latest L2M report says, among other things, Joel Embiid was fouled by Aron Baynes on his last shot attempt
twitter.com
and Marcus Smart traveled on his last steal.
---
EG Daily @egdsgn
🔁
Joel Embiid & Ben Simmons Best Plays | 2018 NBA Playoffs
pogoport.com
---
Jo 🇫🇷 @Moekrig
🔁
1) LeBron
2) Simmons
3) Cousins
4) Embiid
5) TJ McConnell
1) Dragic
2) Draymond
3) KD
4) Gobert
5) WestBrook twitter.com
---
Latoya @_unevakno
🔁
If I had players like a Derozan , The Unicorn , Embiid and Ben ... I would feel like a kid in a candy shop .. My book
twitter.com
would be filled with plays
---
Xanny DeVito @trevorstweetss
🔁
Ab. So. Lute. Lee.
It went from, "Philly ran Miami, they're going to do the same to the Celtics, Embiid gonna kill Horford" to "why is everyone acting like Boston is undermanned? LOTTO PICKS. HORFORD IS AN ALL STAR, DUH" without missing a beat
---
Lil' Angsty Vert @SatsuiNoNegrou
🔁
Embiid on the Sixers' future: "[Simmons] came up to me, showed me his hands, and said, 'There's going to be a lot of rings on these.'" 👀
---
AJ @ajtorres1230
🔁
@rob_dandrea @BenSimmons25 @Yg_Trece @KingJames @dariosaric @JoelEmbiid @warriors I'd be goodie with Ben klay pg Dario and Embiid
---
jordon @JordonToupin98
🔁
@Eurisisdope Bc of injury, not bc of a self inflicted shot change. They couldn't control what happened to Simmons & Embiid
---
Euris G. @Eurisisdope
🔁
@JordonToupin98 The 76ers did this exact strategy 2x already with Ben Simmons & Joel embiid. Both got red shirted their rookie yr
---
perc nowitzki @piffpaul_
🔁
The NBA's latest L2M report says, among other things, Joel Embiid was fouled by Aron Baynes on his last shot attempt and Marcus Smart traveled on his last steal.
---
Tyler Washburn @Tywash820
🔁
Upset about what? Sure I wanted the sixers to win, and thought they should win that series. But this is the first yea
twitter.com
r Brett Brown, Joel Embiid, and Ben Simmons even had a winning season. We got hyped over what we saw, but we will be ok
---
Don Pablo 🤴🏽 @StretchMyBandz
🔁
Kd
Bron
Steph
AD
PG
Russ
Embiid
Jimmy Buckets
Kawhi
KP
Boogie
Giannis
Kat
Draymond
CP3
Wall
Lillard
Byrie
Oladipo
twitter.com
Mitchell (a lil early but fuck it)
Ben Simmons
---
Sean Sylver @TheSylverFox
🔁
@Jahthegawd Look forward to it. What do you have to look forward to this spring? That's right - Embiid Instagram posts.
---
Jon (TommyPoint.com) @TommyPointJon
🔁
What about getting better defenders? 6 of their 9-man rotation (everyone except Simmons, Embiid, and sometimes Coving
twitter.com
ton) severely lacks athleticism and defensive presence
---
AA @Go_Sixers_Go
🔁
Here's the problem in thinking that the Sixers have more talent. I'm not sure if we do right now. Give me rozier, hor
twitter.com
ford, Tatum, Brown over Embiid, Simmons, and whoever else is on the roster
---
Frank Perez @Frankjperez12
🔁
at the very least colangelo seems committed to embiid, simmons, fultz, and brown -- that's going to keep this team in contention for years.
---
Sports Illustrated @SInow
🔁
The three biggest questions for the Sixers this offseason (by @AndrewSharp)
on.si.com
---
Daniel @SickDeee
🔁
@RagingDelacruz Bro you're like Joel embiid y'all got handed and won one game and still talking shhhhhhuuuuttttttt uppppppp 😴
---
Mark Ierardi @kram93291
🔁
Classy gesture by these young men. Once Simmons develops his mid range game and Embiid his low post game,these two wi
twitter.com
ll be forces in this league for the next 10-15 yrs.
---
Aaron Almeroth @Aftermath8
🔁
The Sixers largely lost that series because they kept throwing it to Embiid and getting less that 0.7 points per poss
twitter.com
ession, then having no other option
---
ERIKK™ @Erikk_the_Dane
🔁
I thought Embiid and Simmons said they didn't need anyone else. 😂
twitter.com
---
Rob, but with Dragon Energy @EaglesWTD
🔁
"Saric will stay in Turkey two more yrs"
"Embiid will never play"
"Scott Kingery is not starting the season in majors"
"Eagles will play the Vikings to open the 2018 season"
---
joescribe @joescribe
🔁
Meanwhile the Sixers team they just beat had two No. 1 overall picks (Simmons and Fultz), a No. 3 overall (Embiid) a
twitter.com
nd two more lottery picks (Bayless, Redick). So also five.
---
Alex J. DeForge @ajd22_UW
🔁
Don't cry because it's over, smile because we have Ben Simmons, Joel Embiid, Dario Saric, Markelle Fultz, TJ McConnell, the Lakers pick & cap space
---
Eric Hays @Hays1868
🔁
The NBA's L2M report revealed that Aron Baynes did indeed foul Joel Embiid with 14 seconds left AND that Marcus Smart traveled at the end of the game.
Two huge missed calls basically ended the Sixers season, and we still have Celtics fans complaining about the refs in Game 4...
---
Alex J. DeForge @ajd22_UW
🔁
. says he's ready to help recruit top free agents this offseason via
philly.com
---
Grateful Dead Giveaway @GlennQSpoonerSt
🔁
He potentially made the worst trades in franchise history. He signed Bayless to a 3 year deal. He paid 11M to a backu
twitter.com
p C that can't jump. Since he missed on Tatum it forced him to overpay Covington. He extended Embiid too early w/not enough protection from injury related decline.
---
Kevin Thomas @kev_in_the_box
🔁
Joel Embiid is looking forward to getting in better shape after first injury free offseason
"I feel like at times I can be dominant, then I get tired and I just take plays off"
"I feel like next year is definitely going to be a type of MVP season for me. I want to be a leader"
---
B @12breanna
🔁
Healthy Embiid
ROTY Lock in Simmons
Dario growth
A Christmas game
A London game
All-star appearance
16 game streak w/o Joel
52 win season
3rd seed in the East
1st round playoff win.
It was a great season. Appreciate it
---
kpt @Kevinptrump
🔁
Carson's arm will be fine. This season will be about mental toughness. Having that brace will limit his escape abil
twitter.com
ity so will he be like "okay I have to change my game" or will he hate the brace like Embiid hated the mask pleading to take it off ?
---
Luis Ocampo @DownWithTTP76
🔁
@Suavecapo @PompeyOnSixers Yes because Embiid starts to make real money and that does include Bayless which they'll unload (Hopefully)
---
Olympic Memes @OlympicMemes
🔁
Bold strategy.
clutchpoints.com
---
John 3:16 @KeemtheDream22
🔁
I liked a @YouTube video
youtu.be
Joel Embiid TURNS DOWN RIHANNA DATE & REJECTS HER ON LIVE TV! Joel Embiid Rejects
---
Ty Ray @coug88
🔁
Don't mistake potential for talent. Embiid has amazing potential. Needs to grow up and develop his game in the post!
twitter.com
We've already seen his injury problems. Celtics a complete team? Seriously. Missing 4 guys and Brown playing with sore hamstring and still kicked 76ers ass!
---
Harley Harrison ® @HarleyPlease
🔁
Things I learned:
1. I have a blind spot in trying to evaluate Jaylen
2. Jayson is a basketball genius
3. Terry is a marketing genius
4. Embiid definitely isn't Shaq Olajuwon
5. Simmons = Coward
6. Marcus Smart = Marcus Smart
7. There are ~4 NBA players who can do what Al does
---
Jimmy Connell @d_money23nation
🔁
Joel Embiid just Roy Hibbert with some twitter clout
---
loading...
Jonathan Donnelly @JonDon323
🔁
The point you don't understand by this logic, with players like that in the mix, they're also probably not in positio
twitter.com
n to have guys like Embiid or Simmons on the roster.
---
Zackary @poloboxxrrs
🔁
LeBron in the last 6 minutes after Embiid and Simmons used their youthful legs to do all the work in the first 42
---
celina @nobodies_safee
🔁
A dose of perspective. Here's the number of games played before these players made the playoffs for the first time, let alone won their first playoff series:
Curry: 258
LBJ: 238
Durant: 236
CP3: 222
Iverson: 204
AD: 199
Westbrook: 164
Antetokounmpo: 158
Embiid: 94
Simmons: 81
---
Sincere C. @ItsKingCraig
🔁
Embiid was upbeat about what they accomplished and says he saw KD and Westbrook only won 20 something games in their first season together. Says Simmons came up to him after the game and showed him both his hands and told him, "There's going to be a lot of rings."
---
Philly - City of Champions @phillyflu
🔁
Oh you mean the flop? Lol.
The refs were terrible. Not sure they favored either side but fell for acting of C's. One twitter.com game Horford had no fouls at all. Embiid has drawn fouls on every defender all year. The foul by Baynes and travel by Smart at the end of game 5 were so obvious
---
Double J @2012sampson
🔁
Joel Embiid says off-season goal is to improve conditioning, targets MVP next season
wp.me
---
LUIS RINCÓN @FuenteDelDinero
🔁
🏀 James and a summer full of Sixers questions
(by )
►

on.si.com tps://twitter.com/i/web/status/994966012599635968" target="_blank">twitter.com
---
Maurice Johnson @_11golive
🔁
Sixers should have drafted Giannis in 2013 (drafted MCW), Embiid (2014), Porzingis in 2015 (drafted Jah), Simmons (2016), Mitchell or Taytum in 2017 (drafted Fultz). 2 of 5 aint bad, but can you imagine a line-up of Greek, Process, Unicorn, Simmons, and Taytum/Mitchell? Insane.
---
Andrew Porter @And_Porter
🔁
at the very least colangelo seems committed to embiid, simmons, fultz, and brown -- that's going to keep this team i
twitter.com
n contention for years.
---
Sean Sylver @TheSylverFox
🔁
I, for one, hope you'll never have to call out Joel Embiid, NBA Champion. May he remain a big, goofy dude who gives h
twitter.com
imself nicknames like Shaq did but winds up the next Dwight Howard, trolling for likes on Instagram after he chokes away another game.
---
Christopher Farley @chrisfarley71
🔁
You didn't say that .. fine but you're calling Embiid out for an action that Brady displayed on a larger scale .. bot
twitter.com
h then are sore ass losers .. can't be one is and one is not ... never said you're racist but Cam was a thug .. Brady was a competitive when running off field
---
Matthew James @CurMiller
🔁
Perspective..
End of season 2 years ago
10 wins
Will we ever see Embiid play
End of season today
52 wins
Playoff series victory
Embiid All Star
Ben Simmons ROY
Cap space to sign elite FA
Possible lottery pick
Healthy Fultz
Expectation to win the East next year
---
TJ @tj_flood
🔁
Sixers a bunch of young bulls. Giannis a monster but has no consistent help. Simmons not an offensive threat he don't
twitter.com
score he just distribute. Embiid/Reddick were the only consistent scorers the whole series.
---
Eraseddd_ @Eraseddd_
🔁
Embiid was for the most part inefficient shooting the ball in the Celtics series. He couldn't really find his stroke
twitter.com
from 3 the whole series which kinda hurt the team. It was mostly Simmons disappearance that killed the Sixers, but I don't think Embiid really balled out.
---
Jameis1of1 @jameis1of1
🔁
Pau is perhaps the "GOAT teammate" & future 1st ballot HOF'er ... as for Becky, it wouldn't shock me to see the 76'e
twitter.com
rs fire Brett Brown, hire Becky and then sign LeBron James this summer ... and Becky could win rings FAST with Simmons/Redick/LeBron/Saric/Embiid + Fultz/Covington
---
Smitty @Iam_ShanSmith
🔁
The Sixers would've won tonight if Embiid would've followed the game plan gave him! 🤦🏾‍♂️
---
Christopher Farley @chrisfarley71
🔁
How is it worse ... when did Embiid win the NBA title ... Brady can take a handshake when winning but not when losing
twitter.com
... it's worse .. when Embiid is an NBA champion then loses and acts the same id call him out too .. Boston athletes are I suppose held to a higher standard
---
dpupp @joshuafsmith081
🔁
right? still a stupid trade, but not like they gave up on taking Tatum. not sure why they drafted fultz when they
twitter.com
had Simmons already. why draft another PG? just like drafting embiid noel okafor, why do you need 3 centers with top picks. is a disaster if u ask me
---
Brian🤘🏾 @_brivn_
🔁
Sixers' Joel Embiid: "Me & Ben have a lot of room to grow. Looking at KD and Westbrook, what they did the first season together, I think they won 28 games... We have a bright future. [Simmons] came up to me, showed me his hands, and said there's going to be a lot of rings."
---
spaunce @shatcher_5
🔁
@tj_flood Bron the reason but he did hit that shot tho. & wym? Giannis, Embiid, & Simmons not bump..? vs some rookies ?
---
Sean Sylver @TheSylverFox
🔁
@AdRobsGC I don't care. But Embiid cares so much about what everybody thinks about him I just figured I'd point it out.
---
Brian🤘🏾 @_brivn_
🔁
Best plays from Ben Simmons & Joel Embiid during the playoffs.
Playoff Averages
Simmons: 16.3 PTS, 9.4 REBS, 7.7 ASTS, 1.7 STLS
Embiid: 21.4 PTS, 12.6 REBS, 3 ASTS, 1.9 BLKS

---
TheBoMan @_TheBoMan_
🔁
@BiznessMan48 Win Coach of the Year and get fired because your Super Stars aren't so super! Simmons is overrated and Embiid is a softie
---
KnicksPassion @KnicksPassionFr
🔁
1 : LeBron
2 : Durant
3 : Kawhi
4 : Harden
5 : Curry
1 : LeBron
2 : Embiid
3 : Zaza
4 : P.Gasol
5 : Westbrook twitter.com
---
Chris Keso @LocoGrecoG4
🔁
Ich mag das @YouTube-Video:
youtu.be
Max Kellerman praises Joel Embiid's trash talking: It's what makes him, him |
---
Sean Sylver @TheSylverFox
🔁
@chrisfarley71 Nah man, just sayin' Embiid's an ass. Wasn't talking about Brady. "Command servitude?" Huh?
---
Scott Muir @ScottMuir_
🔁
funny how you are forgetting the plan for the starting lineup was embiid ben cov redick fultz. were you a fan at th
twitter.com
e start of the season or did you just become a fan in the last few months? if you just started following the team your takes make much more sense
---
Nate🏌️ @nateee_10
🔁
Jayson Tatum (14) & Joel Embiid (12) put on a 1st half scoring duel in Game 5!
---
Jason Hill @iPass4Iona
🔁
Joel Embiid was asked what it would be like to play with LeBron. After a long pause, he asked whether it was tampering. After another long pause, he said maybe he could answer after July 1st.
---
Rock @Waynesteward4
🔁
Celtics Reportedly Upset Joel Embiid Didn't Shake Hands After 76ers Lost Game 5 | Bleacher Report | Latest News, Vide
twitter.com
os and Highlights:
---
---