DACA: 26.436k tweets talking about this in the last 24 hours

People talking about DACA: - kylegriffin1 - ACLU - marklevinshow - LoveUSAPeople - chijioke__raps - MaryEllen3399 - SRBB65 - lindamac12steps - GoldStuart - TexasDamnit[...]

- mlj_media_llc - MaryEsslinger1 - US_Veteran2017 - Kenneth47348726 - DarrellHutter - MALDEF - BillBaugh66 - AnthonyGrina - BillBaugh66 - BuckleyClark - NormaConnors - GarrisonPerkin5 - MerleJennings18 - realJeffBond - ron_refsbball - cryinglambs - balrogbob - somesingsfishy - slashdrixpage - M_E_Beckwith - KarsinXXX - ConstentinoTina - NinjaMama4518 - maryburcham2 - JudyDiller - chiadaeze - IanGaryTweets - VPICSMANIA - 19DScout88 - my2meows - BeachDreamin291 - iTeach_DACA - dodgerblue_42 - BledsoeChuck - SueLUVSdogs - VanessaRuizNews - ZoeGirl0825 - t2gunner - real2OffendIsOK - mollyruffles - JacquieQ1967 - sclinthead - breweronhill - JohnRealSmith - Golfinggary522 - alt953 - NathanCarreon10 - SueLUVSdogs - ImmoralReport - DaveHenning1 - CatholicNewsSvc - RealTrumpLady - JohnnyRastaDJ - Stevenf85600801 - GrizzleMeister - meanymom54 - HooDusay - unclebud38 - WBEplantlady - MissMariia - mlj_media_llc - linnyc2000 - outsidethefoxxx - crzymom110 - SarahBo18687778 - Yari2018 - teb22696 - TheTakeaway - mori99saki - mijomojo1 - CindyKayHogan1 - trofeewyf - McDougalCarolyn - KATTALES52 - kveotv23 - tonecop45 - westmassgenius - SkippyManuel - the_illatino - Golfinggary522 - lwhite2112 - Huskey1A - meathouse60005 - snark_tyranny - mrmonks01 - HispanicFed - EloiseStella - imgrape2 - KiltedRef - jen_BluEy


This Tag appearing in: United States: ( Austin - ).
Popular tweets tagged with DACA: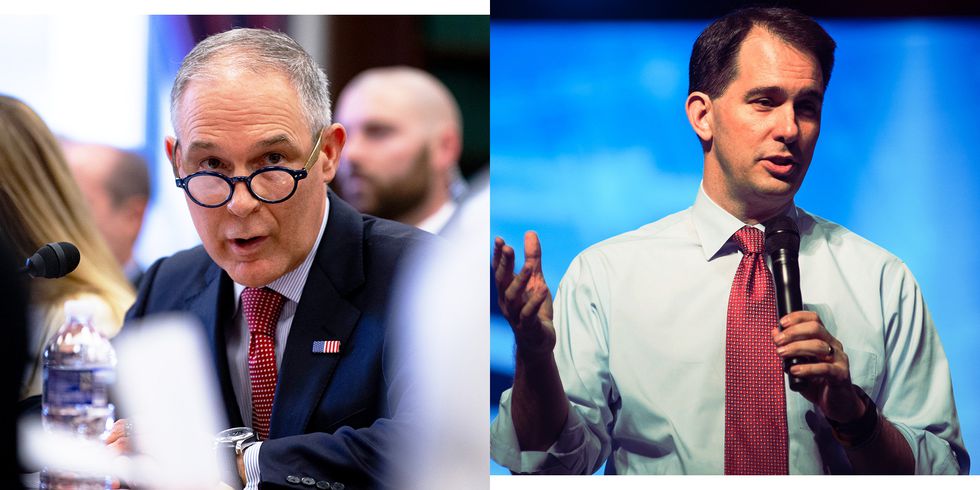 Paddy @breweronhill
🔁
Scott Walker and Scott Pruitt have teamed up on something. Buckle up.
trib.al
---
loading...
Mark R. Levin @marklevinshow
🔁
Finally, outstanding
washingtontimes.com
---
ACLU @ACLU
🔁
Here's the federal government's record on the DACA cases so far:
❌ lose
❌ lose
❌ lose again
Now, these anti-immigran twitter.com t politicians are running to another court in hopes of getting somebody to buy their story that DACA is unlawful. Like it or not, DACA is constitutional.
---
Kyle Griffin @kylegriffin1
🔁
Dick Durbin is raising questions with Jeff Sessions about possible collusion between the Trump admin and the state o
twitter.com
f Texas in terminating the DACA program.
---
Sweetie Pie @LoveUSAPeople
🔁
What a big fat joke coming from a bunch of kiss asses who haven't done squat for the USA ppl on anything that matters
twitter.com
. & so many other important issues.
---
Dont be a hater @SRBB65
🔁
Honey are you oblivious of all of the reports about the Clintons and those deaths. DACA is a temporary fix. Congress
twitter.com
has to make that ruling. Jobs back in America...do you have a real one. Many are off our systems saving us money. Give and take. Sad..true derangement. Seek help.
---
Linda Mac Dougall @lindamac12steps
🔁
needs 2 go down with the bang of Judge Andrew Hanen's gavel- & I don't wanna hear jacksh*t about the wants/needs of /Dreamers so long as there is ONE American citizen or Veteran in need on U.S. streets!
---
🇺🇸 Mahatma Kane Jeeves 🇺🇸 @GoldStuart
🔁
Barack Obama is known for:
✅Creating ISIS
✅Illegal DACA
✅Illegal Wiretapping
✅Illegally spied on Americans
✅Gave $1.5 billion to enemies
✅Weaponized FBI, CIA, IRS
✅Lied about Obamacare
✅Lied about the Benghazi attack
✅Lied about Fast and Furious
...NOT a 'badass'.
---
TexasDamnit @TexasDamnit
🔁
7 states sue to end DACA, potentially jumbling its legal future - CNN Politics
apple.news
---
MLJ-MEDIA.COM @mlj_media_llc
🔁
Police Storm Asylum Home After Migrant Mob Halts Deportation
breitbart.com
()
twitter.com
---
californiaWILLbe... @Kenneth47348726
🔁
DACA isn't a law. It's an illegal EO by the previous president that allows illegals to stay in the US.
NO ONE should be rewarded for being in OUR country illegally.
As long as even ONE VETERAN or CITIZEN is homeless, NO money should go to helping illegals

---
Darrell Hutter @DarrellHutter
🔁
.@CNN reports, 82% of Americans say they want DACA to continue.
---
MALDEF @MALDEF
🔁
Lawsuit challenging filed by "7 retrograde states," led by Texas, "is plainly collusive between two attorneys genera
twitter.com
l" -- and -- "each egregiously ignorant of the law," president says.
---
Anthony Grina @AnthonyGrina
🔁
As 7 states sue to end DACA.
Did you know illegals can file a tax return with a temp ITIN and, also claim relatives that still live in Mexico and other countries?
Last year the IRS gave approx $3.2 BILLION in refunds. How do I know this? I WORKED FOR THE IRS 17 YRS..
---
Bill Baugh @BillBaugh66
🔁
I can't comprehend how a judge can force a president to enforce an executive order. DACA was not passed by Congress, it's not a law, it is a policy.
---
GeoPeg @BuckleyClark
🔁
Ryan has been an impediment to bipartisan dealmaking, most clearly in refusing to bring a DACA fix to the floor
---
Garrison Perkins @GarrisonPerkin5
🔁
"Obama could've resolved the issue of while he was in office - he didn't because Democrats like having a political football they can kick when it's convenient."~
---
Merle Jennings @MerleJennings18
🔁
Durbin raises questions about Sessions 'conspiring with Texas' to kill DACA
dailykos.com
---
Jeff Bond @realJeffBond
🔁
Not a Muslim ban, DACA wasn't a thing before Obama (they are still technically illegal aliens), and the rest of what
twitter.com
you said is just plain ignorant.
---
Ronthedesignicon @ron_refsbball
🔁
You said the same thing about DACA Jack Rabbit... It's obvious you just like to hear yourself talk
twitter.com
---
Proud #UnfitToBeHuman @balrogbob
🔁
🔴BOOM: Texas AG Ken Paxton Will Sue The Fed Government to END DACA!
SIX STATES JOIN LAWSUIT IMMEDIATELY
AG Ken Paxton: "The fed executive branch lacks the power to unilaterally grant unlawfully present aliens lawful presence and work authorization."

---
hector valadez @slashdrixpage
🔁
Yeah daca recipients are authorized to work and pay taxes. So they're costing themselves taxes?? do you guys think be
twitter.com
fore you post anything?
---
🇵🇷 Bart N. Luther King ✊🏾 @KarsinXXX
🔁
Why is allowed on TV as an "expert"?!? Listening to this douche whine on is nauseating. He knows nothing about justification of the but he's trying to discredit. "Where is the ACLU"? They are busy working to keep Muslims & DACA in the country, Al.
---
Tina Constentino @ConstentinoTina
🔁
: & 6 other states sue to 🔴stop 🔴 Illegal Programs costing US Taxpayers Billions 🤑
💥
🇺🇸⚡️
Dreamers take away 💪…
---
mary burcham @maryburcham2
🔁
was instituted by the previous anti- American administration, of which ' 'bama had no Constitutional or legal authority to ever implement..
It MUST END NOW!
Go Team Texas!
Texas leads the charge suing to end DACA via the Android app
---
Chiamaka A. @chiadaeze
🔁
Dreamers are so brave. Despite an uncertain future, their pushing forward. Let's keep fighting for them.
---
Ian Gary @IanGaryTweets
🔁
No you're right. Republicans, the party of Muslim bans, daca attacks, denials of police brutality, "Hispanic judges c
twitter.com
an't properly rule on immigration" and literal nazis running for office because there are "very fine people on both sides" are the party of actual equality
---
Kevin Pierce @19DScout88
🔁
where was you when Obama gave millions to Iran?Where was you when Obama was interfering in Israel's election?Where w
twitter.com
as you when Obama signed the EO on DACA?Where was you when Obama lied about Benghazi,fast and furious, not knowing Clinton used a private server?
---
🌻VoteThemALLOut🌻 @my2meows
🔁
I will not allow Cruz to win. O'Rourke is weak, no better than Cruz.
Neither one cares about
They are privileged elitist.
They win we lose.
---
School Direct @DACA @iTeach_DACA
🔁
Having spent a professional lifetime working in and with schools I totally agree with that teacher quality is far more important than classsize. Teacher quality plus great school leadership are the two key factors
---
Chuck

This email address is being protected from spambots. You need JavaScript enabled to view it.

✝ ن 🐸 #MAGA🇺🇸 @BledsoeChuck
🔁
OBAMA's DACA - SOROS funded effort. 'Educated to ask for asylum' by One World Order forces. Research it. Obama never quits attacking. EVIL never quits attacking. UNSEEN but REAL 💥💣💥The Invisible War - Steve Lawson via
---
🇺🇸 Sue💞 )Q( LUVS❣️dogs🐶 @SueLUVSdogs
🔁
HEY R U sick of all these illegal people making demands. FYI unless U have legal citizenship the doesn't
twitter.com
EVEN apply to any of U. make this state RED.
---
Vanessa Ruiz @VanessaRuizNews
🔁
Seven Republican state attorneys general are suing the Trump administration to end DACA, a program shielding young immigrants from deportation.
But President Trump already wants to scrap the program, so how is it still in place?
broke it down:

---
Zoe Girl @ZoeGirl0825
🔁
Hey Charlie Dent and the others in congress need to finish the fn hearings they have going on before starting new shi
twitter.com
t. Finish the wall, finish DACA and fix immigration, then go after the payments to sluts.
---
Gwen Crawford @mollyruffles
🔁
DAILY REMINDER: REASONS TO VOTE OUT
1) Sandbagging Russia investigation
2) Tax Cuts for Billionaires
3) Taking away healthcare from kids & elderly
4) Causing increases in insurance costs
5) Eliminating DACA
6) Ignoring Puerto Rico
7) Racial divides
---
Tucapau 🌙🌴 @sclinthead
🔁
Poll: GOP voters say immigration is *the* top issue. Tax cuts rank dead last.
wants to blame Congress? Then he's should use the DACA suit as renewed leverage to force them to act.
---
John Smith 🇬🇧 #FBPE Full Brexit Prompt Exit @JohnRealSmith
🔁
"End DACA, unlawful from the get go!'
Texas among states filing DACA lawsuit to end 'unlawful' program

---
Patriot Gary @Golfinggary522
🔁
New anti-DACA case draws favorable judge
How is there any question about ending obama's ILLEGAL Executive Order?
Congress do your job & close immigration loopholes NOW
---
ALT 95.3 @alt953
🔁
7 States Sue Over DACA Constitutionality...
ihe.art
---
🇺🇸 Sue💞 )Q( LUVS❣️dogs🐶 @SueLUVSdogs
🔁
#BankOfAmerica sued for allegedly refusing to hire #DACA recipient
a.msn.com
---
loading...
Dave Henning @DaveHenning1
🔁
This story on why Nebraska has benefitted from DACA allowing young Nebraskans like Alejandra to flourish led last night's news.
---
Trump Lady 🤞🇺🇸 @RealTrumpLady
🔁
Judge Hanen, who found DAPA unconstitutiinal to rule on new DACA lawsuit. Hanen was also furious at the gross misconduct by the Obama DOJ during the prior legal proceedings.
---
Deplorable Meany @meanymom54
🔁
7 States Join in New Lawsuit That Might Succeed in Overturning DACA TX AL AR LA NE SC WV
cnsnews.com
---
BlanketyBlank..🌈🔥 @HooDusay
🔁
President's salary 400k. Cost of visits to Trump Resorts $67M. Balance owed =$66.6M. Congress travels home on their
twitter.com
dime not AF1. You have proof of murdered by Hillary "tattlers"? Have you reported this to police? A judge ruled on DACA. You can't have their paychecks.
---
Maria✨ @MissMariia
🔁
Now this is rich.
Guy that broke the law by committing securities fraud is preaching about the unlawfulness of DACA - a program that allows 800k people legally do honest days work.
The is broken.
cuz we're
---
LJ C @linnyc2000
🔁
Top Democrat questions 'possible collusion' between Ken Paxton and Trump administration in DACA suit
twitter.com
"Keep in mind Paxton is under felony indictment.....it needs to be said anytime he is invited for questioning"
---
Yaritza Pineda @Yari2018
🔁
It's so hard being a DACA recipient trying to apply for scholarships ☹️
---
Jamie Tisdal @teb22696
🔁
ABOUT TIME !!! New anti-DACA case draws favorable judge -
go.shr.lc
- @washtimes
---
The Takeaway🎙 @TheTakeaway
🔁
Seven Republican state attorneys general are suing the Trump administration to end DACA, a program shielding young i
twitter.com
mmigrants from deportation.
But President Trump already wants to scrap the program, so how is it still in place?
broke it down:

---
laurel morisaki @mori99saki
🔁
Texans want these young people to be protected; we don't want families torn apart. Texans want an Attorney General who protects everyone. Paxton is wasting tax dollars to bully kids so he can advance his extremist agenda.
---
Violet @mijomojo1
🔁
Are you a DACA recipient who needs support? Check out this blog and see how we can help!
---
Cindy Kay Hogan @CindyKayHogan1
🔁
Why the hell does the president have to explain to a judge about the expiration of DACA? It was not a law, it was a shitty temporary EO. Temporary. "Why are we putting Illegals over citizens?" Is a way better question.
---
Carolyn McDougal @McDougalCarolyn
🔁
Texas sues to stop DACA
go.shr.lc
via @washtimes
---
Erick G @the_illatino
🔁
Right now, you can still apply to renew your DACA. If you meet the requirements to apply for DACA renewal, you should apply →
---
lwhite2112 @lwhite2112
🔁
God Bless Texas!
The State of Texas is suing to End President Obama's Unconstitutional DACA Amnesty.
Hopefully we can ride this on to the Supreme Court.
---
Glenn Huskey @Huskey1A
🔁
We need the wall for our border. Trump tried to end DACA and the judge is completely wrong in blocking it for now.
twitter.com
It was unconstitutional for Obama to create this mess, yet here we are. I think that a large portion should be allowed to stay. It was not their fault.
---
Snark Master @snark_tyranny
🔁
It's worse than that. DACA was neither a Law or an E.O. It was a memo from Obama's corrupt DHS and therefore non-bind
twitter.com
ing. DACA also violates existing Immigration laws.
---
Jim Monks @mrmonks01
🔁
Texas -v- DACA Draws Federal Judge Andrew Hanen, Big Trouble Looms For Immigration Activists…
theconservativetreehouse.com
---
Hispanic Federation @HispanicFed
🔁
Right now, you can still apply to renew your DACA. If you meet the requirements to apply for DACA renewal, you should
twitter.com
apply →
---
Elle Elliott @EloiseStella
🔁
That's what you said about DACA and it was just another one of your lies. Are you going to try to blame the Dems for
twitter.com
the Vets, too?
---
Randy @KiltedRef
🔁
Hopefully this will run through the courts. The democrats should have taken the deal. By playing games, they though
twitter.com
t they could out smart the President. If the courts override the Executive Order then DACA is dead, and they will all be illegal.
---
---