Confederacy: 62.486k tweets talking about this in the last 24 hours

People talking about Confederacy: - JoyAnnReid - danpfeiffer - ShaunKing - Sailorscout58 - Daniel23hardy - BoomJustsayin - Duginist_waifu - StenhouseGeorge - TigressLilly1 - Michael4139[...]

- mabri1741 - Neekee_Hunt2 - JackieFarnham - Helixtwice - martinkrzywy - DredPirateJames - mirandaebarrows - _RaeTheMartian_ - YungAtienzo - BrunToon - jazzizbest - Sticcibunns69 - Dodgers_Leo - RScalio - amymarvin - fireballsdeep - WiredExGOP - Adamo55f - staceybeeeee - ofthestardust - DPlantySkeptic - GodBlessOurUSA - OYEPBreakinNews - NormallyNell - kujocelyn - Blink182009 - MALABeagle - Blue_in_Florida - ReneeReneecerny - mme_hardy - hawkrabbit - NoSePuedeCreer1 - jaunte - Nohiohoss - NewaHailu - frpeterpreble - EAM1234 - caveatvenditorT - Max111206 - realmcc1 - BenignVanilla - KingEric55 - ATXNupe - JosephS2424 - Q86Dee - vm66top - fitzg126 - vcdiel - tweetogram - anais_devereux - MrSuperItalian - BabzLWA - joelbartlett - cargillclerk - zumikiss - notyourvydas - CoachTolliver26 - dianez123 - stackjo - jenniferholton7 - larryjamad - MattMurph24 - Giant_Steps74 - TNKABTIT - scottmcmorrow - Socratic1 - patcall - mikerelay - clb4yeswecan - AnnHarris29 - nefaeryous - JosephBashel - delight123 - emolument2017 - sheepdog1071 - saynepsycho - EtotheNev - barbilazarow - prolifebuttons - TaconicST - WVMorgantown - andee_morante - logginsfan - grissom_45 - ConnorAPhillips - _JessicaArianne - AylahWren - thisisnotnorma - sunnymom25 - zookeynee


This Tag appearing in: United States: ( Houston - ).
Popular tweets tagged with Confederacy: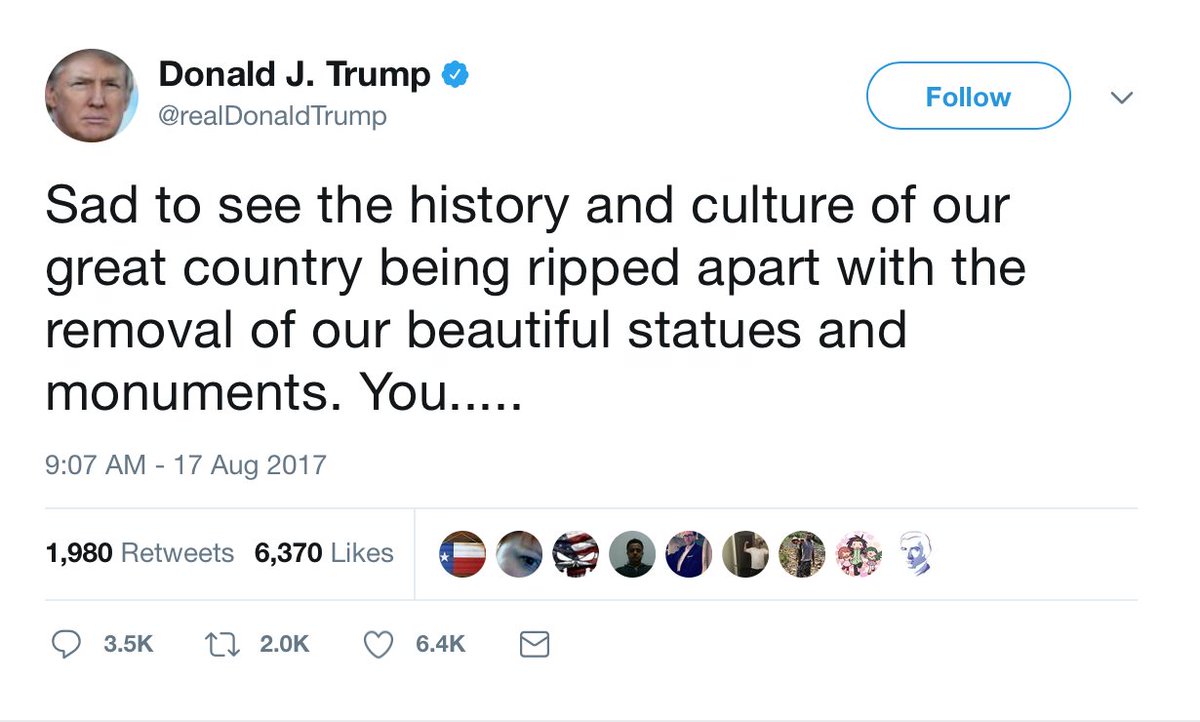 Shaun King @ShaunKing
🔁
Where Donald Trump goes ALL THE WAY in on his support of white supremacy and the Confederacy.
It's happening.
---
Daniel Hardy @Daniel23hardy
🔁
We're stuck with the biggest monument to Confederacy -- the electoral college. We don't need others.
---
Dan Pfeiffer @danpfeiffer
🔁
Any White House staff resign today? Or did they all show up this morning to work for a guy who thinks the confederacy is getting a bad rap?
---
Joy Reid @JoyAnnReid
🔁
Beauty??? You are a full-on confederacy apologist at this point. How can you be the commander in chief and revere lit
twitter.com
eral treason?
---
Truthfully Speaking @BoomJustsayin
🔁
Removing monuments is not really about the Confederacy or slavery.
The ultimate goal is to destroy the Constitution.
---
Neo-JacobitefromNY @Duginist_waifu
🔁
A semantic thing, but the confederacy didn't merely seek to preserve slavery. They aimed to expand it.
---
george @StenhouseGeorge
🔁
Fuck confederacy and anyone who supports it
---
Tigress Lilly @TigressLilly1
🔁
Some Digging Up are Ancestors to Black Families Owned Slaves! Of Blacks FOUGHT FOR CONFEDERACY! Not Every Black Owned
twitter.com
by Whites!
---
Michael Hocks @Michael4139
🔁
While clearing out everything that symbolizes slavery. Let's not forget the Democratic Party. They started the Confed
twitter.com
eracy and the KKK.
---
Neekee Hunt 🇺🇸 @Neekee_Hunt2
🔁
He's trying to expand debate from the Confederacy to Washington, Jefferson, Jackson, Wilson and even TR. Don't take the bait. Focus on 45.
---
Jackie BonnerFarnham @JackieFarnham
🔁
Serena of SONG: the future is now, and the future is not one of the white supremacist confederacy
---
Lance J Konover @Helixtwice
🔁
I don't know if it can be said enough
The confederacy was a treasonous organization & no one who participated should be remember positively
---
loading...
stacker of wheat @martinkrzywy
🔁
Great article that puts the lie to the idea of monolithic support for the Confederacy in the Civil War South
newsobserver.com
---
James El @DredPirateJames
🔁
Beauty??? You are a full-on confederacy apologist at this point. How can you be the commander in chief and revere literal treason?
---
🇷🎆🇳🎆🇹 @_RaeTheMartian_
🔁
Would you say he's trying to... gin up support from racist Trump supporters by bringing up the Confederacy?
---
DJ @YungAtienzo
🔁
Where Donald Trump goes ALL THE WAY in on his support of white supremacy and the Confederacy.
It's happening.
---
Marg in Wonderland @Sticcibunns69
🔁
Montana?
Ah yes. Montana. The mint julep scented Antebellum heart of the Confederacy. twitter.com
---
Leo()()()() @Dodgers_Leo
🔁
Monuments stand for legacy. This is the real legacy of the Confederacy: cemeteries full of US troops who fought to preserve this nation.
---
Amy Marvin @amymarvin
🔁
Reminder:
This month, the Trump administration slammed the base of the Statue of Liberty, and defended the statues of the Confederacy.
---
Wayward @Adamo55f
🔁
Want a history lesson, Democrats?
Which party fought for the Confederacy?
Which party founded the KKK?
---
loading...
stardust @ofthestardust
🔁
Current fight over Confederate legacy began 24 yrs ago, when new Sen. Moseley Braun took on Jesse Helms
---
David @DPlantySkeptic
🔁
What? History is in books, and if you care to read it before tweeting nonsense, the confederacy fought for SLAVERY.
twitter.com
No monuments necessary.
---
God Bless Our USA! @GodBlessOurUSA
🔁
#Confederacy #civilwarstatues should be replaced with symbol of what prompted the end of #slavery --the #Cross of #Jesus #MAGA #POTUS #Trump
---
Evangelist Anita F. @OYEPBreakinNews
🔁
Stop comparing the Confederacy to Nazis and Hitler - Not the same thing!:
youtu.be
via @YouTube
---
MadameHardy @mme_hardy
🔁
Thread. The Jefferson Davis Highways were a well-organized propaganda effort by the Daughters of the Confederacy. W
twitter.com
hite women.
---
Jeane Milligan @hawkrabbit
🔁
@realDonaldTrump You should study facts more.The Confederacy was always about white supremacy, and so are the monuments dedicated to it.
---
NoSePuedeCreer1 @NoSePuedeCreer1
🔁
Also note: statues to confederacy were mostly erected in 20s & 30s during resurgence of racism that saw Trump's father in KKK.
---
EricFive @KingEric55
🔁
Are those obsessed with history, heritage and legacy of the Confederacy in favor of reparations for those negatively impacted by that legacy
---
On SabbitiKal @ATXNupe
🔁
@thehill Montana was part of Confederacy? I must've slept that in American history.
---
Joe S @JosephS2424
🔁
Really?? The confederacy is a dark mark on our history. We should not celebrate those who fought for slavery and to d
twitter.com
estroy the USA
---
Top Brazilian @vm66top
🔁
Compare: ISIS-slavery, intolerance, killing U.S troops. The Confederacy-slavery, intolerance, killing U.S troops.
---
Victor DiEleanora @vcdiel
🔁
@WalshFreedom If it glorifies murdering Americans
Such as Confederacy and Third Reich
---
Super Mario 🇺🇸👍🏼 @MrSuperItalian
🔁
62% of Americans agree with Trump: statues honoring Confederacy should remain in place as historical symbols.
This needs endless retweets!
---
The Fake Santa Claus @zumikiss
🔁
Making the federal government so small you can drown it in a bathtub = state's rights = Confederacy = slavery. Duh.
---
Coach T @CoachTolliver26
🔁
I want them 2 stay up. so people r reminded of what the Confederacy was all about.people need 2 b truthful about it
twitter.com
---
Diane @dianez123
🔁
9. We do not need to let the Confederacy continue to hold us hostage. We can do better.
---
stackjo @stackjo
🔁
@TIME It would be the same if there were statues of Osama Bin Laden or the 9/11 hijackers. The Confederacy took up arms against the USA
---
Larry Jamad @larryjamad
🔁
Do you know how racist you have to be to be raised in New York City and still support the Confederacy
---
Scott McMorrow @scottmcmorrow
🔁
Yep, that about sums up the confederacy.
twitter.com
---
Mata Hari @Socratic1
🔁
A group called the United Daughters of the Confederacy saw an opportunity to memorialize their version of history with the dawn of autos.
---
Mike Chiaburu @mikerelay
🔁
The United Daughters of the Confederacy sounds like such a nice group group but this is the poison they spread. (whol
twitter.com
e thread is great)
---
gremory 🦎 mosity @nefaeryous
🔁
lmao at ppl who think AZ doesn't have any connection to the bloody history of the confederacy
---
Taconic @TaconicST
🔁
@OhioTrent Doubtful, since they aren't monuments to the confederacy.
---
Morgantownie(ish) @WVMorgantown
🔁
It isn't. And I'm not spending an hour listening to apologia for the Confederacy. If I want that, I can listen to Tru
twitter.com
mp.
---
LA @grissom_45
🔁
What could be better? Vacationing, playing golf, dreaming about your next campaign rally & tweeting about preserving the Confederacy.
---
Connor @ConnorAPhillips
🔁
Robert condemned the idea of making monuments to the confederacy. #JustSaying
twitter.com
---
Jesi @_JessicaArianne
🔁
The confederacy was against America! They wanted to break away! Why should we honor those who didn't want to be in o
twitter.com
ur country?!
---
---