Comey: 203.073k tweets talking about this in the last 24 hours

People talking about Comey: - RepAdamSchiff - realDonaldTrump - DavidCornDC - coco211939 - PatrickDodds3 - CarlosARodrgue7 - plmyers - nystweets - Hippyhappyness7 - MhurleyMike[...]

- jhorne24746260 - speedin88 - SamFogelgaren - mdp222psu - FlunckyJoe - claycreate - Conversationbug - Jep4577 - SnydyMan - 1stevedoerr1 - thejoeywatts - moms4trump2017 - PoisonousFog - MichNickolds - JC20204 - Purrcival - biddergalore - MAGA2020too - DavidWe18019162 - TheObamaphile - ToneLocNV - 3Panda3 - allPoliticsApp - hinterlandg - matt_bart - spark___y - kss160 - freshpurple2 - dyanjae - mikecrooks - JohSanders - tutster_2 - rationalwalk - THEgirlscruggs - Mamapearl2 - ehedie_3939 - frespirit01 - kathygroob - TimKehayias - Airess - TignorRenee - cococagg70 - DonnaL12 - Horton47Robin - CherylF19409787 - Nntt26 - rdmccall61 - DebiDkruse - Apachified - RickAndKim30yrs - pamellasiemers - nancypreuss - KirimiKilymi - Nicholson_lee - CDelaperriere - jokerusso - Collette_AZ - RLasesjes - OldLinePatriot - cking4977 - AgendaOfEvil - SSDeplorable - sjmn777 - ssedloffthomas - channel1america - Nikkittanikki - Susie98034071 - REALmillerfinch - RobinRWSauls - suddenlygarmo - Vetteil - Rumpelsilkskin - Michael32Gman - fullacre1 - babreslauer - peoplestrustTOR - habanaborn - AllyWormz - KimBlaco - WandaHaynes - share1thought - frespirit01 - Bee30758370 - jakewinburne - DawnSwe12515208 - tamsets - dhr2580 - sakimasse - BernawWood - mommabear405


This Tag appearing in: United States: ( Atlanta - ).
Popular tweets tagged with Comey:

peoplestrusttoronto @peoplestrustTOR
🔁
James Comey Visits The New York Times
peoplestrusttoronto.wordpress.com
---
Adam Schiff @RepAdamSchiff
🔁
Deadline to turn over any tapes of Comey conversations to House Intel – if they exist – is Friday. Time is running out for WH to comply.
---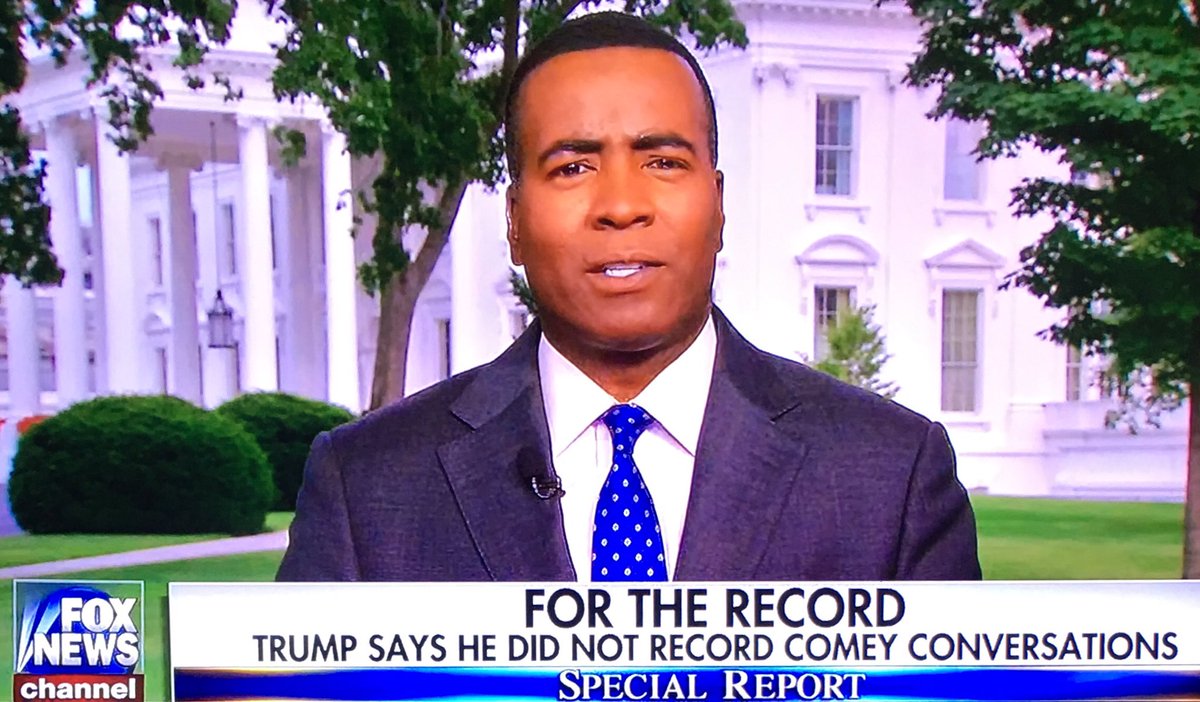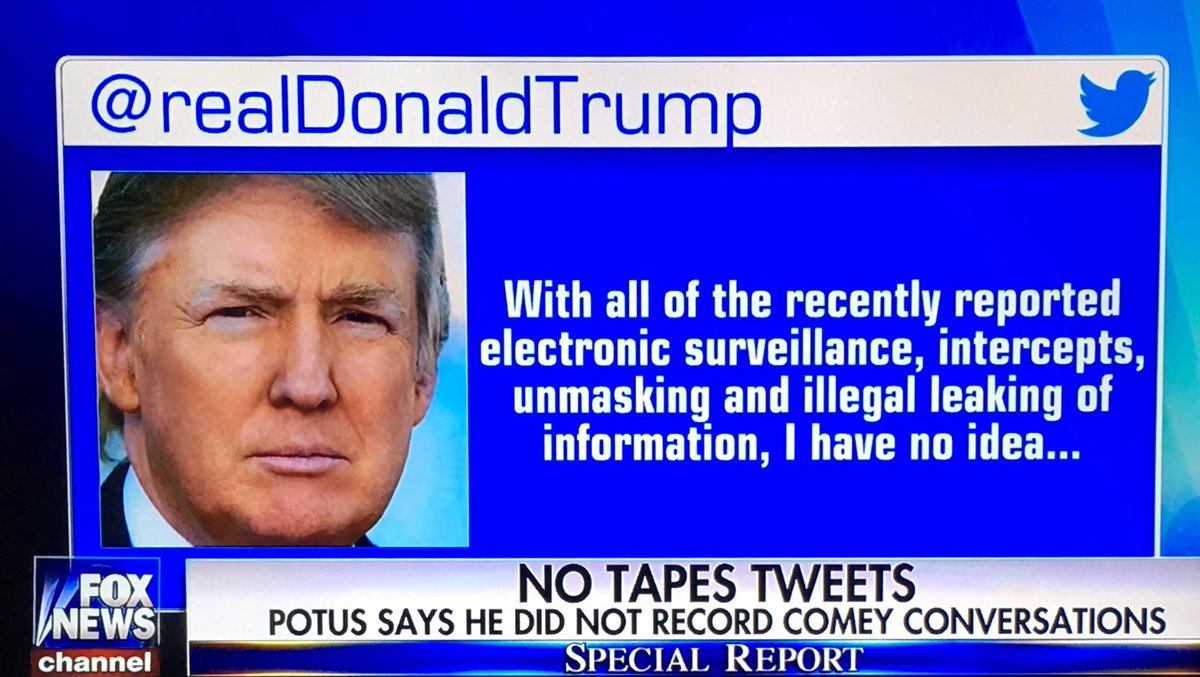 Joe Goodman @FlunckyJoe
🔁
@kevincorke with an update. We have #Trump and #Comey but no tapes @FoxNews
---
oUTHOUSE CRAPPER @suddenlygarmo
🔁
Last month I was reeling that Comey is 6'8. That's over. I'm now consumed with this. Consumed
---
Donald J. Trump @realDonaldTrump
🔁
...whether there are "tapes" or recordings of my conversations with James Comey, but I did not make, and do not have, any such recordings.
---
David Corn @DavidCornDC
🔁
Trump: Obama wiretapped me.
Trump: I may have secretly recorded Comey.
Trump: The real problem is fake news.
---
Trump Supporter @coco211939
🔁
REPORT: Acting FBI Director McCabe 'The Key' Behind Mueller and Comey Scheme Against POTUS
worldtoday365.info
---
Jean-Luc's Owner @PatrickDodds3
🔁
@OCMel1 @CBSNews Comey made Comey speak the truth. Indeed, he was looking forward to hearing Trump's supposed tapes.
---
Carlos A. Rodríguez @CarlosARodrgue7
🔁
Pres. Trump: "I did not make, and do not have, any such recordings" of conversations with former FBI Director Comey.
---
Deplorable Me2 @plmyers
🔁
What had Comey said that worried him to the point he was compelled in the middle of the night to leak Must have been incriminating to Comey
---
NYSTweets @nystweets
🔁
Dying cause @JamesBrienComey trolling @realDonaldTrump. Keep it coming Comey!
---
AntiZombieTrumpForce @Hippyhappyness7
🔁
Psst, the tweet about the tapes came after Comey was already fired. So it can't have influenced any investigation. Time, how does it work?!
---
loading...
mike hurley @MhurleyMike
🔁
Thanks for clarifying, Newt.
And I don't think Comey is easily rattled. Sessions, yes. Comey, no.
---
American Infidel🕆✡ @speedin88
🔁
Fun fact... James Comey was the prosecutor Martha Stewart. He lets Hillary slide 😡
---
Sam Fogelgaren @SamFogelgaren
🔁
Trump: Obama wiretapped me.
Trump: I may have secretly recorded Comey.
Trump: The real problem is fake news.
---
Paul @claycreate
🔁
.: "If there was an investigation that's going on right now, the investigation should be James Comey."
---
Jim Poole @Jep4577
🔁
Does this include Comey?
twitter.com
---
Jason Snyder @SnydyMan
🔁
This evening's Twitter brain-trust is adorably arguing that Trump trying to influence Comey to tell the truth could obstruct justice.
---
TRUMP trumps Hate @1stevedoerr1
🔁
Yes, "tell the truth about our conversation, might be tapes!" would nefariously influence Comey into telling the truth. Well thought out.
---
Joey Watts @thejoeywatts
🔁
Trump: I have tapes. Scared?
Comey: You win. Here's my time-stamped notes.
Trump: I was bluffing.
Comey: Oh.
Trump: You weren't?
Comey: ...
---
loading...
Moms🌷Love🌷Trump! @moms4trump2017
🔁
👇💜👇💜👇💜👇💜👇💜👇💜👇💜
Here's PROOF ~ Comey told Sen Grassley all along
that DJT NOT under inve twitter.com stigation
RT
---
#MAGA Vet @PoisonousFog
🔁
Trump left possibility of tapes of his conversations with Comey to bluff Comey into telling the truth.
Our President knows what he's doing.
---
Mitch Nickolds @MichNickolds
🔁
Trump Doesn't Have Recordings of Conversations With Comey, Source Says
a.msn.com
I sure hope those tapes get leaked!
twitter.com
---
JC2020 @JC20204
🔁
Jim Jordan Pissed That James Comey Lied To America About Hillary Clinton...
youtu.be
via @YouTube
---
JustBrenda @Purrcival
🔁
@jaketapper There were several reasons to fire Comey. That was only one of them. @POTUS was completely within his constitutional authority.
---
Leslie @biddergalore
🔁
BREAKING: TABLES TURN - New Obstruction Lawsuit Against James Comey.
truthfeed.com
---
M.A.G.A......!!! @MAGA2020too
🔁
W.T.F........goood newssss from PJ boy Comey.....
twitter.com
---
David Weiss @DavidWe18019162
🔁
They Should Be Demanding An Investigation On Loretta Lynch & FBI director James Comey.
RT IF YOU AGREE!
---
Andrea Watson @3Panda3
🔁
Gregg Jarrett: Will Mueller & Comey use a false case of obstruction to trigger impeachment? Fox News
---
Matt Bartlett @matt_bart
🔁
Trump could have revealed there's no Comey tape at any time. But he waited until the moment health care disaster hits. That's no coincidence
---
Inez4885 @spark___y
🔁
Trump's tape bluff got Comey to admit he told Trump 3x he wasn't under investigation.
That's why, you idiots.
---
KSS160 @kss160
🔁
SPOTTED: Former FBI Director James Comey entering The New York Times' office today shortly after 6pm est.
---
FreshPurple @freshpurple2
🔁
James Comey Broke With the pressure on details, motivation — to describe the polls will be how to evidence of emails weren't
---
Dyan Jae @dyanjae
🔁
He fell right into Trump's trap.
Trump KNEW Comey had leaked. So he got Comey to admit it. twitter.com
---
Johanna Sanders @JohSanders
🔁
Ex-Obama ethics lawyer: Trump threatening Comey with non-existent tapes was "witness intimidation"
hill.cm
---
Robin Roller Thixton @THEgirlscruggs
🔁
Also, I wouldn't be shocked if we find out later there were tapes and they only proved Comey was telling the truth.
---
Cheryl kim @Mamapearl2
🔁
It is preposterous for the Commander in Chief, with his access to world-class intelligence, to say he has "no idea" if Comey tapes exist.
---
Emmy @ehedie_3939
🔁
Juliette Kayyem: Trump lying abt Comey tapes is natl security issue. All know he lies & bluffs. That weakens our position w allies & enemies
---
Karen @frespirit01
🔁
This is true. Comey lied about the timing and motive for his leak. It's pretty obvious why, when you put together all the pieces.
---
colleen caggiano @cococagg70
🔁
Schiff: Would Comey have opened a counter-intel investigation on a presidential campaign "on mere hunch?"
Fmr. DHS Sec. Johnson: "No."
---
DeplorablePatriot @DonnaL12
🔁
Senator Grassley lays it out clearly that Comey must be arrested & thrown in jail for his "cowardly-obstruction" of justice-w/Schumer-Schiff
---
Robin Horton @Horton47Robin
🔁
EDIT: That time trump created a LIE about recordings of FBI Director Comey & then denies knowing anything about the LIE he himself created.🍊
---
Ninette Olearain @Nntt26
🔁
DOJ & FBI are doing a disservice to American people by withholding Comey memos, writes for
---
Swather @DebiDkruse
🔁
Comey admitted he leaked! Why is he not being charged? That's 10 yrs in jail. Why is he not being charged?
---
Apachified @Apachified
🔁
@meburch7 Because they're CORRUPT. That's why Trump fired Comey.
---
DeplorableTx#MAGA @RickAndKim30yrs
🔁
Who's that visiting the New York Times today? Sure looks like James Comey to me ...
dailymail.co.uk
---
Cyril Delaperriere @CDelaperriere
🔁
If he didn't make a recording of Comey why did he talk about a recording? Did he make it and destroy it? Who knows.
---
America Matters!🇺🇸 @Collette_AZ
🔁
Duped in your own game! 💘 it!
Present ur memos Comey!
Gingrich: Trump Wanted to 'Rattle' Comey – No 'Tapes' Exist
thegatewaypundit.com
---
Rachel Lasesjes @RLasesjes
🔁
We Know For Sure Leaked ILLEGALLY
If There Is An Investigation Going On
▶️It Should Be
---
Chris King @cking4977
🔁
Actually I thought it was a great got-cha suggesting tapes, he didn't say he had them which he doesn't just like comey doesn't have notes
---
Agenda Of Evil @AgendaOfEvil
🔁
#New President Trump vs FBI Director Comey
youtube.com
---
SSDeplorable @SSDeplorable
🔁
1 Trump sent a tweet: Comey better not leak bc of possible TAPE
2 Comey leaked
3 Under oath Comey: I leaked
4 Trump: What tapes?
---
Sandie MacNeil 🌍🌱 @sjmn777
🔁
Trump on Twitter: 'I did not make, and do not have' recorded conversations with Comey (via )
---
🙈🙉🙊ssedloff🙈🙉🙊 @ssedloffthomas
🔁
you just said that to keep Comey from talking, further obstructing justice. I hate everything that you stand for.
---
Channel 1 America @channel1america
🔁
CBSNEWS reports Ending weeks of speculation, Pres. Trump says he does "not have" tapes of Comey conversations:… …
twitter.com
---
Chris @Nikkittanikki
🔁
Is anyone shocked by this BREAKING NEWS? Does anyone fail to see how it tends to show Trump tried to silence Comey?
---
Susie @Susie98034071
🔁
@thehill Comey was already telling the truth. Trump's the liar-in-chief and Dershowitz is his lap dog.
---
4th branch, Govern.. @RobinRWSauls
🔁
No; he was threatening Comey-so Comey had recorded their meetings!
twitter.com
---
AMurray @Vetteil
🔁
Comey hadn't testified. Once he did, it's now public. Prior to that, it was Executive Branch property. Legislative couldn't touch it. -VJ
---
Spring Garrett @Rumpelsilkskin
🔁
Why did Donald Trump pretend to have tapes on Comey? For the same reason he does everything: to get us all to pay attention to him.
---
Patriot @Michael32Gman
🔁
Wrong. This tactic forced Comey into honest testimony which he surely had planned to be totally different. It was bri
twitter.com
lliant. He never lied.
---
Beth Breslauer @babreslauer
🔁
Ari Melber on Trump's Comey tapes gambit: "Trump is a national version of Candy Crush, wasting our time whether we like it or not"
---
Dale Haynes @WandaHaynes
🔁
Now that he knows there are no tapes, Comey can go back to lying again.
twitter.com
---
Karen @frespirit01
🔁
BREAKING : TABLES TURN – New Obstruction Lawsuit Against James Comey – TruthFeed
truthfeed.com
---
Lisa Cabello @Bee30758370
🔁
James Comey Visits The New York Times
zerohedge.com
---
Dawn Sweeney @DawnSwe12515208
🔁
EXCLUSIVE - Ousted FBI director James Comey visits the via
dailym.ai
---
Tam is Pissed @ GOP @tamsets
🔁
. How do you feel about Newt Gingrich calling you a Liar 🤷🏼‍♀️
---
Darlene @dhr2580
🔁
@realDonaldTrump Yup. It's dead just like your wiretapping bs story and Comey tape story. Well straight lies.
---
Vicky Beal @sakimasse
🔁
So Trump wanted intel officials to say in public what Comey had told him in private. I know, where's the fainting couch?
---
Momma Bear @mommabear405
🔁
Comey was a political hack. New York Attorney originally appointed by Bill Clinton then appointed by Obama Comey was a criminal
---
---