Andrew McCabe: 469.885k tweets talking about this in the last 24 hours

People talking about Andrew McCabe: - realDonaldTrump - KamalaHarris - adamcbest - fgthegman - valjswhit - MaxBoot - higgswarpigs - Patrici49625372 - doogiebarry - mahree_v[...]

- rremmy72 - Aliyajawaid1 - usaforyoubruv - MDoriaRussell - 1debbur - PatrickL2017 - boogtek - StablelessHorse - Mr_Insanity97 - ERPP1 - mjohnso27 - jackoftrump - JohnDTrudel - WilliamfparkEr3 - Tanya10049407 - davidpwil - KrisKetzKMBC - JillNensewitz - StevenDiaz317 - BobbieBobWeaver - Butch_1958 - Froggy6788 - boaomega22 - KimWelzenbach - mollie_duncklee - mundoLatino5 - CherieCthesp48 - bhappyil - ormedesmarais - RayShortridge1 - Nearysvoice - DesleyAndrew - johngort3 - AcusingPig - TyHyCHI - SnarkyTwit - hotmomforbernie - 9bb2e5c43a21469 - trending27 - IRONLION1914 - LuzetteH - DavidMwarema - balihai2 - LuanaMacLac - ZeeJayson - ultraHD2016 - Mini_Applee - SmithNob03 - Loresang1996 - Poppie2015 - garciaricard0 - LanaKay11 - Jgiantsfan3852 - GlamazonJay - Tweetter_Twat - Purrpatrol - nondisclosure_ - smilinsandi - VeldaMcclung - MyBigGirlPanti1 - mikebrons1 - cbfrasier13 - marve_rita - sharon_favia - satoshiksutra - dmarserl - rpajmom - LanceT71 - RickSMitchell - aydoneymang - Jburgh4 - suzyquetexas - TereQuezada - krissunset - CarlitoBronson - WIMSJ - TyHyCHI - Gval1209 - tjohn421 - alreadygreatMD - BothwellJeremy - LanaKay11 - dallasdeadeye - KellyCanuckTO - Wolgadeutscher - Chris_1791 - MauryRiddick - Hopp359 - abird_saul - missyens


This Tag appearing in: United States: ( San Diego - San Francisco - Seattle - ).
Popular tweets tagged with Andrew McCabe: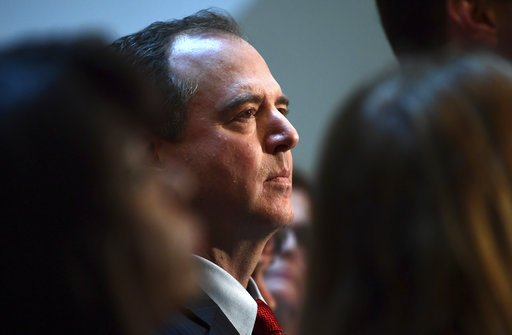 Kris Ketz @KrisKetzKMBC
🔁
Adam Schiff: Andrew McCabe's firing "may be justified"
washex.am
---
loading...
Adam Best @adamcbest
🔁
Andrew McCabe - Republican
James Comey- Republican
Robert Mueller - Republican
Rod Rosenstein - Republican
All o twitter.com f these Republicans are not part of some secret liberal FBI scheme. This ridiculous right-wing fairy tale needs to be put to bed.
---
Kamala Harris @KamalaHarris
🔁
Jeff Sessions needs to testify immediately before the Judiciary Committee to answer questions on the firing of Andrew
twitter.com
McCabe. He must explain the DOJ's process and whether this is an attempt to target, punish or silence those investigating Russia and the Trump campaign.
---
Donald J. Trump @realDonaldTrump
🔁
Spent very little time with Andrew McCabe, but he never took notes when he was with me. I don't believe he made memos
twitter.com
except to help his own agenda, probably at a later date. Same with lying James Comey. Can we call them Fake Memos?
---
#1 Patriot Frank @fgthegman
🔁
Andrew McCabe is the now-fired Deputy Director of the FBI whose wife received $700k from Clinton allies & who recused himself from the Clinton investigation just one week before the 2016 election — and the FBI is still stonewalling JW on his text messages.
---
ZeiynaWarPrincess @valjswhit
🔁
Andrew McCabe was just offered a job by a congressman so he can get his full retirement. And it just might work.
---
Max Boot @MaxBoot
🔁
A former federal prosecutor says that Trump is acting a mobster or narcotics kingpin who has been targeted by the fed
twitter.com
s.
---
Christopher Higgs @higgswarpigs
🔁
Andrew McCabe - Republican
James Comey- Republican
Robert Mueller - Republican
Rod Rosenstein - Republican
All of these Republicans are not part of some secret liberal FBI scheme. This ridiculous right-wing fairy tale needs to be put to bed.
---
Patricia Wilson @Patrici49625372
🔁
It's certainly conceivable that Trump, being Trump, would reach into the inner workings of the FBI and Justice Dept. to frame Andrew McCabe and get him fired. But anyone who claims that's what happened needs to provide evidence to back it up. Mere supposition doesn't cut it.
---
Marissa V @mahree_v
🔁
Michael Flynn, who pleaded guilty to lying to the FBI and took money from foreign adversaries gets to keep his full pension but Andrew McCabe, who worked honorably for 21 years, loses his?
---
Richard Remmy @rremmy72
🔁
Andrew said that he would take people down with him if he was fired.
Well, I've got a list for you since you offered...
-Rosenstein
-Comey
-Mueller
-Obama
-Lynch
-Hillary
-The Democrat Party
Go ahead and take the swamp down with you!
🇺🇸
---
American Pride @usaforyoubruv
🔁
Geraldo Rivera Is An Idiot! Andrew McCabe Destroys Mike Flynn's Life And You Say Nothing. McCabe Gets Fired And You Defend Him. It Is Time For You To Retire!
---
Mary Doria Russell @MDoriaRussell
🔁
Not just the Justice Department - we know they're cleansing State Dept of those who don't support Trump enough. Imagine what we don't yet know.
And remember - Republicans still support Trump. They could have impeached him in the first month.
---
debbie yoon @1debbur
🔁
BREAKING: Lindsey Graham has just called for a Senate Judiciary hearing on Andrew McCabe's firing.
Seems like Graham may be starting to turn on Trump, however, we have already seen this happen once and he changed his mind.
---
Dossier for hire 📝🔎💸 @boogtek
🔁
Unless Andrew McCabe faces criminal charges - and he should - his termination has set him up for a lucrative career as an anti-Trump "martyr" with well paid speaking appearances, book deals and endless praise from the corrupt mainstream media. Crime pays!
---
Marie Louise @StablelessHorse
🔁
Patriot.
RT & like this picture of Andrew McCabe so it's the first thing you see when you search "Patriot" on Google.
---
Joe English @Mr_Insanity97
🔁
Jim Comey reportedly told three senior FBI staff about his Trump conversations:
- Andrew McCabe, who tried to retire and was just fired
- Jim Baker, who the FBI reassigned
- and James Rybicki, forced out under pressure
---
Claude Mitchell @ERPP1
🔁
Andrew McCabe's wife received $700,000 from democrats, while Peter Strzok - who changed Comey's "grossly negligent" statement - enacted a coup against President Trump & the hardened democrats were paying an ex-MI6 Moscow field agent to interfere in our elections.
---
jackoftrump @jackoftrump
🔁
One leaker down. More to go.
fb.me
---
John Trudel @JohnDTrudel
🔁
Dear Andrew McCabe... Remember when you said: First we F*ck Flynn and then we F*ck Trump? How's that working for ya!
twitter.com
?
This guy should have been working for Joe Stalin, not the FBI.
---
Tanya @Tanya10049407
🔁
President Trump is being criticized for tweets (what else is new) regarding Andrew McCabe's termination. The left would have smeared Trump with claims of a "politicized firing" either way, so why shouldn't he play to his base?
---
DavidPWil -Christian @davidpwil
🔁
"His [Andrew McCabe's] own fellow FBI agents said he leaked and then he lied, so if he's got creditibility issues he need not look any farther than himself."
- Rep. Trey Gowdy (SC)
---
Jill Nensewitz @JillNensewitz
🔁
If you think the blowhards at CNN are apoplectic about the Andrew McCabe firing...
WAIT UNTIL THE INDICTMENTS START.
Don Lemon is Con Lemon.

---
Bobbie Weaver @BobbieBobWeaver
🔁
Robert Mueller = 🔴
Andrew McCabe = 🔴
James Comey = 🔴
Rod Rosenstein = 🔴
Then why are you firing or trying fire all the Republicans, you dope 🇷🇺?
The people rest your honor... 🙏🏻
---
Jim Venzke @Butch_1958
🔁
BREAKING: Andrew McCabe says firing is part of Trump administration's "ongoing war on the FBI" and Mueller investigation.
---
Mollie Duncklee @mollie_duncklee
🔁
Dirty Cop Andrew McCabe ordered FBI agents to commit Purgury by falsifying 302's (field reports) in order to obtain the indictment against American Hero General Flynn — Prepare for the storm!
---
bhappyil @bhappyil
🔁
Andrew McCabe's net worth is $11 million... as a career public servant? 🤔
People should be asking why a public servant is driving a $300k Porsch and not crying about this snake losing his pension. Insider trading? Clinton Foundation?
---
Brisson @ormedesmarais
🔁
BREAKING: Fired FBI Deputy Director Andrew McCabe's secret memos documenting his conversations with President Trump are in the hands of Special Counsel Bob Mueller.
RT if you want them to !
---
Ray @RayShortridge1
🔁
A spiteful is trying to force Jeff Sessions to fire Andrew McCabe, a 22 year career FBI director 2 days before he retires TO ELIMINATE HIS PENSION! That is just SICK and SAD. Who does terrible things like this?
---
Robin Neary @Nearysvoice
🔁
Michael Flynn (convicted felon) gets a standing ovation at a republican fundraising event.
Andrew McCabe (defended America from terrorist threats post 9/11) gets fired without a pension.
This is a shining example of what the republican party has become.
---
Desley Andrew 🇦🇺🤓 @DesleyAndrew
🔁
Trump fired Comey. Trump had Sessions fire Andrew McCabe. Ryan had Nunes shutdown the House Intelligence Committee.
Their "cover-up" is nearly complete. All that's left for them to do is fire Bob Mueller. We need to be ready.
Read 's latest.
---
John Gort @johngort3
🔁
Just a reminder:
Anyone claiming President Trump fired Andrew McCabe is "lacking candor".
"Lacking candor" is SWAMP code for lying.
---
Chambered @AcusingPig
🔁
Office of Professional Responsibility (OPR) recommended McCabe's termination following the DOJ-IG report. OPR specifically noted that he "lacked candor, including under oath, on multiple occasions." MSM keeps forgetting the significance of this...
---
🗽#NeverAgain WE are the LEADERS🌊 @TyHyCHI
🔁
Donald Trump has meltdown after learning Andrew McCabe already gave everything to Robert Mueller
palmerreport.com
---
QAnonPost.com @hotmomforbernie
🔁
The Deep State are in full blown panic mode after the Andrew McCabe firing.
Enjoy the show, Patriots. This week will be fascinating!
---
Bg G @9bb2e5c43a21469
🔁
Andrew McCabe: 1. Intentionally ignored EVIDENCE of crimes by Hillary Clinton.
2. Allowed FISA court to be used to ILLEGAL LY spy on TRUMP campaign!
3. Helped set up and FRAME General Flynn.
4. Lied to Congress and the FBI about his actions.
And you think he deserves a pension???
---
🇺🇸 🇺🇸 Jerry 🇺🇸 🇺🇸 #MAGA2018 🤨 @trending27
🔁
Multi-Millionaire California Investor Jason Calacanis Starts GoFundMe Page For Andrew McCabe, Same McCabe Who's already Worth Millions & Owns 2 Homes...
Hey Jason, I Hear Has A Few Homeless Veterans, Maybe Start There🤔
---
Luzette @LuzetteH
🔁
Every sentence of the President's tweet on McCabe... "is a lie. Every sentence violates norms established by Presidents of both parties. Every sentence displays the pettiness and the vindictiveness of a man unsuited to the job he holds."
---
Mwarema David @DavidMwarema
🔁
James Comey has memos.
Andrew McCabe has memos.
Robert Mueller has a grand jury.
We the People have the power to vote.
Trump has Sean Hannity and a failing GOP Congress up for re-election in 2018.
CONCLUSION: My money is on the FBI, the Special Counsel and We the People.
---
Annie @balihai2
🔁
Whom would you believe or, not a rhetorical question really ----------->
Ex-CIA chief to Trump: US will triumph over you
---
loading...
Luana H. @LuanaMacLac
🔁
Andrew McCabe's wife received $700,000 from someone close to the Clinton Foundation, and he handled the Clinton email investigation. This is a huge conflict of interest! But to the Democrats, this is business as usual.
---
Jayson Zee @ZeeJayson
🔁
March Madness: A senior FBI official who was instrumental in the mishandling our nation's most sensitive political investigation since Watergate lied to the Office of Professional Responsibility and CNN is worried his firing was 'insensitive.' 🤔
ANDREW McCABE IS A DIRTY COP.
---
Mini_Applee @Mini_Applee
🔁
Spent very little time with Andrew McCabe, but he never took notes when he was with me. I don't believe he made memos except to help his own agenda, probably at a later date. Same with lying James Comey. Can we call them Fake Memos?
---
pself1130 @SmithNob03
🔁
ANDREW MCCABE, thank you for your 21 years of faithful service to the United States of America. I hope all within reach of this tweet will donate what they can and fund this patriots deserved pension. You have to be a 7th degree stupid belt to believe this isn't political.
---
Poppie @Poppie2015
🔁
No way yet to evaluate the rush to fire Andrew McCabe, but each FBI official who corroborates Comey on the issue of potential obstruction has been targeted by Trump and his allies in Congress — McCabe is only the latest example. This is no coincidence.
---
Lana Kay @LanaKay11
🔁
Well, at least Andrew McCabe is now qualified to work for CNN.
---
I Think The Fuck Not You Trick Ass Bitch @GlamazonJay
🔁
If President Trump fired Robert Mueller, "that would be the beginning of the end of his presidency, because we are a rule of law nation," says GOP Sen. Lindsey Graham
---
Casanova_Congressman @Tweetter_Twat
🔁
In case you missed:
Andrew McCabe fired.
Joe Arpaio pardoned.
---
smilinsandi#resister @smilinsandi
🔁
Nothin' cheers Conservatives up like takin' away a workin' man's pension. Almost as good as splittin' up a Mexican family or takin' away old folks health care.
---
velda mcclung @VeldaMcclung
🔁
Democrats demanded the DOJ IG investigation which targeted McCabe. An Obama appointee ran it. McCabe's lawyer endorsed it. And a Mueller appointee recommended McCabe's firing when it was concluded.
---
mike brons @mikebrons1
🔁
JUST IN: Former FBI Deputy Director Andrew McCabe documented his conversations with Pres. Trump in personal memos, source tells , adding that those memos have been turned over to Special Counsel Mueller.
---
Rita Catherine Marve @marve_rita
🔁
New Democratic narrative:
Because Dirty Cop Andrew McCabe "worked for the FBI for 21 years, there's no way he could be corrupt and he's being treated unfair!"
You can't make this crap up...
---
whypipo @satoshiksutra
🔁
Of course they're lining up to hire Andrew McCabe. He's part of the club now. You're not actually a Democrat until you've committed a crime
---
Rick Mitchell @RickSMitchell
🔁
Andrew McCabe now has to sign up for Obamacare... 😂
---
kris young @krissunset
🔁
Andrew McCabe and James Comey saw themselves as political kingmakers, flush with power.
America now sees them for what they are - vile, petty men who corrupted the once honorable institution of the FBI.
They were rightly fired.
___
Law Prof What we know
---
🗽#NeverAgain WE are the LEADERS🌊 @TyHyCHI
🔁
James Comey fires back at Donald Trump after Andrew McCabe firing
palmerreport.com
---
Gval1701 @Gval1209
🔁
I wonder if Andrew McCabe wrote a detailed memo about the "Insurance Policy" meeting in his office with Peter Strzok and Lisa Page. Pt. 2?
---
Mary @alreadygreatMD
🔁
Andrew McCabe, thank you for your 21 years of faithful service to the United States of America.
Retweet to show McCabe that we care. America cares. cares.
---
Cowboy Q 🇺🇸🐻 @BothwellJeremy
🔁
.-FBI's Andrew McCabe, "in addition to his wife getting all of this money from M (Clinton Puppet), he was using, allegedly, his FBI Official Email Account to promote her campaign. You obviously cannot do this. These were the people who were investigating Hillary Clinton."
---
Kelly Canuck🍁 @KellyCanuckTO
🔁
Please help circulate: while it is a kind gesture, there is no "gofundme" or other crowdfunding account for Andrew McCabe. Because of the outpouring of support, we are exploring potential options for a legal defense fund. More to come.
---
Hopper @Hopp359
🔁
Happy Birthday Andrew McCabe! We appreciate your 20 years and 363 days of service to our country.
---
---